Since the release of Push! in 1986, The Invincible Spirit has become one of the references for all EBM fans. Next year, we will have their new album. Meanwhile, we have talked with Thomas Lüdke of how he overcame his invisible limits thanks to his invincible spirit. We will see him playing live at the W-Fest, where he will perform on the 22nd of May.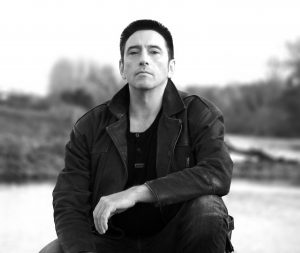 —With the Invisible Limits, your first band, you recorded only the first two 12″, Love is a Kind of Mystery and Devil Dance, right? How were the beginnings of the band? You were writing all the material, weren't you?
—Yes, I founded the project Invisible Limits in 1984 as a solo project. At this time, I had already finished composing "Love is a Kind of Mystery" and "Devil Dance" and started a few other songs like "Thoughts," "Shadows" and "For You." After I signed a record deal with Last Chance Records, I decided to start a band from the project to fulfill the requests for live performances. So we started the band with 3 people in the rehearsal room: Thomas (Synths & Vocals), Ralf (Bass) and Andreas (Drums).
After a few months with this line-up, I then added Marion as the second singer to the band. Together we developed the songs, "Five Hours," "Lonely Heart," "The Window" and the unpublished "Masquerade," based on my prepared melodies.
—You left because the band was going in a different direction, I guess they wanted to continue doing synth pop and you wanted to continue with EBM/Industrial. Is that right?
—Well, I never really left the band. This is a rumor that has unfortunately been spread over the years by a band member. There has also never been a big argument over the musical direction, as claimed in some of the band's interviews. I just took a break from being actively involved in the band to devote myself to my second project, The Invincible Limit (later renamed The Invincible Spirit). In the following years, there were still a few performances together and a few works, which were not published anymore.
In 2005, Marion announced at a live show in the Bochum "Zwischenfall," the final end of the band.
At the moment, there are distorted biographies of the band on the internet, which conceal the end of the band. But this is a case for the lawyer and I will not go into it now. 😀
—With your next project, the Invincible Limit, you released two singles, Push 1986 and Locate a Stranger. Was it you on your own? Why the name so similar to your previous band? Did you want to give a sense of continuity?
—All three projects Invisible Limits, The Invincible Limit and The Invincible Spirit were launched by me and started as solo projects.
The projects The Invincible Limit and The Invincible Spirit have always remained my solo projects. There I occasionally worked with guest musicians, for live performances, and still do so today. The similarity of names should make it clear that everything comes from the same stable. 😀
—Current News was your first album as the Invincible Spirit. I read that you were not happy with the result, because it was made in a hurry, and you were not happy with production. Can you please explain this to us?
—I was very dissatisfied with the sound. In my imagination, I wanted to have the clear and differentiated sound that can be heard in big productions. Unfortunately, this was not successful at the time. Maybe I was too demanding. Even today, I still tend to stick to individual tracks in the mix for hours, if not days.
Also, I was dissatisfied with my singing. I do not think that I am a good singer. 😀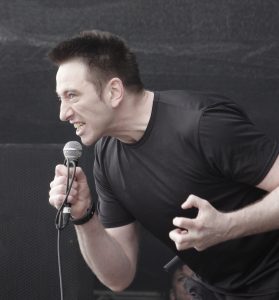 —Some of your releases have been recorded at your own studio. When did you open it? Can you tell us more about it? You have done a new one last year, right?
—The so-called studio has grown over time.
At first, there were only 2 tape decks on which I recorded in the Ping-Pong procedure (Love is a Kind of Mystery, Devil Dance). Everything recorded by hand, without sequencer.
Then, came a 4-track recorder, a small mixer and the CASIO CZ-5000 with integrated sequencer (Push!)
At the Rollercoaster Revolution, I already had a 16-track tape recorder and an Allen & Heath mixer.
Of course, most of it today is digital, but a bit more space was needed for all devices. So last year, I renewed and enlarged the recording room a bit (I do not really want to call it a studio)
—The second album, Rollercoaster Revolution, is less aggressive and more synth pop. Why the change of direction in this LP?
—Well, I always like to produce a variety of music. You can already hear this for example on The Invisible Limits songs "For You" or "Five Hours," or on the song "Oxydize" on Current News.
At the time of Rollercoaster Revolution, I also had my psychedelic phase. At that time, I heard a lot of Spacemen 3, Loop and Velvet Underground. This has, of course, influenced the album somehow. 😀
—For the third album, Can Sex be Sin, you had almost a band with Dietmar Schlichting (he also worked in your previous album and in some singles) and Kaba. They also appear in your live recording. What happened with them?
—Dietmar and Kaba were mainly active as live musicians on The Invincible Spirit. At some point, Dietmar became a DJ in the Goa Trance scene. Unfortunately, I do not know what he is doing today.
Kaba decided to pursue a "decent" job. He is an electronics engineer and also a skydiving instructor. 😀
—Being Spanish, I have to ask you about the song Bacalao. What's its origin? Do you know that there was a scene in Valencia called Ruta del Bakalao where your songs were very popular?
—In the 90s, we had a 3-week tour in Spain. Everywhere we performed, there was a great party atmosphere and the Spanish people always shouted "Bacalao" if they liked something very much. Someone translated the word "bacalao" back then. It's actually meant to be a fish, but people used it to express, "having a party."
Therefore, the song has its name. Unfortunately, I did not know anything about the "Ruta de Bakalao" scene until now.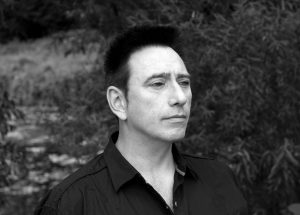 —We have just interviewed Praga Khan and he also started using the Atari ST as you said in a recent interview. You also said that the Yamaha TX 802 was your favorite synth. Are you still using these classic synths to compose songs or prefer new methods?
—I still own most of the original devices, like the TX802 and Casio CZ5000. But I transferred some of their sounds to the PC. Some as samples and others in virtual instruments, such as the Native Instruments FM7 / FM8. In the last productions, I only used VST instruments.
—From 1994 (single Showdown) to 2000 (Faster Life), The Invincible Spirit was quite quiet, what happened?
—I had the impression that my music had become somehow out of fashion. Most people have preferred to listen to guitar-heavy music, such as grunge or crossover. Although I continued to play live, I did not release my new compositions at first.
—A very curious release was the split with The Fair Sex where you played together. Can you tell us how this happened?
—The Invincible Sex was from the beginning, a fun project. When I put together the Anthology with Endless Records, I also came together with Myk of Fair Sex more often. So we got together spontaneously and made this EP.
—Your last album is Anyway from 2015. In this work you seem to mix more traditional EBM with songs that could have been published in the Rollecoaster Revolution album. Is it because the songs were written during different times of your life or because you wanted to do a varied album?
—Both. On Anyway I have published some of the compositions that I wrote between 1994 and 2000 and there were also some new songs, like "Hate you." As I said, I like being very diverse. A song is always dependent on the mood in which I'm currently. This may occasionally offend fans who just want to hear EBM. But what should I do? This is The Invincible Spirit. 😀
—Recently you have released three new songs: "Nein," "Falling upside down" and "Coming Home." Are they going to be part of the new album? When is it going to be released and what can you please tell us about it?
—The new album should already be finished. But in everyday life you always get a couple of sticks thrown between the legs. 😀 So it will probably take a while. In any case, it is planned for the first half of the coming year. I think there will be a couple of the mentioned songs on the album. But which, I do not know exactly now.
—This year you have done two new remakes of your oldest songs, Devil Dance and Love is a Kind of Mystery. How did you feel working with your first material? What did you do to make them sound modern?
—As with Current News, I was dissatisfied with the old sound. The strong noise of the recordings has always been on my nerves. So it was only for my satisfaction to finally record the songs again. I think most people like the old versions more. 😀
—What can you tell us of your recent tour with Apoptygma Berzerk? Stephan Groth confessed being your fan, didn't he? You have also remixed one of their songs now, right?
—Working with APOP was a great experience. First of all, Per Aksel Lundgreen wrote to me and then he made the contact with Stephan. I was very surprised to hear that Stephan is an Invincible Spirit fan and started making music himself because of my music. Never thought so. They planned a new album and he asked me if I would like to do a remix for them. Of course, I immediately said yes and chose "Backdraft."
On the tour, we met exclusively nice people. That does not happen so often in life. 😀
—We want to ask you about two of your side projects: God Is LSD with whom you recorded an LP in 1993 (a bit more metal) and The Mao Tse Tung Experience with whom you recorded two albums in 1991 and 1994. What can you please tell us about both experiences?
—God is LSD came from the idea of mixing heavy metal guitars with Electronics. Unfortunately, at this time I did not know anything about Ministry, which did a much better job in that direction. When I then heard Ministry for the first time, my project died instantly! 😀
The Mao Tse Tung Experience was a joint project of mine and my former tour manager Wilfried.
We founded the label Sevenstar Records and Mao Tse Tung was the first release on it. Unfortunately, a few years ago, at the age of about 70, he passed away. I am now planning a small revival of the project Mao TTE with a few other musicians, as a homage to Wilfried. I already have the song "Irregular Times" in the fixed live setlist of The Invincible Spirit for some time.
—You have created the Invincible Spirit Media label to release your last album. Later the label has published six references, the last one a few months ago, an album by Paralyzzer. Any recommendations of the labels or any future new albums to release?
—Before "Paralyzzer" I have already released an album of Menschliche Energie on my label.
Menschliche Energie is a project by Michael Stalzer, who is already well known with the band Reizstrom. I can really recommend checking the album Cut. Michael has a very good singing voice.
Another album is already ready and will be released soon. In addition, a new album of Insect Plasma is in preparation.
—Now you play with your wife, how is the experience?
—The best experience I have ever had! What else should I write? She is sitting next to me.
Jokes aside. We are a very good team. In contrast to previous experiences with other musicians, who eventually suffered a slight increase in haughtiness, we can rely on each other. What more do you want?
—What are your plans for the future apart from the new record?
—To grow old and wrinkled in dignity. (Well, this is not that far away.) As long as possible continue to make music and performances. Hopefully, leave something lasting.
—How is going to be your concert at W-Fest?
—Well, unfortunately I cannot see in the future, but I hope people will like it and we can leave a good impression. We will present a good mix of the old classics and new material. Looking forward to the performance at the W-Fest!