A bad experience during a night out in New York was the base for the most famous song of Oliver Chesler, better known as The Horrorist. Using a lot of different monikers, he has mastered the hardest genres of electronic music, from happy hardcore to techno. This year, he has released an EBM album, called Separate Dimension and we will have the opportunity of seeing him live during the DarkMad festival, on the 25th of October. Horror is seeing yourself as you really are.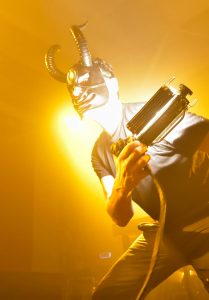 —You were in Depeche Mode's 101 documentary and also in the tour, right? We interviewed Læather Strip and listening for the first time to Black Celebration was also really important to him.
—Before I won the contest to be in the movie I was already totally obsessed with Depeche Mode so it was an incredible experience. I was into music before hearing DM mostly early rap and I had a few drum machines. However once I became "of the age" and fell in love for the first time my music tastes started to change. I was in a car driving with friends and one of them had a younger sister. She left a Black Celebration cassette in the car and we played it. By the time the ride was over my life completely changed.
—How were your beginnings? You already were part of Disintegrator in 1992 but I also read that you have been publishing music since 1989.
—My father was a college professor at Fairleigh Dickinson University. Around 1986 FDU closed their music department. My father brought home several synthesizers. Some of them incredibly amazing like an Electrocomp-101, Yamaha DX7 and Roland SH3. In addition he grabbed a Tascam 4-Track cassette recorder. My brother and I would hang in the basement and record. The early demos were extremely creative but also hilariously bad. The best of those tracks was "Wet & Shiny" which was recorded in 1989. Just a few years back DJ Hell released a version of it with a kick drum that works well for club play.
—You were also part of Koenig Cylinders and Temper Tantrumm. With these bands, your music was closer to Gabber and Hardcore Techno. How do you remember these days?
—Back then you would go to a rave and or club and DJs would play lots of different styles in the same set. They would jump from trance to hardcore, etc. I really enjoyed that and luckily I never locked myself into making just one genre. I think that really helped my career.
—What can you tell us about DJ Skinhead? With this project you have released a few singles (the first one Extreme Terror in 1994) and last year a remix album.
—It was a concept album that Lenny Dee thought of. The original was part Lenny, me and the guys from Disciples of Annihilation. At the end of my live show these days, you can often hear me play a couple of those tracks and recently I recorded a record with Kotzaak Klann (Miro Pajic) as DJ Skinhead.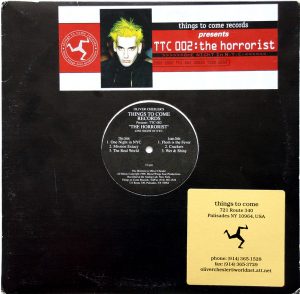 —A landmark in your career was "One Night in N.Y. C.." Can you explain how did you get the idea for this song?
—I wrote this song and "Mission Ecstacy" in my mother's basement very quickly. I went to the hospital for an ecstasy overdose. When I got back to my mother's home where I had a studio in the basement, I had a real sense of urgency in my head. I thought I would never go to a club again so I wanted to record what I saw there. With just a few pieces of gear (Mackie 1604, Roland TR-909, Shure SM58, Yamaha FB01) I recorded "One Night in NYC." The geography of NYC makes it a very interesting place. The clubs like the Limelight downtown were a mix of people living in Manhattan … college students, drug dealers, club kids, models, business men and lots of kids from the surrounding boroughs (The Bronx, Brooklyn) and as we called them "Bridge and Tunnel" kids from New Jersey (because they have to cross the bridge to get to Manhattan). This was a crazy mix of people looking for fun and trouble. Often you would see clearly underage kids mixing with all types. The song is what I saw there. I don't really understand the outrage behind it because it's a story of what happens. No one thinks Martin Scorsese is a gangster. He just makes movies about them. I just make music. I probably used the age 15 because of the song Little 15 by Depeche Mode. The "13th ave & 11th Street" NYU dorms comes from the fact I had a friend Jenn living there. The baseline and the way I say "F—eked her all night" are from my influence by EBM. All these elements put together make the song. As hard as it is for some people to imagine the reason, the song became a success is women like it more than men. I have more personal thoughts about the song and there is more history but I will save that for a book.
—The song has been forbidden is some countries, right? Does it make sense to you?
—No art should be banned anywhere. Without an outlet and the expression of free ideas whatever they are society will suffer for it.
—Don't you think that the scary thing about your music is that it's based on real things?
—Nothing is more freighting than the human mind.
—You first two records, Manic Panic and Attack Decay are kind of compilations of your singles. Do you think that it's easier to have some recognition with full albums instead of with a career full of great singles?
—Yes, I think so. I think it's important to show the world every few years the best work you do. A spotlight on what you think you best achievements are.
—You collaborated a couple of times with Miro Pajic. How did you meet him and what have you in common musically, according to you?
—Miro is one of my best friends. A distribution called PCD (part of Planet Core Productions) owed me some money. Back in the mid nineties to release music you had to make some test pressing and mail them to distributors. The only way you would know if they were interested would be by fax or a international phone call. Planet Core Distribution was run by Thorsten Lambert, Marc Acardipane and Miro. Because Things to Come Records (my new label at the time) fit closely with their style they helped get the record into stores in Europe. Some friends came with me to a show in Amsterdam then we drove to Frankfurt to PCD. I met Miro and became instant lifelong friends.
—In 2005 you made an acid track with DJ Man At Arms. Knowing that you love some of the machines used in this genre, have you ever thought of doing a full acid LP?
—There was a club called Mars in NYC. I'm not sure the year but I'm guessing I went there in 1990. It's now the Standard Hotel where they have crazy fashion techno parties on the rooftop pool area. Back when it was Mars the club was several levels. The ground floor was a pretty sick gay club. I remember going there and just getting through the first floor to the other levels was an experience especially for my pretty young self. There was a floor called the Astro Turf room because it was covered all floors, walls and ceiling in Astro Turf (fake bright green grass). There was a DJ from London there and he played Acid House all night. It was the first time I ever heard it and fell in love with the sound. Later the same week at my college dorm I heard the sound coming from one of the rooms. I knocked on the door and it was John Selway. He schooled me on what machine was making the sounds I fell in love with. We went into the city to Michael Alig, Keoki and Ernie Glam's apartment because across the street was Rogue Music. Rogue sold used equipment and Keoki and I went across and bought three Roland TB-303's. I paid about $200 for each of them. I do have a mountain of unreleased Acid tracks and I am sure I will release them at some point!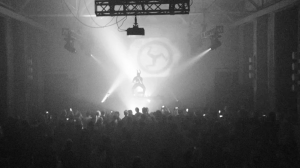 —How did you get the idea of doing an album "inspired" by Joy Division (by the way, Joyless Pleasure was way better than what New Order are doing now)?
—Thanks for the nice complement. Joyless Pleasure will always be an album different than the others I did. I was very autobiographical because at the time my life was going through a huge chance. My father who had an incredible good and bad influence on my life died and my marriage was ending. You can really hear this in those songs.
—This album was completely remixed in The Joyless Pleasure Remixed and The Horrorist has been remixed in a lot of singles. How do you choose an artist to remix one of your songs? Can you tell us which in your favorite?
—I couldn't pick a favorite and the Remixed album was a kind of … anyone of wants to do it can take a shot. I made a lot of great friends doing that.
—What can you tell us about the album from 2013, Fire Funmania?
This album was born out of a massive frustration. In every way I was wanting. I was in a holding pattern just sterile keeping myself alive for another day. No drugs, sex, love anything … the album I am just screaming this out.
—You got a big success in Germany and now you are living in Berlin? Is this the right place for artists like you?
—Berlin is the greatest city on earth at the moment. You can live as an artist here. It's affordable and the German government really helps you out. Your'e surrounded by amazing nightlife and other artists to work with and inspire you. Most importantly it has a giant park with trees and quiet. You can find what you need here.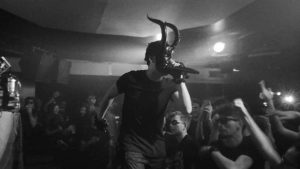 —How do you see EBM in 2019?
—The scene is larger than it was in the 80s for sure. I would love to hear more new music that was actually amazing, though. It's very difficult to make great EBM or Industrial. I hope producers step up their game!
—You used some analogue equipment to record this new album. Now that almost everything is possible using digital equipment, do you think it's better to go back to analogue?
—With hardware you can do things you just can't in the box. Old machines have timing issues that have the feel of tracks work. I use a combination of both.
—You have said a few times that you are a fan of Lionel Ritchie and Foreigner. Have you ever thought of remaking their songs in the Horrorist's way?
—Well, I always say don't remix anything that's already amazing but you never know!
—You founded the label Things to Come Records that released some records till 2007. how are things going now? Which are your favorite releases?
—I can't pick any favorites but I recently relaunched the label with an amazing artist Romance Disaster (Aga Wilk). Many new releases are on the way. With my own label, I can release whatever I want so expect some beautiful music, some music that may offend, the next step into the future.
—How is going to be your concert at the DarkMad? Are you playing on your own?
—I'm excited to play along some of my favorite artists. I definitely will be playing some new tracks. and have some new outfits ready!!