From Roma, Spitual Front has succeeded creating its own sound and a particular universe easy to recognize, that made them one of the few bands that need the use of more than three words to describe them. We talked with Simone Salvatori, founder of the group, cinephile, and spiritual guide of the band. They are playing in Madrid, thanks to Indypendientes, on the 22nd of February, at the Wurlitzer with a double set, part Smith's covers, part their songs.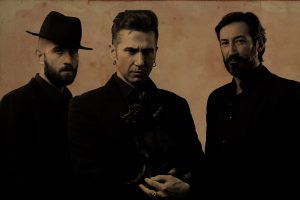 —We wrote an article about Italian New Wave and post punk, were you influenced by bands like Liftiba or Diaframma? Or any other Italian band from the 80s?
—Sorry to disappoint you, but no, I've never been influenced by any of these bands, I never found them interesting, even tho I recognized their importance and their influence on so many following bands, but no, not a big fan. I was and I am a big fan of new wave like Loyd Cole, The Smiths, ABC, Ultravox, Talking Heads and many more.
—Your music has been described as neo-folk or post-industrial. I would like to ask you for the three most important bands of the genre (at least for us!!!), what do you think of Death in June, Current 93 or Sol Invictus. Have they been an influence for you?
—Don't think it can be considered as neo-folk or post industrial, maybe the very early records, but now, we are so far from those days. Death in June is still a big influence for us, Sol Invictus did many great things like "In the rain" for example, C93, not at all.
—Your band has been labeled "Mafia Folk." Do you think that your music includes elements of the Italian culture?
—Dunno who labeled our music so stupidly, but yes, our music includes many elements of Italian culture, and we are proud of it. It's stupid to deny our roots and our culture.
—Do you think that Spiritual Front is just the opposite of Agnostic Front?
—Hahhahaa yes, in every way.
—How was starting a neo-folk band in Rome back in 1999? Is there a dark scene in Rome?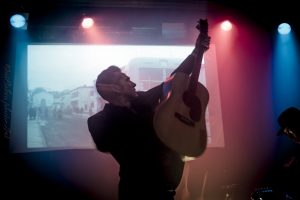 —In the beginning it was just a parallel project, something born between four walls, it became a real band just after "Satyriasis." The dark scene imploded on itself, nothing interesting is happening.
—Your first album is Songs for the Will, released in 1999. Who were the members of the band in that moment? What kind of music did you want to make?
—It was a demo tape re/printed by Old Europa Café, I was involved in other projects, and Spiritual Front was something I wanted to do, something more acoustic more experimental, step by step it grew, it's still going on. What I wanted to do? Those days reflected my love for some certain type of folk and industrial from Smog, American Music Club to Death in June, Boyd Rice, etc. there was a lot of confusion!
—Your second album, Nihilist Cocktails for Calypso Inferno, appeared two years later. The band also described your music as nihilist suicide pop. Would you call yourself a nihilist?
—The concept behind this was the refusal for any type of preconception about art, sexuality, etc.
—It took you five years to release your third album, the successful Armageddon Gigolo. Was it difficult to finish? How was working with part of Ennio Morricone's orchestra?
—It took so long 'cause we changed several times the arrangement, the crew we work with, was extremely slow and chaotic, we were younger, full of ideas but confused at the same time. The guys involved in the Morricone's orchestra were so kind, they liked our stuff, we had the chance to work with them even on the following albums, it was a good experience.
—How did you get the idea of introducing tango in your music? And what part does the accordion play in it?
—I like those sounds, our aim was to find an ideal link to the Nino Rota and Fellini's movies atmosphere, something like that.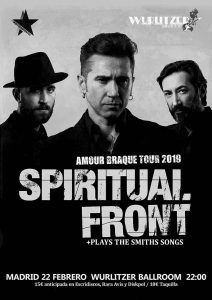 —Your fourth album Rotten Roma Casinò is a bit more pop. Was your public happy with this change?
—Oh no, most of our fans hated, but I may admit that, year after year, many of them confessed us that they started to love it.
—Would you say that the compilation Open wounds worked as an ending for a phase?
—Probably it sounds like that, but it's more like a celebration of a past that is gone but not forgotten, we are still playing many songs from that album.
—You wrote an album (Black hearts in black suits) based on W.R. Fassbinder, one of our favorite directors. Which of his movies do you like the most? What really interested you in his cinema?
–"Querelle » is a movie that changed my life, it s still my favorite movie ever. He was a unique director, he was able to put together erotism, literature, social critique.
—You are also interested in Pasolini, especially in his movie Saló. We also love his work. Do you think that it is important to reclaim this kind of artist, that seems a bit forgotten today?
—He still actual, his books, his thoughts, his movies still sounds great and influential, many years passed, but his critique on our system is still terrible actual and real.
—Your literally influences include Cesare Pavese, Mayakovsky and again Pasolini. How important are lyrics for you? Don't you think that neo-folk artists usually have better lyrics than other styles?
—Lyrics have the same importance as the music, if you write lyrics just to fill the tunes, well, it's just soulless entertainment, I don't mean you have to teach math or history or whatever, but at least being sincere, be yourself, put something of your life in your songs. Sometimes it's true, there are better lyrics than music among neo-folk artists.
—You have been touring lately playing the songs of the Smiths. How did you get the idea?
—It started like a single gig for friends, but it took form, people started to love it, that's on, we are bringing this show around.
—You recorded a split with Lydia Lunch. Did you contact her? And why the cover of WASP, a band so different in also senses from Spiritual Front?
—It was an idea of Rustblade records, they thought there was a line that can link us. I met Lydia couple of times, but we never went deeper. I was a big fan of 80s metal bands, and doing an acoustic cover of WASP, sounded to me a natural homage to one of those bands who were so important to me.
—And, what about your side project, The Lust Syndicate? You are going to release a record, called Capitalism is cannibalism, right? Is The Lust Syndicate your own Death in June?
—Not at all, it's more on the direction of Test Dept, Einsturzende, Coil, Haus Harafna, Spk, the record will be published by Trisol this upcoming winter.
—And to finish, what can you tell us about your new record Amour Braque?
—I guess it's the best record we did, it's the right summa of what spiritual front is. It's pop, it's dark, it's dramatic, ironic, it's stimulating, you can recognize many influences but at the same time it sounds compact and organic. I'll defend it 'till death.