From their Bandcamp, they define themselves as "a working class electronic music project based in Valencia (Spain). We write, produce, make and design the artwork for all our recordings". As we wanted to know more about this interesting national group, authentic revelation of the new EBM scene (seasoned with techno and other sounds), we share this interview that will allow you to know them better.
—Who are the members of the band, when did you start the project and what role does each one of you have in the group? Why do you call yourselves SPAMMERHEADS?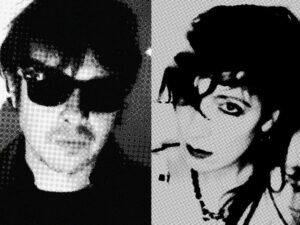 —First of all, thank you very much for the interview and for your interest in our project. Spammerheads consists of Ana and David, both from Valencia. The project was born at the end of 2019. It all came about half jokingly the night we met at a concert of The Undersubs, which is David's other band, at the 16 Toneladas venue in Valencia. David proposed me to form an electronic music band together and that night we ended up at home listening to classics, from EBM, to Synthpunk and The Berlin School. Everything followed very naturally, we gave David a couple of small synths as a present for his birthday and from then on we started to make songs.
The question of roles is very blurred, as we compose together and we feed off each other. From the moment we start writing a song until we finish it, we are both involved and together in the studio, contributing ideas in equal parts. Obviously the vocal part for example in our sung songs falls more on David, who is the one who sings and composes the lyrics. But the rest is an indivisible whole. The name Spammerheads is a word invented by taking the Monty Python sketch "Spam" as a reference and making a play on words. We liked the sound of it.
—According to the info on Discogs, your first release is from April 2020 and its title is a kind of introduction, entitled Sound of Spam. In terms of styles, it couldn't be categorised in a more varied way as a work that includes elements of EBM, Techno, Electro, Industrial, Experimental, and Abstract. Years later, and after listening to your evolution, it seems certain that your secret lies in the richness of your sound, which is not confined to a specific style. How would you define the music you compose? Would you highlight any band that has inspired you the most with their discography?
—Yes, the title Sound of Spam was the presentation of our sound. We released it first in digital format through our bandcamp at the end of 2019 and shortly after by the Dutch label FIXREC on cassette, along with other unreleased songs. We call this first period the "first learning stage", which we remember with a lot of affection as it was less technical and had a more visceral and raw side, which we love. Then came other stages of learning and that will continue to be the case as long as we continue with the project. But at the same time that we try to continue learning the technical side, we also try not to lose that more innate and primitive side that is the authentic one, the one that puts the passion into composing and squeezing a song. This side can logically be helped by technique, but it must not disappear. As far as styles are concerned, we don't see this as something that should be prioritised as a criterion when it comes to composing. We understand that each song should be made using the resources, styles and means necessary to find the its own nature. We like it when a song sounds really natural, that means that we have moved in the terrain that the song asked for. We would define the music we write as a mix between industrial music, EBM, synthpunk and post-punk. With our latest release Tar Blood / Cement Skin we have reached the sound we were looking for, harder and industrial, which defines us.
Groups that have inspired us, if you are referring to the richness and variety of sound throughout their musical career, yes, we could say that we really like togo through all the discography of an artist in one session…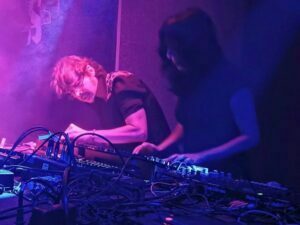 To name a few, we could talk about The Neon Judgement, A Split Second, Nitzer Ebb, Front 242, Devo, SA 42, Screamers, Suicide, or Nick Cave and David Bowie, among many others. Our influences, although not necessarily obvious, are within a wide spectrum going through Punk, EBM, R'N'R', Garage, Powerpop, Punk Rock, Synthpunk and any music we like. In one way or another any style can inspire us.
—You compose both instrumental tracks and songs with lyrics (sometimes "robotic" and sometimes more human), as well as you title them not only in English but also in Spanish, and you even gave a title in Valencian to your November 2021 album, Espai, Temps i Matèria. I perceive that your titles in the language of Cervantes leave no one indifferent, because of their poetic touch ("Arderás En Los Fuegos De Tu Industria", "Paisaje Vacío") as well as certain nods to technology ("Circuitos Reconstruidos", "Singularidad Relativa"…). I suppose all this diversity is deliberate. What motivates you to do so?
—Giving a title to a song is a way of giving it a visual or poetic touch. This suggestion can be picked up or not as a listener, depending on what each person prefers. In addition, we usually approach each album from a conceptual point of view, starting from an idea we try to create a whole, from the songs themselves, the titles, the videos, the cover, etc. The diversity of the titles comes from the different themes or ideas that we have dealt with in our work and that are themes that inspire us to work. Also the vital or social moment that surrounds us always conditions our productions and with it the titles, which is perhaps more evident in some of the titles you have mentioned, such as "Paisaje Vacío", a song that was created during the pandemic.
—After two albums released only in digital format, in November 2021 you release your third studio album in cassette with the Valencian label SOIL Records. How did this collaboration come about? Could it be said that it is the label that signed you and they are going to do the mastering of your releases or was it just a one-off participation, as you have also been mastered by the Valencian Daniel Kyo, from the Ara label. In fact, your most recent release has been again with SOIL, a striking pink 12″ vinyl: Tar Blood / Cement Skin.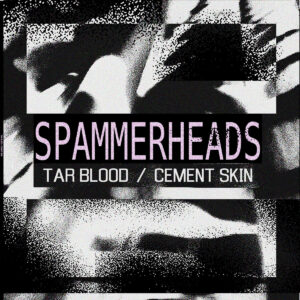 —The collaboration with SOIL Records came about in a very natural and friendly way. Before releasing with them we had already met because of some cassette releases and so on. From the beginning there was a very good vibe and harmony, plus we live quite close to each other and that made our relationship very close. We think it's a very good label that takes great care of the releases and we were more than happy to release Bricks For Reconstruction on cassette with them. Ian Broch, the founder of Soil Records, mastered the work for us. And we love the sound of it. Then we released it again with Soil Records on vinyl and it was mastered by Rude 66, as you say. Daniel Kyo mastered our work Espai, Temps i Matèria, which we released on cassette with the Valencian label HC RECORDS. The truth is that we are very happy with the sound of all of them.
—When I visited your YouTube channel, I was really surprised to see that for less than three years you've been doing this, you've got quite a few videoclips, with a more than remarkable audiovisual artistic editing, contrary to what usually characterizes new bands. Who is in charge of this task? Because it seems obvious that it's someone with knowledge in image and sound.
—Thank you for the observation. The truth is that it's a lot of fun to work on this part, but there's a lot of work behind it and sometimes we doubt if it's worth, because as we all know neither YouTube nor the RRSS prioritise this kind of content. We both study History of Art and we are both quite cinema lovers. We do the work between the two of us and we have been self-taught since we started the project. As we were saying, all the songs suggest images to us and we try to create a whole, from the music, the videos, the titles, etc.
—What concerts have you played so far (and which one or ones would you highlight the most), and what can anyone who comes to your next performance in Madrid, coinciding with the international EBM day (24.2), expect? What is your staging like?
—Our debut was at Killing Time, then we played at 16 Toneladas and Spook, all three venues in Valencia. We would highlight all of them, because despite being few for us they are unforgettable. We are very excited about our next concert in Madrid, and we have prepared an intense and energetic concert with a lot of energy. It will be an intense and energetic concert, as the occasion deserves and very much in line with the harder sound of our latest album Tar Blood / Cement Skin. We hope people will come and enjoy with us! After the Madrid show we will be playing next March 3rd at La Residencia, Valencia.
—We will end now, and we encourage you to add anything you want to add.
—Thank you very much again, it has been a great pleasure to chat with you. Thanks to El Garage de Frank, special thanks to Karl Von Schlagend and the band Dvra Lex for organising the concert in Madrid and to the venue hosting us, of course.