She Pleasures HerSelf is one of the most shocking bands of the moment. Coming from Lisbon, they play some "Parental Advisory" post punk/darkwave. In this interview, not suitable for all audiences, Nuno Varudo and Nuno Francisco talk about their albums and their concert at DarkMad, where they'll be playing on the 26th of October. Music to pleasure yourself… and to fuck.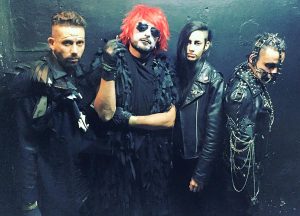 —How is the Goth scene in Portugal? Even being that close to Spain, it's sad that we, Spaniards, don't know a lot about the music of this marvelous country.  
—Hi, the goth scene in Portugal is small, like everywhere around the world. We only have a few places to play, we have a festival organized by Fade In that takes place in a castle in the city of Leiria and we have a couple of alternative promoters that organize some shows, but not specifically goth… it's generally Alternative music of all kinds. People have the need to listen to new stuff and it's very interesting when you realize that your music crosses lots of countries all the around the world.
In Spain, we feel that we have lots of support from people and that is very inspiring for us. We're looking forward to playing at Dark Mad. We're sure that it will be an amazing experience for us all. By the way, we keep waiting for more invitations to play there, since you are such a big and amazing country… so Barcelona, Vigo, A Coruña, Seville, Malaga, Almeria, Mojacar, Valencia, Bilbao, Palma or Ibiza, it will be a pleasure to play for each and everyone of you.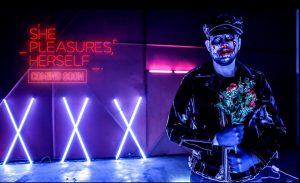 Guess the main reason for Spanish people not knowing more Dark Portuguese music, it's because we never had any… not even in the 80s. Guess these are the best times for post-punk, goth, darkwave in Portugal with bands like NU:N, IAMTHESHADOW, The Dreams Never End or LUR LUR! You need to check this and some old like Mão Morta or Sétima Legião. Check them out!
—Has the name of the band been taken from a line of a song from She wants revenge?  
—No? Of course not… actually yes. We just talked to Justin from SWR (a couple of days ago) and told him that and he just gave us a big smile ;).
—What do you find interesting in S&M? Are all of you into it?  
—If you are talking about the Rihanna song… Yes, we all are into it. Hihihihihi… These words were/are very inspiring for SPHS:
Feels so good being bad

There's no way I'm turning back

Now the pain is for pleasure

'Cause nothing can measure

Love is great, love is fine

Out the box, out of line

The affliction of the feeling leaves me wanting more

'Cause I may be bad but I'm perfectly good at it

Sex in the air, I don't care, I love the smell of it

Sticks and stones may break my bones

But chains and whips excite me
—All three (now four) of you were in different bands before forming She Pleasures HerSelf, how did you get together?  
—We are all long-time friends/Brothers, only Leticia is new in the circle. Since forever, all our previous bands fed and grew on the small alternative Portuguese scene to become this entity called SPHS. We first got together (to talk about SPHS) in a She Past Away gig in Lisbon. The concept started there with Nuno and David, then evolved and… All the rest is history.
—Would you say that your main influences are from bands from the 80s or modern bands?  
—Our main influences are from the 80's and 70's but we listen to lots of new music. So we think we are a mix between the 80s vibes with a modern touch.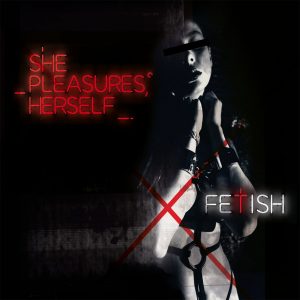 —Your first album, Fetish, was released in 2017. How was the experience of being in the studio for the first time?  
—Our studio is David's living Room. So we never actually got together in a record studio, we have our rehearsal room where we play and create the live sound together, but the songs are created in Between David's computer and Nuno Varudo's iPad. 
—Regarding the lyrics, are they based on real experiences or just imagination?  
—As real as they can be.
—How have been your second album received so far?  
—Very Good, we received good reviews and the label is happy about the sales, so we're just patiently waiting cause we think this album will open more doors to She Pleasures HerSelf.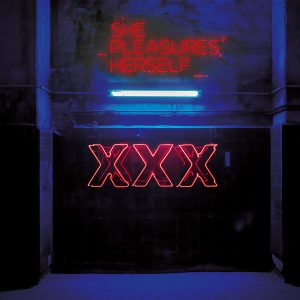 —The name of the album is XXX, is the band interested in pornography?  
—SPHS is pornography. Sometimes softcore, sometimes more hardcore. We grew on Pornography… Especially the album from The Cure, one of the best ever. We always need to create something out of the box. XXX, it's visual, it's sexual, it's trilogy (we got 3 guests in the album), we are 3 elements + 1 guest (Live).
—And what about the collaboration with the Italian band Ash Code, how did it happen? Both bands toured together, right? 
—Ash Code are our friends, we toured together in Germany and in the UK, we love them. So it's easy when you have a connection and you want to work together.
—In the seventies, some musicians like Klaus Schulze made music for porn movies. Would the band be interested in doing something like that? 
—That would be an amazing experience, we would love to perform in a Porn movie too… With living corpses…? 
—Do you think that your music is good for having sex? 
—Yes, of course, we keep doing it with that propose, so people have fun, pleasure and most of the time to find your own self. She Pleasures HerSelf's name is a kind of an ode to all of those that love to have some fun, new experiences, no boundaries, the quest for love and living, to find pleasure…
—The band has been braved enough to cover Joy Division's "Love Will Tear Us Apart" and Bowie's "Heroes." Do you think that the band has managed to imbue the songs with its personality? 
—We always find songs that we love, those two are perfect. "Love Will Tear Us Apart" is a broken-hearted song. "Heroes" is a hymn from the most perfect artist of all times, so it's complicated to take "perfection" and deconstruct it, but we love the challenge and I think our fans like it a lot too.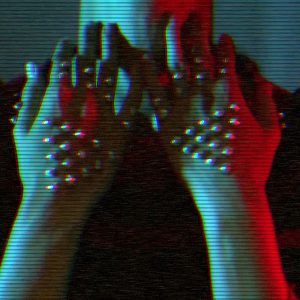 —How did you come across Red Zebra's song that you have covered? We interviewed them last year.
—Red Zebra's song is simply one of our favourite post-punk songs. So we thought about building a version for that song, more electro and sexual, between the decadence of punk and the lights of a dancefloor with lots of corpses dancing.
—The band has a real shocking image. Have you ever had any problems caused by your image? 
—Do we? Maybe that's why we don't get more invitations to play all around because people get scared with us. Maybe we get an invite to a horror movie Hihihihi… The only problem we had was in the beginning, when we registered our name and songs. Most of the platforms didn't accept the name, we had to deal with lots of bureaucracy to find a way, but we managed to do it. She Pleasures HerSelf are now everywhere.
—Have you thought about including any kind of sexual show during your concerts? 
—We already did it, not with explicit sexual content, but sexy and fetish content. We had a show with fetish performers dancing but for now we only did it in Portugal (actually we have some songs online with that fetish performers too – it's a showcase we recorded in our rehearsal room).
—The band has been touring Europe recently, and you have also played in Spain. Where is your music better received? 
—In our experience, we think that we never got a bad feedback from a gig. Because if you came to it, you already listened to us so you might actually like it. But in Europe, we think the most euphoric audiences are (in no particular Order) from Belgium, Italy, Germany, France, Netherlands and, of course, Spain. 
—How is going to be your concert at the DarkMad?  
—Between Fetish and XXX… Intense… Be there!!!