From the west coast of Sweden comes OctoLab, a duo that released their first album in 2007, full of beautiful synth-pop songs. After a hiatus of a few years, they are back with more music and some really good videos that bring another dimension to their work. This is the story so far, but also this is a story to be continued…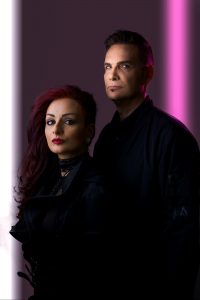 —Both of you started in the electro-pop band Spektron, right? What can you please tell us about these days?
—He, he, yes, that was a long time ago (without telling our age 😉. Spektron was a short synthpop project. We wanted to do a little different kind of synth music and started OctoLab as a side project. But very soon we made OctoLab our main project.
—Why did you choose a name like OctoLab?
—It's a combination of octaves and laboratorial.  
—In an interview, you said that you are influenced by video games and horror movies. Can you name a few of each that have influenced your music?
—Oh, there are so many good video games and horror movies but to mention some of them: Final Fantasy, Zelda, Super Mario, Street Fighter, Soulcalibur, Alundra, Starwing, Shining Force, Pacman and Last Ninja
We like the little older films like: NIghtmare on Elm Street, The Omen, Friday the 13th, Hellraiser, Carrie, The House by the Cemetery, Psycho, The Shining and Night of the Living Dead.
—Would you like to make a soundtrack for a movie or videogame?
—Yes, absolutely 🙂 we have done some sound design and music for several short films and different commercials. Our song "Mind and Matter" is played in the long film Dragonetti. We have never done music or sound design for a video game yet, but that is a dream 😉.
—What do you think of your first album The Timeless Room, 13 years later? You are still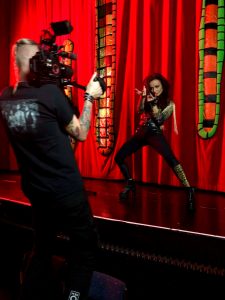 playing live some songs from it, right?
—Thirteen years OMG time really flies by. Well, much has happened since that, like better equipment or maybe it's us knowing how to handle it better 😉. We have also learned much about each other and ourselves and to "kill your darlings". Back then we had much more time to recording music and often we sat too long and started to change on things that we liked from the beginning. We lost much of our recordings when our computer crashed so that was sad. It is fun to play the old songs now with our new equipment.
—Why did the band stop for a few years? Were any of you working with other projects?
—We both started to study and then we got new jobs and formed a family and so on. We also moved from Gothenburg back to Arielle's hometown in Lysekil when we were expecting our second child. We also moved four times after that within 3 years with kid and a studio. OMG that was intense 😉. During that time Fredrik and Martin Bloom started Göteborgselektronikerna and OctoLab only did some remixes to other bands meanwhile. We started Octolab again after some people from Lysekil knowing we had moved back there asked us if we could perform at a festival in the town. We said yes and after that we both felt that, why did we stop doing this?? We love doing this, so we went back home and started to work with the song "Caravan".
—The band returned with To Be Continued… and the hit "Caravan." What can you tell us about the writing and the recording of this mini-album? How has your way of working changed during these years?
—We both are very much into filmmaking and Fredrik also works as a sound designer within film. For this mini album, we also made a music video saga directed by Jonas Wolcher.
Arielle: I work differently now. When I write songs, I often start to write a small manuscript and have a whole movie in my head. I pick out pieces from the script and sing about it.  
We also work better together making songs and sometimes it's fells like the songs are written themselves 😊.
Since we have less time to spend in the studio these days, we decide to send our songs to our friend Björn Marius Borg (known from Code 64 and Xenturion Prime) to mix the songs and to do some co-producing. Xenturion prime also did a remix of Better be safe than sorry for this mini album.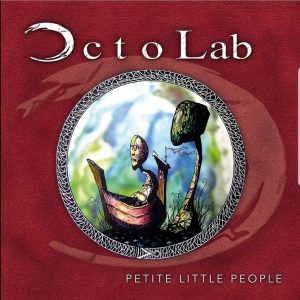 —Last year the band released the EP Petite Little People. What can you please tell us about it?
—We like to do different types of synth music and we also like to co-work with other people. For the main song of the vinyl: "Petite little People", we worked together with the producer Martin Zeidner.
When we did a remake of the song "Made on Stage" for a live version at a Beatbox event in Sweden, we worked with Tobias Hietala. After that gig there was several people telling us that they liked that version, so we decided to release it as a different mix on the vinyl.
—You have also done the different mixes of the song, right?
—Yes, the second song of "Petite" is a stripped version and the third version of Petite was made when Fredrik having Friday feeling 😊.
—The band has made a lot of videos for its songs, how involved are you in the creation of these videos? I really like the idea behind the The Conclusion video. And the references to Italian horror of some of your videos.
—Arielle is very involved and is the producer of the videos. We both like to act, and Fredrik works a lot with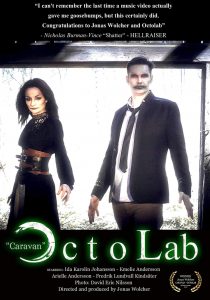 the sound design afterwards. We are into older horror movies and love the retro style, the '80s and Italian horror movies, it is something special about the mood in these films, the music and the FX, the acting, and so on. We like to flirt with that genre for our videos and Jonas Wolcher (Mr Zombie) the director for five of the videos was perfect for the To Be Continued… music video saga. We also like to involve many people for different projects and many of them are recurring in the various projects. Ida-Karolin Johansson a Swedish actress who is acting in 6 of our videos has also directed the video for "Petite Little People". For our upcoming video Aim for his head, Henrik Johansson is directing and shooting at the same time. Arielle is addicted to making videos😉 and we just love doing them. It's not always the best song that gets the video. We choose the song with the best video idea 😉 the video for "Caravan" won an award at 12 months film festival and A reason to erase and "Petite Little People" has been nominated at several film festivals internationally. 
—What can you please tell us of the new record on which you are currently working?
—Feels like we were working day and night and the inspiration always seems to choose midnight for some reason, so we are a bit lack of sleep😉 the album name is Mystery Park and describes the album well. The fantastic artwork painting is made by Tor Rafael Raael. The cover layout is made by Niclas Blyh for Blyh Media. The album will be on CD and is released by Electroshock records & POPoNAUT! We also choose to work with Martin Zeidner as a producer for three of the tracks and Björn Marius Borg for mixing and additional producer for one track. We also work with Tobias Hietala for mixing and additional producing of three more tracks. This album has a variation within the synth genre and contains synth solos, catchy 80s synth pop to more dark danceable ghost stories and sound design. We wanted to give the listeners a feeling of being in a movie for some of the tracks and there are some experimental tracks.
—What are the band's plans for the future?
—We have some other release in the pipeline, and we will also have some more gigs in front of us. We had a busy 2019 so we are ready for more 😉. We are planning to record one more video taken from our upcoming album Mystery Park and one more video for another upcoming release.