Sometimes Facebook brings you some good news, as it happened on the 23rd of April of last year when we saw Hélène De Thoury and Amandine Stioui together in a picture. That could only predict good things for the fans of the band. A couple of months later, our desire came true: Minuit Machine was back, and they were recording a new album! El Garaje has talked with the duo about their career and future concert at W-Fest where they will play in May. Don't sleep: listen to the music of the midnight machine.
—Hélène, you said that you were into metal (you even played in an electro-industrial band for eight years). Both of us in the Garaje where first listening to that kind of music too, so what elements do you think that metal and synthwave/darkwave have in common?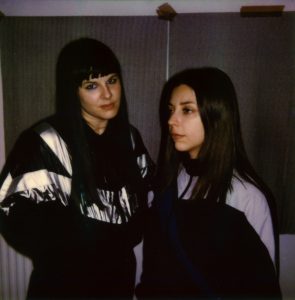 —H: I feel like lots of people who were into metal in the 00s are opening up to Darkwave those days. The similarities we can find between those styles are the deep emotions they're able to make you feel. I was listening to a lot of electro-industrial metal 10 years ago, so I always loved synthesizers and the electronics that are still part of my music now.
—You also played in Phosphor for a few years. How do you remember this experience?
—H: It was a life-changing experience for me. It opened a new world to me. I learnt so much with Nathalie and Jake, had my first gigs abroad. It was crazy, a dream come true and it made me realize that music was more than just a hobby for me.
—I read that you put an ad to look for a singer, and this is how you met Amandine. Where did you put the ad? Would it be nice to have an app like Tinder for musicians?
—H: I put an ad on a famous French music website, and it was really hard to find someone who shared my tastes. I was so glad Amandine saw this ad and answered! And yes, it would definitely help to have this kind of app but not only to help find some musical collaborations but also to find photographers, directors, sound engineers, graphic designers, labels, etc.
—How was the recording of your first EP, Blue Moon? Hélène, did you already have your own home studio?
—H: I had a few demos ready before I put this ad online. Amandine composed her vocals lines on those, and we recorded her voice in my tiny apartment. I wouldn't say it was a home studio at that point haha. But it didn't change much. I don't live in the same apartment but I'm still recording and composing most of the music in my bedroom and Amandine records her voice in hers and I mix everything together.
—Your first album from 2014 was called Live & Destroy. What do you think of the album after all these five years?
—A: We still love this album and I think it gave us an identity and allowed us to reach an audience which still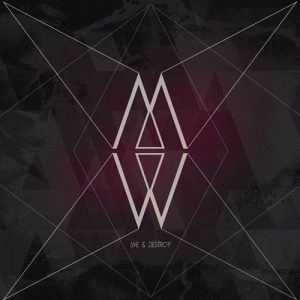 follows us today. It's part of Minuit Machine history and even though we believe our style evolved a lot through the years, each song of this album means a lot to us.
—H: I still like all the songs and feel the deep emotions we put in them, but I can hear I improved my production over the years hahaha.
—Any possibility of a reissue of your first EP and your first album? In Discogs, it's difficult to find a copy of Live & Destroy, and when someone is selling it, it's always at a very high price.
—A: Yes! Live & Destroy should be available in CD and vinyl this month :). The EP was never released physically, but maybe someday, who knows?
—Amandine you write the lyrics. What's your main inspiration for them?
—A: The lyrics I come up with mostly talk about my inner thoughts and feelings. They're inspired by all the emotions I go through, and certain events in my personal life. They're pretty much like a diary. The lyrics of Infrarouge were also influenced by the current crises our world faces such as global warming or mass shootings.
—Violent Rains was the band's second album. Do you think that the electronic part of the music has improved? Do you listen to a lot of electronic music?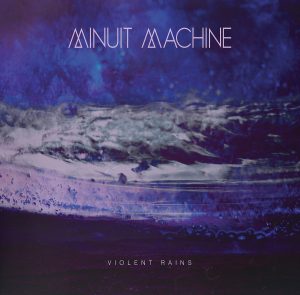 —A: Personally, I think that each album is better than the previous one, but I guess it's more because our personal tastes evolve so we create music that matches these tastes.
I listen mostly to electronic music actually. Dark Techno, EBM, dark wave…
—H: The production improved for sure, the mix particularly. So of course, the synths and the drum machines sound better, clearer. And you can also hear the vocals and the lyrics better. At the moment, I almost only listen to electronic music. I even feel quickly bored when there's no electronics.
—Hélène, you have remixed some artists, including Empathy Test (we also interviewed them) and Ash Code. What do you try to add to the remixes that you make or how do you try to change the song to make it different?
—H: I usually keep the bass line notes and the voice and mute all the rest. I recompose the drums and some melodies on top of it and don't think about the original version. I also try to add a different atmosphere to the song.
—What happened during the three-year hiatus? The band split up, right?
—A: Yes, we split up because our professional relationship was too tense and at the moment we couldn't find a way to make it better. I think we just needed some time away from each other to really understand the issues we had. And it was the best decision we made as now we're really strong, and also extremely close. We trust each other 100% both professionally and personally.
—H: It seemed so obvious at that point that the only solution was to split up and now, I can't even imagine doing all this without her.
—In 2016 you created your own label Synth Religion, and a few months before, your own studio. Synth Religion has released a few albums including Fragrance.'s debut. How is the label going?
—H: Pretty well! I created the label to release the first album of my solo project Hante. and then very quickly, I started to release some other bands. Now, we feel like a family. Hante., Minuit Machine, Box and the Twins, Fragrance. and Marble Slave are the main artists of the label and we're all very good friends. We would love to release more stuff, but we don't have enough time for now.
—The label has also organized two editions of Forgive Me For My Synths, a free event with some French synthwave bands that has taken place in Paris. What can you tell us of these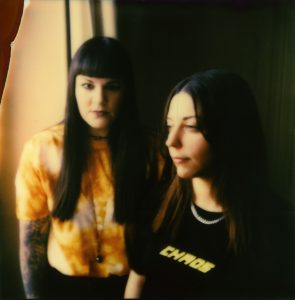 events?
—A: It's actually a good question as we're now developing the label and taking it to the next level. The Forgive me for my Synths event promote alternative electronic music. We invite bands that we love and invite people to discover them. Now our goal is to organize another type of parties, with live bands and DJsets, in bigger venues.
—H: We're also doing some Synth Religion showcases abroad, the next one will be in Munich at the end of March. This is all very exciting even if all combined is A LOT of work!
—By the way, how is the dark wave scene right now in France?
—A: I feel that in these last 3 years, our music, which was seen as really alternative, has become more and more popular. There are many events in Paris and in France that promote dark wave /minimal wave. But there are still lots of things to do to promote more the dark alternative scene.
—H: I also felt something changed. I really think it's thanks to bands like Lebanon Hanover or more recently Boy Harsher who became very popular and revealed this scene to a bigger audience. I don't know for the other countries, but it definitely helped the scene in Paris.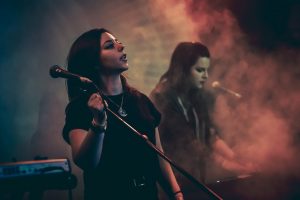 —What are your favorite synths?
—H: Korg Minilogue and Monologue, Waldorf Steichfett
—Infrarouge is the band's third album. Was it easy to make songs together again after doing them all by yourself in your Hante. project?
—H: So easy! There's a real alchemy between my music and Amandine vocals/lyrics. I'm often frustrated in Hante. because I feel like I'm struggling with the voice most of the time. I love to sing but it's often hard to deliver what I have in mind. In Minuit Machine, it's kind of liberating to compose the music, give it to Amandine and know she's gonna do some miracles with it.
—How do you think that the sound of Minuit Machine has evolved in these years?
—A: In my opinion, it has become more and more "techno". I'm talking specifically about Infrarouge which is for me very different from the other LPs. Our music tastes have obviously evolved, we're more and more into techno, dark wave made with only synths. But even though it has evolved, I'm confident it still has a strong "Minuit Machine" identity.
—H: To be honest, I have no idea. It evolved with us, our feelings, our life events, our influences. I read totally different things in the media. For some people, it didn't change (enough), for some others, the new album sounds way different (too much?). I don't know, it's just us, what we are, what we love.
—"I am a Boy", a song from your EP has been remastered for this new record. Is it a song about problems with sexual identity?
—A: No, it's not an issue of sexual identity, it describes what we call gender dysphoria. But actually, this song is more about embracing who you really are, how you feel inside, even if it doesn't fit the image that people have.
—How are things going with Hante.? Hélène, you have released a new album at the very beginning of the year with your other project, right?
—H: Yes, I released FIERCE in January 2019, toured in the US, played some great festivals last Spring and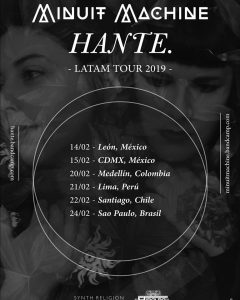 Summer. I have been touring in November supporting Boy Harsher first and then headlining a tour with Sølveig Matthildur from Kælan Mikla. I already have lots of exciting events in 2020, like a tour in South America with both bands. I'm working as hard on both projects, Hante. and Minuit Machine. It just requires a lot of organization.
—The two of you are great cinema fans, right? Please name a couple of directors you would like to work with.
—A: Gus Van Sant, Lars Von Trier, Xavier Dolan
—H: Wes Anderson and Michel Gondry
—Don't you think that it's a good moment for synth bands? TV series like Stranger Things have made this music fashionable again and now even metal heads are listening to Perturbator, Carpenter Brut and other electronic bands.
—H: It is! Hopefully, it will last!
—What can you tell us about your future concert at the W-Fest?
—A: It's a very difficult question to answer as we can never plan in advance how a concert is going to be 🙂 We'll have a few news tracks added to our set, but we'll still be playing the hits from our previous albums.
—H: We're very excited to play among so many amazing bands! We should definitely have a blast.