Mark E Moon, from the Isle of Man, is the new Dystopian post punk/wave music project of two veteran musicians that clearly deserve a bit more of fame. A few months ago, they have released their first album, the fantastic Refer, and we will see them live at he W-Fest on Thursday 21st of May. Let's fall into the arms of Entropy.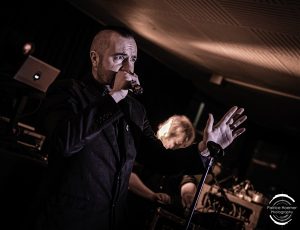 —Why did you choose the name Mark E Moon for the band? Is it a pun on the name of Television's most famous LP?
—Mark: Haha. Yes. But also a little nod to Mark E. Smith of The Fall.
—The Coldtransmission web states that both of you met 30 years ago, can you please tell us how and where?
—Phil: I genuinely can't remember where we first met. Probably Bushy's, a pub we both used to drink in. It's all so long ago. We were younger and thinner.
—Mark E Moon is the first band I interview that comes from the Isle of Man, how is having a band there? The population density is quite low, it must be a nice and quiet place to live.
—Phil: It is quiet, but that's not always a good thing. Sometimes it is, but sometimes you want a bit more excitement … it's fair to say I'm not a fan of the place.
—Phil, you first played in Suicide Highlife (who released only an EP in 1988) and Colon (with a 12″ in 1990 and a John Peel Session). Can you please tell us more about these two bands?
—Phil: Suicide Highlife was an indie band when the word "Indie" still meant something. We were heavily influenced by The Wedding Present, The McKenzies, The Room, all of that post-C-86 stuff. I wasn't much of a guitarist when we formed, so I had to learn quickly as the rest of the band were much better musicians than me. We managed to get quite a few songs recorded in demo form or whatever — as well as the 12", so it's nice that people can hear what we sounded like. The live shows were frantic, all played at 100 kph. You can find some of our stuff here: https://suicidehighlife.bandcamp.com/
Colon came after Suicide Highlife, and formed because myself and Selwyn, the guitarist from SH were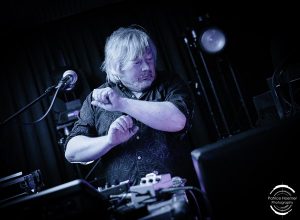 mightily pissed off with having to deal with drummers. We'd started listening to Big Black and Sonic Youth, and thought, "Let's have a bit of that!" So we started making horrible noises with our pal Colin. Later on, Smizz joined the band and we fully went over to the dark side, with atonal, lunatic blasts of noise. People always wondered why we were so angry, but we were really just having loads of fun. The Peel Session was an amazing experience, and one I'll always treasure. I put a fairly bad-sounding version of it up on Soundcloud here: https://soundcloud.com/phil-reynolds-8/colon-peel-session-first-broadcast-1990
—I guess that interviewing both of you, we can have a pretty idea of how was the underground scene of the Isle of Man. After these two bands, you, Phil formed Tea during the '90s and Phil Reynolds And The Dearly Departed around ten years ago. Again, can you please tell us more about these bands?
—Phil: Tea actually followed a similar path to MEM, in that I was making music in my bedroom with a pal, Pete, and a lovely German guy called Ulrich Hoffmann who runs the wonderful A Turntable Friend record label picked us up and encouraged us. We released two eps in the 1990s before the label folded, and then, when Uli resurrected the label a couple of years ago, he put our unreleased album out, which was absolutely amazing of him. We were a real example of ambition over ability. The album's a schizophrenic collection of all sorts of things. You can find it here: https://tea-of-man.bandcamp.com/
Phil & The Dead came about because, for the first time in my life, I'd started writing whole songs and it just carried on from there. I haven't written anything for a while, because Mark E Moon seems to be taking up a lot of my time at the moment, but I'm sure there will be much more stuff to come at some point.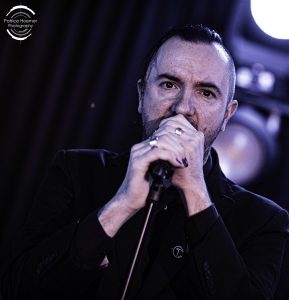 —Instead, Mark has formed the bands Circus WorlD (with three EPs released a couple of years ago), Bikini Conflict Rumour (I could not find anything about the band) and the punk band Poison Hearts (that ended in 2016). Now it's your turn to tell us about these bands.
—Mark: Circus worlD formed in 1998 if I recall correctly, from the ashes of the cover band Dis: enchanted. We've had many line-ups but the core of the band was always myself and Mikie Daugherty. Circus worlD is a dark alternative rock band but is currently on hiatus. We have an album waiting to be released, though, so maybe in the next year we'll see a new release. (In the interim: https://www.youtube.com/watch?v=HfaHObrYCuI.)
Bikini Conflict Rumour was a short-lived (about a year and a half) art rock project formed by myself on lead guitar, Steve Halsall (who was rhythm guitarist in Circus worlD and would later join Poison Hearts) on vocals and rhythm guitar, Matt Gell (the drummer in Circus worlD) on drums and Paul "Wishy" Williamson on bass. There are probably some tunes still hanging around on MySpace lol. Poison Hearts were a punk rock 'n' roll band I sang in. There were two incarnations of Poison Hearts, both of which I really enjoyed but only one album released which is a shame.
—How did you get signed by Cold Transmission Music? I have just seen that they have released an album by a band from Madrid, called Dilk and in the roster, they have Elz and the Cult, a band that we would also like to interview.
—Mark: I sent Cold Transmission a couple of songs from my other current band Slow Decay. The reply to the email came back, which was a pleasant surprise, saying that Slow Decay wasn't what CT was looking for at the moment, which was a bit of a disappointment, but they asked if Mark E Moon would like to work with them, which was amazing.
—I saw some pictures of the gear that the band is using. Which synths did you use during the recording of Refer?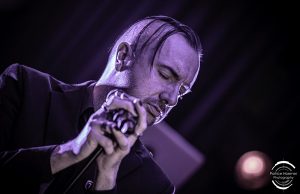 —Phil: If I'm being honest, Refer was recorded as demos, so we didn't really worry too much about using real synths and things while we made it — meaning there's not much very exciting on it in terms of hardware. Drums are pretty much all from Superior Drummer 3 or Hollow Sun's amazing "Drumbox" library for Kontakt. The main synths—which were pretty much all VST instruments—were XILS Labs' Polymoog and Sonic Academy's absolutely amazing ANA2—the best VSTi synth I've ever heard. There's a lovely Bechstein grand piano on "Hollow Eyes," and apart from that, I think the only hardware synth we used was my ancient Casio CT202, which makes a few appearances. The next album will be different, though. We've already bought a bunch of new synths to use, and I plan on buying more. Behringer is making me spend lots of money! We've already bought an Odyssey, a K2 and a Korg Monologue. Next on the list are a Behringer Pro 1 and Cat and hopefully a Poly D. Mark's also bringing his Casio CZ3000 into the studio, so that'll become one of our main Polysynths, along with the amazing Yamaha CS1x I got given by a pal, which does a flawless Polymoog impersonation (I used to own a Polymoog, so I feel confident saying that) and I've dug my Korg Poly 800 out of the attic, along with an ever-expanding collection of awful Casio home keyboards from the '80s.
—The band finds inspiration in a lot of late 70s and early 80s bands, like The Sisters of Mercy, Joy Division and The Chameleons. What do you like about this period that spawned some many great bands?
—Phil: I think that's a question that answers itself. For me, it's simply that they were fucking great bands. They aspired to be something bigger than their world was supposed to let them be. You can add bands like the Wild Swans, Ultravox and Simple Minds into that list — there was an almost desperate romanticism about what they did.
—Mark: There was just so much great music written around that time. Most of my formative years have been spent listening to bands from this era.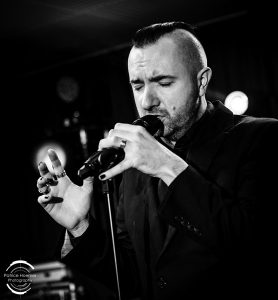 —Can you please tell us some details about the recording of the album?
—Phil: There's not really a deliberate process — Mark will come in with the ideas, we'll bang them down and I'll try and produce them a bit. It's really easy, everything flows naturally, and we don't have to think about anything too much. We know each other's strengths and weaknesses, and we know we complement each other — which leads to MEM being simply one of the most fun and enjoyable projects I've ever been involved in. And that's how the album happened; just a couple of old pals having fun.
—The first video of the album was for the "Into the Arms of Entropy" and you said that it was done with no budget. Can you please tell us how was the recording of the video?
—Phil: It's a secret, but there are actually two versions of the video. The first was made after "one or two" drinks the night we signed the CT contract. It's unreleasable, but the ideas were good, so we thought we'd have another go at it. There are actually one or two shots from the first version in the released one, but not many. My wife filmed it in our living room.
—The band plays "Dystopian post punk/wave music." Do you think that Humanity is moving towards a dystopian future?
—Phil: Unequivocally, yes. Lunatic idiocy like Brexit and Trump's America says to me that the world is becoming more intolerant and less intelligent. I hate it. I grew up in the '80s with the  feeling that not everything was perfect, but that we were beginning to fix it. Now we live in a world of stupidity and hate, where ignorance is prized over empathy, and it's fucking horrible. My grandson is 5 months old, and he's the most beautiful, happy child and I think, "what sort of fucking awful world am I leaving him? How did I fail so completely?" It's horrible, and I can't see that it's going to get any better.
—Where did you find the inspiration for a song like "Electronic," about the relation between cam girls and their viewers? I guess it's a topic never dealt in rock before.
—Mark: I honestly don't know that I consciously thought about it. It was just an idea that occurred to me. Who in those "relationships" has the money and who has the power. The answer is not an easy or obvious one
—I guess that the song "Delta Of Venus" is a reference to Anaïs Nin. Her works present a lot of different approaches to sex relations. Is literature an important source of inspiration for the lyrics?
—Mark: Literature directly or indirectly influenced a lot of the songs on Refer. From the title "Time Enough For Love" (IMHO Robert Heinlein's greatest work) to the thematic content of "Delta of Venus" to the modern day reworking of Ophelia's death in Hamlet ("Amanda").
—The longest song of the album is the epic "Abandon," reaches 10 minutes 29 seconds, and has been considered the best one of the album by many fans. Can you please tell us something about how was written? Was it supposed to be that long?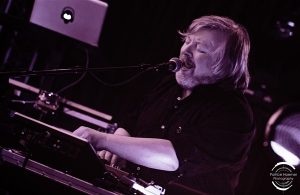 —Mark: When I write songs I just let them go on until they've told the "whole story." "Abandon" is just a longer story than most of the other tracks on the album. It was originally written for Slow Decay but never played by the band.
—The last song, called Strange Fruit, made me think of Billie Holiday. Were you thinking about her song when naming it or was it just coincidence?
—Mark: It's definitely a reference to the Billie Holiday song. The story of "Strange fruit hanging from the trees" retold as an aftermath of the event and the reaction of those left behind to deal with it. It's set at the end of the American Civil War or possibly during the reconstruction.
—Phil: It feels horribly relevant today. We're both fairly Left-leaning, politically, and sometimes you have to nail your colours to the mast. Our recent material is definitely becoming more explicitly political.
—The two of you are also in a band called Slow Decay. Can you tell us more about it?
—Mark: Slow Decay is a post punk/goth rock/dark alternative act that I play lead guitar in and Phil plays bass. We released an album last year titled Pre-Dawn Light that's available digitally on Bandcamp. https://slow-decay.bandcamp.com/album/pre-dawn-light 
—Phil: Slow Decay is a great band to be in. I've played some of the best gigs of my life with this lot, and it's helped get my bass-playing back up to speed.
—Kieran Ball is the new member of the band, right? Can you please tell us more about him? Phil, you already worked with him in Postcode, didn't you?
—Phil: I met Kieran on the night he played a gig he thought it was so bad that he was giving up music. My wife, Marie, asked him to join Postcode and we became great friends. Closer than friends. I look on him as my more-talented younger brother. He's one of the most exceptional people I've ever met. And he's shorter than me, which not many people are.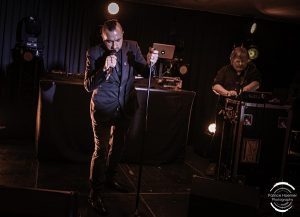 —What are the band's plans for 2020 (apart from the gig at W-Fest, that's the last question)?
—Mark: We are recording demos currently for our next album which will be released on Cold Transmission this year. The album is largely written now, we just need to whittle it down to about 8 great songs and focus on producing them to the best of our abilities.
—Phil, you're one of the bosses of Small Bear Records, right? What can you tell us about this label and future releases? The label published the first albums of Vukovar, a band we really like at El Garaje.
—Vukovar and I have an interesting and intense relationship, to put it mildly … and I'm sure they'd agree with that. They came to us via the Bordellos, Dan Shea's family band. Dan was also occasionally in The Longdrone Flowers, who we released an EP by, and who were, essentially a very early version of Vukovar. They came to the Island to record "Emperor" (which Mark actually appears on) and then, I think, the next four albums — all involving various different levels of absolute lunacy. It's been a ride, that's for sure, and I think we encourage each other's best creative endeavours although it's sometimes not an easy process. I like to think that the records we've done together, from "Emperor" through to "Cremator" speak for themselves. The only band I can think of who were able to meld transgression and beauty in the same way as Vukovar are Cindytalk.
—What can we expect of your future concert at W-Fest? You also played in the final announce party. We could not attend it, as we are living in Spain, how was it? Was it your first concert?
—Phil:  It was. And it was terrifying! We had to use a very stripped-down setup, due to baggage restrictions, but we got through it. It was fun, we went down well and we were very well looked after. Plus we got to spend time with Andreas & Suzy Hermann, who run Cold Transmission, which was fantastic. Hopefully W-Fest will be a bit more of a showy affair—I'll be playing more bass, rather than having to stare at a tiny synth in terror, and Kieran will be playing guitar and keyboards, whilst Mark may even flex his fingers. We're hoping to have Marie singing with us as a guest vocalist and we're working on projections. Much more of a rock show and a performance!
Photos: Patrice Hoerner