Maman Küsters, as they prove in this interview, are one of the most personal bands in the EBM scene. With only two albums released in the excellent label Unknown Pleasures, they managed to give another turn of the screw to a style, sometimes a bit conservative, as Electronic Body Music. It's one of the bands that we want to see the most at the Ombra Festival that will take place in Barcelona between the 24th and 27th of November. Maman Küsters will take us to heaven.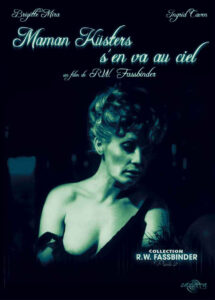 —The name of the band comes from "Mother Kusters Goes to Heaven", a movie by Fassbinder. Why did you choose such a name for the band? Did you share some of the values of the movie or it was just because you liked how it sounded?
—Cyril: Our group name comes from the fact that the Arte channel had shown "Mother Kusters Goes to Heaven" the day before. If we had watched France 3 we would have been called "Le petit baigneur" or "Pink Panther", I don't know… You don't have to look any further than that. Of course, everyone will agree that it's a band name that sounds!
—Gaël, you organized Douches électriques (pluri-artistic events where you mixed electronic, dance and installations). Have these events been an influence for the creation of the band?
—Gaël: Yes, these events where a large playground and we tried a lot of musical ideas at this time.
—The band already started in 2004, right? But you did not release anything until 2011. How were the first years of the band?
—Cyril: The years were filled with 365 days, except if there was a leap year! C'était de belles années.
—Gaël: We tried to find a label at that time, but we were unlucky, we continued to record and had a lot of fun writing tracks.
—I guess that both of you have a strong relation with Christophe Mevel as Cyril has worked with him in a couple of projects and you Gaël in other two, Dale Cooper Quartet and Tank. How was born this collaboration? Was he part of the band at the beginning? At least he played in some songs of the first album.
—Gael: Yes, we have known Christophe for a very long time. The first tracks of MK where him and Cyril singing and me at the machines.
—What did you find interesting in EBM as a way of communicating your ideas?
—Cyril: Maman Küsters does EBM. All musical styles are interesting. No idea to communicate
—Gaël: It was very natural for us to write EBM songs; it was our shared ground of music style.
—And what artists have influenced your sound? I always read mentions to DAF and Liaisons Dangereuses and the Neu Deutsch Welle.
—Gaël: Yes, of course. These are very big influences, we have a lot of respect for their music and the way they did music at that time without computers.
—How was your experience of going to the studio for the first time to record your first EP, L'Alpiniste? Did you already have clear ideas of how you wanted Maman Küsters to sound?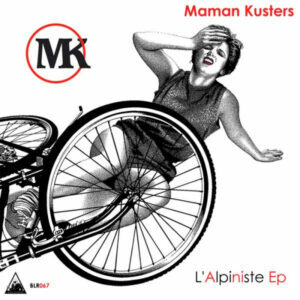 —Cyril: We both had ice axes and carabiners, and shoes with crampons. Gaël had a warm hat and so did I. We couldn't get cold. There was an echo in the mountain. It was very very very.
—Gaël: Cyril brings lyrics, and we test them on tracks I already have, most of the time we replace the music later. Lyrics pushes us in new music ways, there're no plans, and no clear ideas at first.
—How did you meet Pedro Peñas Robles, the boss of Unknown Pleasures? How important has been his contribution to the music of Maman Küsters? He also sang in a few of your tracks, right?
—Gaël: I work as a synth/pedal manufacturer, and I had to repair a Module for the great Terence Fixmer, I sent him some of our tracks and he forwarded them to Pedro… Thanks again Terence! 🙂 I had the pleasure to meet Terence IRL last spring.
Yes, Pedro makes some voices appearance! And Franck Kartell helps us sometimes with his electro music too.
—What are your inspirations for the lyrics? In a critic I saw comparisons with Gainsbourg and Bashung. Which authors have inspired you?
—Cyril: The texts come as I go along, I don't think too much about it, but of course there are inspirations, movies, literature etc. From Gainsbourg and Bashung to Richard Brautigan, all the great Chinese and Japanese poets or writers).
—Cyril, you have said that one of the goals of the lyrics is to make laugh. Do you use humor as a way to scape the difficulty of reality?
—Cyril: Why would you want to run away from life's difficulties? How could you? There is nothing to run away from. Life is difficult and life is beautiful, that's all. I am not a nihilist. As for humor, a Japanese proverb says that "The time of a life is the same, whether it is spent crying or laughing".
—Dadaism has been quite popular in pop music, from Cabaret Voltaire to Tom Waits. According to you, why this art movement is still so relevant today?
—Cyril: I have no idea of what is relevant or not.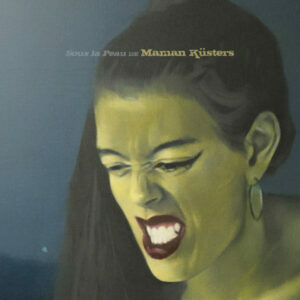 —Sous la Peau de Maman Küsters was your first album released in 2016 with really good critics. In the album you have new and old songs. Was it difficult to give it a certain cohesion?
—Gaël: Not at all, cohesion is made by Cyril's lyrics, voice and word flow.
—What can you please tell us about Cherche Querelle? Was it just a remix album?
—Gaël: It was kind of a LP vinyl version of our tracks with some edited tracks on French label (our friends Christophe Mevel and Reno from Bad Seeds Recordings.)
—And about the title, being from Brest, is it a joke with the Fassbinder movie/book by Jean Genet?
—Cyril: Yes, a joke, nothing more once again.
—Gaël: Yes, great director, great movie, great city!
—Your albums have songs in French and German. How do you choose the language for a song?
—Cyril: I don't know. The language imposes itself. French, German, Italian, Japanese…
—In your albums, we can always find new versions of old songs. Do you like to see of your compositions as work-in-progress instead of something completely finished?
—Cyril: I don't think we think in any other way than "Let's do this because we feel like it and we enjoy it". There is no plan or idea. It's very light entertainment.
—Gaël: Some are definitely finished; some are evolving with our mood of the time.
—In L'Extase Et La Terreur you worked with Julia Bondar. Why did you choose her? Because you were on the same label?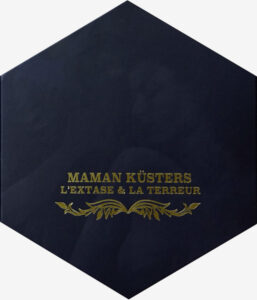 —Gaël: No, it's quite the opposite :), I've known Julia from a long time, I did some mixing and mastering for her debut album (In my neighbourhood) and I still do. I sent some of her tracks to Pedro and he wanted to sign her for a LP on Unknown Pleasure Records.
—We are also going to see Chris Shape at Ombra Festival. What do you think of the remix he did for the album? Do you also like his solo work?
—Cyril: The remix was nice; I don't know his solo work.
—Gaël:: Yes, we like it a lot! It was a very great remix, love his solo work also.
—Cyril, with your project HF90, you have done a couple of covers of Etienne Daho and the duo has considered him an influence. What does he add to your sound? The Chanson part?
—Cyril: Christophe Mevel and I appreciate the music and the words of Etienne Daho. HF90 is a bit like Maman Küsters, some of the songs go back so far in time that I don't know what to say to some of the questions -As you can see from my answer just now!
—Gaël you have your own mark of pedals, Touellskouarn. Can you please tell us more about this? You create your own pedals, right?
—Gaël: Yes, I'm making modular synths and pedals, at first it was for my own use, but now I enjoy listening to what music some artists make with my instruments.
—We have been talking about the lyrics but you Cyril has also written a novel Démarre la jeep, and a compilation of writings called BernaStrasse, Adoncques ainsi rouler skate. What can you please tell our readers about this?
—Cyril: "Démarre la jeep " is made of sentences that respond to each other until forming a story, we could say that it is under the influence of "Tawara Machi / Richard Brautigan". ''Bernastrasse adoncques ainsi rouler skate" is still poetry, a kind of postcards of vacations. As well as "Vide Adoré 1" and "vide adoré 2" as a conclusion… a bit like a poetic trilogy… All this can be found at '' Qazaq editions'' on the site "Les cosaques des frontières'" de Yan Kouton… There is nothing more to say or special to say about it, if people read them and they like it or, if it makes them smile, it's so much the better. I don't really care about music and writing, it's nice but it's not the centre of life.
—Cyril, with your AKA B Strasse 1, you have released more ambient work, also with Pan & Me. What do you like of ambient. For the people who only know the music of Maman Küsters, it's quite strange to imagine both of you doing ambient music.
—Cyril: Gaël and I have always enjoyed ambient music. From Brian Eno to Hiroshi Yoshimura, talking about me.
—Also, Gaël is into Ambient with his AKAs Moregeometrico and Noroeste. What can you tell us of these two projects?
—Gaël: These are my solo ambient/experiment projects, from long ago, I still love to play and record ambient stuff.
—Gaël, you are also part of the Dale Cooper Quartet, quite an interesting project that mixes drone, dark ambient, jazz. How would you describe your contribution to this band?
—Gaël: In fact, this is a quartet (Christophe Level, Yannick Martin, Krystian Sarreau and I) that is mostly the work of 3 people. We all compose, we all play all instruments, and we mix together. It's a collective band with no head.
—Although I bought and enjoyed the album, I did not know that MonoB vs NoroE were you, Gaël and film director Marc Caro. What can you please tell us of this project and the album?
—Gaël: Marc and I are experimental music enthusiasts.
We met some years ago and almost decide instantly to make music together. We made several concerts, and we're working on a new album. He is a very great Movie director and sound maker, I'm very pleased to make distorted music with him.
—What can we expect of Maman Küsters in the future?
—Cyril: French toast recipe… we never put a recipe in the lyrics in our EBM, it could be great. What to expect? Silly words to silly music… and smiles on faces.
—Gaël: We still enjoy making new songs together with Cyril, and we will still continue as far as we enjoy it.
—What can we expect of your concert at Ombra? Is Pedro going to sing with you?
—Gaël: The concert will be mostly Instrumental as Cyril is not coming. Pedro will join me on stage for 2/3 tracks with spoken words. There will be unreleased tracks along with old tracks.