Music, sometimes works as a catharsis to get rid of our problems, and Leæther Strip's records have helped us escape from a life not as agreeable as we had desired. We talked with Claus Larsen about the career of one of the most important projects of the style we love so much: EBM. He also needs our help now. He is going to play at W-Fest on May. A real Black Celebration.
—How was your life between Non-Stop Erotic Cabaret and Black Celebration? How did these two releases changed your life?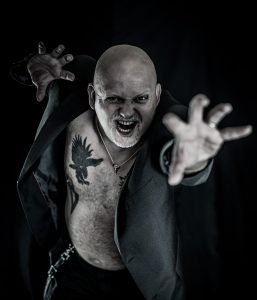 —The early 80s was my dark teen years. And those two albums hold a very special place in my heart. The Soft Cell and Depeche Mode universes back then were basically my life. I felt they were singing to me, and me alone. I lived in the suburbs in an area where I totally didn't fit in. I was the only punk around, and other kids of my age were rich kids in brand clothes and I despised them with every fiber in my body. I was also a closet gay so being a gay punk really didn't blend in too well in that area. I mostly kept to myself and focused on my dream of releasing my songs. These two albums are the reason I write songs today.
—Were your first songs actually written in 1982 and 1984? You were 15 in 1982 when you bought your first Moog, right? Your mini album from 2008, One Nine Eight Two was a tribute to this year.
—Yes. I had my first song composed 14 days after I got my Moog, it was "Dreaming". Getting that synth finally showed me the path I was going to take. I was not seeing a bright future for myself before that, and I could easily have become a number of the gay teen suicide statistic. Buying that synth saved my life.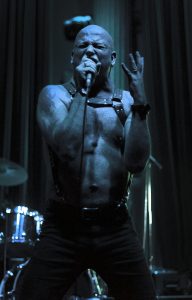 —Your first single, Japanese Bodies, was released in 1989 and co-produced by Talla 2XLC. How did you meet him? Was also Ralf Henrich involved? 
—Yes, well Talla didn't really co-produce it as it says on the cover. The songs were all produced by me at home, and then everything re-recorded on their 18 tracks at their studio in Frankfurt, and Ralf was the technician and running the whole recording session. He is a very sweet guy and super talented.
—Your first album, The Pleasure of Penetration, has some of the humour/provocation of Coil. Was the band an influence at the time? You were the only member of Leæther Strip at the time, right?
—Yeah, that's kind of funny, cause when I wrote the songs for that album I had no idea who Coil was, I never listened to a song of theirs until after. Yes, Leæther Strip is only me, still is, I got help on stage from my husband Kurt on the keys before he got sick, and in the early years it was Jesper Schmidt from Psychopomps who did my live keys.
—In your EP Science for the Satanic Citizen, you use some samplers of movies. Is cinema an inspiration for the band?
—Very much so. I am a total horror geek. Been collecting movies since the 80s and I have a huge collection. I get my inspiration from movies, books, art and mostly my sick mind. I have a chronic depression so it's my therapy.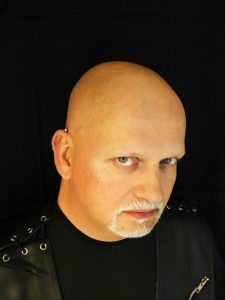 —In 1991 you also created the project Klute, and you have released four albums. Why did you need to release songs with a different name? What are the main differences between LS and Klute?
—Klute (now Klutæ) is my "punk playground". It was actually Talla's idea to do the first EP as a fun side project with guitar samples on, and it was very successful. Being as productive as I am and a one-man band, it's good to have a place where you can get out of your comfort zone and experiment too, so it helps me get new ideas and become a better musician and songwriter. I am a lot more spontaneous when I work on Klutæ compared to Leæther Strip. I am actually working on the next Klutæ album right now.
—Your album from 1992, Solitary Confinement, is considered to be your best work by some of your fans. What do you think about it?
—Yep, that album has a life of its own now. I am very proud that I have done an album that long ago that people still love and cherish, not many bands get to have that. I was in a very dark place when I composed and recorded this album and it's still my biggest-selling album, and it's still selling very well. That album gave me much a bigger audience than I could have ever dreamed of, and it has a big part in me still being here, doing what I love.
—Since 1992, the band has released a lot of limited material, i.e. the Yes, I'm Limited series. Is this like a gift for the fans or just a way of releasing more material?
—Yes, it's very important for me to release something special for the hardcore fans. They are the reason why I get to do this. The collectors have a very special place in my heart. As a collector myself, I know what it means to have something special that most others don't have.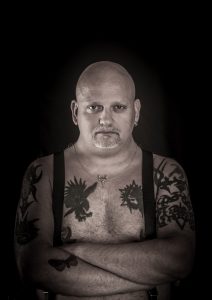 —There is a big change of sound with your album from 1994, Serenade for the Dead. What led you that way?
—I didn't really think about it, it just happened. I did tracks like that before Leæther Strip was formed. I love movie soundtracks and I wanted to make an album that was a soundtrack to the books I was reading at the time. Like Clive Barker and Stephen King. The label wanted me to release that album under another name, but I refused. I am not something you can put in a box, I like a lot of genres and that will reflect in my songs. I also made a Serenade for the Dead II, and I might do a Part III too.
—The Rebirth of Agony from 1996 is another of your classic albums and together with Self-Inflicted, one of the more "tormented". Were you having a bad time then?
—I use my songwriting to get all the darkness out of my system cause I have a lot of it. I was born with chronic depression and that was untreated because back when I was a child, children "didn't get depressed". So I learned at a very young age to get the monsters and dark thoughts out by being creative. Writing songs keep me in balance and I've never taken medication for it, my music is the medication.
—During five years (2000–2005) you released nothing. How was your life during these days?
—It was shit. 1999 was a horrible year for me. My beloved father died, I had an operation that went wrong so I got chronic pain and was put on very strong pain medicine. The label died and I found out that they had cheated on me for a huge amount of money plus I lost my whole stock of releases and I was never paid royalties for all that either. I also found out that the owner of the label was a homophobic bastard. So I just had enough of the music business and went into a very deep depression.
—The first album released after this stop was After the Devastation. Was the destruction of New Orleans a boost to write a new album? How do you write your lyrics?
—No, the album title was not about the Katrina disaster. Yes, there was a song on that album called "Give us some shelter (Katrina)" about that disaster, but the title was about me getting out of the 5-year hell I had been in. I write my lyrics very early in the songwriting process. I first get the basic bassline and drumbeat and then I start writing the vocal melody and lyrics, then I build up the songs around that.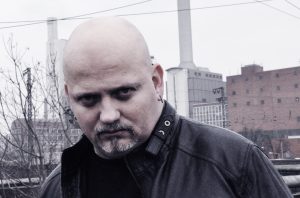 —Civil Disobedience from 2008 and Mental Slavery from 2010 have something in common: they are really long releases. When you start writing an album, do you plan to do it long, or is it something that happens during the process?
—Yes, I have a lot of songs on those albums. It's not something I plan, it just happens. I am very productive, and I want my music to be listened to. Songs that are kept in a drawer don't live, and I never finish a song that I don't feel right about.  I write songs for me. Giving them their own life by releasing them is just an added bonus.
—Mental Disturbance and Mental Recovery are remixes albums. How did you select the artists to remix you? Are you always happy when another artist remixes you?
—I ask bands I find interesting, it's that simple. It's always fun to hear what other musicians can get out of my songs. I love remixes but sadly it's not something that's very popular anymore in the scene.
—Still in 2010, you released a soundtrack, Dark Passages. Is it difficult to make music for movies? Cesar Cruz was the director of the movie, right?
—Yes, and that's one of my own favorite Leæther Strip albums actually. It was very interesting to create this album. I composed the whole album before the movie was even filmed. All I had was the script and the dialog. So the music ended up being an inspiration for the director Cesar Cruz. I hope to do more of this kind of work, I really love it.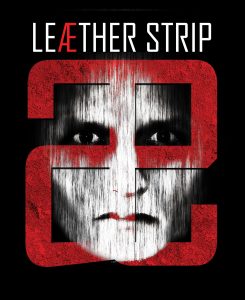 —Æppreciation from 2014 was your first cover album. I was surprised with the inclusion of "Breaking the Law", a song by Judas Priest. Was metal an influence for you?
—Oh yes, I love Judas Priest, and other Metal acts. Rob was a hero for me in my teens. Yes, all of us gays knew he was gay even back then in the 70s. So it was very shocking to see their fans react so shitty when he finally came out. I thought everyone knew. "Breaking the law" has always been a very special song for me growing up. I also did a Synth-pop cover of "Turbo Lover" with my synth-pop band Am Tierpark. I love all kinds of music, for me all genres can be good if it has heart in it, and a good song is a good song.
—Æppreciation III was instead dedicated to a movement, the Neue Deutshce Welle. What did interest you of these artists?
—I loved all these bands. That whole movement was amazing it was right after punk and it had the element of punk but the song writing became a lot better. It still had the punk in it and very catchy melodies. Very simple and minimalistic but still amazing. They took the "No Future" out of the music, and it had hoped.
—Apart from these three albums, you have two albums covering the songs of Depeche Mode and Simple Minds. Was it easier to bring the songs of Depeche Mode to "your world"? Who is going to be the next band covered?
—The last one I covered was Björk's "Army of me", it's in Æppreciation IV. On that, I cover bands like Killing Joke, Laid Back, NIN, The Misfits, Filter, Lead into Gold, Billy Idol, Garland Jeffreys and a Depeche Mode song too. I don't know what I will cover next, though.
—As you said, you have released Æppreciation IV, just one month ago. Any update on your new Leæther Strip and Klutæ albums?
—Yes, it's released on the American label Cleopatra Records, as is the other albums in the Æppreciation series. As for the coming Leæther Strip and Klutæ albums, I have had to postpone the Klutæ album because of the current situation with my husband Kurt. The CDs are produced and were planned for a March 1st release but as I am self-releasing that, I just don't have the time or economy to do it. I spend most of the day with Kurt in the hospital and it's a 2 hour 30 min drive, so I won't be able to take the time a release takes. But as soon as Kurt gets better I will get back on track. I have planned the coming Leæther Strip album for autumn this year, so if all goes right it will happen. All the songs are composed for that too.
—Only if you want to talk about it, how is Kurt? We know that you are trying to get money to help with his medical problems. Anything that you want to comment?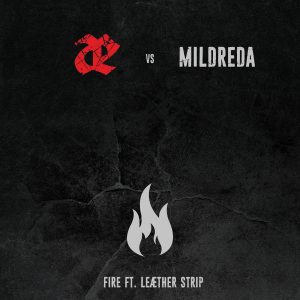 —It's been some very hard months for Kurt. Because of several Doctors and surgeons' errors they missed a huge abscess next to the kidney I gave him. It contained 1 liter of "fluid" and if it had ruptured, he would have died within a few hours. I almost lost my Kurt. So, he has gotten already 6 surgeries in 1 week and will need further surgeries. He won't be home again for months and he has already been away now for 62 days. It is very hard on us and he needs me there every day to be able to handle it, and I need to be with him. Kurt is the strongest person I've known, and I have a lot of hope. We have asked for support from the fans for help so I can continue to drive to him every day because we cannot afford the gasoline costs as it looks now, and he will also need rehabilitation to get his muscle strength back and that will cost a lot too. People can donate directly to my email via PayPal: [email protected] , or go shopping at https://leaetherstrip.bandcamp.com/. Every cent you donate goes directly to Kurt's care. Thank you!
ps. I just this minute released a new benefit single for Kurt. A song I did with the band Mildreda (Jan Dewulf) https://leaetherstrip.bandcamp.com/album/fire-le-ther-strip-vs-mildreda-for-kurt
—Your last album of original material is World Molester: how has Leæther Strip changed in these years?
—Yes, a very successful album too, so that's great. I don't really think about or know how I've changed over the years. I just do the best I can to learn more and become a better songwriter & producer with each album. I never plan how the next song will be, it just happens when I sit down in the studio and compose.
—You have another side project Am Tierpark, more synthpop. What can you tell us of it?
—Am Tierpark is John Mirland and I. We both share the love of pure melodic synth-based music and the classic synths, and on a fine sunny spring day 2015, while walking and chatting about music and watching the animals in Berlin Tierpark we formed Am Tierpark. We create and want to make music that is not over produced and drenched in effects. We want to present the sounds, melodies and lyrics crystal clear to the listener. This band is all about the love of a good melody, synths and lyrics that will move the listener. We truly are musical soulmates and the new album Kings of Failure was published a few months ago.
—What can you please tell us about your future concert at W-Fest? Is it also going to be focused on the Zoth Ommog period?
—I haven't picked the songs for the set, but yes, I think it will be an old-school set. It would fit the festival, I think. I can't wait. I am going to be a real fan boy with all these music legends backstage.