L.F.T is, without any doubt, one of the most versatile producers of the moment, able of switching from futuristic electro to the most aggressive EBM. A few days ago, he released on Mannequin Records his new album, entitled SALZ, in a 500-copy edition that will probably be sold out in no time. He is playing live and djing at the Ombra Festival that will take place next week in Barcelona.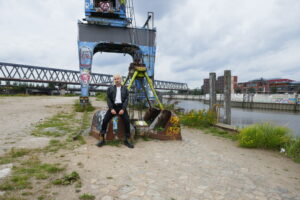 —Why did you choose a name like Love, Fist, Tears?
—The name was actually an idea by a friend of mine, when we were at the pub, and I thought it fitted really well with my sound.
—When and why did you start making music?
—I started to play the guitar when I was 13. I always listen to a lot of music so I always had the urge of making music myself.
—Let's talk about your first releases: Your first EP was entitled Janus Head and it's more techno. Was this your first interest in electronic music?
—Janus Head was the first record that I put out. Back then, I created a label with a group of friends called Woodwork which was mainly focused on lo-fi house and Techno, so Janus Head was really influenced from that.
—Your following work was a track in a split with EKG entitled 001 released in 2017. This track is more ambient/experimental. Are you going to release more material like this?
—I did the ambient record cause I was listening to a lot of ambient/drone music during that time (I still do a lot). I still make drone/ambient music for the movies that I do music for, but I don't think I will make another ambient record.
—In 2019, you were back with two EPs, why did it take you so much time between these first releases?
—In my early 20s I was not in a very good state of mind, so I didn't want to do music anymore. I am really happy that this changed.
—002, one of your EPs of 2019 is pure acid. How do you see the acid scene nowadays? What's your favorite acid record? You did also acid in the Acid Avengers 014. 
—I think acid music is one of the best genres that there is and I am very happy that it is still produced and played so much. If I have to call out a favorite record it would be Joey Beltram – Energy Flash.
—It's alive, the other release of this year is instead basically electro. How do you plan your releases? I mean how do you choose the style of every one of your works?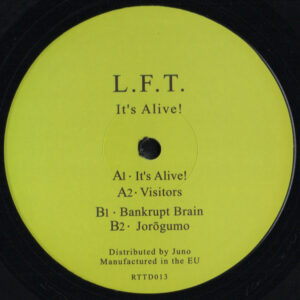 —As I mentioned a bit earlier: I like to do various styles of music. I don't want to be "locked up" and chained to any certain style of music. I think that having no boundaries in terms of different subgenres helps to create more interesting-sounding tracks.
—Your music has been compared to the work of Drexciya. I am just passing a phase of buying all their material (and their numerous side projects). Do you like the music of this legendary Detroit duo?
—Of course, like almost everyone I am deeply in love with Drexciya and all of the side projects. I feel honored if anyone ever compared me and my music to them.
—In Zerstöre Eine Stadt, you added EBM and darkwave to your sound. What happened to these tracks that you said that it took you three years to release them?
—I am really in love with wave and punk music. The tracks on Zerstöre eine Stadt are basically all live jams and it took me a long time to find the perfect singer for the lead track. So, I was very happy when Rosaceae offered to do the singing. I often start doing one track by writing drums and bassline, sometimes after that I get bored and I put the idea aside. Then sometime later, when I come up with a good idea of what to put on top of that, I get the tape back out and start recording again. This is why the process of finishing a track can take so long.
—Your last EP Träume Von Gabriel is a homage to Gabi Delgado, what can you please tell us about this? How did you discover the music of DAF and how has it influenced you?
—I was always a big fan of DAF. I love the simplicity and rawness of the tracks. They've inspired me for a lot of tracks. When he died last year, I wanted to do something to honor him, so I released that record. There is also and engraving/etching on the record for him.
—In most of the descriptions of your album Blood In The Grass, there are references to punk and after-punk, two styles that you just said that you love. As so far, we have talked only about electronic music, I would like to know if you have also influences from these styles.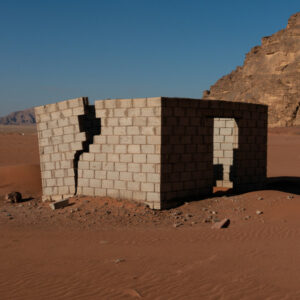 —In the last years Punk, Post Punk and Wave Music have been the biggest influences for me and my music. Bands like No More, DAF and The Sound really changed my perspective in terms of music. I've been collecting records for a long time now and honestly when I am at home I barely listen to dance music.
—You have appeared in Helena Hauff's Kern Vol.5 compilation and also played in Golden Pudel with her. We and some of our readers are big fans of her work. What can you please tell us of your experiences with her?
—Helena is definitely my most favorite DJ in the world. Her DJ sets are inspiring. On top of that she is one of the nicest people I know, and I am very happy to call her a friend.
—The typical question: for your recording, do you prefer digital or analog?
—I record everything analog on a tape recorder. I switch between reel 2 reel and cassettes.
I don't like using a laptop to make music, since I love the hands-on feeling that you get when you operate hardware music tools and that every instrument has its own physical feeling.
—You recorded a short soundtrack for the Trailer of Daniel Hopp's video-performance: YAYACLA. How was the experience? Would you like to work with soundtracks?
—I work a lot with Daniel Hopp. I basically do the music for all his films these days. I love his work and I have lots of fun with him and I do like to make music for movies a lot.
—How do you describe your DJ sets? You are also going to DJ on Thursday, right?
—My DJ sets are mainly breakbeat electro. I am always between 135-145 bpm. On special occasions I also play Punk and Wave music.
Yes, I will DJ at the opening after party at Moog on the 25th.
—What can we expect of L.F.T. in the future? Your new album Salz has just been released right? What can you tell us of it?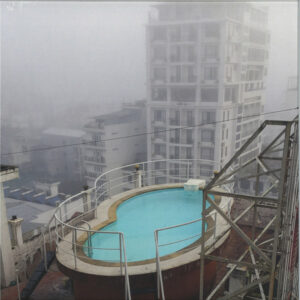 —I recorded Salz mainly during the pandemic time. Since clubs were closed, I didn't see the reason for recording dance music. On top of that, I was feeling really down most of the time, so the album got really dark.
For the future I have planned one upcoming EP on Mannequin and one on Return To Disorder which are both more focused on dance music.
—What can you please tell us of your work as Schulverweis? Levente Pavelka, the other half of the duo, is also collaborating on your new album, right?
—We started the band when we were sharing a studio together and we were totally bored with dance music during those days. So, we started jamming, pressed the record button and we are still Jamming since then.
—You also run your own label, Neoprimitive where you have released more experimental stuff. What can you tell us of it?
—Neoprimitive is a project I do with my good friend Lukas Fischer. We mainly focus on publishing music to listen to, not to dance.
—How have you lived these COVID times?
—When COVID hit, it was really bad. My first tour got cancelled and I was very broke and depressed. I am very thankful that I can perform again these days and do what I love.
—In your new album, you collaborate with Rosaceae, an artist that has also recorded for Neoprimitive. What can you please tell us of her?
—I love the music of Rosaceae. We met some years ago through a friend. She did a live performance, and I was absolutely stunned and thought immediately that I wanted to work with her. Since that we became good friends and we've made a lot of music together. We also shared a studio for a long time.
—What can we expect of you live at Ombra Festival? What can you please tell us of your live sets?
—My live sets are mainly a mix of distorted breakbeat electro and fast new wave music. I am really looking forward to Ombra!