The name of the Greek darkwave duo, Kalte Nacht, caught my attention the first time I saw it on a press note of the documentary Music for Ordinary Life Machines. Some time later, the name came back to my world when the band signed with the prestigious label Cold Transmission and remained there when I finally listened to their first album. And now the timing is perfect: their first work has been released in Cd this month and we will see them live next 25th June at Sinner's Day Summer, that will take place in the Belgian city of Ostend.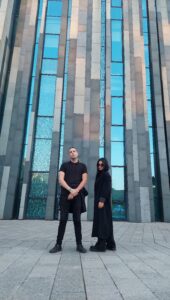 —Why did you start the project in 2017, Nikos? Did you play in any other band before?
—Of course! I've been involved in music since a very young age, so after some years of musical education, I started playing mainly guitar in local bands for some time. Around 2017 I got deeper into the synthesizers, which I've never touched before! So, I started to experiment deeply, trying to explore new sounds and musical landscapes.
—How did you find Myrto? Were you looking for a singer?
—To be honest, in the beginning, I wasn't even thinking of releasing my music, because I didn't know where this may go. I took my time, and when I felt that the whole thing took a proper structure and shape, I think that the musical vision I had, showed me the way to find Myrto, through a very good mutual friend of ours who had listened to my first solo tracks.
—Why did you choose a name like "Kate Nacht" (Cold Night) for the band?
—I think that it's the combination of two things that we truly love: Nights and winter! So, what's better than a good cold night??
—Did you release any single before the album? It's not that normal to debut with a full album. How long did it take you to compose it?
—Yes, of course. We released the song "Ghost Dance" about 9 months and "Nychta Skia" about a half month before the release. The composition process was maybe a bit slow, because we took on working on the songs with Myrto from the beginning. So, I think it took us at least a full year of work.
—Myrto, do you prefer singing in English or Greek? Does it depend on the track?
—I am used to singing and writing lyrics in English, since a very young age, but Greek has always been the language I write my thoughts, feelings and desires. It's closer to home, my core. In Kalte Nacht, the language we choose depends a lot on the energy of each track. We usually go with what comes more naturally to us.
—The first album was sold out, something quite impressive nowadays. How do you think it became so successful?
—Myrto: Our time, energy and a lot of precious parts of ourselves were thrown into this album and I think that we both made a silent pact from early on, to remain exposed, creative and true to our cores during the process.
—Nikos: I really think the main reason was that we truly love music and what we do. This love gave us the freedom to create something that was honest and high quality as possible, without having in mind 'numbers' or the success it may have in the future. Besides, I think that especially in the previous decade, our genre's scene gained many new passionate fans all over the world, so, a lot of new bands like us had the opportunity to be heard and truly embraced from their very first steps.
—I read that the both of you are fans of classic Greek dark bands. We know Lefki Symphonia. Which other could you recommend us?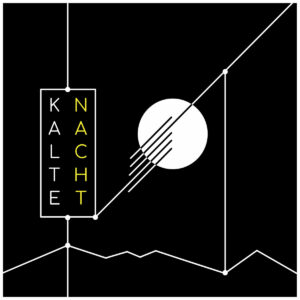 —This question is really really tough I must say because the greek scene is big and there are lots of bands, not only recent but also from the 80s and 90s to think of! So, I will just recommend some of my biggest inspirations: South of No North, Horis Perideraio, Metro Decay, Selofan, Doric and Data Fragments.
—And how is the current scene in Greece now? Are there many clubs to play in?
—The scene in Greece is really remarkable! Lots of great bands are coming out these last years and some of them have already a strong presence outside of Greece. And the audience of course: It is growing constantly, and has a lot of passion for the scene. As far as the clubs are concerned, there are not so many just for this specific genre, but I see that through the years, lots of venues have started hosting bands from our genre and organising these types of festivals and gigs.
—Myrto, you have said that you prefer analogue gear. What are, according to you, the advantages of it?
—Well, in terms of how music can flow through us, I always prefer to use my hands when I'm playing around to discover new melodies or tunes. There is something very soothing and grounding when you touch an instrument to create music. I guess it adds another sense to the mix, apart from hearing, and I'm feeling more like an active participant and a conduit at the time. Also, analogue gear has more flexibility, as you can improvise when you feel like it, and not stick to parts or bars just reproducing your music, as in digital gear.
—Our moments are answers was your single recorded during covid. Do you think it help to give hope to the public?
—Myrto: I sure hope it did! As it did for us! During that period, full of uncertainty and grief, being able to do what we love and share it with the world, was already hope enough for me. It brought back the true meaning of creativity and arts in general and how it was always there as a means of true expression while discovering our inner strength and power.
—Nikos: I think that music generally gives hope to the public anyway. And during the covid period, there was a lot of music coming out in general! So, I really hope that our single also did it in some way!
—What inspire you to write the lyrics of the band?
—Myrto: Everything and anything! From a simple daily interaction with someone to an inner dialogue about things that burn inside or even collective fears and desires that no one talks about.
—Nikos: For me personally, the main inspiration is my internal feelings in combination with everyday life and the interaction with other people, places etc. And of course, it's about things like love or hate, the light and the darkness, the ideal living and the thought of death.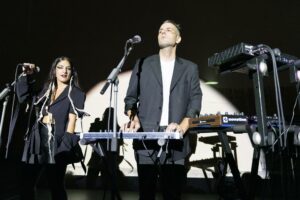 —Myrto, you have described the music of the band as a continuous journey towards the light and closer to the truth. It's quite curious to use light as a symbol when you do "dark music", what did you mean in that sentence?
—Thanks for bringing that up! I believe that one of the most important roles of music and arts in our lives is to uplift us and through them to become better and better. So for me, to be able to embrace both the dark/shadows and at the same time, the light that lives inside us is the ultimate goal towards becoming whole.
So, this "paradox" of continuously playing with the concept of light within our dark music genre is so liberating. Dark or our shadowy sides are not something to hide under a rug or ignore, it's a part of us and only when fully recognizing their worth for our journey, standing side by side to light and truth, we can really evolve as humans, both for our sake and for the collective, this living and breathing organism.
Truth is light, however painful or dark it can be and we must be able to acknowledge it if we really want to keep creating and not reliving or replaying the past.
—The band has participated in Unity, a project to provide basic goods and suples to refugees from Moria retention centre and also gave part of the money of the album to help the people affected from the fires in Greece. Do you think that musicians, in general, should be more aware of what's happening in the world and help other people being more aware?
—Of course! I think that every individual, musician, artist or anything else, should be aware of what's happening. We are all part of the earth, of the environment, of the society. Our way of living, our options and our actions, will sooner or later affect every other creature around us. So, we should not close our eyes and ears, pretending that everything's ok. We should try to do our best in every way we can, beginning with one of the most revolutionary actions: To try and evolve ourselves.
—How would you describe your contribution to such a popular genre as darkwave?
—I really don't know! What can I say about that really? I would just say that we are a band that has a pure love for this music genre and always trying to evolve its sound with freedom and respect for ourselves and the people who are listening.
—Is difficult to work together as you are living in two different countries?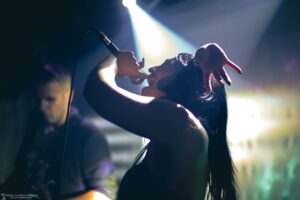 —Myrto: In the beginning, we needed some time to adapt for sure. Change our ways of communicating or adjust times. But I believe our will to continue growing through this band is much greater than any seemingly disruptive obstacles. There are always ways if there is pure intent!
Sometimes I record vocals in my booth in London and Nikos is recording synths in Athens, but thanks to the internet we keep in touch to organise everything almost as we would do if we were in the same room. Endless hours in Zoom helped too!
—Nikos: It was a real challenge, especially in the beginning! But, as time went by, we have found our ways of communication. And of course lots of trips between Athens and London!
—I read that you are working on a new album. Anything that you can advance us about it?
—Myrto: It's going to be explosive! We've been gathering ideas for some years, so now that they are finally ripe, it is the perfect time to make them public and let people embrace them as we do.
Also, the timing couldn't be better to get into the family of our new label, Cold Transmission, with whom we will start releasing our new material very soon and do beautiful things together in the future!
—Nikos: That's true. We are currently working on our new album, having already some new songs and some structured ideas. Hopefully, we will start the recordings in the next months!
—The band appeared in the documentary Music for Ordinary Life Machines what can you please tell us of this?
—It is a must-see documentary, made by our good friend Nikos Chantzis. A true gem, that reflects our country's synth scene, with great unseen footage and interviews of artists and bands from the 80s until today. As a band, we are truly happy to be part of it, it means a lot!
—Myrto, you are a voice over actress, and have worked on dubbing video games right? We have also been related to that field for a long time. How did you get into it? Is it good Greek dubbing? Do you think it help you singing?
—Yes, voice acting has been my main profession for some years now and I couldn't be happier that I get to do what I love for a living. I started singing, performing and acting at the age of 5, so voiceovers really combine everything that I am in a nutshell.
I started off for fun, from my room, with the little equipment I had at the time, researching and learning everything I could mostly from US and UK online resources, creating my demos and profiles on platforms all around the world.
After many auditions and emails, I started working with clients globally, mostly as a home studio artist, and now I get to dub amazing animation series and characters I used to love as a child.
I would say that singing really helped me take my voiceovers to another level and pretty fast, as I already had a solid vocal and acting technique from years of training, plus the sound equipment know-how, which was for sure a huge advantage in the beginning.
—What can we expect of your concert at Sinner's Day?
—First of all, we are more than excited to be part of this awesome Festival, along with truly legendary bands! You can expect lots of energy, sweat, dancing and some new Kalte Nacht songs!