Portuguese act IAMTHESHADOW has been one of the great surprises of the last edition of the Sinner's Day Festival that took place last week in Belgium. The three-piece, part of Cold Transmission, has already released four great albums that we would like to recommend you. A few days before his concert at the Belgian festival, we asked Pedro Code to shed some light in his world of shadows.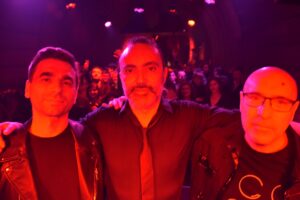 —When did you create IAMTHESHADOW? Did you want to do something different from your previous bands?
—I created IAMTHESHADOW in 2015.
I was composing for The Dream Collision and I made a new song that sounded so dark and different from that project that I decided to make a new project called IAMTHESHADOW.
—Your first album, Everything In This Nothingness, was recorded entirely by yourself, right?
—Yes, entirely by me but my guests for that album did their lyrics and recorded their voices.
—There is a cover of The Sound in your first album. What do you like of this song and band?
—That band is very special for me, and I wanted to do a version of "Winning" to honour them.
—Why did you re-record a shorter version of Everything In This Nothingness? You wanted to know how the album would have sounded with a band?
—I did it especially because so many people wanted to have that album on vinyl, and the album is long and didn't fit entirely on a vinyl, so we decided to take out the last song "Distante Melodia," the version of The Sound and the songs with the guests.
 But we wanted to give an extra to our fans with the new song "On Winter Leaves Embrace" that was a demo in 2016, and of course, we recorded electric bass and some synths that were not present in the first and second editions of Everything in this Nothingness. For us, this album deserved a better production and I believe we achieved it.
—Vitor and Herr G joined for the WGT concert and you invited them to be part of the band during that moment. I would like to know how you remember that gig. I guess it must be a very special memory.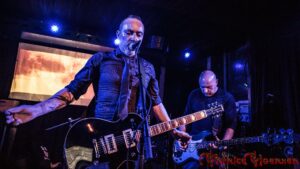 —They joined me for the very first concert of IAMTHESHADOW in Porto in Cave 45 club with Kirlian Camera and it was there when I invited them, on stage, to be part of the project. Yes, it was a very special moment for all of us I believe.
We were very tense in the beginning but as soon we started playing and as we saw the reaction of the crowd, it was great… very special and unforgettable.
About WGT… there are no words about that special day. I feel overwhelmed about the memories of that gig. And it was in those days we met for the first time Suzy and Andreas (from Cold Transmission).
—All of our demons, the difficult second album was even darker than the first one. How do you see that album today?
—It seems to me, even now, the natural step after the first… it's very dark and intense but its danceable too… it is for me a very special album (like all albums I have recorded with IAMTHESHADOW. We had a label for the first time (Northshadows Records), Rui and Vitor were giving their contribution for the first time and we were very happy with the result.
—In one of the tracks of Embracing the Fall, Karl Morten Dahl from Antipole plays the guitar. He's a musician that we have followed at El Garaje. How did you contact him?
—I met him in Facebook, and we become very good friends and we did some remixes of our bands and I invited him to play in our song and also as a special guest in some of our concerts. We already played together in Germany, England and Belgium.
—In that album two tracks have as lyrics extracts from classic German poet Friedrich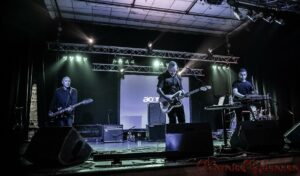 Hölderlin. Do you try to create a link between the album and his work?
—Not exactly… but obviously I feel a personal link with his work and some other dark poets and in that moment, it inspired me to compose songs for Embracing the Fall.
—In some interviews you talk about your love for poetry. Are you influenced by any Portuguese poets? Maybe Pessoa?
—I'm influenced in my writing by Fernando Pessoa and Mário de Sá-Carneiro (specially this one).
—In the last proper album, Pitchblack, you worked a lot more with guitars and analog gear.
—Yes. I wanted a more organic feel at that time, and I wanted much more guitars and analog synths and drums.
—You were robbed, right, what happened? You lost your laptop with material for the album, didn't you?
—It's not a good memory for me but yes. I lost my MacBook (robbed) with the files for Pitchblack, all my documents, keys and some money.
I had to re-record many parts of the songs and I lost maybe 3 months of work.
—In the last album there are a couple of really interesting collaborations. Apart from The Frozen Autumn, who are quite popular I think, we would like to talk about Bedless Bones and Vaselyne. Why did you choose them to sing in your songs? How was working with them?
—First of all, we chose them because they are really great singers and there was an opportunity to ask them and I'm so glad we did it because I love their contribution to our album…
It was very easy to work with all of them… Great people with great ideas and very professional… so, it was perfect.
—Last album has been released by Cold Transmission Records. How is your relation with them? Any other band of the label that you like?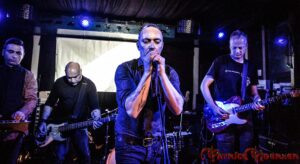 —Our last 2 albums were released by them and all I can say is that we are really good friends and they are very passionate and professional. We are very happy to be part of Cold Transmission.
I like many bands from the label, and I have very good friends in many of them.
—This year the band has released a remix album with artists like Antipole and Kill Shelter. What can you tell us of the selection of remixers? And why did you choose your first album to be remixed instead of the last one?
—The selection was made by Cold Transmission and IAMTHESHADOW and it was very easy to choose the bands. We are all friends and we like each other's work so… it was great to work with all of them…
Everything in This Nothingness new edition is made by two essential parts:
The Vinyl and the Remix CD. We and CT decided since the very first moment to do it like this.
I believe that maybe sooner than later we will have remixes for Pitchblack…
—Pedro, you are also part of The Dream Collision and Rainy Days Factory, what can you please tell us of these two bands?
—The Dream Collision is my very special project… the project that "made" IAMTHESHADOW… It's my special place.
RDF is for me a great experience and a very different band with very talented musicians. I always loved to play with them but it's now in "sleeping mode."
—How do you see the Portuguese dark scene at the moment? Now there are a lot of bands getting popular as She Pleasures HerSelf, Velvet Kills or yours.
—The dark scene in Portugal is kind of small and with not many places where you can play, but we have some very good bands as you refer, and we have many great fans of the genre.
—You said that you wanted to do soundtracks. What kinds of movies would you like to put music to?
—Yes, it is my "dream" to be able to compose soundtracks with no special genre in mind… just the possibility would be great but is a very closed market and I know my opportunities to do that will be very limited.
—How has the pandemic affected the band?
—It did not affect us in creative terms but it made impossible to play… we launched Pitchblack and we had great expectations to play it live in 2020/21 and we had to cancel many concerts, like so many bands. It's very sad, really… This pandemic ended all our plans. Let's see what the future brings…
—What are the band's plans for the future? Maybe a new album?
—For now we want to play Pitchblack… We think this album deserves to be played live…after that, of course, that IAMTHESHADOW will record another album, for sure.
—What can we expect of your concert at Sinner's Day?
—After almost 2 years without playing, this will be a very welcome gig for us… a very special festival with great bands…we always give all in our concerts… it's what you can expect from us. To give ourselves totally.