Mexican electro-industrial act Hocico has made songs out of the rage of a full nation. With an extensive discography, the duo formed by Erk Aicrag and Racso Agroyam have become one of the  main representatives of their genre although they have never been afraid of crossing its borders. We have talked with them just before their Spanish gig that will stop at Barcelona on April 1st with Stigmatroz. On April 2nd, instead, they are playing in Madrid with Asseptic Room.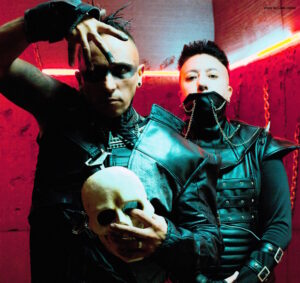 —What can you tell us about your beginnings as Niñera Degenerada and then Hocico de Perro?
—Erk: To make a very long story short, the two projects were part of an artistic search that was manifesting itself within us. Around that time, Racso received a small Yamaha keyboard as a gift from his father and my father gave me a cassette recorder that we used as a microphone in our demos. It was a lot of fun to start making songs by playing and using what we had at hand. In those moments we were learning to make more and more complex songs. I still listen to the songs from that time with a certain fondness. And I remember how eager we were to start a more serious project.
—In 1993, you officially became Hocico and released three demos in the following three years while you went from recording 30 copies to recording 500. How did the public react to your music in those early days? Did you sell the cassettes at the concerts or by mail?
—Erk: At the gigs, people got caught up in the energy contained in our music and we already had a gradually growing following. I think we became a real band when we played concerts all over Mexico City and also in different parts of Mexico between 1994 and 1996. We took the cassettes everywhere and sold them, I don't think we kept even one copy for ourselves. We also sent them by mail.
—You mentioned that you like punk, how do you think it influenced you, and isn't that influence already present in bands like Skinny Puppy?
—Erk: We were influenced by a lot of punk bands like Suicidal Tendencies or Dead Kennedys. As well as Mexican hardcore-punk bands like Massacre 68 and Sedición. Even by Spaniards Sociedad Alcohólica… there are too many to mention but they all contributed something to our sound and our attitude. But when we heard Skinny Puppy, it blew our minds. I think the most punk thing we still do, so far, is self-managing and creating everything we do.
—Now thanks to re-releases we've been able to get to know classic Mexican EBM bands like Decada 2 and Ford Proco. Did you listen to them back in the day? Any other forgotten Mexican bands you'd like to remember?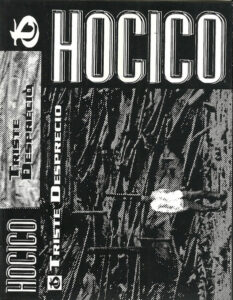 —Racso: Of course, at that time industrial music was at its peak and we were only 15 years old. We listened to electronic music, not only European and North American, but we also supported the Mexican music of DKD2. They were and still are our friends. There was another band that we liked a lot, Interface. Other bands we listened to in our puberty were Casino Shanghai, Capitán Pijama, Illy Bleeding, Eunucos, Sintoma, Size.
—Erk: Yeah, sure, we liked Decada 2. Once, we had to forge our IDs to get into their show, because we were still underage.
—At that time you were part of the collective La Corporación that tried to promote your style of music from Mexico. What can you tell us about that experience?
—Erk: This is also a very long story. Those were good times where a lot of the underground bands from the early 90s in Mexico City supported each other. There was a lot of camaraderie, a lot of music and a lot of concerts. But for various reasons it all ended, like most of the other bands involved.
—Your first official album was 1997's Odio Bajo El Alma. What was it like to move to a more professional studio (although the third demo was already recorded in a studio, right?) Were you able to show the potential of Hocico for the first time?
—Erk: Those studio sessions for Odio Bajo El Alma were our first recordings in a "professional" environment and that was a very enriching experience for us. The mixing engineer and owner of the studio, Rogelio Gómez, did a great job and helped us to get the best out of ourselves. We learned a lot from the whole recording process. At that time we saw all the possibilities and we were already planning to have our own studio.
—With this album you opened for Marilyn Manson, who had released Antichrist Superstar the year before. Since then, you guys have been going up like a rocket, while his career seems to have stalled after Mechanical Animals. Were you interested in his music?
—Erk: At that time we weren't really connected with his music, but after that gigantic concert, which marked our career, we started to follow his musical career. In my very personal opinion, now his expression is much more musical because he is not so interested in provoking the audience so much anymore.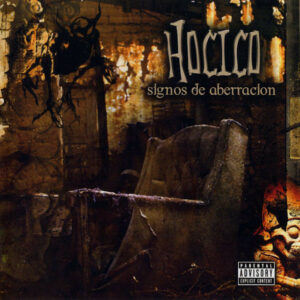 —"Forgotten Tears" is one of your most famous songs. It first appeared on Signos de Aberración and is about children living on the streets (I guess this is one of the signs in the title). Do you think that, with your lyrics, the public can become more aware of a reality that is there and can sometimes go unnoticed? Have you been sometimes stopped to hear that your lyrics have changed their lives or at least made them think?
—Erk: Yes, it has happened to us. Some people have tattooed the chorus of "Forgotten Tears" because it resonates with their lives. Some people say that the songs have helped them at certain times in their lives, which we're very proud of, because that's why we do it, to connect. In that sense we've been able to turn a lot of the negativity, we've had to live with into something positive.
—Since Signos de Aberración, you have taken great care with the editions of your albums, releasing second CDs with remixes or special editions. Do you see it as a way of rewarding the fan?
—Racso: We are passionate about music and we think that being able to give them special editions is something that our fans really appreciate. We never imagined that Hocico could keep selling CDs, vinyl editions and now cassettes.
—Erk: Absolutely, we always thought about giving that extra for the most loyal fans. It's partly overwhelming, but fun to plan and realise the special editions. We come up with the concepts together with the record company and in all cases we get the items included ourselves.
—After Wrack and Ruin you were helping and producing other Mexican bands. We are now getting to know some of them thanks to the work of the Tumbas Abiertas label. Any bands from YOUR country you can recommend us?
—Erk: For now, I can recommend Prismatic Shapes who I worked with on their last releases. I can also recommend La bande-son imaginaire, Larva, La Bruja de Texcoco.
—You have recorded two live albums in Israel, any special reason apart from being provocative?
—Erk: Also to keep a sonic memory of such a special place, full of both positive and negative energies.
—With Memorias Atrás, have you managed to escape from your memories? Does singing about your problems serve as therapy?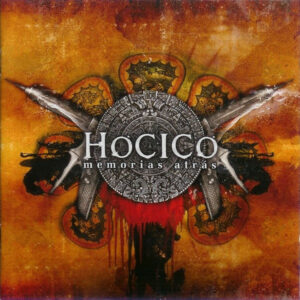 —Erk: Of course, talking about the negative side of life is therapy. Personally, I think doing so has kept me sane and made sense of everything else in my life, as if by verbalising the problems start to hurt less, start to fade away, start to become experiences to learn from.
—Artificial Extinction is about possible human extinction at the hands of artificial intelligence. Seeing also that you have always had a very futuristic image, are you interested in science fiction, do you see it more as a way of warning of possible problems than as an escape from reality?
—Erk: We have always had a vision of the future, in many cases it is dark. At one time I enjoyed reading a lot of science fiction. I am still passionate about the works of Jules Verne, Arthur C. Clarke, Isaac Asimov, William Gibson, Phillip K. Dick. Now science fiction, I consume it more visually: "Black Mirror" is one of my all-time favorite series. I think science fiction serves the function of showing us our own possibilities, both the most brilliant and the most despicable.
—You have collaborated with songs for several films. Would you like to do a complete soundtrack? What would it be like?
—Erk: Of course we would like to. We've already had some proposals and we hope that one day a full soundtrack will materialize. At the moment I'm making music for a video game called "Mictlan", set in the Spanish conquest of Mexico.
—Erk, you've been living in Germany for many years, did you find it hard to adapt? Do you miss Mexico?
—Erk: It's been 17 years since I left Mexico. At first it was complicated because of the culture shock, but I think I adapted relatively quickly and now I also consider it my home. What I miss most about Mexico are my friends and family, but fortunately until before the pandemic I was able to see them once or twice a year.
—On several occasions you have commented that your music reflects the violence in Mexico, do you think the situation in your home country will change in the future or is it getting worse?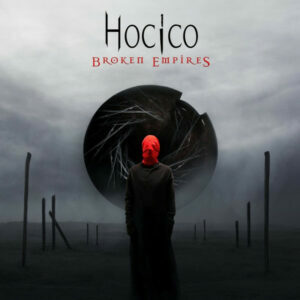 —Erk: It's difficult to know the future. So far, part of the essence of Mexico that lives in me and travels wherever I go is linked to the violence I saw and that is still going on. Most of the terror in Mexico today is linked to the drug trade and geographically it will be difficult to escape from that reality.
—In interviews you have talked about Drum and Bass, Frenchcore and dark synth. What other styles within electronic music interest you? Is Hocico open to new sounds?
—Racso: Hocico has always been open to new musical trends without falling into typical clichés. I personally have always been connected to many of the trends in dance music or club music and not just the electro scene. The new album HyperViolent has songs in the style of Drum and Bass, G House, Darksynth, Cyberpunk, Dark Ambient and also Black Metal, but always giving it a more special touch and fused with the Hocico touch, which in the end always gives me good results in our albums.
—Erk: Actually as Hocico we are interested in many musical styles, mainly those that have their origin in the underground. Now Racso proposed to experiment with several of the new electronic music trends. Personally, I'm interested in almost all musical styles, at the moment we are re-discovering Mexican music.
We managed to make a mariachi version of one of our classic songs, "Odio Bajo El Alma" which is included in HyperViolent. We are always open to new sounds.
—We always ask about side projects, in your case Racso, you recorded two albums as Dulce Líquido. What do you tell us about them?
—Racso: The albums I released at that time are already DL classics. I have a couple of demos that never came out as well, but to your question, I've always been active with the DL concept and not everything has been released. To this day I'm still experimenting and making music for DL. For some reason I haven't felt much interest in making an album and people ask when a new album is coming out and when I start to get more involved, Hocico appears and absorbs my mind and it becomes a vicious circle that in the end I have to focus more on Hocico, because people demand more Hocico all the time.
—You, Erk, on the other hand, are part of Rabia Sorda, is it difficult to combine the two bands? What does the future hold for this project?
—Erk: No, it hasn't been. I really enjoy the creative freedom that having these two outlet valves gives me. I already have some new songs from Rabia Sorda that I hope to release later this year or early 2023.
—Can you give us a sneak preview of your upcoming album HyperViolent?
—Erk: It's a hard and brutal album. I think we achieved a very high level of violence and artistic aggression. It sums up our view of the world in the last few years in pandemic. I think we took creative risks and we're excited that it's out there soon!
—Have you heard Asseptic Room's latest album? They're going to be your opening band in Madrid.
—Erk: Not yet. Carlos came to the party where I was DJing on my last visit to Madrid and we had a great time! We'll listen to your new songs live.
—How have you lived these pandemic times? Erk, you said you had started writing a book, anything to add to this?
—Erk: Like the rest of the world, we have been through everything, good and bad experiences, but I have learned something from all of them.
Fortunately, my whole family is in good health and while the world we knew was falling apart I had the opportunity to finish one of my big dreams, which is to write a book of poetry, unpublished lyrics, aphorisms, short stories and so on, which is called "Hasta Que Mi Garganta Sangre" (Until My Throat Bleeds). I will be releasing it in the next few months.
—What can we expect from your concerts in Madrid and Barcelona?
—All the fury contained in electronic sounds and furious screams! Madrid and Barcelona be ready!