Hapax or hapax legomenon, a transliteration of the Greek term, refers to the word that occurs only once within a context, either in the written record of an entire language, in the works of an author, or in a single text. This sense of singularity can also be found in the music of the darkwave/post-punk band Hapax, which shares the name. We have talked with them, on the same week of their Spanish tour, organized by All Waves, that will stop in Barcelona on the 24th, the 25th in Valencia and finally, on Sunday 26th in Madrid. Tickets can be bought only at the door.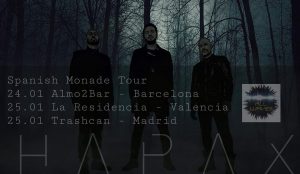 —What bands have influenced Hapax? Any Italian band?
—Every artist is influenced by others' music. We grew up listening to the first albums by Litfiba in particular and the new wave Italian scene in general. It would be hard to name all the bands, that have somehow affected our creative process without excluding any of them.
—How were the beginnings of the band? Hapax started more or less at the same time as Ash Code. Do you have any relationship with them? Both bands share the same record label too.
—We used to play in other bands in the past, so we have always been actively engaged in music projects. It just came up, by chance we could say. But that precise inspiration, the "Hapax-mood," was already in our minds since quite a long time. We got a couple of tracks done, drafts at that time, and after Valerio Lovecchio (Swiss Dark Nights) heard them, he immediately wanted us to be part of the artists produced by his label. Thus we started working on our first album. Our friendship with the Ash Code goes back a long way, before they released their debut album. Together with Geometric Vision (who are also close friends of ours and who signed up for the same label), we all hanged out at the same clubs and have often also had the chance to share the stage, both in Italy and abroad. Our music genre seems to be experiencing a great moment in the city, we all were born in, e.g. Naples, and that's really exciting.
—Being called Hapax and having an album with a name like Monade, do you try to have a concept behind the band and every work?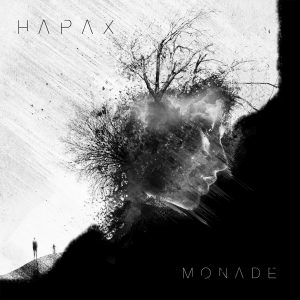 —By choosing the name Hapax we aimed to recall our Ancient Greek roots, our origins, along with a sense of uniqueness. On the other hand, it's true that for each release we always try to identify a concept that links all songs: the thematic identity, as structural unit of our works, represents a Leitmotiv, like a path to follow or a journey. 
—What inspired you to write a song about the Italian philosopher Giordano Bruno in your first record? Why did you remove this song from the 2018 reissue/re-recording?
—We wrote this song in honor of a great scholar and philosopher born in our Land, in a city near Naples. His studies and his thoughts were very close to the concept, we tried to develop in the first album, "Stream of consciousness." The sound and the atmosphere created by the song in question are slightly different from "our" usual one, so we consider it rather as a sort of ghost-track. This is the reason why, we decided to exclude it from the second release. Just a stylistic choice, which had also been determined by a practical need: to respect the length limit of the vinyl press.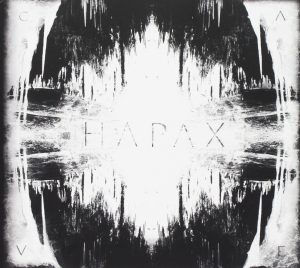 —Since Cave, Alessandra Policella has been writing most of the lyrics. How do you work together? I mean, does the band give her a topic or any idea? Or does she listen to the music and write the words on her own?
—Since the very beginning of our music project, Alessandra has always contributed to the development of the band, especially from a conceptual point of view. We owe her for the idea of the name Hapax and then she wrote almost all the songs lyrics. Generally, we always work together, we talk a lot each other and every idea can be an input for writing a song or a text. Sometimes it's pure magic: she listens to the melody of a song during the mere composition phase and, inspired by its atmosphere, settles the topic she will be writing about.
—Last year, in June, the band released Monade, your last album to date, that has featured in a lot of best of the year lists. I guess you must be really happy with that. According to you, what has made the album so much appreciated?
—That's something, we are unable to reply to. We compose our music, instinctively, according to our inspiration and our emotions. But to determine what is appreciated of our works, is not up to us. Of course, to get such good responses is something that makes us proud and repays every single effort.
—How has the sound of the band changed with the incorporation of a drummer?
—For the new album we wanted to achieve a deeper, more vital and more ancestral sound, so the inclusion of a real drummer seemed to be the best choice. We needed the warmer and harder sound produced by the skins of a real drum, instead of the electronic drums, even if the sound overall has basically remained electronic. We decided to offer the same line up for live shows as well and were very satisfied of the final result.
—Being Spanish, I am always interested in the rest of the Latin American Goth Scenes. What can you please tell us about your Mexican, and South American tour at the end of 2018?
—Today the South American music scene is in great turmoil. When a band plays there can actually feel the enthusiasm in the air. The audience participates a lot to the show, local promoters invest money and time in music. It's an amazing experience. We got twice the fantastic opportunity to perform in Mexico City and the feedback has been awesome both times. We met really passionate people and very professional organizers and club owners.
—Last year we could see a lot of Italian artists in Madrid: Frozen Autumn, Ash Code, Winter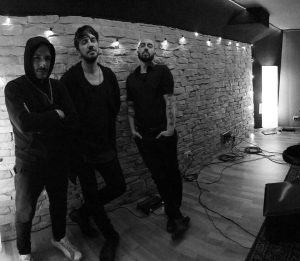 Severity Index, Be Forest… Do you think that the Italian scene is living a creative peak at the moment?
—Actually, for more than ten years now the Italian scene has been making a huge contribution to the post-punk/coldwave music scene. In addition to the bands you mentioned, there are still many others that have created valuable albums, widely distributed not only in Italy, and we are glad to see them playing at important festivals more and more often, all over the world.
—I am currently reading Gomorra and I have to ask you, did you ever have any problems with the Mafia or were you tented to write about it? 
—Every Country has its mafia and its problems. During the last years, our local reality has been described through television series and books like Gomorra, giving to many people worldwide the impression that our city should be identified above all with those "criminal aspects" and its related social issues. But there's much more than this. Our second album Cave is partly also a tribute to our city, with its wonderful and complex dark sides.
—What can we expect of your Spanish tour?
—Unlike our last gigs in Spain, you will attend a renewed show, especially thanks to our third band member on stage, and will enjoy many new songs.
If you want more info about Hapax, you can read this interesting interview on ElektroSpank music magazine.