There is nothing that I want more than to finally be able to party after all these months of lockdown. And listening to the music of the Belgium-based band Frozen Nation doesn't help either: I even want to party harder. But hopefully we will be able to do it soon, at Sinner's Day, where the band is going to play or at any party where the music of Frozen Nation is played. They call it Dark Belgian Disco, now let' dance.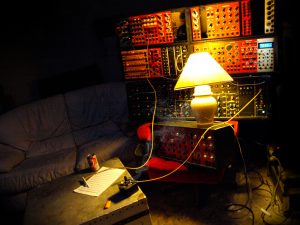 –Let's start the interview with a question about Elvis, your modular synthesizer built during the 70s' for the band Jethro Tull and third member of the band. Where and how did you find it? Did you "trust" an instrument used by Jethro Tull (just joking)?
—D&D: We found Elvis in 2011 near a town called Angers in France. He was owned by a guy making silly noises with him, he was so glad we found him. Jethro Tull looked like ugly hippies but Ian Anderson was a great showman. Jerry Heller talks about that in the 1st part of his book about Gangsta Rap when he writes about the '70s and the period when he used to manage rock bands. Great stories about Bowie, Van Morrison, Creedence Clearwater, etc. too. Great book!
—How were the first years of the band before the releasing of the album?
—D&D: D spent time to produce the tracks, to work with Moss on his singing, and to improve our collective abilities to do something solid during lives. Then, he spent a lot of time mixing the songs.
—Moss, you have been a singer with several bands, can you please tell us more about your background?
—Moss: I was the lead singer of a band called Dust, then I was involved in a project called SSL. We were rehearsing in Brussels at Spector Studio, that's where I met D&D. We reduced the band to a duet, and the project is now called Quarantaine.
—And D&D, you have worked in Paris with many projects such as TTC, Holden, DJ Cam.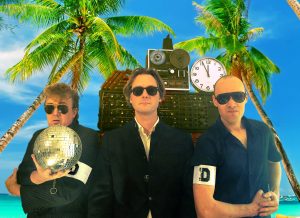 Mainly hip hop artists (at least two of them). Do you think that working with them has helped in any way the sound of Frozen Nation? Can you tell us more about your work with DJ Cam? I like some of his records.
—D: I was in the music business in Paris as a drummer, producer, songwriter and sound engineer, DJ Cam's Underground Vibes was produced in my studio. All experiences are good for making music. These are the rules for the sound of Frozen Nation: a dancing beat, a catchy melody sung by a dark singer in a melancholic atmosphere in the '80s style.
—D&D, you are also part of D&D Modules, a company (I guess) that create their own modules, and some of them have been used in the songs of Frozen Nation (Like Lord of the Wah.) Can you please tell us more about this?
—D&D: We launched a eurorack modular synthesizer modules brand called "D&D modules". We craft fat sounding synth modules in the spirit of the '70s brands like Moog, Arp or EMS. We started this adventure because we are working on an electro-house musical project called Nervian Society where we mix a DJ set-up with some modular synthesizer. Elvis was too big for going on tour, so we needed a eurorack format modular synth (eurorack format is much smaller), so we created our own brand, D&D Modules, with modules like the Lord Of The Wah, a voltage-controlled wah but, in fact, more a kind of awesome technoïd acid filter and distortion. We also invented a device called "The Bodyplug" for singers who want to use guitar pedals effects on their voice during live gigs. We started D&D Modules after the release of Frozen Nation's album Dark Belgian Disco, so there's no D&D Modules in Dark Belgian Disco, but a lot of modular synths, though, and a lot of Elvis on every track.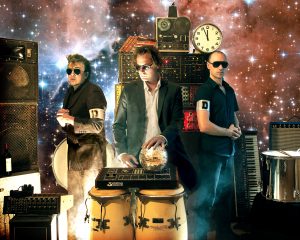 —In the pictures of the band that I have seen you are three, but live you are four, right?
—D&D: D&D are 2 people, so there's Moss, D&D and Elvis (the human synthesizer). 4 people yes!
–Let's move to the band's influences: The sound seems inspired by 80s electronics and the Italo disco movement. I have lived in Italy for a few years, and been interested in Italo, do you think it's an influence? What artists do you like of this genre?
—D&D: Italo Disco is the name of how dance music evolved in Europe in the late '70s when drum machines and sequencers appeared. The same thing in the USA was called Hi-NRG. There is a great Sci-Fi prophetic book called "Discoteca Clandestina" by Paolo Danese where they explain how Italo Disco will reign all over the world and the 5 dimensions after the global meltdown and the collapse of our civilization. It is very funny, inspirational and you learn a lot about Italo disco and Hi-NRG.
Giorgio Moroder is NOT an "Italo disco" guy, he's a genius producer who revolutionized dance music with his use of the sequencer, he's a god for us. We're not Italo disco specialists, but we like some songs by Gino Soccio, some productions of Patrice Cowley (his work with Sylvester), some kitsch stuff by Stock Aitken Waterman (Dead or Alive's "You Spin Me Round", can you consider this as "Italo disco"? We don't know). Bobby "O" is also quite fascinating, he chose to produce thousands of middling tracks instead of producing only tens of great ones. A visionary in his way: the intro of The Flirts' "Passion" is one of the best rhythmic ever.
—When I think of disco music I think of the New York of the late seventies and Larry Levan's Paradise Garaje. Although I would never say that this is a clear influence, are any of you interested in this period of Disco Music?
—D&D: That is awesome that you talk about that. Because this nightclub in New York, the Paradise Garage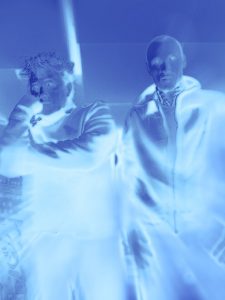 went through the "Disco Sucks" period when everybody started to get fed up by disco, and only through the love of music it became a place where producers started to make music just to get their tracks played in this place of excellency. And some of these productions became hit records only by the love of partying and having fun. It is an important place for the switch of dance music from disco to house and techno, and there was a kind of link between New York, Chicago and Detroit. It reminds us somehow this scene in the Netflix series "Vinyl" when the young A&R discovers the birth of disco in this underground club where the DJ plays Barrabas' "Wild Safari" (check for that scene on YouTube). This might have been six years before Larry Levan.
—If you have to choose: Cerrone or Moroder?
—D&D: Moroder: he changed the face of dance music with "I feel love". We also cover "From here to eternity", but "Supernature" & "Love in Cm" by Cerrone are great classics too.
–At the beginning of the 2000/end of the '90s, we had the electro-clash movement. I guess you were quite young at the time. Was it an influence? Did you used to dance to these songs in the Belgian clubs?
—D&D: We've heard this word "Electro-clash" sometimes but we didn't know really what it means. The Wikipedia page talks about Felix Da Housecat. We love him, we cover his song "My Life Music" with Frozen Nation. We'll play it at Sinner's Day if you are here.
—And the Belgian part in the title of your first album comes from the New Beat influence (and the fact that you live in Belgium I guess). How has this style influenced the band?
—D&D: The song "Dark Belgian Disco" is a tribute to the New Beat, but with some real drums and a disco Cerrone-like bass. Also we call our music "Dark Belgian Disco" because Moss' voice is dark and the music is funkier and it's made in Belgium. So this track is a way to connect all of this in a form of "belgitude".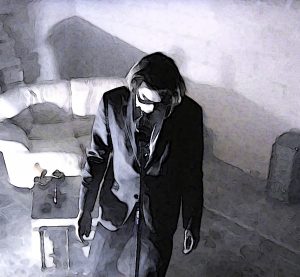 —The lyrics of your songs are about Pascal, Giono, Homer and Gengis Khan. Don't you think they are a bit too deep for the dance floor?
—D&D: Hahaha, you're probably right. KLF say in "The Manual": "Pure dance music, if it has any lyrical content at all, will only deal in the emotions experienced within the four walls of a club late at night: basically, desire and, more importantly, that area which is beyond desire at the very center of the Human Psyche. Everything else is meaningless. Any creator of pure dance music that is attempting to communicate any other subject should be treated with deep suspicion." We have translated this book into French, but we didn't read it at the moment we recorded our album.
–In "Alone in Berlin," the band uses vocoder. What do you think of the use of auto-tune and vocoder in modern music?
—D&D: Moss hates it. We think differently, we are very open-minded toward pop and dance music. Singers and producers love to modify their voice, because they have a good relationship with their ego somehow. All these effects were used by very creative guys like Roger Troutman and his talk box (later used on Dr Dre & Tupac's "California Love"). And don't forget that Kraftwerk used the vocoder a long time ago. In fact, the first use of the vocoder on a record could be on the "Ode To Joy" on A Clockwork Orange soundtrack, recorded with the Moog synthesizer by Wendy Carlos with Bob Moog himself. Anyway, on Frozen Nation's album, these vocal effects were more used as double voices or backing, not really as modifying effects on lead vocals.
—What can you please tell us about the recording of the album?
—D&D: A lot of work for D: recording, producing and mixing until the final cut. Writing songs is a nice game for children, but making all that stuff real is a serious work.
—When you were writing the songs, do you think first in the dance floor or the living room?
—D&D: The living floor: a nice melody and a good beat.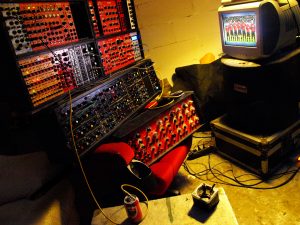 —Do any of you also DJ? When do you think is the perfect time to play a Frozen nation song in a club?
—D&D: We've just started a new project called "Nervian Society", it is an electro house music hybrid DJ set with some modular synthesizer, live, the music is very different from Frozen Nation, so we don't play Frozen Nation tracks in this set, but the ideal moment to play a Frozen Nation song is during dark parties, when the goths start to get extroverted.
—How has your first album been received in the Goth scene so far?
—D&D: It has been welcomed very positively. The reviews on all Goth media were great, and the audience enjoys a lot our concerts during dark festivals.
—The track "Gengis Khan" sounds a bit glam and you have said that this style shared the same sexual energy as disco. Do you think that the band has managed to charge the album with a strong sexual energy?
—D&D: Not enough.
—There is no party with this situation. How is the band coping with Coronavirus?
—D&D: Right now everyone in Frozen Nation is involved in other projects, but we are all severely impacted by this situation, and as music producers and recording engineers it is very worrying, but we'll have to adapt to survive.
—What are the plans of the band for the future? As soon as we have a future.
—D&D: At the origin, Frozen Nation was a side project for everyone, we had our projects and Moss had his. It took us really further than expected. We're thinking of releasing a new song with some remixes on vinyl.
—How will be your concert at Sinner's Day?
—D&D: Danceable.