In the late eighties, some bands started making EBM in Spain. Coming from Madrid, Flash Zeri (initially Flash Cero) where one of the most iconoclastic and original groups that brought our favorite style to this country. We talk with Fan Dl Kaox, singer and original member of the one and only Vakalao band. They are playing at DarkMad and also a few weeks before in the presentation of the festival.
—Your musical career started in a punk band called Panadería Bollería Nuestra Señora del Karmen. Do you think that the Punk spirit has always been part of you?
—I have never felt a PUNK, I lived it, I lived during those, I would say, glorious moments, but I never felt part of the social idea of PUNK. I was with punks, I was with punk bands, I was hanging out with punks but I never felt under any PUNK flag. It was and maybe it still is, a strange sensation, to be in a place, to live in that place and to know that you don't belong to the place that you know, that you see or that you live in. I think I was fired from PBNSK because I was disorganizing. But yes, I think that we could have been a fantastic Band if we had continued, a Band whose rehearsals were like being in a race to know who could be the first one to finish the song. With me, who never learned by heart the lyrics, this mixture would have ended up a brilliant chaos, a bang without control… and that would have made me believe in PUNK as the ideal path, but not… they fired me because they could not control me…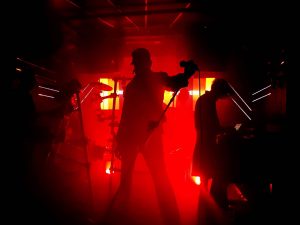 —You founded Flash Cero with your old friend Lolo de Lacruz, who also was in PBNSK. How did you get into electronic music? ¿Which gear were you using back at the time?
—We were two persons who were all the time looking for something different from what we saw. We did not invent anything, but we loved to think: we are going from PBNSK to a totally electronic Band… I had a Roland Juno -60 and Lolo, a Simmons electronic drum. We added a Casio 5000 and with Lolo came his brother Javier and his girlfriend and friend of mine Fran…. and that was the beginning.
—How was Madrid in 1988, the year in which the band released their first album? I read that during some DJ sets you were doing some speeches, is it true?
—1988 was a normal year, sex, drugs, music and alcohol, and well, also some work, politics, etc. but mainly sex, music, drugs and alcohol… all the time. During these days I was really into amphetamine and I could not stop talking, so if someone asked me if I was making speeches… I would not be surprised if it was like that, although I meant something different, like "look, I have an idea, blablabla… 
—Were you interested in the House and Techno movement that was popular at the time in Madrid?
—When these styles arrived in Madrid, some people (and I was one of them), we tried to promote it as much as possible, each in their own way, but anyway, everybody pushing to make the dancefloor go to heavens… I remember going with my earplugs 24 hours a day and when I did not like the music played in the club, I turned on my Walkman and continued with my own party, following my own rhythm, like an independent party. I really liked the electronic massification, the volume of that sound, that looked even louder because it was new. We know that it was a life and death style, with afters, fucking and drugs… the craziness of the non-stopping party.  
—In 1988, the first album of Flash Cero was published, and it was reissued and remastered again a few years ago (in 2015). Which version would you recommend us?
—I personally like the fact that we managed to do that, we managed to record that, the rest, to recommend one edition or the other, well I have some sympathy for the records and the moments when they were released, nothing else.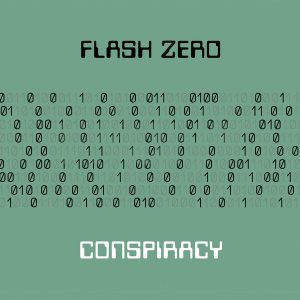 —Only your second album, Conspiracy has lyrics in English. Was it an attempt to international success?
—Of course. We thought that if here, singing in Spanish nobody was paying attention to us, well, it was easy, we had to start singing in English and everybody was going to start paying attention to us. But in the end, the same thing happened but worldwide: nobody noticed us with the exception of Sweden, where we sold a lot of records.
—In Conspiracy there was a change in style and the band started playing EBM. How did you discover this genre?
—242 and that's enough. When you are young and live in the 80s and listen for the first time to Front 242, there are two possible things that can happen: you die of a heart attack provoked by a supersonic pleasure or you dance and jump because you are really happy. Later you understand that it's not only 242, it's a full movement and you remember punk and how it was and you know that the best thing is to plunge into the sea and follow the wave, you will enjoy it until you get tired and take the following one. I love EBM.
—How was your relation with Interfront/Megabeat, the other Spanish band that was doing something similar to your music?
—There was no relation. We only met a few times in Valencia and I think, although I have some doubts, that we shared admiration for each other. Gani, from Megabeat/Interfront and I felt that way, the rest of the people from both bands were not aware of the contact that the two of us kept. 
—Have you followed Esplendor Geométrico's career? Do you like the music of projects like Orfeón Gagarin?
—Orfeón Gagarin has just released a really good record. I was never really interested in them, but they were always there, on the front, shooting alternatives, they were doing things. Esplendor Geométrico is another world. They are fantastic. It's incredible to see that, every time more, and after almost 40 years playing, they are starting to be the commercial part of the festivals… I don't mean they are commercial, but if they are in the line-up of a festival, this line-up is more accessible to a lot of people… I see that they are having fun and I am very happy for that. Music has to cheer you up when you are doing in, regardless of the content or projection.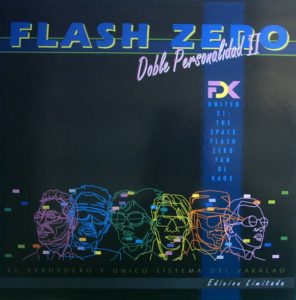 —What happened that Flash Zero became Fan Dl Kaox & The Space Flash Zero?
—First, I left the band, but after a while, I came back and fired everybody and started my own story in which, even the people from Flash Zero participated. 
—In the cover of Raya España 21, we can read 'El verdadero y único sistema del Vakalao' (the only and true system of Vakalao) and the band has been attached to that scene. But why 'Vakalao' with V?
—Valencia is written with V. Fan Dl Kaox with K.
—¿Qué pasó con Flash Zero después del single de Doble Personalidad II, publicado en 1991?
—The company went bankrupt and closed. Our project of becoming the biggest band of the scene went to the wall. Even like this, I am grateful to the directors of the company for allowing me to do again what I wanted and in the way I wanted. 
–How did you react when the music that you were doing in 1990 became so popular, just one year later, with Chimo Bayo?
—I only feel close to Chimo because we met in a moment when there were drugs for everyone, he sang it his way, I did mine. I did not like his way, but the guy is a good guy and he has always been a good guy. Even knowing that I did not like his song, he used to invite me to his house and treat me with a lot of respect and love. It was fun. The people that were 'there' before the explosion… we saw it coming. Something really fun, an eccentricity.

—One of the most iconoclastic project in which you have been involved was the Follartour. What can you tell us about this experience?
—It was amazing. 'The most incredible sex party on a stage that we have ever lived'. People used to this kind of hardcore shows worldwide told me that. The first was really hardcore, the second one 'indecipherable'.
—In 2010 you created 747 Federales, although the band has been slightly becoming Flash Zero, right? Are you going to release anything under this name?
—In 2020, FLASH ZERO 747 Vida Federal. That's next. We have 37 songs already recorded which with some important changes, precise arrangements and interest for Electronic Music will make Flash Zero really happy with life, with supersonic life. 
—In 747 Federales you already started working with Big Toxic. In what ways a big producer like him can contribute to the band?
—With a famous production, the guy is really good, we are really good friends. Regardless of our friendship, nowadays, you are in Flash Zero because of the music and its power. If you are fantastic (not me, but the rest), I will do everything to have your here. We are happy in this band, we like the music, we like our Band and we like to have fun with our Music and our Band.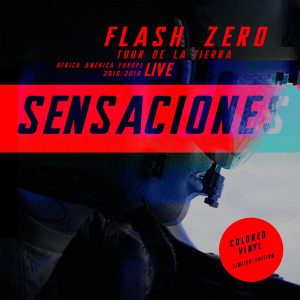 —How did you get the idea of releasing a live record, Tour de la Tierra – live, that was published this year? What can you tell us about the tour?
—It was great to play in three different continents, we, a band that does not sell records, that is not part of the national underground, etc. I always loved live recordings, not all of them, but the great lives and I had the opportunity to do one. With the current line-up of Flash Zero, I could get a fantastic result, at least I wanted to try, and I am sure that I have what I wanted, a spectacular live recording.
—Do you think that the national electronic scene is a bit snob? How is it possible that pioneers like Flash Zero have never played at Sonar?
—I imagine that the people of Sonar, they know what they do. Another thing is whether I or we like what they do. I hope that, one day, they will call us and we will say no. Well, if it's a lot of money… we will be there, but it has to be a lot of money. When you arrive late to a place, it's possible that you have to pay an extra.  
—Did you like the book ¡Bakalao!? Do you agree with the way it describes that scene? Did the band play in Valencia back then?
—The book is… I can't be sure, because I have not read it, but I know that the writer said that Led Zeppelin had played in Benidorm and before that, I have the normal reaction: I passed… But I am sure that even if what the writer says is not reliable, everything that the interviewees say is probably true, everyone's true and true anyway. Flash Zero played a few times in Valencia and surroundings, in some cases they paid us a lot, and also gave us an astonishing catering of drugs. Everything was, sometimes very dangerous, and always very fun. 
—How is going to be the concert of Flash Zero at DarkMad? The band is also going to be at the party at the beginning of October, right?
—On the 6th of October, we play in the morning, at 12 o'clock, we love that time, with all the sun, boom: trip to the stars. At DarkMad we hope that everybody will have a great time with all the bands, we are looking forward to seeing all the stars shining. We will be going on a trip to the stars… In these concerts we incorporate live songs of the Vida Federal de 747.