Extreme Unspoken Tension, ELM's last work, is one of the albums that in these days of lockdown, we use to practice our DJ abilities. The thirteen tracks contained in the album are perfect for any powerful high-energy set. We wanted to know a bit more about these songs so we have talked with Peter Elm, Swedish musician, now living in Brussels who, first with Restricted Area and now with his project ELM, has managed to make EBM great again.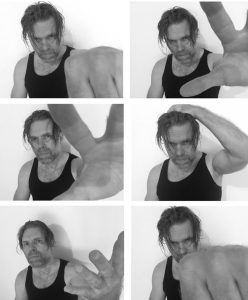 —With Restricted Area, you released 4 albums and an EP, being the first single from 1994. Can you please tell us more about your first band? Why did you stop doing music under this moniker?
—Well, I had been making music since my early teens and Restricted Area was the first project that would come to do some releases. The band had a few different line-ups through the years, but I was always the songwriter and driving force behind the project. Eventually, I felt the need to move on with something new, a project with a more consistent aggressive sound and a higher level of production.
 —The music of Restricted Area varied from synth pop to EBM. When did you start to be interested in Electronic Body Music?
—Since my mid teens, after seeing Front 242 support Depeche Mode in 1987 in Paris.
—What happened between the end of Restricted Area and the beginning of ELM? Were you still making music?
—Yes, always. There were different things going on in my life… I moved to Paris and then to Brussels. But I never stopped making music.
—Do you think that Belgium is the perfect country for the music you make?
—I don't think it really matters where you live as long as you're happy. For me Brussels is good for now.
—You toured with the late Gabi Delgado and knew him. Can you tell us something of your relationship with him? How did you meet him?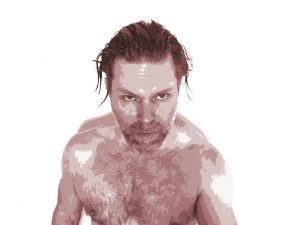 —Well, organized by our label at the time, we embarked on a Scandinavian mini-tour with the project DAF DOS in 1997. DAF DOS consisted of Gabi and Wotan Wilke Möhring. We were so young and impressionable. Gabi and Wotan were like our older brothers or something… We had a lot of fun in the minivan and staying at small hotels. I have some pretty rare vinyls from that time that Wotan and Gabi gave to us.
After the mini-tour, I stayed in contact with Gabi and visited him a few times in Berlin. Even though we were not close friends we always had good conversations . What I always loved about Gabi was his attitude towards life. Live intensively and do what you want! He truly practiced what he preached. I miss him.
—ELM may be an acronym, for example "Electronic Lust Music" or… What's your favorite acronym for the name of your band?
—Ha ha, good question. I don't know really… I find electronic music very sensual and sexual so maybe "Electronic Lust Music" is good…
—In 2016, you released the EP Edge with remixes by other EBM artists like Autodaf, Hardwire or Pouppée Fabrikk. Do you prefer to be remixed by artists of the scene or by artists from outside the EBM world?
—I like to be remixed by artists I like and respect. The genre doesn't really matter. Generally, I always preferred when bands did their own remixes.
—That same year, you released your first album Hardline, with songs written in different moments of your career. Was it difficult to give unity to the album?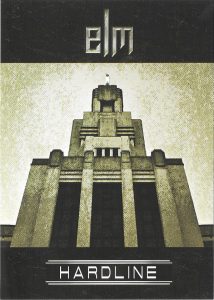 —No, not really. Everything came to place quite well I think.
—The special edition includes four new tracks and a few remixes. Were these songs done specially for the release or outtakes?
—They were done specifically for the release; however, less time was spent on these tracks than the tracks on the actual album.
—In this album you worked with Pontus Stålberg (SPETSNAZ). What do you think that he brought to the sound of the band?
—Pontus was not at all involved in the production of the album so he had no influence on the actual sound. He did do the mastering of the album, however, and did a great job. I've always been a huge fan of Spetsnaz and Pontus and I have very similar tastes in music.
—In Hardline you sang in three different languages, right? How do you choose the language in which you are going to sing? Is it during the writing of the lyrics process?
—Yes. Then the lyrics need to "find the right sound or song". This process "happens by itself".
—You have said that most of contemporary EBM bands are not Old school. How would you define this old school EBM sound?
 —Well, technically using a computer and plugins for an entire production is definitely not old school. Technically, "old school," would imply using a hardware sequencer or computer to control hardware synths. Using exclusively hardware.
I feel something gets lost when the whole production is 100% computer-made.
—In the E.P. Wapenrustning, there is a remix by Spiritual Front. What do you find interesting in the music of this Italian artist, quite different from what you do? You selected one of his albums as one of the best LP of its year, right?
—Well I absolutely love the album Black Hearts in Black Suits with music by Stefano Puri. There are also some great Spiritual Front music videos and Simone Salvatori is a really nice guy. We've met a few times over the years and I asked Simone to do a rework of "Wapenrustning" since I know he's a fan of EBM.
—You said that Extreme Unspoken Tension was based on the suffocating atmosphere in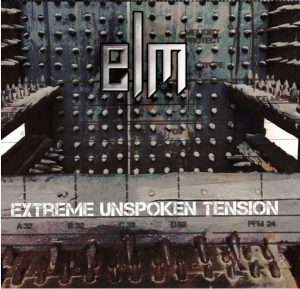 Europe, do you think that this Coronavirus crisis has worsened the situation between European countries?
—I don't know. Hopefully something good will come out of all this. There are definitely lessons to be learned. The key word here: CONSIDERATION. I hope people have learned some basic hygienic routines and start to show more consideration for the fellow man.
—How do you think that the sound of ELM has evolved in this album?
 —Hopefully you get better with experience and this shows in the production. There was more work and effort put on the vocals.
—You said that "I like to work with reliable machines that have a good, solid 'timeless' sound." Can you please tell us what gear do you use in your albums? What do you look for in a synth?
 —I use a lot of software but quite a lot of hardware as well. I love the sound of the Pro One, Arp Odyssey and the Yamaha TX81z. What I look for in a synth? The capacity to generate aggressive and in-your-face bass sounds! Simple and raw.
—In the remix album we find a collaboration with Rummelsnuff in the song Zerfahren. How did you meet him? What do you like of his work?
—I met him at a gig in Brussels and we chatted quite a bit. I love a lot of his songs, a kind of vagabond, outsider poet. He quite recently released a double compilation vinyl that I listen to a lot.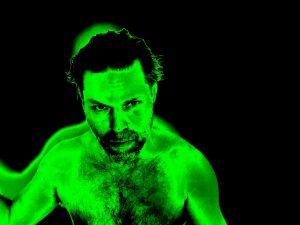 —In the notes of your first album, we can read, "With a strict 'less is more' sound architectural approach." Would you say that your approach to music is minimal?
—Hmmm. Simple and honest is the best approach to all aspects of life. When it comes to electronic music production, there are so many options and possibilities so sometimes things can get overcomplicated and overproduced.
Keeping it simple does not mean vulgarly going for the easiest cliché way but to think, feel and then execute in a direct and honest way.
—In that album you remix your own songs. Is it difficult to imagine your own work in a different way? What do you try to achieve when you remix yourself?
—Like I said, I always used to prefer when bands did their own remixes. Just look at the 12 inch mixes of the 80s by Depeche Mode or Nitzer Ebb. Today everyone is remixing everyone and it mostly sounds like shit.
—I read that Nitzer Ebb drummer Duc Nhan Nguyen is now part of ELM. Is he going to play drums live with you? Can you please tell us more about this?
 —Yes, he is. He was going to join me on stage for the Front 242 concert that was to take place on the 13th of March. Due to the Corona situation, the gig was cancelled but we will be back for sure. Nhan is a great guy and we will see how things can develop for the live shows in the future.
 —You are into martial arts, do you think practicing this kind of sport helps you to have the required energy while performing ELM songs?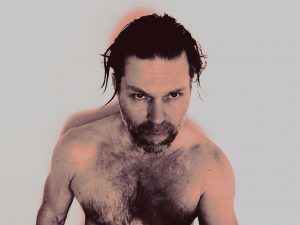 —For me music and martial arts are very similar. You're expressing yourself and you need to do it honestly. Aggression, desire and lust are all linked. Presence and energy are needed for both!
—I've read that according to you, the Swedish scene never appreciated your music as much as it should. Could you explain to us why?
 —I just never fit in there, don't know why. I think it's largely because of the consensus mentality.
—How are you living these days of lockdown? Are you composing new music?
—Other than making it financially tricky I have no problem whatsoever with being in a lockdown. It really didn't change much for me personally at all. Let's see what it does on a global long-term level.
Yes, I've been very productive and have had a chance to organise my different projects.
—I know that nowadays it's difficult to think about the future, but wha can we expect of ELM in the next years?
—A new ELM album in the near future for sure as well as other music composed under Peter Elm. I've got a selection of instrumental songs that I want to release.
—Have you ever played in Spain? How would you describe your concerts?
—No, I have never played in Spain but I would love to do it. Well, the concerts are usually energetic and high-paced. I always loved to be on stage!