When we talk about great guitar players we usually forget a lot of good funk musicians in favor of other styles more exhibitionistic. Eddy Senay, together with a few more, is one of these rhythm heroes that has made us dance with his guitar. He released two records in the seventies and now he is planning to come to Europe to play his songs. Both records were reissued by Vampisoul in 2006. 
—Let's start from the beginning, how did your interest in music start?
—I was born in Lanett Alabama. At the age of 5, I took the pots and pans from my grandmother's kitchen (who raised me) and went outside in the back yard. I had two large Chili spoons made of metal and I began to beat the pots and pans like drums. After a couple of hours, I stopped and realized that I had beaten holes in my grandma's pots and pans. I then hid them underneath the house. When my grandma came home to cook, she asked me where was her pots and pans. I said underneath the house, and she asked what they were doing under there. I told her I was using them to play them like drums. So, she told me to go get them. I went and got them, bought them back into the house and my grandma looked at those holes in all her pots and pans and she looked at me and said: how did they sound? I thought I was going to get punished but instead she went to the store and bought me a play drums. Then she sent me to take music and voice lessons from the church music director, Ms. Wilson once a week. I took piano and voice lessons from her.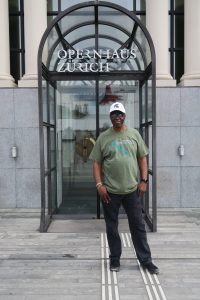 —You started as a drummer when you were just nine. What made you change to guitar?
—At age 6, I made my own guitar from a cigar box, fish string, small nails, and a piece of 2X2 wood. My grandma then bought me a play guitar with plastic strings. This led to me going out for High School Band try outs at age 9 and I made it in. Then at age 10, I was playing first drummer position in the marching band. The drums were almost bigger than me so they put it in a little red wagon. I played in the marching band until I grew big and tall enough to carry it myself. At age 12, I moved to Macon Georgia, where I attended middle school and entered the band and played drums, kettle drums (timpani drums). I also learned the trumpet, trombone, and piano and played in marching band and concert orchestra. My all-time favorite classical was "Overture 1812". I loved playing and reading the music on that one.
—You grew up close to Little Richard's house, close to the place where Sam Cooke used to rehearse and you used to see James Brown playing. How was it? It must have been an incredible time to live, right?
—The street I lived on in Macon, GA. Middle Street Place, was a couple of blocks from where Little Richard Pennington lived and he had an upright piano in his house. The guitar player who played with him was named Jazzbo Brown. He taught me more about the guitar. But right next door to my house, I was standing on the patio one Saturday morning, and I heard this gospel singer who had the most unique voice I had ever heard, singing in the house next door. I went over and looked in and listened, and I could not turn away, because it was Sam Cooke. At that time, I never knew Mr. Cooke would become the superstar in later years, but I knew he had one of the greatest voices I had heard. This was a treat for me.
Then, on Saturdays I would go down town Macon to see James Brown perform at the Old Douglas Theater. James Brown had a big band at that time and they were tight and funky. He would perform from 11 am till 1 pm, then the movie would start afterwards. So we got to see James Brown "live" and a movie after, all for the same price. I think people paid about 75 cents to 1.00.
I then, changed to playing mostly guitar with a 3-piece band. We would play at different affairs, fish fries, youth centers, etc. I changed because the guitar has such a sweet warm sound or you can rock it hard or cool it to mellow. My taste for music is very diverse. At age 14, I moved to Detroit (Motown).
—After that, you moved to Detroit. How was the Detroit of that time?
—Detroit was a whole different experience. It was like a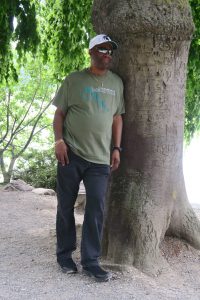 "Musical Heaven" with lots of places to see many different musicians and very talented musicians. The one venue I performed at was called "The Village" and many of the Motown artists would come through there to perform with me before they moved on to Motown Records. I moved up to a position with the owners of running the place and producing the shows (2 shows a night" and we were sold out every Fri, Sat, and Sun nites. Then, a guy came up to me one night and asked if he could try out for a spot in the show. I said: "-Can you sing, man?" He said: -"yes". Then I said: "-hit me a little line or two". Then he sang a verse from "Whose loving you" and I said after 30 seconds: "-Be here on Friday nite I will put you in the show". That guy was the great Mitch Ryder but known to me at that time as Billy Lee the rest is history.
—Who was playing with you?
—The musicians who played with me were the great late James Jamerson on bass, Benny Benjamin on drums, Tommy on congas, myself Eddy Senay on Guitar. That was our band. And we played to a packed house every nite.
—How was recording your first album Hot Thang in 1972?
—Recording my first album was so exciting! Like a little kid in a toy factory smile… It was recorded at PAC 3 Studio and engineered by the late Richard Becker. Man, what a nice guy he was to work with! I was produced by the late Bill Williams of Zorn Productions and my executive producer was Clarence Avant of Sussex Records.
—For your second album you had Eddie "Bongo" Brown on drums, how was the creation of this one?
—I got to work with Eddie "Bongo" Brown on both albums and he was just a joy to work with, he was special.
—What happened after your second album? Why did you stop making music?
—I've never stopped making music. I was always in the studio. I just feel that as an artist, I will go out to perform for the fans and then go home and enjoy life with my family and friends. I believe artists can overexpose themselves and wear out their welcome. And that I never want to do. I hope when my fans get a chance to come to see me in concert, they will be just as excited to see me as I am to see them. I have many fans from around the world who have written to me asking for more of my music. Now I am going to try and honor their request and I am so looking forward to doing just that.
—Which guitars do you use?
—I use a Fender Strat, a Ibanez, and a Les Paul Jr.
—What do you think of Dennis Coffey and Grant Green, two guitar players whose style can be compared with yours?
—Dennis is one of the great talents around today. He has always stood out from the rest with his style as well as his demeanor. He treats people with the utmost of respect. I have a lot of respect for him as a person and as an artist. Grant is another one of those guitarists who bring it to you when on the stage Love his work a lot.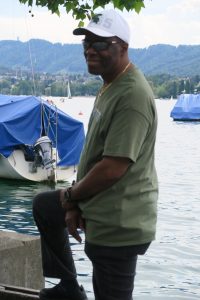 —Have you listened to the artists that have sampled you? How do you feel about being sampled?
—I have listened to artists who sampled me and I feel honored that they find my work good enough to use in theirs. To be admired by your peers in such an honor.
—Are you recording new music?
—I am working on several tracks right now as we chat. I will be releasing a new reissue on Sundaze Records this year 2017 and a new CD on vinyl. Keep a look out for it.
—Any possibilities of touring Europe?
—I plan to bring "The Eddy Senay Reflection Tour" to Europe in the near coming months. Stay tuned!
—You seem very socially involved. Which do you think should be the role of a musician in modern times?
—The role of musicians in modern times or any other times is to always bring out the best in our music and to tell a story of truth, good, and motivation. We can reach many within our circle. We just have to have the volition to do it right.