The keyhole that we can find in the cover of Labirent (labyrinth in Turkish) let us have a glimpse to the rich and dark universe of the duo Ductape. Now, thanks to their new album Ruh, we know a bit more about this stunning darkwave band. They will be playing their songs for the first time in Spain, next Thursday at Bizarro together with Nöle and Dead Violets Night.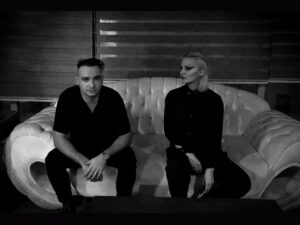 —Ductape was formed in 2019, wasn't it? What impelled you to create the band?
—Yes, Ductape was formed in 2019. Furkan has a long history as a musician, but I (Çağla) have not. Furkan suggested that we should create something together, music that we both enjoy. As we moved forward with the idea, we started creating it and suddenly I found myself singing and playing for the first time.
—Furkan, you have been part of Apartmanlar and Softa, what can you please tell us of these bands and your experiences with them? You also collaborated in an EP of Deli Gömleği, right?
—Softa is a punk/post-punk band I formed when I was in university. We have released two albums so far. The band is on hold at the moment. Maybe someday in the future we might reunite.
Apartmanlar is a post-punk/noise rock band formed in 2018. We have released two EP's so far, and we are working on a couple of new songs at the moment. Apartmanlar is a band of 6 with double drummers so it's not easy to meet so often. We had to cancel a couple of shows due to the pandemic last year. I am looking forward to playing live because the performance will surely be something wild and interesting.
As for Deli Gömleği, I have been in the recording of one EP and played bass on a couple of live shows. It was a band I had been listening to for a long time and playing with them for a period was really fun.
—In these two years after the creation of the band, do you think that the Turkey dark scene has grown?
—Actually, there is a great potential in Turkey but there are not so many venues to support underground music. We can see that the scene is growing each day but still, as today, the bands can be counted on the fingers of one hand. Art Diktator and She Past Away have been leading the Turkish scene for some time.
—Çağla, what are your influences for the lyrics? Both thematically and stylistically.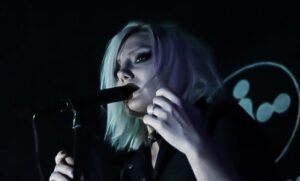 —I am mostly influenced by the chaotic world we live in. I love to express my rage, a rage that is painted with the contradictions I experience with myself and the ones I see that others are having. I really love using contrast words and elements of life. Stylistically, I can't say this or that. I always express a part of me in my own world of words. However I feel like singing it and, however, the song makes me feel like.
—Çağla, you are also in charge of the visual part of the band. How do you visualize Ductape?
—Without losing the feeling I had during the creation of a song, I listen to them repeatedly at different hours of a day and see how I feel again. During the creation of the album Labirent, I closed my eyes and saw myself stuck in a labyrinth, looking for a way out but still enjoying it somehow. I reached for a door and looked through a keyhole, thinking it would open to a new world, but it only opened to another labyrinth. Each room, each corridor represented a song for us. And finally, the cover art for the album had a primitive drawing of a keyhole.
—Do you think that living in a place like Istanbul has influenced your sound?
—Absolutely. Istanbul is a huge and crowded city with a lot of history. You can feel the weight of all that. It is an interesting city where tradition and modernism intertwine. On the streets you can feel the tension, chaos and stress. Then you enter a building, and you find yourself dancing carelessly till morning.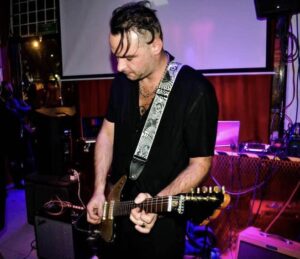 —Furkan, you have named DNA as a band that you like. Do you think the influence of this band can be heard in your music? What do you like of Arto Lindsay no-wave act?
—When I first listened to DNA, I was shocked to see that a guitar could be played like that. It made me realise that music is not only mathematics, notes or can only be played with a standard technique. Combining noise with sound effects can be a way to express yourself. Especially with Apartmanlar and Softa you can hear their influence on my guitars. As for Ductape, you can feel it on my guitar effects and playing style. Arto Lindsay influenced a lot of people and cleared a path for new genres.
—The sound of your first EP Little Monsters, released by Tamar Records in June 2020 is quite different to what you did later in Labirent. It's more aggressive and faster, and even Çağla sings in a different way. When and how do you decide to change your style in a more darkwave way?
—During the creation of Little Monsters, we were in quite a fast phase of our lives. As a result, the songs of the EP had higher BPM. With the pandemic, like everyone else, our lives slowed down. We started listening to our inner voice. We had more time to think about our music, but we never planned on changing anything. It occurred naturally. We have improved our music together.
—What can you please tell us of the recording of Labirent during the pandemic? Was it difficult to work under those conditions?
—We recorded the album with what we have in our home studio. It wasn't that difficult, but you should probably ask our neighbors. We didn't go to work thus we had a lot of time in our hands to work on the album. We recorded the songs whenever we wanted to. For the mixing process of the songs, we sent them to New Zealand. The only difficulty we had was the time difference between us, but we didn't need many revisions so all went well.
—"Wooden Girl" lyrics are about domestic violence. Do you think music can make people think about this kind of social issues?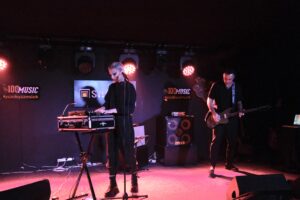 —Art always has a great impact on the masses. If we raise awareness, we are more than happy. Some things may not be seen in the news but can be heard in a song.
—Swiss Dark Nights also published your live performance recorded at Radyo Modyan. What can you also tell us about this? You had a drummer for this concert, do you usually play with him?
—We weren't able to have live shows then due to the pandemic. We had an interview with Radyo Modyan and the idea of shooting a live performance came up that day. The drummer is a close friend of ours and he also plays with Apartmanlar and Softa. We asked him if he wanted to participate in the shooting of the live performance. We thought it would be good for the video. Traveling as a duo is easier so we didn't have a chance to play with him again.
—In one of your reviews, the writer made a reference to your tribal-Anatolian melodies. Are you influenced by Turkish music too?
—We are probably influenced by it subconsciously. We have been hearing it for all of our lives. It's in our culture.
—Your new EP, Araf includes remixes by HAPAX, Delphine Coma and N.L.P. How did you select the remixers? N.L.P is a new Turkish project, right?
—We love them. We have been following and appreciating their work. When we had the idea of including remixes in the EP these three bands were the first to come up in our minds. N.L.P happened a few years ago. Matt does more electronic beats so we wanted a new perspective on our song. HAPAX and Delphine Coma are our friends from Swiss Dark Nights. That's how we made contact. After hearing the remixes and see that the results are amazing, we knew that we made the right choice.
—You have recently played a few dates in Mexico, how was the experience?
—Mexico is amazing! People are very friendly, and they are extremely dedicated to the scene. We had shows with Schrödinger, a great Mexican duo. We also had a chance to see the local bands and totally loved them. We heard so many great things about the Mexican scene, but it has been more than what we have expected in every aspect. We are looking forward to being there again in the future.
—You have collaborated with Italian project Chemical Waves; can you please tell us a bit more about this? Is it going to appear in Chemical Wave's 2022 new album?
—It is always a pleasure to collaborate with other projects, it gives us a different perspective. When Chemical Waves contacted us about it, we thought it would be interesting for both sides. We have written the lyrics in Turkish and that is something new for him. There will be a video clip for the song too. It has been really fun to work with Chemical Waves and I can't wait to listen to the new album, including our collaboration.
—How has the band lived this Covid times? Are you having restrictions again in Turkey?
—It has been hard as it has been for everyone. But we tried to turn it in our favour and created an album. Venues ask for vaccination for the events and there is a time limit for that. Music has to stop at 00:00 before everything turns into a pumpkin.
—Your new album has been released in January. What can you please tell us about it?
—The album is called Ruh. We are absolutely excited about it. It will also have a vinyl version this time.
—What are your plans for the future? More gigs in Europe?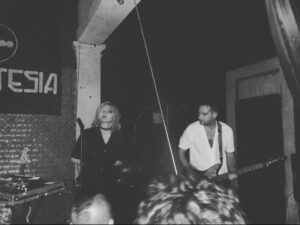 —We are planning on reaching as many ears as we can. We feel alive on stage, so we want to share that feeling with more people each day. We couldn't have many gigs during the pandemic and a couple of shows had to be canceled. Hopefully, once we are able to travel easier and when the restrictions are finally lifted, we want to have more shows in Europe.
—What can we expect of your concert at Bizarro?
—Madrid will be our first show in Spain and we are excited to be there. We will be playing all of our songs from the new album Ruh as well as Labirent. Looking forward to meet the scene.