Dick Taylor is the legendary guitarist of The Pretty Things and also had the honor of being the first bass player of The Rolling Stones, as well as a member of another mythical band, The Mekons. Master of the six-string instrument, capable of switching from blues to psychedelic music, he came with the Pretty Things in Madrid in November, in the famous venue El Sol.
—We have to start with the typical question about The Rolling Stones. When you met Mick Jagger and Keith Richards, did you think that the band would become so renowned?
—I certainly didn't anticipate the band's "world domination", but certainly knew that Mick had something special, both my mother and sister found his singing and dancing pretty extraordinary when they stuck their heads round the door when we rehearsed at our family home.
—A lot has been written about Brian Jones, even a movie has been made. How do you remember him?
—I remember Brian for his sense of humor and musicianship, as well as his occasional dark moods. We had a lot of fun when we were rehearsing before our first couple of gigs.
—SF Sorrow was released in 1968, a year counting with a lot of masterpieces. Do you think that the album could have been received better in a different year?
—Maybe, but in a way it has kind of worked to our advantage by becoming a kind of "cult classic", over the last few years it has sold very well, and continues to do so.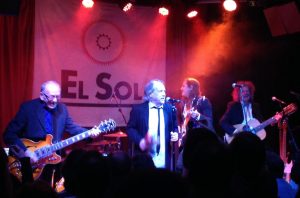 —SF Sorrow is considered to be the first rock opera. How did the band get the idea to create something so ambitious for the time?
—Truly it just developed as we wrote it, Phil wrote the story at the same time, sometimes the songs led the story, sometimes the other way around, it was all pretty organic.
—A hip-hop band called Wu-Tang Clan sold one album to a millionaire. Once again, the Pretty Things had done it before. How did it happen? How did you meet Philippe DeBarge?
—I wasn't part of the De Barge thing so don't know too much about it, but it all seemed quite extraordinary by what Phil tells me.
—During the late sixties, you made music under the name of Electric Banana that ended serving as soundtrack for soft porn movies. Were you aware of this when you were recording the music? Was it better than a making soundtrack for Ken Loach?
—All we knew was that it would be used for a kind of music library and we might make a little money from it, it turned out that we had quite a lot of freedom to do what we liked, so had a lot of fun doing it.
—The Pretty Things were the first English band signed by Motown, what went wrong with this?
—They were supposed to introduce you in America, right? Unfortunately it didn't seem to work out that way, it was an arrangement that was imposed on us by EMI, we never had any real contact with Tamla, c'est la vie.
—During the eighties you were part of The Mekons, I am a big fan of their music. How do you remember these years recording and touring with them?
—The Mekons were all such great people, I loved every gig and recording I did with them. In fact this year I did a festival with Jon and Susie as the Mini Mekons, hopefully there will be more gigs in the pipeline. Jon is such a good time songwriter, he has the ability to turn simple ideas into memorable tunes.
—A few years later you've been part of two supergroups, Pretty Things & the Yardbird Blues Band and Pretty Things n' Mates. I guess you had a lot of fun recording blues and garage classics. What can you tell us of both experiences?
—The Yardbird/Pretty Things project was done in Chicago and we also toured around the region with it, altogether an unforgettable experience, plus we got to hear some great blues, including a gig by Jimmy Rogers. Later I returned and did an album with André Williams and another with The El Dorados, I had a terrific time. The Inmates album was done in a studio in London, good fun too, but less exciting than Chicago.
—The Pretty Things were a big influence for the American garage of the sixties, sharing influences like Chuck Berry or Bo Diddley, were you interested in these bands?
—To be honest we knew very little about American garage bands until quite a lot later. What always amazes me is how many tracks I hear played by DJs at our gigs which are new to me. There seems to be an almost limitless number of records from that period as well as so many new bands playing in the same vein.
—A lot of new bands like Tame Impala, Woods or Temples look back to the sound of the sixties. Are you interested in any modern band?
—One truly great band which sadly just broke up was Simeon Soul Charger who were all from Ohio in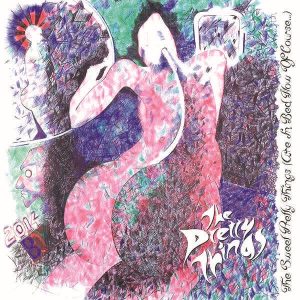 but based in Bavaria. I must say there are some very good bands out there, it must be hard for a lot of them, but I wish them all very well in keeping live music alive.
—You have released a new album, The Sweet Pretty Things (are in bed now, of course…), last year. What can we expect of any new album by the Pretty Things?
—We have just started work on the songs for a new album, as to the direction it takes, we shall see, you know as much as us at the moment…