One of the few good things that lockdown brought us was the serie of the concerts in different part of their house that French band Dear Deer played during April. And, as they showed us their home, we fell in love with their songs. A few months later, we were lucky enough and could leave our houses to see them live at the Liège New Wave Festival in one of the best concerts of the year.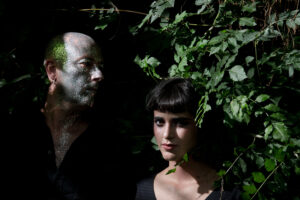 —Federico, you were drummer of Land of Passion/Popoï Sdioh. Can you please tell us a bit about your experience with those band(s)?
—Federico: It started in 1989, the band was named The Nomads Land… I joined the band (formed by Lagartija Nick, Stef Zimny and Fred André) as a drummer at that moment… I was 16 years old, and the guys were all older than me and had more experience. So, I learned a lot during all these years: first tours, first recordings, first interviews, first experiments… etc It was very intense and creative. Our music evolved through the years as we were evolving as human beings…
—You met Sabatel when Popoï Sdioh was looking for a singer for a cover of Noir Désir, right? It was for a Noir Désir cover album. What happened when you two met?
—Federico: Well, it's been quite simple.. I went to a gig of Cheshire cat (Sabatel's band) and I asked her if she would be ok to sing for us… And she accepted… We quickly felt a good musical connection, and weeks after we learned to know each other, we realized we also had art connections….
—Instead you, Sabatel, you are part of The Cheshire cat (The Bouncing). What can you tell us about this duo? You haven't released anything since 2015, right?
—Sabatel: Yes, Cheshire cat is not playing anymore. We had this last concert in Iceland, and we decided to stop, we played almost for 10 years, it was a lot of fun. The project was very minimal and batcave, we are very proud of our last album! You still can find it on Meidosem record.
People used to say we were very unusual.
—And now, Sabatel you play with classic coldwave band Guerre Froide. When did you start playing with them? What can you tell about this band to our youngest readers? Finally the tour with both bands is happening right?
—Sabatel: I have been playing with them for 4 years (2 albums). It's really interesting, they are open to new experiences. Guerre Froide evolved in a really interesting way. They were specifically known for two coldwave songs "Berlin" and "Ersatz" , they were pioneers in the genre.
Now they are between pop, coldwave, and electro! We do not have a booker so we can't say we really tour haha, few concerts here and there!
—Federico, I really like your guitar playing. Sometimes remind me of the urgency of the first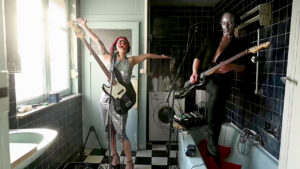 album of the Feelies or the way Arto Lindsay plays. Who have influenced your way of playing?
—Federico: Well, I am not a "real guitarist" in fact… I am not into technical performance… Maybe that's why bands like DNA, Mars and many others influenced me… Playing in a state of emergency, looking for something more physical than technical.
—Talking about Arto Lindsay, the band has confessed to have some No wave influences. What do you like of that experimental style from the end of the seventies?
—Federico: It was something very fresh, more punk than punk. Almost all these bands created their own way of playing, their own technique. Everything was possible : danceable rhythms with noisy and experimental parts, spoken words… etc
—And you, Sabatel, who are your influences as a bass player?
—Sabatel: Peter Principle. Principally. I also like very much Tina Weymouth. Even if I cannot compare, I am not a real bassist haha.
—At the start of each performance, both of you used to play with iron masks, what happened with them? Aren't they less problematic than make-up?
—You know, we experienced things knights did at the time. Not being able to see, smelling bad and killing everyone by mistake. So we had to drop it for now.
—In both album, we can find the collaboration of Loto Ball. How did you meet him?
—Federico: I met him in 2010 (?) in Vilnius and Warsaw… I was a driver for german band Genetiks… I met Loto Ball just after his gig, which I didn't see because of our late arrival at the festival with Genetiks by van… We talked some time and had a good feeling, musically, artistically and humanly. Of course, I was already a fan of Phantom Limbs and his solo works. So, when we were working on new songs with Dear Deer, it was obvious that we had to propose a collaboration to Loto Ball.
—Since I had to study the painting of the Arnolfini Portrait by Jan van Eyck at school, I have been interested in this work and I finally I managed to see it in the National Gallery. Has this painting been an inspiration for the song?
—Of course. The whole song is a poetic ping pong with this painting. Points of view, the viewer, you have to read it as theoretical essay on the painting, hahaha.
—Your lyrics are a bit surrealistic. Where do you find inspiration for them?
—It's not surrealistic, if you look closer it's always constructed by an idea or a story example: "Disco-discord" is a reference to the Greek myth, the fruit representing a being in its perfection, and the separation of humanity in genres which is a source of discord itself.
Another example, "Nadia Comaneci" is about the flexibility of a human body stuck into the crushing mechanism of dictatorship…
Hahahah, want more?
—Your sound and your staging have the same sense of theatricality that bands like Alien Sex Friend. Don't you think that there are too many bands that play as if they were in an office?
—Well, stage attitude can be both if you think of shoegaze people actually looking at their shoes but playing very loud music. It depends on how you feel it. But it's true we like to look in the eye of the public, showing our fur and feathers, moaning, shouting, spitting, chanting <3
—Your music is getting more electro, a bit more danceable. Is this an evolution that you want to follow?
—Yes, totally, and we would add some more disco and techno beats. We can't stop moving, the 3rd album will be a little step forward. Maybe we will end doing gabber stuff, who knows.
—Both your "studio" albums have been recorded mostly at home. Is it because your house has an incredible acoustic or because you want to keep the sound as close as the live one?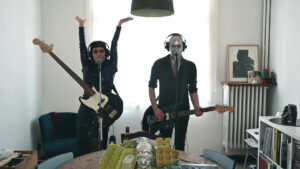 —Several reasons:
Home studio is not expensive, we don't have the money to go to a studio.
Home studio makes possible research, recording, and construction at the same time. And this is how we work, search, add, subtract, day by day, little by little.
—In all your records, there are some songs in Polish. Why? 
—Well, we have some Polish friends, very close friends, and it's a way to keep a connection, even though Poland is going through bad moments right now. Too much hate for LGBT community for example. We do not like that at all, and it's sad because Poland has so many more good things to offer: kino, music, writings, Pierogies.
—How did you get the idea of playing in different part of your house, that led to your new live album?
—We wanted to tour anyway. It was the only practical solution we found to play and have a connection with the audience …
—We saw you live at the Liège New Wave Festival, how was the experience? How many concerts have you done during the pandemic?
—It was the only festival this year. We also played in Warsaw in September … These two gigs were soooo refreshing ! So nice to meet again people for real…
We felt that people were happy to be there, that they had the same desire as us to start the gigs as it used to be before the pandemic.
—And what can you please tell us about the future? We know that you are going to release a split with Belgian band Embers, and also you are working on a new album.
—The 12" split vinyl with Embers is coming very soon yeah, we are very proud of this object. It will contain 4 new songs from each band… It will be a limited edition of 170 units in transparent vinyl , coming with silkscreen handmade artwork.
Embers is a band we appreciate, because they are funny people (they're from Belgium lol) and their music is a kickass cocktail.
We are also working on a video clip and the third album . ¾ of the work is done. But we are not rushing since there is no possibility for live music again…
Header photo: Patrice Hoerner