In the most popular music forum in Spain, there is a topic about the relevance of tribute bands, and as in most of the discussion there is never a valid conclusion. After attending one concert of the Belgian band Curtis, we think that they are one of the strongest points in favour of tribute bands, thanks to being able of interpreting the songs of Joy Division in a very personal way. We have talked with Peter Mercury, singer of the band that in January managed to make us enjoy again some unknown pleasures.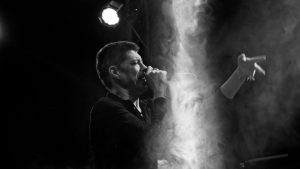 –How and when was the band created? I read that the first concert was for the premier in Belgium of the movie Closer, right?
–Yeah, well we had this band called Lacuna, and we played one Joy Division song as an encore, "Transmission". Then, we were asked to play a Joy Division set at the release of Anton Corbijn's movie "Control". We did that, reactions were great, and that's how it started really.
–Was it difficult to get some reputation at the beginning? How were the first years of the band?
–It wasn't difficult at all. It went really fast. The only difficulty was that I personally felt opposed to the idea of a tribute band at first. I didn't feel like I wanted to be applauded for playing someone else's music. But it dawned on me very quickly that JD's music had this incredible immersive quality that you can really make your own … if you really, really want to…
–What were the first aspects of the music of Joy Division that called your attention?
–To be honest, back in the day, when I was eighteen or so, I only knew the singles, like "Love will tear us apart" and "Transmission". I was absolutely addicted to Bowie and more into Echo & The Bunnymen or early Duran Duran and early Spandau Ballet.
Things like "The Chauffeur" or "Hungry like the Wolf"… But then later on, I was in awe of the sheer creativity of that band in terms of sounds. What they did with the ARP Omni-2 synth, the drone of the Powetrans Transcendent 200, Stephen Morris' triggered drums, Peter Hook's bass being a lead instrument rather than something muffled in the background, Martin Hannett's not of this world, icy production, … I still can't get over it, how revolutionary they actually were.
—In an interview, you said that Joy Divisions' music was never fully developed. How do you think that they would have changed with the time? More or less like New Order?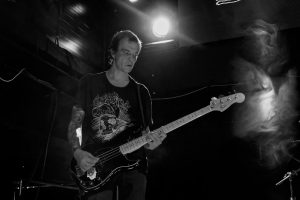 –That is very hard to say, of course.
Personally, in hindsight, I'm inclined to believe that Ian wasn't the strongest creative driving force behind the band and that his condition and the egocentrism that resulted from it might have been a pushback for the band. New Order have proven themselves as one of the most influential and innovative pop bands of the last twenty-five years. And this is at least partially because they had to dig deep into themselves to find a way of coping with the devastating things that were happening to them, both as people and as a band. I don't know if things would have developed the same way with Ian on board. But then again, my friend Philippe Carly –the photographer who made the iconic "Plan K" pictures of Ian– totally disagrees with me. He believes that Ian's poetry, his dark universe and his pallet of musical and literary references would have continued to be a creative power…
—In your beginnings, the band used to play more songs of the years when Joy Division was called Warsaw. Do you like this period or do you think that these songs are better to be played live?
–Interesting question. I'm not sure this was an unspoken or deliberate choice, but right from the start we knew we wanted to find our own style and direction within that "Joy Division Tribute Community". After a couple of shows, I was quite sure that I didn't want to be the zillionth Ian Curtis imitation singer with the retro shoes, the buttoned-up shirt and the funny dance. So we abandoned those things quite early on. And I guess that a more "Warsaw-laden" set list fitted that approach more than the "greatest hits" set list that most JD tribute bands play. Our fans specifically love us for that "interpretation-not-imitation" style. In the first year, there was even someone who sent us a message: -"your singer should get cancer and die" – which almost happened last year, incidentally. But most people really relate to our style. Somebody close to the band, who saw Joy Division perform in the eighties, as well as Peter Hook and New Order in recent years, told me that Peter Hook and New Order never brought a tear to his eye, but we did a few times… so what more could we ask for? That is a complement I would sell my soul to the devil for!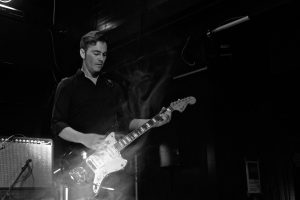 –How do you approach the songs of Joy Division before you do your version? I noticed that the band doesn't have a keyboard player and also that some songs are played in a different key.
–You know, I was a Queen fan when I was a kid and on Queen's early albums, like Queen I and Queen II there were these credits in the liner notes: Freddie Mercury: piano, vocals, maracas, John Deacon: bass, Roger Taylor: drums, Brian May: guitar. And there was always a line that said: "and nobody played synths!' Even though there were all these incredible sounds that only left you wondering how they were made if nobody played synths. I wanted Curtis to be like that. Nobody plays synths. It's part of our mission statement. And, of course, that means that we would play some songs in a different key. Mind you: Joy Division very, very rarely played the same song in the same key twice, when they were performing live…
—In an interview with the singer of Pride Plays U2, he said that the tribute band had to be faithful to the band's music. How do you handle the problem of being faithful and the same time being you?
—A tribute band doesn't necessarily have to be a re-enactment. I mean, I don't have epilepsy and I don't – or very rarely, haha – swallow downers. Of course, we're not going to play bossanova versions of Joy Division but I really believe that a tribute band should pay tribute to the spirit of the artists that they are honouring – which is not quite the same as being a carbon copy. Inevitably, that means, more than anything else, being humble and giving everything you have to the public. I also think that a tribute of a band that still exists is –apart from some exceptions to the rule– rather pointless. On the other hand, if people want to see "the poor people's version" of Depeche Mode, at a tenth of the price, just to have some fun, how could I be against that..?
Everyone has their own reason to get on a stage, and everyone has their reason to get in front of a stage and watch that band. I totally respect that. But we are very conscious of what we do on stage, why we do it, and what it means to people.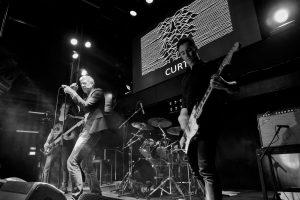 You know, I was very, very sceptical at first, about performing and touring with "someone else's music". But as it turned out, the music and lyrics of Joy Division are so brutally honest, that, as a musician and a performer, you can really submerge yourself in them, soak it up like a sponge and wring yourself out again like a sponge, in front of an audience, without feeling like you are acting it. When we play live, I literally get the feeling that the music takes me over and takes control of me. It's like I am possessed. And then all of a sudden the show is over, and I'm backstage, gasping for air and trying to come down and become myself again. It gets quite schizophrenic at times. But not for long. The first fifteen minutes after a show, I am hard to approach, but after that, everything is hunky-dory again.
–According to you, what does the audience look for in a tribute band?
–As I said, there are different kinds of tribute bands. People who go to a KISS or AC/DC tribute couldn't care less about torment or deep emotions. They just want a good time, beer and pyrotechnics. Then, there are those who go to see a Foo Fighters or Kings of Leon tribute, jus for a laugh, because the "real deal" isn't touring or is too expensive. And then, there are tributes of bands or artists who have perished. And within that segment you have the difference between "tribute" and "imitation", that I talked about earlier. Just before the lockdown, we did a big show in Holland, with a band called 1984. They are a Simple Minds tribute. And yes, Simple Minds still exist. But these guys were brilliant. You should check them out. I was dancing throughout their whole show. They had this big, larger-than-life sound, but they didn't try to look or dance  or even sound too much like Simple Minds. In my view, they were the perfect tribute band.
I can't speak for The Food Fighters' (yes, that is actually a tribute band) audience, but I think our kind of audience is looking for that: authenticity, credibility, dedication, honesty. I would really love to do a double bill with 1984, by the way. Another tribute band that operates like that is The Mistress of Jersey.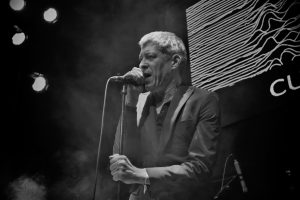 –What happened to the band in 2017? You said that you wanted to retire, was there a stop in the career of Curtis?
–Ah, 2017… our year of living dangerously… You did your research well… A lot of personal –perhaps too personal– stories there. That year was simply an emotional rollercoaster with every member in the band being challenged and tested to the limit. Some members of the band got sick and I got a rather shitty diagnose, just like I had the previous year. There was surgery, chemo… One of my best friends got sick too, and his condition was far worse than mine. I got chemo for some three months or so, mostly on Wednesdays and then I usually spent Thursdays, Fridays and Saturdays being sick and vomiting. Our rehearsal days are Wednesday and Thursday so that was kind of a bummer for the rest of the band.
There's always egos and tension in a band, but this time, with some of that life-threatening shit going on, the negativity got the best of us, really. At a certain point, we were really on the edge and I'd had enough of it, so we decided to call it a day. I dismantled the band. Only to realise a few weeks later on that we couldn't just dismiss some of the contracts that we had. And also I felt that Bob, our new guitar player who had only quite recently joined us, deserved better. Bob joined the band after Tom, our previous guitar player had left us on the best of terms. It was Tom who recommended Bob and the guy really saved the day. It took me some time to get used to Bob's different style of guitar playing, and now I'm totally in love with it. The guy stood like a rock, through all the tension and commotion. I mean: he knew Curtis as this heavy-rockin' new wave tribute that toured Spain like there was no tomorrow, and when he joined, it felt more like the last supper than like a party, you know? Bob was there when I pulled the plug, but then I realized that Bob had only seen tension, illness, and stress since he joined. He deserved a lot better, I thought. So after some reconsideration we kickstarted the band again. And Jan "Bass" Ket entered –some call him Jan Bass Ket Case– who brought in his own baggage, a big ass "Ampeg" amp and a lot of Marlboros…
–What do you think of the current concerts of Peter Hook playing Joy Division? And New Order playing Joy Division?
–New Order don't really play "Joy Division shows", I think. They usually have a couple of JD songs on their set list. I know that Peter Hook and The Light has got some criticism here and there for "milking" the legacy of Joy Division. I cannot understand why people would say that. I mean: it's his music. Same thing for New Order. I mean those guys invented the sound, the style, the aesthetics… If anyone has the right to play and claim every single note of that legacy, it's them. What they do with their own heritage is entirely up to them, isn't it? No-one should comment on that…
–Have you been treated in a different way by the audience or the promoters because you are a tribute band?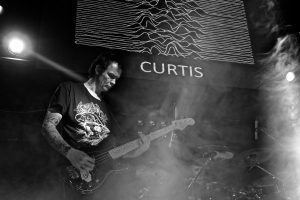 –Time and time a gain, I am amazed at the respect and loyalty that we get from promoters, organisers and audience in Belgium but even a lot more abroad. It seems that the organization and promotion outside Belgium are often a lot more committed and professional, though. I could tell you stories of festival organisers in Belgium booking, re-booking and rescheduling us and finally dumping us because after signing us, they managed to sign Peter Hook. But I won't. Negativity is just a waste of energy. Reception has just been great everywhere. When we played Barcelona, after the show, it literally took us twenty minutes to get from the stage to the bar because everybody wants to have a chat –which is exactly why we are here!
–The band has played a lot of times in Spain, what can you please tell us about your experiences?
–Spain has always been extremely good to us. We played some new dates here in January of this year and I had the feeling that we had stayed away for too long. I think there are two reasons for Curtis' Spanish success. The first one is something we talked about earlier. People in Spain really seem to appreciate the heartfelt commitment we put into our shows. Your review of our Madrid show at Sala Nazca was a very good example of that. If I may quote your own François Zappa:
" … an ability to create impressive atmospheres, an outstanding guitarist, a great front man with a different voice but that perfectly suited themes Joy Division's themes and the great attitude of a band that did not try to imitate but, reinterpret the themes. And well, the impressive songs of one of the most personal bands in the history of popular music. Already with this first theme, the public, quite numerous, began to cheer up…"
We were all dancing on the sofa when we read that. We were like: -"yeah man, these guys really understand what we are about." Thank you again for that. After the concert, we got similar praise from the people attending– right before they took us on a mind-blowing all-night bender through the streets of Madrid…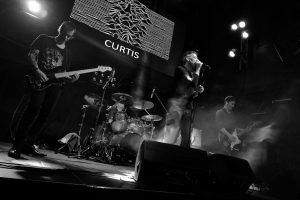 The second and possibly even more important ingredient of our Spanish success is our promoter, Albert Pavia from Sturm Promotions. The first time we ever did Spain, we played Sala Bikini in Barcelona. Two days before the concert, Albert sent me a mail saying that he was throwing a new-wave party at Apolo 2. He invited us over to promote our show.
We were on the guest list but we were thrown out by security because we had flyers for our show in our pockets. It was absurd. I argued with the security and the police were called in. I was almost arrested because I was singing "Un canto a Galicia" by Julio Iglesias and somehow, one of the police officers understood "maricón de la policía" which was obviously not what I was singing. Complete chaos… Anyway, I did not get arrested, got away with a slap on the wrist. Albert came to our concert at Sala Bikini and decided he wanted to promote us. Which was arguably the luckiest day in Curtis' career. I mean, we played the same venues as Balthazar or dEUS or Whispering Sons!
Being backstage, with the whole band, still steamed up and sweaty, listening to the crowd chanting for more … and then going back on and seeing that explosion of joy in the audience, their faces … there is nothing better than that.
–What happened with your other project indIANs?
–indIANs was very much connected to the previous Curtis line-up. It was just me and Philippe doing electro versions of JD and New Order songs. Very minimal, beats, glitches, some guitar, and me singing. Albert programmed indIANs at Razzmatazz for our first ever concert. That was unforgettable for a number of reasons.
I have become quite close to Germán Sánchez and his band Mandivula, who played with us in Barcelona. They are fantastic. I would really love to do something similar with Germán, if he feels like it, if he has the time and when the corona crisis is over, of course. Check them out: https://www.facebook.com/thisismandivula/
—What are the band's plans for the future?
–We were planning a 40-year anniversary British tour, during which we were going to play all the cities that JD played during their first big British tour, 40 years ago: Liverpool, Leeds, Manchester, Leicester, Middlesbrough…. But that's all cancelled now, obviously. We're planning on writing and recording songs with the people in Curtis, but under a different name. Also, I think we might use some of the time off to help Jan, our bass player, to get on with his house renovations.
I would like to have Curtis touring with 1984 and The Mistress of Jersey next year and come back to Spain as soon as we can. Preferably for a few shows, but if that is not possible, just to see some of our friends there and have a copa de tinto de verano…