The question "What band influenced techno music using toy instruments?" has one only answer: Crash Course in Science. The minimal synth act, coming from Philadelphia, built their own synths to sound different and at the same time futurist. It's possible that you listened to their "Cardboard Lamb" thinking that it was the last electroclash hit without knowing that it was recorded in 1981. They are playing this Sunday at Ombra Festival and it will be another of the gigs that you should not miss.
—Crash Course in Science were known for making music with toy instruments. Is it what you had at hand or did you want to sound different?
—In the early days of the band the toy instruments were used more or less out of necessity.
First of all, thank you for reaching out to do an interview. In the beginning we had a real drum set, a guitar and a toy keyboard that eventually was altered to make additional sounds. We focused on sounds that helped depict a created world.
—Coming from Art School, do you think that it changed your approach to music? You were already making experiments with tape recorders and toy instruments there, right?
—Coming from an art school background definitely influenced our approach to music. The cinematic aspect and mood of art lends itself to a musical exploration. Michael created early recordings using very crude instruments dating back to when he was teenager using multiple cassette players, acoustic guitar, sirens, broken toy piano and a toy drum set among other things.
—According to you, why is there currently an interest in classic minimal bands?
—The style is rich in content and experimentation. There is an attraction to the era, to the sound and outlook of classic minimal wave. The genre has staying power.
—Being from Philadelphia and being interested in funk, ("Dance to the Music" by Sly and the Family Stone has been named as favorite album) were you interested in Philly sound? Or was it just a relief when new wave/punk emerged?
—We love how Philly soul and how it laid the groundwork for disco. We were in art school in Philadelphia during part of that period, so the music was all around us. Around the same time The Ramones first album was released which we found really inspiring. So, during the art school years there were any musical influences.
—Did you have any affinity with other bands of the area? Maybe The Stick Men?
—We loved King of Siam, Bunnydrums, Executive Slacks, Experimental Products and the Stick Men. Mallory and Dale collaborated with Stick Men guitarist Pete Baker in the Flaming Bango Bangos project. Bob Bell, guitarist from King of Siam, used to jam with us. In the early days we shared a rehearsal space with them in the basement of a bookstore on South Street in Philadelphia.
—When did you start building homemade synths? Did you have any kind of model when doing them?
—We initially used store bought toy instruments but the more we wrote and recorded with them we wanted them to be more versatile. Dale began altering the toys by adding potentiometers and additional switches. This increased the vocabulary of the instruments, a practice now known as circuit bending. By using the toy keyboard casing as a shell, we started building a home-made synthesizer inside of it. Each home-made synth has a different color housing such as "the orange," "the blue," "the grey," "the white," and so forth. Each synth has its own personality.
—Dale, you said that there was a lot of visual inspiration behind your ideas for music. How would you explain this?
—Visual art can be made up of textures and patterns and built up with 'colors'. There are a lot of similarities creating a piece of art that satisfying to the eye and creating a musical composition that is satisfying to the ears. Patterns and textures are layered can be layered in both disciplines.
—There is quite a change from your first single to the second, the EP, Signals From Pier Thirteen. It's darker, and more electronic. Was it intended? Was it a consequence of a change of gear?
—The Signals from Pier Thirteen EP is a natural progression for us from the first record. The Signals record is where our musical personalities came together. Even though the instrumentation remained crude we were using some additional gear. It wasn't written to be a dance record, it just captured the music we were making at the time.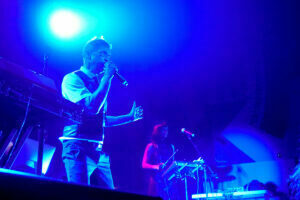 —In Brighton where I lived for a few years there are two piers. One with a fair and the second one abandoned after a fire. This is the one that really caught my attention, maybe because it looked like a defeat against Nature. What did you find interesting in the one in Delaware River that named your famous EP?
—Pier 13 was a place not far from where we rehearsed at the time. It is pictured in photos on the record cover. It was actually an abandoned coal-loading machine pier along the Delaware River that seems like it was active during the earlier half of the 20th Century. We were inspired driving around in out-of-the-way industrial places. One day we just ended up there. Pier 13 was a big influence. It was an abandoned pier with huge silent machinery, shapes, shadows, ghosts and debris. We went there often. Daybreak was the best time.
—This EP influenced both techno and industrial music. Did you feel the influence in later years?
—We're grateful that the record was embraced the way it was. As an artist the most complimentary thing that can happen is that other people find your work inspiring.
—How was opening for Phillip Glass? I mean how did the public receive your show?
—Opening for Philip Glass was an amazing experience, especially at that time in the band. On that particular tour, we were told he wanted to play with punk/ new wave bands. Having our home-made instruments going through his PA was amazing. He appreciated our set and genuinely seemed interested in what we were doing.
We were listed on the flyer for the show in very small type, so I believe we were a surprise to the audience. I did see some audience members in the front rows hiding under their coats when we opened with "Crashing Song". The performance stirred up a bit of controversy with the crowd, but I would say the performance was well received. 
The homemade instruments were sometimes unpredictable in a live setting. During the show opening for Phillip Glass one of our instruments or effect boxes was picking up the FM radio station nearby and in between songs you could hear Bruce Springsteen's "Born to Run" and "Roundabout" by Yes. As we would start to play the radio would be drowned out by our music. It was perceived as a planned part of the show. We grew to embrace the happy accident.
—Why Near Marineland was not released at the time?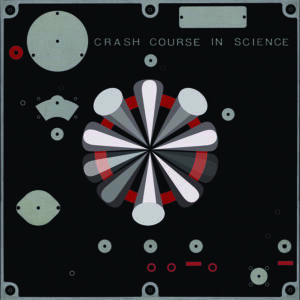 —The songs on Near Marineland were recorded early on after the songs were written. We performed those songs often at the time and they grew and changed a bit as we performed them live. We went through a management change during this time. There were a couple other studio sessions after the Marineland sessions and thought of combining the material. For one reason or another the album just remained in the vault. When we were approached by Vinyl On Demand to release the box set it was the perfect time to mix and produce the record because we knew we had an outlet and label for the release.
—Dale, you said that the band wrote a lot of material during these years. Even enough for an album. Any plans of releasing it? How would you describe this "possible album"?
— There are many recordings and phases of Crash Course in Science. We experimented with different types of instrumentation and wrote a lot of material over the years. In addition to our unreleased studio recordings, we have well-recorded tapes of most of our rehearsals and live shows. The rehearsal tapes contain spontaneous material that I would love to see released at some point. We may include some of this material as bonus tracks in an upcoming release.
—During these years that the band wasn't active, did it happen that you listen to your tracks in clubs?
—Yes, we did here our tracks in the clubs occasionally.
—How were your lives in the years before 2009?
—We focused on our careers and continued to create artwork and music individually.
—Why did the band reunite in 2009? You were asked to perform live, right?
—Yes, we were asked to perform live at Bimfest in Antwerp in 2009 and once we started working together again we just kept going.
—How was your approach to Situational Awareness? Did you try to keep a similarity with the sound of the past or were looking to do something different?
—The songs for Situational Awareness were written after we began working together again. We continued to use the home-made gear, but we experimented with different percussion, working methods and sounds.
—Michael, you also were part of KMZ with Ken Montgomery back in the 80s, right? What can you please tell us about this? You also were part of Disturbed Form Theater, right?
—KMZ was a collaboration between Michael and Ken Montgomery. They were neighbours in the east village in the early 80's and performed in NYC at the Pyramid club, in Philadelphia and in Berlin. After finding common ground working together in Ken's apartment on music, they began to play live. Michael also did the soundtracks and slide projections for Disturbed Form Theater, a performance art group with collaborator, dancer and set designer Greg Reeves. They were inspired by Bauhaus theater design and Alwin Nikolais dance theater. The industrial soundtracks were raw and utilized additional home-made synthesizers, tape loops and percussion. 
—Instead, Dale and Mallory had a couple of side band projects "Green Ghost" and "The Flaming Bango Bangos". Now it's your turn to tell us more about this.
—When Michael was active in NYC with Disturbed Form and KMZ, Mallory and Dale created Green Ghost. It was a band with a theatrical edge that utilized stage sets and eerie lighting. As mentioned above Mallory and Dale collaborated in the Flaming Bango Bangos project with Stick Men guitarist Pete Baker. It was a wild project with Mallory as vocalist, Dale on electronics and fragmented guitar playing by Pete Baker.
—The producer of the band, John Wicks, is now member of the band. Is he touring with you? Do you think it has changed your way of working?
—John does tour with us as a musician and he helped devise the technical aspects of performing the live show. His work as a producer has been important during recording as well as performing live.
—Other Side is the debut solo album by Michael Zodorozny. What can you please tell us about this?
—Michael composes and writes other material in addition to his work with Crash Course in Science. The material created for the Other Side LP explores themes that are raw and more personal and seemed better suited for a solo release. The album was recorded at Michael's home studio and was produced by Matia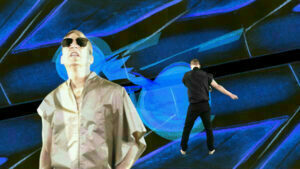 Simovich at Infinite Powers Studio in L.A. Other Side is released on the Electronic Emergencies label.
—What can we expect in the future of the band?
—We will continue to create music and art and explore the possibilities of both.
—What can we expect of your concert at Ombra?
—You can expect a noisy and energetic Crash Course in Science show.