Although it rained during last week concert of Boytronic at Belgian festival Sinner's Day, a big number of fans of the band stayed under the umbrellas or just under the rain to see their performance. Luckily, the rain stopped before the legendary "You" and we could enjoy this classic from the 80s meanwhile an appropriated rainbow appeared behind us. We have talked with James Knights, singer together with Holger Wobker of the synthpop act.
Header pic: Oliver Lindner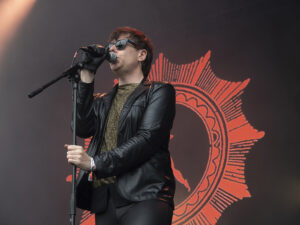 —James, do you remember when you listened to Boytronic for the first time? Were you a fan of their music before being part of the band?
—Yes! I was in a nightclub just outside Salzburg. I'd played a show with my old band Scarlet Soho and the DJ played "YOU". Everyone hit the dancefloor. I had to ask him what it was!
—Were you listening to disco music and HI-NRG before? What kind of music do you listen to?
—I've grown more into disco and HI-NRG over the years. I like the detail in the programming, and I can use my voice much more than I did before. For years I liked some more traditional EBM and British synthpop, but got a bit disillusioned with this sound over time. It's been good to mix it up a bit!
—When you were the singer of Boytronic, how was your approach towards old material? Did you try to sing the songs in the most similar way to the originals?
—I'm still singing in Boytronic alongside Holger! Sure. It's a little hard to explain the approach. Our voices are quite different, but in the context of a live show they are equally as emotive. I think so long as your head is in the right place and you're hitting the right notes it's fine.
—Your first album with "Boytronic" was Jewel. How was working on it? 
—It was an interesting way to make my first album with the band. The songs were written already, so I came along and did my best with what was already there. Some songs like "Mad Love" and "Time After Midnight" I liked very much, but the rest weren't in the style of Boytonic which was disappointing.
—Why did you leave the previous incarnation of the band?
—The agreement they had which allowed them to use the band name had expired.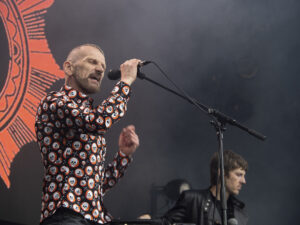 —How did you meet Holger?
—Facebook!
—How was the composition of The Robot Treatment? Was it easy to work together?
—It happened very quickly. I was programming midi day and night! We just wanted to have a release ready as soon as possible, to get us off the ground with no delay. I'm very proud of it.
—Pledge Music went bankrupt when you were getting money to finance The Robot Treatment. Did you manage to get the money? Did it hinder too much the release of the album?
—Unfortunately this company took the money and we didn't see any of it. Many other artists suffered too. In the end we funded the album on our own, which stretched our lives financially for a while. We were lucky our fans understood the situation and didn't blame us for Pledge Music going bankrupt.
—You have used only analog synths in this work, why do you prefer them?
—They are real! You can touch them! It was nice to have an experience where we made these great songs come to life with the machines. Sometimes they would be out of tune through their age and it would sound cool and we'd keep it.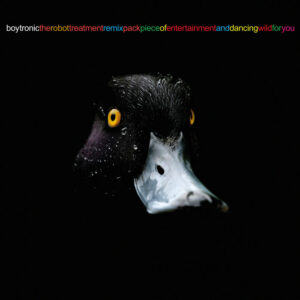 —How much is The Robot Treatment a continuation of the second Boytronic album?
—I do feel they are connected in some way. It's more song based songwriting, and less dancefloor heavy.
—And the last album of the band was a remix one, with big names as The Invisible Spirit and Leæther Strip. How did you get the idea of the album and select the remixers?
—It was a deliberate idea to make The Robot Treatment album sound retro and vintage. We felt it would be nice to create some modern mixes of the songs. These should be played in clubs and on the dancefloor! We reached out to some good friends, and they helped us to make these extended remixes.
—Time for our side-project questions. Your other band is KNIGHT$, and you released an album with this project last year. What can you please tell us about this?
— KNIGHT$ began around 2016. I wanted to start a new project where I could use the range of voice more, singing a bit higher and working with some unfamiliar styles such as Hi-NRG and Italo-Disco. I'm really enjoying what I'm doing as KNIGHT$ so far. It's been a real shock to find my Dollars & Cents album is so popular in Latin America. Something I didn't expect at all!
—You are also part of the band Demokratie, right? What can you please tell us of this band? Is it difficult to keep so many projects at the same time?
—I like to collaborate and sing for other projects now and then. It keeps my voice fresh. Manfred of Demokratie is a good friend, and I will always help him when I can because he writes in a different way to how I do with my solo material.
—And now let's go back in time. Your first band was Scarlet Soho, right? What do you remember of these days?
—Scarlet Soho was my childhood band which started when I was a teenager, in the small town where I grew up. This band taught me and my friends so much about recording and performing live. We made 3 studio albums in the end! Now and then I listen back to the songs and it's nice to hear how we progressed over the years. Some of the early recordings are quite funny even. We had some good times…
—What plans do you have for the future of the band? A new album?
—We're working on a new album right now! We're taking our time because we don't want to rush it, but it sounds great and I'm sure the fans will love it like we do.