Photos: Elemental Eyes
There are pleasures in life that cannot be compared to anything else. For me, all those sensations that are awaken in my body and soul when at concerts or festivals I discover bands that take me to hidden and unexplored places within myself are one of them. They are like gifts from the universe, for which I feel tremendously grateful to be alive at that precise moment and in that precise place.
Bestial Mouths was one of those gifts from the universe in 2017.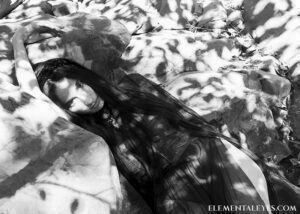 We had organised a weekend in Berlin to attend the Boy Harsher gig at Urban Spree (promoted by Aufnahme+Wiedergarde and Milk Me), and Bestial Mouths were the opening band. I remember perfectly how I felt the moment Lynette Cerezo appeared on stage, surrounded by smoke, with her high-pitched, dark voice wrapped in a halo of mystery, and a costume and setting that blew me away.
It was all like another time, like a dreamlike reality, charged with mysticism and darkness, with a sensual, low BPM rhythm that led to sinuous movement in the shadows. I felt as if life stopped and took me to a place where all the things I love (musical styles and visual, performative and stylistic elements) came together in perfect harmony. I remember turning around to look at the friend with whom we had arranged the trip and seeing that she had the same expression in her eyes as I did.
Without words our complicit glances shouted:
"WHAT THE FUCK… WHAT THE FUCK IS THIS SOOOO INCREDIBLE?"
Lynette Cerezo is a powerful and haunting figure, her mesmerising performances take audiences through intense and deeply emotional experiences. She has been responsible for shaping and nurturing a project as spectacular as Bestial Mouths. Today we talk to her about the past, present and future of the project, and about her upcoming performance at Ombra Festival (Barcelona).
Hi Lynette, thank you very much for your time and for answering our questions.
―Bestial Mouths is so unique that it's hard to classify. Since the beginnings in 2009, Bestial Mouths have combined your voice with countless genre influences across the spectrum of goth, industrial, post-punk, new wave, noise, metal and other underground sounds using live acoustic and electronic drums and analog synthesizers. If you had to put a "label" on the project, which one would you chose? Or which ones, because I think it would be more than one?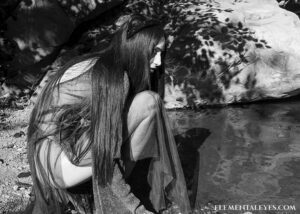 ―First I would like to say, thank you, its always an honor to be asked these questions and for others to take the time to know. I say BESTIAL MOUTHS is modern dark music. Bestial set out and intended to create art / which is what pours from our veins of life experiences (which is all the music I have listened and loved through my many years).
―When you were young, and as a teenager, what kind of musical influences did you have, what styles did the teen Lynette like to listen to at full volume?
―One of my earliest memories was being 13 and going to see The Ramones play live. I thought I was so cool as we blasted Sex Pistols in my friends teenage brothers car and snuck into the venue.
―I always like to ask the story behind the aka or band names, does the name have a story or curiosity behind it that deserves to be told?
―Our name comes from a previous music project called African Greys song. "BESTIAL MOUTHS sings to drag in the winter, poor, poor, poor." We just felt as artist who chose art over money we would always be a BESTIAL MOUTH (poor poor poor).
―From what I have researched, you started in the music world playing some instruments, until you realised that your talent was in singing, and that it was what you really loved to do. Do you remember how you felt when you picked up the microphone and sang in front of an audience for the first time?
―NERVOUS!! The first show I ever played was the very first time I had ever sang in a mic out loud with a PA. We had just barely practiced in our apartment. Super happy I won't ever have to see a video of that! (ha ha)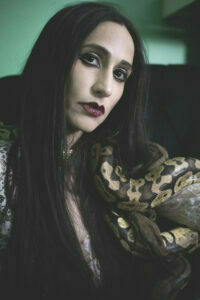 ―Bestial Mouths has had several line-ups, the first one was with your ex-husband Chris Myrick, how has it evolved musically since Chris left the project? Could you tell us a little bit about the different periods and how have you implemented those changes professionally and artistically?
―BESTIAL as I said is about life experiences so it ebbs and flows and follows the souls and heart. When Chris and I parted I knew I wanted to focus more on lyrics from my experience. My pain or trauma. To show how that feels with notes and voice.
―In 2016, when the band consisted of 3 members, you toured Spain. You were asked in an interview if you knew bands similar to Bestial Mouths in Spain, but you had just landed. Nowadays, can you think of any Spanish band that you can consider similar to Bestial Mouths?
―I love Spanish bands, and Spain in general. But as we said BESTIAL I can't really find or compare a sound.
―The sound, philosophy and aesthetics of Bestial Mouths has been maintained during the 12 years of life, in which you have not succumbed to new fashions or to the stigmas caused by the passage of time. In all its phases, you have been very prolific, but especially that came to my mind listening to the works that have seen the light since Bestial Mouths is your "solo project", as everything keeps a great coherence with what came before. Besides that, you have done a lot of collaborations with other artists (Zola Jesus, Mick Harvey, Egyptrixx, Boy Harsher, Die Krupps, Mater Suspiria Vision, Zanias, The Horrorist or Ludovico Technique).
What is the secret to keep such a coherent and characteristic sound for 12 years and not to sound repetitive and "more of the same"?
―Thank you for "very prolific" as I love to work and creation is my life. So a smile arises in me when others notice or make note of it. Well the answer would be me I guess ~ I often go through a million emotions and thoughts in just one day ~ but at the ends it comes from me so there is the core which creates the sameness.
To live is to be with others and interact ~ so I look forward and welcome more of that (I am working on 3 collaborations as well as our new LP as I answer this).
―You have previous experience in fashion and gender activism, and it's clear that Bestial Mouths has influences from that. Could you tell us a bit about that other side of you, outside of music and the stage?
―The other side of me I've been told is silly and nerdy! My deep passions are animals and nature. Especially hikes with my dogs.
―You are currently living in Berlin, but you are originally from the USA. It's amazing how many artists from all fields end up living in the German capital, where art and creativity are everywhere…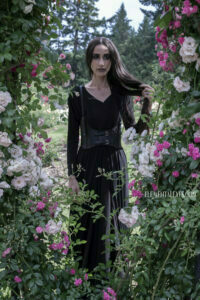 I would like to know what the city of Berlin brings to you, artistically and personally, what opportunities it offers you, but also if there are things that have become complicated for you since you moved here.
―Well I was living in Berlin for almost 5 years (I actually just came to the US to visit my boyfriend and then lock downs and covid happened. Then I decided I wanted to stay in the US to be closer to my family to help and for love. Seeing how easily that can all vanish.)
But Berlin has amazing energy with so many from all over the world uniting. One thing I can say for sure is that Berlin or Europe helped change me – how I view myself and what I do. It brought me more internal peace and love for myself. In
American art especially musicians are not viewed as much so your soul always feels as you are not as worthy. In Europe art/music is a life blood and seen as "real".
―As an artist, you have lived intensely both scenes (in the USA and in Europe), how do you consider both scenes, what are the good and not so good things about each one?
And if you want to get involved, we'd love to know which one you prefer 😉
―All scenes I believe always carry the same bad – competition, jealousy, greed, slander etc.
Sadly in all walks of life this will always persist it seems.
I would say mainly the difference is money ~ Europe as I said respects and helps artist more so you have more value for yourself.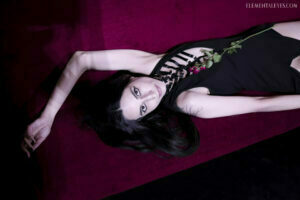 ―Within the Bestial Mouths performance (both in the staging and in the videoclips) there is a lot of ritualism, scenes that could be from a horror movie, and uncomfortable images (I love it, but sometimes I've played the videoclips to someone and they've shuddered with terror). I've read that your father worked in a morgue and that may have influenced you aesthetically and conceptually.
Are there any other influences in that sense that are relevant to the project? Film, literature or other?
―Rituals are a way we can all unite and come together. Enter into a state. (I assume my love of tribal drums comes from my Native American/ Puerto Rican heritage). I feel I like to play on what most do not want to look at ~ its unsettling to think of death and the evils. Most try to escape or turn from it, I do not. By facing it , talking or singing about it, We can have a release.
―As I have experienced first-hand, your concerts are a mixture of live music and performance. In general, how do you feel the audience reacts to it? Do you think the audience needs to be involved in your show in order to be immersed and enjoy your music better?
―The audience is welcome to enjoy the show with dance or watching. I would never tell some one how to react, part of the whole thing is to experience it through how your mind and body take you/ makes you feel.
―On a more technical level, we would like to know what your creative process is like, and what elements or other figures you rely on to realize your creations and materialize your ideas
―The creative process varies ~ it can start with music and I just hear and feel things. It can start with feelings or visions then comes lyrics and notes to song. I rely on the world, such as nature, smells, the past, the present, human beings interacting to inspire me. I work with amazing musicians and producers and we create the BESTIAL WORLD. As for visuals of photos and videos sometimes I just give them a song and say what do you see or feel from this. Sometimes I tell them what the song was written about
―Bestial Mouths is and has always been a very prolific project, which has not stopped releasing albums and music practically every year.
What is a day in the life of Lynette Cerezo like?
―Starts with coffee! Then Dog walk time! I would say pretty normal and average. Don't really know what to say. I guess one kind of "not so normal" or maybe interesting thing, is I hate showering to start my day. It takes too long. I rather just get moving and doing. Evening showers are the better, they relax me.
Often I close my eyes and picture the water renewing and cleansing me.
―As for me, I'm looking forward to seeing Bestial Mouths live again at Ombra Festival. It's been a long time since you've played in Barcelona?
What can we expect from that performance?
―We will be playing the last release RESURRECTEDINBLACK and projecting striking visuals. "Are your ready for the dance, witch dance, because I am the spell!"