The 80s and Belgium were the perfect breeding ground for the birth of personal and original bands such as Aroma di Amore, who have gently answered our questions on the occasion of their reunion concert. It will be a unique opportunity of seeing the electro-punk/wave band live as they are headlining the last day of Sinner's Day Summer Festival, which will take in the Belgian city of Ostend on the 26th of June.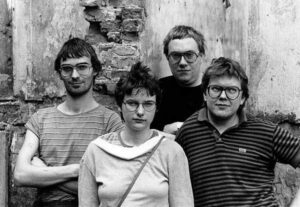 —Some of you, Elvis and Fred, were twice at Humo's Rock Rally and the band has been linked to this contest. For us non-Belgian, can you please tell us a bit more about this event? After coming a few times to W-Fest, we have seen a few of the bands that have been competed there, playing live.
—Fred Angst: Elvis Peeters & me, the original members of the band started the band in 1982, and one of our first appearances in public was the Rock Rally contest of that year. Rock Rally is a two year contest for new bands in Belgium. It still exists and some of the best known Belgian bands started their career there, such as dEUS, Evil Superstars, Noordkaap, Whispering Sons and many others.
—As Didi de Paris et Les Poseurs de Minuit de Noël, did you record anything or did you just create the band for Rock Rally?
—Fred Angst: Didi de Paris et les Poseurs de Minuit de Noël was a one-off collaboration with punk poet Didi de Paris, a common friend, who brought Elvis, Andrea and myself together for the first time. There were no recordings made with that band.
—What were your influences back at the time? TC Matic maybe?
—Fred Angst: We were influenced by bands as Wire, Public Image Ltd, and other post-punk bands of that time, and indeed TC Matic too. But the Neue Deutsche Welle (Der Plan, Fehlfarben, Grauzone, Einstürzende Neubauten) was one of the influences too.
—Your first mini-LP was called Koude Oorlog (Cold war) and has a quite peculiar cover, why did you choose it?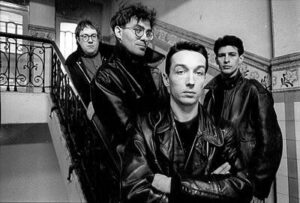 —Fred Angst: The cover-art was made by Leo Racuszek, a friend of ours. It can be interpreted as the tormented face of anger.
—Something that I have seen commented everywhere about the band is the importance of the lyrics. Can you please tell us about your inspiration for them? Any writer or lyricist who has influenced you?
—Elvis Peeters: First of all we decided to use our mother tongue, and not easily choose an anglo-saxon approach which was common in rock music at that time (and still is). The song "Dobberman" (on our first EP) was inspired by a novel of the late (Austrian author) Thomas Bernhard. As a lyricist, I'm influenced and inspired by D.A.F., Wire, the Flemish expressionist author Paul van Ostaijen, the Situationists and antimilitarism.
—Harde Feiten is your first proper album. What can you please tell us about the recording? Was it easy to get the sound you were looking for?
—Fred Angst: We teamed up with producer Ludo Camberlin who created the sound on the album. He had the skills we needed to translate our live sound to tape.
—"Zij Is Blij" was quite popular in Valencia at the time, and the band played there in 1987, what do you remember of that concert?
—Fred Angst: I remember that there were a lot of people. It was quite overwhelming.
—The band's next work, De Sfeer Van Grote Dagen was one of your most experimental works. Did you put any boundaries to your music in any moment?
—Fred Angst: Well, that album was produced by Dutch bass player and producer Theo Van Eenbergen who was a member of Nasmak, a Dutch experimental new wave band. He later teamed up with Henry Rollins. At first we were not impressed by the production, because it did not sound how we thought it should sound, but afterwards we had to admit that Theo did a very good job, and today we think it is one of our best albums of the eighties.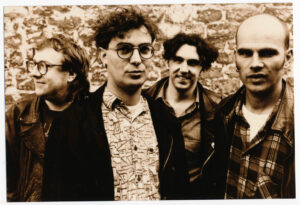 —I read in the bio of your web that Lo and Elvis travelled to Africa during those days. Anything worth mentioning of that travel? Did you meet local musicians?
—Lo Meulen: Elvis wrote some lyrics during that trip and we went to see some local bands in Nairobi and Dar es Salaam. We had a great time traveling. I met my Australian girlfriend on that trip and later I moved to London to join her. That's when I left the band for some time.
—Did you get any more pressure for the second album after the previous single not selling a lot and PIAS dumping the band?
—Fred Angst: We did not feel any pressure because we were very quickly picked up by Ludo's label Anything But Records, who kept believing in the band.
—Was it difficult to continue during these days with so many changes in the line-up?
—Fred Angst: As with many bands we lived through some difficult times, but when Lo left the band in 1987 we found a worthy replacement in Wout Dockx. After Andrea left the band we had two other keyboard players, but they did not fit in the band, so we began to use sequencers that played the keyboard parts.
—The second full album, entitled KoudvuuR, was considered the most accomplished according to the band. Why do you think it was your best effort so far?
—Fred Angst: Well, we became more and more experienced as musicians, as well as producers. The album was recorded in Ludo's studio with the help of Luc Van Lieshout (from Tuxedomoon) and Hervé Lomprez (from Trisomie 21) who were the studio engineers in these days. The album contains a lot of the best songs we have ever released, such as "Een Taal Is Een Stripverhaal" (A language is a comic strip), "Naaldhak" (Stiletto heel), "Meisje zijn" (Being a girl) and "Sporen Van Lisa" (Traces of Lisa). On the A-side Lo played the bass and on the B-side it was Wout who did the bass parts.
—What the band split in 1988?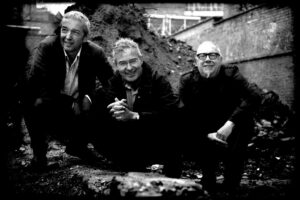 —Fred Angst: After the release of KoudvuuR and the departure of Lo we did still a lot of foreign live gigs (Spain, Switzerland, France) but the critics on the album were not very positive and also the sales were less than we expected. So we decided to pause the band for some time, but in 1990 we started to tour again.
—What happened to the songs that the band created during the nineties? Is it the material we could find in Ongehoord?
—Fred Angst: The tracks on Ongehoord were outtakes, live recordings and some new recordings (e.g. "Hartslag", a cover of Wire's "Heartbeat").
—The band returned for a concert at BIM, really enjoyed it and later did a tour in 2005. How did that feel, playing again? Is it possible that this gig at Sinner's Day will make you tour again?
—Fred Angst: After an hiatus of 10 years we decided to reform again as a trio (Elvis, Lo and Fred) and we discovered that in the meantime the popularity of Aroma Di Amore had increased and there was a new demand for our old records. But they all were sold out. So we decided to release the double cd compilation Onverdeeld (Undivided), which was very successful.
—And how was composing a new album 25 years later? You were working with new musicians, right?
—Fred Angst: The success of the compilation led to the urge of creating new songs and making a new album. The music we made was way beyond what we did in the 80s and therefore we teamed up with other musicians (e.g. Mauro Pawlowski) to broaden the sound. Onderstroom records released Samizdat in 2012.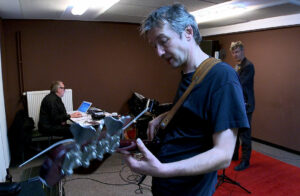 —Samizdat was about "A tough and relentless world that idealizes the individual." Did you see any chance in the society in those 25 years that passed between records?
—Fred Angst: The world had changed a lot since then, we had 9/11, the wars in former Yugoslavia and in Iraq. The USSR stopped. And we all became fathers!
—In January 2016, the album Zin was released. How much had the music of the band changed from "Gorilla dans de samba" till this last album?
—Fred Angst: We have always tried to reinvent ourselves as artists, and what I said earlier about Samizdat became more evident on Zin: both albums were drenched in a new sound and were far more sophisticated than what we did in the eighties.
—Why did you stop the band (again)?
—Fred Angst: In the beginning of 2017, we decided to stop because we had done everything we could do within the confinement of Aroma. We could have made more songs and more albums, but we did not want to copy ourselves.
—Is it difficult to talk politics through music? Do you have any artist who has been a model for this?
—Elvis Peeters: It's as difficult as talking about love through music. The Clash could have been a model, also The Jam, even Big Black.
—Is it difficult to be successful in the English market singing in Flemish?
—Elvis Peeters: For the English market it's as difficult as singing in German, Spanish or French, I suppose. A great difference is created by the power of the marketing machines of huge record labels.
—Elvis Peeters, you are also a writer, with published books such as "Wat alleen wij weten", "Dinsdag", or "De wanbidder". Can you please tell us more about this? Is there any topic that you have approached both in a book and a song?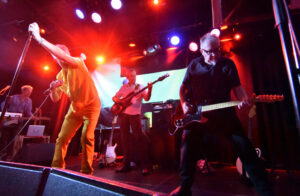 —Elvis Peeters: "Wat alleen wij weten" (What Only We Know) is an ode to imagination, written in pared-down language that lies somewhere between poetry and prose.
Synopsis: Nour is seven and incurably ill. Her skin is growing paler, she's on a very strict diet and the pain is getting worse. But Nour keeps smiling and playing, whenever possible. While her parents are completely focused on her illness, the girl is growing closer to her older brother. He tells her stories to try and take her mind off the pain. Brother and sister imagine a universe of their own in which they are safe and forever connected. The stories make their imminent farewell more bearable. At the centre of them is a bird only they can see.
Recently I translated eighty poems of Miguel Hernández in Dutch, published in Flanders. With the band Wilderman we reworked thirteen of these poems to songs, not yet recorded.
—Also, you were in a band called De Legende, can you please tell us more about this?
—Elvis Peeters: De Legende started as a cooperation with keyboard player Geert Corbeels of the Louvain-based band Men 2nd. De Legende released three mini-albums and two full albums between 1992 and 2013. It was a band without guitar, rhythm box or electric bass, completely different from Aroma di Amore, it had more in common with the Pogues, Negresses Vertes or Gavin Friday & the Man Seezer. De Legende used piano, double bass, drums, violin, mandoline and saxophone.
—One curious project was Bange Konijnen, a satirical Belgian new wave band, side-project of Elvis Peeters and Fred Angst. In the French-speaking part of Belgium, they went by the name Lapin Lapin, why? Can you please tell us a bit more about all this?
—Fred Angst: In 1986 Belgium won the Eurovision contest ("J'aime la vie" by Sandra Kim) and we wanted to make a parody on that. We did a few gigs with some friends, but as it was merely a joke, we did not continue the project.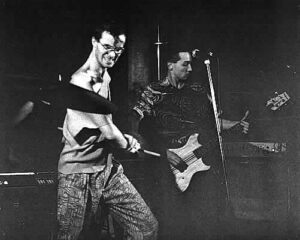 —Continuing with side projects, guitar player Fred Angst is currently working on Zool. with an album released last year. How would you describe this project? Lately, your old projects, (Nasca and Fred A.) also drew some attention. Can you please tell us about them?
—Fred Angst: Zool. is a concept in which I create instrumental music, somewhere in between ambient, post-rock, dub and electronica. Since the start in 2003 Zool. released five albums, the last one in 2021, and this year a split album with Butsenzeller will be released on Consouling Sounds.
In the recent years older work from Nasca and Fred A. were released.
—I saw on your Facebook page that you too, Lo Meulen are also making music. Can you please advance us something about this?
—Lo Meulen: I have released some songs on my own now that Aroma di Amore has stopped releasing new music. Currently Elvis and I are working on a new project, Zeer Kleine Speeldoos (Very small musical box) or ZKS, which will release a single and EP in May-June 2022.
—What can we expect of your concert at Sinner's Day?
—Fred Angst: We will play the best of Aroma from the eighties. with an extra guitar player and a saxophone player. And Onderstroom will release a 7 album box, with all the Aroma music from the eighties.