Antipole is the name of the post-punk/darkwave project with a 80s vibe of Karl Morten Dahl together with Paris Alexander and Eirene. After releasing a first album with the Spanish label Unknown Pleasures, last year they published the critically acclaimed Radial Glare. We had the opportunity of seeing some of these songs live during their concert at the W-Fest in 2018. We have talked with Karl about a project that was born to impress his girlfriend but has ended up impressing everybody.
—You played in a psych/pop band called AqPop, from 2003 to 2006, and recorded Beautifully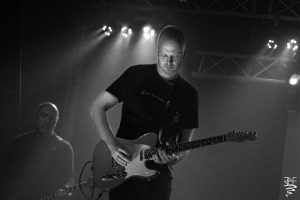 Smart with them, right? What can you tell us about this period of your life?
—Thanks for getting in touch! In the period 2000 to 2005, I was very into psych and folk music (The Byrds, Steeleye Span and Dipsomanaics, etc.) and some of the songs I wrote under this influence appear on the AqPop album Beatifully Smart (2004), which was released on CD by 35g Records. We did about 15 live gigs. In Oslo, Liverpool but mostly in our hometown Trondheim. I had finished my studies at the university, started to work and gotten kids so eventually it faded out somehow. I still think we released some strong pop songs! AqPop are still active but without me.
—You were into indie rock before creating Antipole, and listened to bands like Guided by Voices. Do you think that some of your first influences can still be heard in your music?
—Not very apparent at least, but some songs like "La Vie Aprés" and "Le Moment" could have been arranged and recorded with the indie approach I would say. I'm pretty sure the sadness/melancholy from the folk music years have been important to my songwriting and still is. I was listening a lot to the Bel Canto album Shimmering, Warm and Bright and I think at least part of the ethereal side of Antipole stems from listening to Bel Canto in the '90s.
—The debut instrumental EP of the band (2014) is called Panoply. Songs for AC. According to you, it's an EP of "lofi instrumental postpunk". AC are the initials of the name of your girlfriend. When you recorded it, did you see it as a present or just the beginning of a new musical adventure?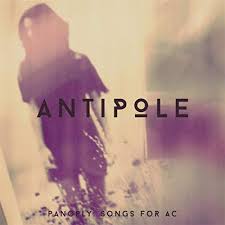 —No, those 8 songs/sketches were recorded one by one and presented to my girlfriend Anne-Christel. I was just trying to impress her. I didn't imagine anything more than that at the time.
—You said that you wanted the songs to sound like they were written in 1983, inspired by The Cure and Joy Division. It gives me the opportunity to ask you one of my favourite questions. What do you find so special/interesting in that period?
—It's hard to pinpoint. I assume there's a lot of nostalgia to it. I was too young in the early '80s to get into The Chameleons, The Sound, Joy Division and the early New Order stuff so I've mainly been experiencing that part of the early '80s from old pictures, video clips and the music released back then. There's something with the old school TVs, VHS tapes though. My childhood maybe. That said, the whole pre-Internet era seems pretty romantic and nostalgic these days.
—In your first EP Getting Frequent Now, there is one song sang by Mats Davidsen, and the rest by Paris Alexander. When did you think that you needed a singer (or two)? If Antipole had started at the end of the seventies, who, from that period, do you think could have been the perfect singer for the band?
—After the Panoply, Songs for AC, I released some digital singles (Someday 45, Narcissus). I was excited about the songs and started thinking they would be even better with vocals and proper production. I guess that's when I started thinking doing something more with the Antipole project than impressing Anne-Christel! I approached Mats Davidsen (he lives in Trondheim too) which I remembered from an AqPop gig we did with his band Wallpaper Silhouettes around 2003. Wallpaper Silhouettes had some of that 80s feeling and he's got such a great voice. He did vocals for "Deco Blue" — which I loved. I wanted to do more with him, but he didn't want to do more at the time. So I just went on searching and eventually got in touch with Paris Alexander.
Perfect singer from that period? Maybe a young Mark Burgess, Adrian Borland or Ian Curtis.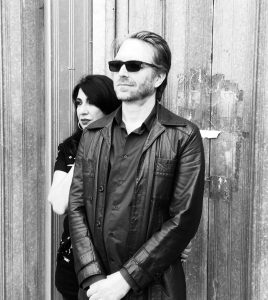 —Paris Alexander and Eirene are your main collaborators. Can you please tell us more about them? How did you meet them?
—Paris Alexander and Eirene are artists living in Brighton, UK. I got in touch with Paris Alexander via the Internet mid-January 2017 when I started searching for a producer/vocalist that could make my songs sound better. He remixed "Narcissus" and added some vocals. I really loved it and we've continued to work since then obviously. Later his girlfriend Eirene joined in and added vocals on many of the songs. Paris Alexander runs Blue Door Studios and releases his own music as well. And with Simon, Martin (who have all performed live with Antipole). Eirene has also released her own music (Jhana EP, 2019). Check it out! Lovely people to work with.
—They also play with you live, is it difficult to rehearse and tour, living in different countries?
—It's not easy obviously. We've got two shows scheduled for 2020. Brighton in May (with The Snake Corps) and at the Young & Cold Festival in Augsburg, Germany in September. We rehearse separately and rarely get to rehearse together, but we are planning for at least one full rehearsal before the Brighton gig.
—They also write the songs with you. How would you describe the creative process in Antipole?
—They write lyrics, vocal melodies and synth lines+drums/percussion. The creative process is me writing an instrumental song with bass, multiple guitars and plain drums. Paris Alexander then uses these guitar/bass tracks to develop a song structure adding electronic drums/percussion, synths and arranging it. Paris Alexander and/or Eirene then write lyrics and add vocals. Some of the tracks are perfect right away while others are edited/redone a bit back and forth between me and them until they sound like I've envisioned them in my head or often better. I've also been working with IAMTHESHADOW, Kill Shelter, L'Ordre d'Héloïse, Camilla Sombrio/Lory Fayer and, of course, Mats Davidsen. I'm not a vocalist nor producer so working with other people is both a pleasure and necessity for me. Lo-fi instrumentals aren't that interesting in the long run, haha.
—Northern Flux (2017) was the band's first album, full of great hypnotic songs. How do you manage to keep the album interesting when it uses repetition a lot and keeps a very similar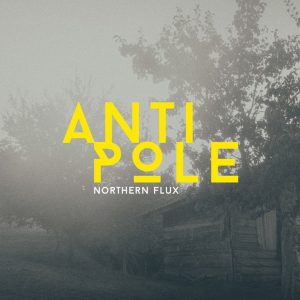 sound in all the album?
—Thanks! It's hard for me to say. I like to think it's due to good songs, but it's up to others to decide. The songs need to have a hook, a feeling or something else to it. The ethereal feeling and sadness/melancholy is a central part of what I consider Antipole songs should have.
—Why did you choose to end your first album with a cover of Joy Division. Do you know why it's removed from the Spotify version of the album?
—It was my favourite Joy Division song at the time and a song I used for inspiration when I wasn't sure what Antipole should be yet. It's been a while since I recorded that cover. September 2016, I think. It was a year before Norther Flux was released and it later during the discussions with Unknown Pleasures Records the idea including the instrumental came up. A great suggestion by Pedro of UPR.
The label took care of the necessary copyrights for the CD version. I didn't know how to do that for the digital distribution and for simplicity I choose not to include the cover. It also made the CD version have a bonus track.
—In 2018, you published a remix album called Perspective, how did you get the idea for this? Most of the artists have also collaborated with you, right?
—It started late 2017 when me and Paris Alexander remixed IAMTHESHADOW and soon after Hante. I really liked doing those. Then I approached friends and/or artists that I really like about remixing Antipole songs. When having 5–6 done I started to think it would be great to compile all of them together. Which we did releasing Perspectives. Having other artist's perspective/take on Antipole songs have been really exciting. Many of the remixes add something that's not so obvious or is absent in the original. We're releasing another remix album this spring. 12 songs and 12 new remixers. None of them on Perspectives. Got about 10 finished now. Really thrilled about many of the remixes!
—You have also been remixing (with Paris Alexander) other artists too (Hante. Agent Side Grinder, Clan of Xymox, Geometric Vision). Which one of the remixes done by you do you like the most? What do try to add to the original when you remix a song?
—I try to add the Antipole touch or feeling to it — whatever that is. I approach a remix much in the same way I work on my own songs — trying to add interesting guitars with a certain feeling or hook. Then Paris Alexander gets my stems and the stems from the original version and add synths, arrange it and produce it until we're happy with the result. Eirene has added beautiful backing vocals on some of the remixes (Buzz Kull, Clan of Xymox and more). I remix only songs I really love. It wouldn't be any interesting for me nor the listeners if not. And of course, there is only so much time to do it. It's impossible to pick a favorite, but the Hante. remix was special since it was one of the first remixes me and Paris Alexander did. I still come back to that one regularly.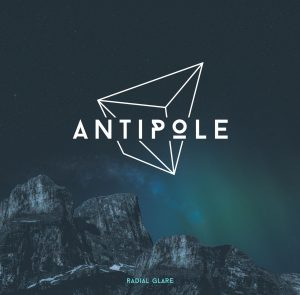 —The new album Radial Glare has received really good reviews. How do you think that the sound and the songwriting of the band have improved in these years?
—I think it sounds more accomplished and more the way I've been aiming for it to sound. I think me and Paris Alexander working on all the remixes have benefited to how Radial Glare sound. Some of the songs on Radial Glare, like "Part Deux" and "Decade Apart" were written around the time Northern Flux was released while others like "Syndrome," "July Supine" and "Le Moment" were written not long before Radial Glare was fully completed. I don't think the songwriting is that much different. I don't "write" songs, they come to me in a way.
—How was working with Marc Lewis from eighties band The Snake Corps in the new album? They are going to play with your band in Brighton, right?
—It was a delight working with Marc. He's got this perfect 80s wave tone to his vocals and wrote a beautiful melody and lyrics to my instrumental tracks. Paris Alexander added synths and produced them as he did with all the other tracks on the album. Yeah, we will do a show with The Snake Corps in May in Brighton, UK. Excited about that!
—What are the band's plans for the future? You are going to play at Young and Cold 8, aren't you?
—Me and my girlfriend went to last year's festival to see Actors, Minuit Machine, Rue Oberkampf and more. Great location, people, bands and label! The plans are to do these two live shows. There will be the second remix album coming in the spring and a few of the remixes me and Paris Alexander have done will get a proper release. I'm working on new material, but no new album scheduled yet.
—What can you tell us of the band's past concert at W-Fest?
—We did our 3rd show ever in the Wave Cave at W Fest August 2018. And sharing stage with bands we adore like Clan of Xymox, She Past Away, Chameleons and Ash Code was surreal. We did a 45-minute set with mostly Northern Flux songs and a couple that were later part of Radial Glare. A big stage, great audience and an amazing lineup. I'd recommend any band to perform there and, of course, people to go to the festival!