Just with their name, And Also The Trees announced that post-punk could also smell like fields, ponds and barns. Forty years later, those trees have grown up and now they cast a shadow over lovers of melancholy melodies. We have talked with Simon Huw Jones, singer of the band about his career and his concert at the W-Fest, where the band will play on Sunday 24th of May.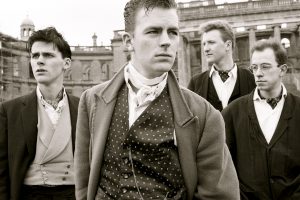 —Everything started with two pairs of brothers, right? How did you meet? How was the beginning of the eighties in Worcestershire? The first name of the band was Control, wasn't it?
—We were childhood friends, my brother Justin met Nick Havas at primary school. Nick thought Justin was an American girl when he came to the school for the first time because he had long hair and said 'Hi' which was something pretty new to the village in 1971. We'd come from Birmingham and the village was still a quiet rural place at the time. Nick's brother was Graham and we became friends. I looked even more like a girl than Justin but I was determined to be as masculine and tough as any of the other lads – which got me into more trouble than it was worth.  What set us a bit apart was our passion for music. We got very into the punk scene and although none of us could play an instrument the fearless spirit of punk gave us the idea of forming a band. Justin sowed the seed when he bought a second-hand guitar and started teaching himself to play it. Then we created as we learned and learned as we created. We made our own equipment out of salvaged wood and speakers our brother-in-law found for us in old electrical shops. We were naive, but had a strong creative will and thought that being in a band was just about the best thing imaginable.
—Really soon the band started a certain relation with The Cure. And Also The Trees was their support act in 1981, the band's second demo was co-produced by Robert Smith and the first record by Lol Tolhurst. Everything started when the first demo was sent to them, right? Are you still in touch with Robert Smith and/or Lol Tolhurst?
—Yes, our first 3 gigs were in the village and a nearby market town. Then, remarkably our 4th was supporting The Cure, that was in 1980. We toured with them after because they liked us and our energy… and I reckon Robert saw something of himself in Justin. We're still in touch with them. Robert invited us to perform at his curation of the 'Meltdown' festival in 2018. We've been in touch with Laurence because we're about to re-issue our 1st album And Also The Trees which he produced as you said.
—The first album of the band is the most "post-punk" but the rage starts fading with the following records, and is replaced by some romanticism. Which bands influenced you during this period?
—Our influence from other bands came more in a way where we avoided doing what they were doing rather than doing things in a similar way. In that period of our development, we were discovering types of music that were new to us as well as what was current – buying old jazz albums, Miles Davis, Pharoah Saunders, John and Alice Coltrane… film soundtracks by Morricone, Bernard Herrmann, John Barry – The Doors, The Velvet Underground – when you're in your early 20s there is a hell of a lot to discover… classical music too, I didn't expect to like classical music – I think I thought it was for old people but there were times when it was all I wanted to hear. I'm speaking personally, of course, but as a band our musical tastes and discoveries were pretty much in line.
—About the second record of the band, Virus Meadow, the band has said that "they have become aware of how the environment shapes people". From the still-life of the cover to the sound, it's a more bucolic album. How do you think that the  rural landscape of Worcestershire influenced your music?
—It was important for me to write lyrics about things that I felt I knew about and were relevant to me and us as a band. We lived in a hamlet with a population that fluctuated between 15 and 25, in an old farm house surrounded by fields, woods, ponds, barns and lots of history – so lyrically I let this guide me. I was also aware as I sat at my window looking out at it all,  that there was something about Justin's guitar sound that to me felt closely linked to this scenery.
—Why did the band released a live recording as the third album? I really love title, simple but evoking, it was recorded on the 24th of October, right?
—I'm not sure really. I think a mobile recording studio turned up in a truck outside the club we were playing at in Lausanne without us really knowing much about it or who financed it or anything… in fact I'll have to inquire about all that as I'm still not sure how or why it happened. It's a pretty good album though – and I don't usually like live albums.
—Would you consider Millpond Years as one giant step in the perfectioning of the sound of And Also the Trees? The music of the band is always considered sophisticated, do you like some eighties pop band like China Crisis or Prefab Sprout?
—I'm not familiar with the music of those bands and I didn't realise we were considered as sophisticated. In some ways I regret the technology used by the producers on the Millpond Years and Farewell to the Shade albums and wish we had not been tempted by it – it overshadows the guitars. But then at the time it was exciting and new and it is well executed. I must say that when I hear those albums I'm always surprised at all the keyboard stuff going on that I'd forgotten about, they create a depth of sound that is quite unusual and add a lot of intricate details that I personally find quite fascinating.
—In Farewell To The Shade, there is a cover of Cat Steven's "Lady d'Arbanville". In an interview, the band said that they were not very happy with this cover, why? The band hasn't made a lot of covers in their long career, right?
—No, we were Ok with "Lady D'Arbanville" when the album came out but in retrospect we realised it wasn't a good cover. We turned it from a slightly melancholic but very listenable pop song into an inaccessible dirge.
—Green is the Sea is the last collaboration with Mark Tibenham, who played keyboards and produced some records. How important was his contribution to the band?
—He made our albums sound polished and well produced and as I said above added depth and detail that we were very into at the time – but he also overshadowed the guitar sound which is an important element of AATT.
—And Also The Trees made a big change in The Klaxon towards Americana. Why this change? Did the band ever live in the States?
—We felt that our image and reputation for being a very English, pastoral, romantic band had cornered us and we wanted to break away from it. To escape. Justin changed his style and sound to something that brought to mind 1950s America so we went with that… like the roaming spirt of And Also The Trees exploring a new landscape. It always sounds like And Also The Trees – but just moved to another place and another time. It wasn't particularly popular with our fan base but it was necessary and an important part of our development.
—Why did the band take a five-years break? What did you do during that period?
—This was the big change in the band's history, after the Silver Soul album at the end of the 90s. A lot changed then in our lives, within the band itself and within the music business in general. For us, there was a feeling that something had ended. It's hard to describe and explain even to myself but I have a feeling that right up until then, we were still trying to 'get on' in the music business… you know, get nice reviews and get played on the radio and to please people – especially the British music press – we wanted to climb the ladder. In other words, we were still trying to 'make it'. Then we reached a point when we stepped back from it all and thought –fuck that.
We let go of a lot of things then and just wrote for ourselves and what came was Further From The Truth. A bit of a strange thing to call the album actually as it was in fact much closer to the truth.
—Further From The Truth was the come back album in 2003. In a way it's a back to roots, but at the same time the band is keeping some of the sounds of the previous albums, don't you think? Simon, was Scott Walker an influence in your way of singing?
—I guess what you mean is the guitar sound – the mandolin style. The guitar colours everything… it is the beginning of all our songs. We carefully considered whether it would be a retrogressive move or not to have a return to this sound and decided that although it was a part of our past, there was no need to hide from it – it was good to hear it again and after all, our past is not only a big part of who we were  but also who we are.
When I first started singing, I used to sing along to recordings of Scott Walker's songs, or his version of Brel's songs as a training exercise. I knew I would never be able to sing as well as that in a hundred years but it was good practice – I had no intention to sound like him though – any similarity, whilst a huge compliment, is accidental.
—The idea for the acoustic album When the Rain Come, came from your concert at the 7ème Ciel, right? Can you please tell us more about this concert? Also, how influential has been this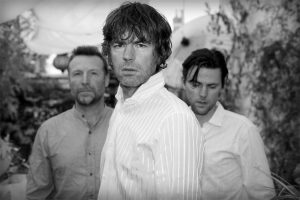 record in the following albums of the band?
—It was a secret concert on a rooftop in Paris in 2009. The creator of 7ème Ciel, the label and the ex-secret concert promoter, was a follower of AATT from his youth and he asked us if we could perform acoustically for him on this roof – which has an amazing view of the Sacré coeur cathedral. So because our bassist at that time, Ian Jenkins, had a double bass (and because of the amazing view) we re-wrote some of our songs to be performed with double bass, acoustic guitar, dulcimer and vocal. It was a success and led to 2 CDs of these versions and many concerts in unusual and often extraordinary places. It was a hugely enjoyable period for us and we learn a lot.
—In an interview, the band talked about the space and silences of the Hunter Not the Hunted album. When speaking about silence, I always think of Spirit of Eden by Talk Talk. Do you like that album? Would you say that silence has been an important part of the album?
—We learnt about space and the absence of sounds being as important, sometimes, as the sounds themselves. Spirit of Eden is one of my favourite albums, yes. A masterpiece. I would have loved to have been a fly on the wall in the recording studios.
—About your last album, Born into the Waves, the band said that "they are love songs, from different parts of the world". How was this idea born? Were you travelling when you got ideas for the album, maybe during a gig?
—Justin gave me some sketches of ideas on guitar and said, "They're love songs… from different parts of the world"… and I took it from there. Of course touring helps, visiting countries and playing in towns you'd otherwise never have visited. I have grown to hate tourism and being a tourist so to travel and play music to people who want to hear it is a wonderful gift.
—What writers have influenced the lyrics of the band? I have seen Wordsworth's early Romantic poetry mentioned, which other writers would you add?
—Strangely enough I've never got into romantic poetry and have never read Wordsworth. I was a terrible scholar and wasted my school days smoking in back alleys and talking about football,  so I have only been interested in literature and poetry since the age of 20 when I discovered, by chance, a book by Aldous Huxley. I read some words from 'Time must have a stop' to the music the band were playing and later felt obliged to try and read it in its entirety. This was a big discovery for me and led to my slow discovery of the world of literature. I only read what I enjoyed and I enjoyed plenty actually – but not so much poetry. My favourite poets are Dylan Thomas and Sylvia Plath and there is a lot of old anonymous folk and tribal poetry I like a lot as well. I started by reading the classic novelist of the last few centuries… Lawrence, Hardy, Camus, Hasse, Hemingway, Virginia Woolf and the list seems endless. But recently I've found there are a lot of wonderful contemporary novelists – especially women writers.
—We already asked this to Parade Ground: is it difficult to be in a band with your own brother?
—Can't be that hard for us – we've been at it for 40 years.
—What are the band's plans for the future? Maybe the 14th album?
—Yes, we're working on completing our 14th album now. It gets no easier… but the desire is always there – I'm not sure where it comes from, but we still have it.
—Let's talk about your side projects. Simon, you worked with Olivier Mellano on How we tried a new combination of notes to show the invisible or even the embrace of the eternity. What can you please tell about this project? Also you have just published an album with the group November (the second one, the first is from 2006). What can you please tell us about this?
—In a nutshell: the project with Mellano was a work commissioned by the symphonic orchestra of Brittany where Olivier composed a piece of music for them to perform at the Opera house in Rennes. It was a piece for full orchestra with a soprano singing in about 14 different languages. It was much liked by the director so when Olivier proposed transcribing the piece for 12 guitars, drums and vocalist he agreed. Olivier, being a follower of AATT, contacted me and offered me the role of singer. Which I accepted. Interestingly, in a rock context only a few of the languages worked agreeably so we ended up singing in just English, French, Hebrew and Russian. He then did a hip-hop version with Will Brooks of Dälek and all 3 versions were performed for 3 nights at the opera house in Rennes as part of the 'Transmusicales festival' – phew… well, you did ask.
And keeping it brief… November 2nd is the second album I've made with Bernard Trenton of The Young Gods. Check it out… as they say.
—Instead, Justin had a side project during the 90 called G.O.L. that recorded the album Sensations of Tone, and it was a bit more ambient. Again, what can you please tell us about this?
—Justin with Mark Tibenham – quite a log time ago now… Justin did some guitar for Marc Almond more recently. But it's better if he spoke about that.
—And the two of you together have Brothers Of The Trees which is a project where you "mix improvised, experimental pieces with rearranged And Also The Trees songs". Are you still working on this? Can you please explain a bit more how are the concerts of Brothers Of The Trees?
—I could say a lot about the Brothers Of The Trees but I have the impression I've been going on for ages now and need to stop… We don't know for sure where this project is going – if anywhere. We played 5 or 6 shows and they were all very successful – which sounds like the kind of bullshit thing you read all the time on Facebook where everything is great and successful… but they were all very enjoyable and well received shows. Honestly. It's a different way of seeing, hearing, playing and experiencing some of our songs and pieces of music… mainly Justin and I but we are usually joined by Colin Ozanne our clarinet, 2nd guitar and keyboard player.
—What can we expect of your future concert at W-Fest?
—We are going to re-issue our first album on vinyl and as it's our 40th year we'll play a special setlist at the W-fest and other shows throughout the year featuring songs from all our albums (if there is time) but for the first time in a long while we'll play a song – or maybe two from our first album And Also The Trees. We're also close to finishing the writing of a new album.  Looking forward to playing at W-fest very much.