A Slice of Life is a Belgian post-punk band with a 80s vibe, authors of Restless, one of the albums of 2018 that you should have listened to. With them, we are starting our series of interviews to the artists that are going to play at W-Fest 2020. In their concert in the Belgian festival on the 24th of May, they will give as a piece of their experiences, a piece of their souls… a slice of life.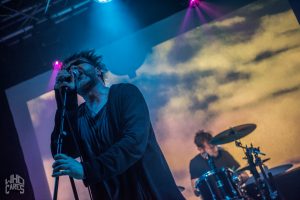 —How was the band created? I read that everything began when Dirk met online Guy Wilssens.
—Yes, that's correct. Somewhere in 2014, Dirk and Guy met online and made a Bauhaus's cover. Late 2015, Guy had worked out a few instrumental songs and asked Dirk to do some vocals. They found it sounded good and wanted to play those songs live. In 2016, they started looking for musicians
—Slice of Life is the name of a Bauhaus's song. Also the first song made by Dirk and Guy was a cover of She's in Parties. Would you say that the most important influence of the band is Peter's Murphy's band or The Cure?
—No, we do not think those bands are our biggest influences. The band name was also chosen more or less as a reference to our first cooperation before there were original songs. Of course because of our age and preferences these bands are influences but also for example Joy Division, Chameleons, Pixies, Interpol… are influences.
—Which modern bands are an influence for the band?
—We are six and all have our own influences from The Editors to Rammstein… It's this blend that makes our sound.
—Dirk, where do you find inspiration for your lyrics?
—I do not consider myself as a good writer and lyrics are hard to find for me. I almost always let the song and the music dictate the lyrics to me. I do not have a book with notes or little poems or whatever available. I listen to the music over and over and over again and sometimes a phrase starts to popup or a singing line and then the rest rolls out. One of the main reasons to call the band A Slice Of Life was not only the reference to Bauhaus, but the fact that the music and lyrics needed to be an expression of what happens/happened in my, in our, in everybody's daily life. The concerns we have about ourselves, others, society… the pleasure, the pain we encounter during our lives. A song as "Panic Attack" or "Life As It Is" for example is very personal and autobiographical. A song as "Restless Gods" is personal as well but reflects more on society.
—From a duo, the band developed to a sextet quite quickly. Was it to be able to play live?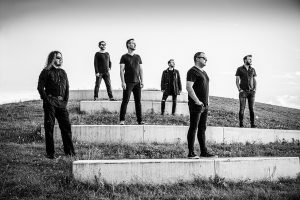 —Yes indeed. When we made the home demo, we started to realize that even if we released an album as a two-piece project, we would love to try to bring this live as well. But therefore we needed to form a band.
—How would you say that each member of the band contribute to the sound of A slice of life?
—Whereas most of the songs on our first album were based on demos made by Guy, we tend, more and more, to write songs from scratch during rehearsals, where everyone adds it's touch and brings new ideas or new directions.
—For a band like yours, do you think you could have had better luck in the 80s or nowadays?
—That's an easy one: undoubtedly and this for a couple of reasons: this kind of music was not as niche as it is now and national radio, but also television streamed this music. So, young people could at least hear this music on the radio and even see it on television. OK, MTV at the time streamed more the bigger names in the scene, but at least this music was available. Nowadays, young people but also people of our generation mostly do not know this music exists because the press, the media does not give it a coverage. Of course this kind of music is available if you look for it, but in these times everything needs to go fast and easy.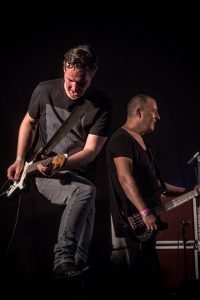 —And that Demo that you mentioned before, how was it recorded?
—The Demo EP contains 5 songs of which 3 were home recordings. Two were home recordings where Guy did all instruments and Dirk the vocals ("Marionnette" and "Restless Gods"). 1 was actually not really a song from A Slice Of Life: "Feel Like Crazy" was written by Dimitri Desmeth from Brussels and Yannick Rault from France (Dirk had a project with Yannick called So What? and Yannick now operates as Closed Mouth). Since Dirk wrote the lyrics for "Feel Like Crazy" we already quickly adapted "Feel Like Crazy" as our song. On the demo you hear the So What? version recorded by Dimitri, Yannick and Dirk at home. On our album Restless, it is played entirety by A Slice Of Life, but with a guest appearance of Dimitri on keys. On the demo ep "Sorrow" and "Panic Attack" were recorded in our rehearsal room. Bart, our former keyboard player recorded and mixed this.
—A few months later, the band was signed by Wool-E Disc, right? How did they contact you?
—From the very beginning of the project, we were in contact with Dimitri from Wool-E Disc. He always showed a great support to us, even from the start when we only had a few home demos available. It came quite naturally when he offered to release our album on his label. Wool-E Disc is well established in Belgium for some time now and it helped us spread our band name in the Belgian wave scene.
—Restless was mixed by Koenraad Foesters, and the band said that his experience was really useful for final result. Can you please tell us more about it?
—Indeed, we were extremely satisfied with Koenraad's job. Considering that most parts on the album were home recorded, except mainly for the drums, we were amazed to hear how the final result sounds. He gave us many tips during the mixing process and we even recorded some extra parts at last minute based on his advice. Given the great job he did, we also consider keeping him on board for the production of our next album.
—The album was re-printed after the sold out of the first edition, right?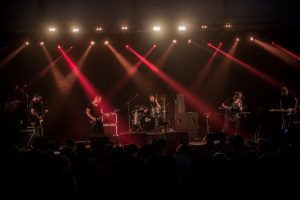 —We were already happy with the sold-out status, but when left in June to play at WGT Leipzig, we had around 50 copies or so left and they were all sold at WGT. So, we had nothing left anymore, but we still had some good and big gigs to play this year: Summer Event (Schoten), Neetwave (Retie) 23rd November (with Agent Side Grinder and Silent Runners) and we are thrilled to go to the Netherlands for the first time this year (Geleen Calling 14/12). It would be stupid that people that discover us there do not have the opportunity anymore to buy our album. That's why we decided to do a reprint.
—Restless got very good reviews, even a very interesting and long video one. Are you happy with the reception of the album?
—Yeah, for sure! Far above expectation! It is really a shot in the dark to expose what you created to an audience, and leave it open to comments and reviews from outside. A very exciting period that was. The fun and good thing is that we got reviews not only in Belgium but also in Germany, Italy, the USA, Spain …. And all were very positive. The fact we got in the national newspaper in Belgium and received 4 out of 5 stars was one of the greatest surprises, next to the unexpected great fan video which really dived into every song.
—Is it difficult for a new band to get known? The band also takes care of part of the promotion, right?
—We do everything ourselves and given the fact we do so, we can be very proud about the results so far. However, we hope we can find someone in near the future who really likes us and is willing to help us with bookings and promotion. At that point, we could focus a little less on the practical and administrative side of things and create music. Because after all, that is what we love most.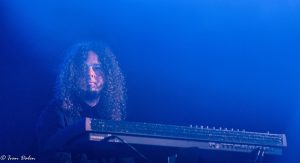 —Do you think that festivals are helping new bands get better known?
—Yes, definitely. We are a 6-piece band and all have our professional and family obligations. Touring and doing smaller places a couple of weeks in a row is not easy. Therefore we think festivals are the perfect way to introduce a band to a bigger audience, and to people that otherwise would never discover us.
—At the end of the nineties, a lot of bands made songs for soundtracks, like The Cure's "Burn" in The Crow. In which movie do you think that the music of A Slice of Life would have better fit?
—This is a difficult one. We don't hear real soundtracks in our music …but if we have to mention some…we would say, "Fight Club," "Smoke," "Kill Bill"…to name a few
—In real life, you look quite happy and funny people. Instead your music is a bit dark. Do you need to find a special place or be in a particular mood when you write your songs?
—We would say it's more a feeling than a mood. The darker music is just a part of our youth. It's nostalgic and feels very natural to write songs in this style. The music dictates the lyrics most of the time, so listening to the music will create the right mood and atmosphere to write.
—What would you do if the band were booked wrongly instead of the other band called "Slice of Life?" By the way, do you like Crass? (Slice of Life is the new band of Crass's singer)
—We would play the hell out of it and thank the organization for the opportunity :-). To be honest, we're not big fans of Crass…
—A couple of you guys, also play in the obsCURE, quite a successful tribute band of The Cure. How did the band start?
—As a drunken idea in a pub when someone said my voice was similar to Robert's.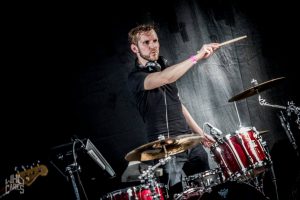 —Is it easier to get gigs for A Slice of Life or for the obsCURE?
—In fact, it's more or less the same.
—While I am writing this interview, I am listening to Disintegration. According to you, what elements get together to create an album like that one? Do you think that A slice of life would be able to do in the future an album like that?
—Disintegration is on the list of all time favorite albums for three of our band members. For us, an album needs to be a reflection of who we are as human beings: sometimes playful, at times, serious, dark and sad… It should contain a lot of variety both in sound as mood. This makes it exciting for us and we also hope for the audience. We try to create the same vibe of variety in our live shows as well.
—What are the band's plans for 2020? Any tour outside Belgium?
—We just surf on the wave and see what crosses are paths or what we can achieve. We are already thrilled to play at W-Fest at the end of May 2020, and this for the second time. We think we grew a lot as a band in those few years. We think our music is varied, radio-friendly, and can overlap the wave/goth/postpunk scene with the broader alternative scene and we like to work on that as well: both on airplay and alternative festivals of which in Belgium there are a lot. We hope to be able to perform at one or two good festivals in Germany and like to play a couple of times in the Netherlands as well. Since our bass player is Portuguese, we also would love to go to Portugal as they also have some great bands, venues and festivals over there, and who knows one day in Spain?
But most important for next year is working on a new album. We are already bringing a couple of new songs live, but are working on a lot more and would love to start recording a new album. We don't to fix a date on this, but no later than begin 2021 a new album should be released. In the beginning of next year, we already booked a studio to start recording what we have and we want to release a new single in spring 2020.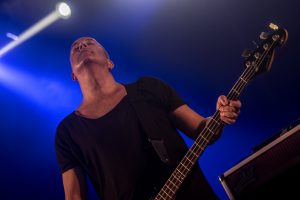 —Still a lot of time before it, but what are you planning for your concert at W-Fest? How do you remember the band's previous concert at the festival?
—To be honest, at the moment we're not really focused on next year's gig at W-Fest. At rehearsal we are mainly working on new songs and preparing ourselves for this year's gigs. We have good memories about our first time at W-Fest 2018. We actually were booked more than a year before and at the time of booking we only had some demo material and had no EP, no live gigs. It was incredible for us to receive this offer at the time and the feeling that someone really trusted us based on that demo material. That gave really a big boost. The organization at W-Fest was incredibly professional. The crew was so kind and warm, and we felt really supported by them. We performed the last day as opener and there was not that much audience b ut the sound was great, we gave everything and the audience was just going into each song and dancing and even singing along. Incredible experience. We are very thankful for that.