If we had to resume 90s electronic music with only a few albums, Haujobb's discography would be enough to complete that task. The German duo has managed to surf between the different electronic genres always keeping their personal touch. We talked with Daniel Myer and Dejan Samardzic a few days before their breathtaking performance at Sinner's Day.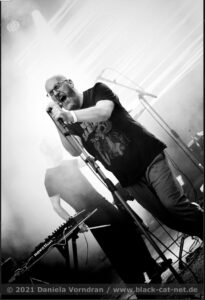 —When was Haujobb formed and why did you choose this Blade Runner-related name?
—We were just fascinated with the theme of the movie and the meaning of the term "Haujobb" We actually made the mistake and didn't hear the correct term "Hautjob" which is skinjob. But for us, haujob had a similar meaning (Prügeljob— Beatjob) and we liked, that it was a negative, dirty term for something, that didn't exist yet.
—In an interview, you Daniel said that your favorite albums were Speedy J's A Shocking Hobby, Depeche Mode's Violator and Skinny Puppy's Too Dark Park. What do you find remarkable in these works? Do you think that they have influenced your work?
—DS: Well, things change in music over the years and I'm sure that Daniel has other favourites by now, too. For example, one of my favourites has been Violator as well, but after all the years I changed my mind, and now it is Black Celebration — followed by Music For The Masses.
—DM: I would say, those were probably the most influential in our musical history. For me at least. And also Photek's earlier releases, of course. I still love all Speedy J and Skinny Puppy for example. But back in the day we were mostly consumers, fans of music and electronic music in general.
—Homes and Gardens, your first album, was an EBM work done in 1993. I guess that EBM was pretty big in Germany at the time, right? What inspired you to make this album? Both critics and you always made reference to Skinny Puppy.
—DS: Skinny Puppy was a big influence for starting the band in general. And this is where Too Dark Park played a huge role. I was around 18 when I first heard this, and it didn't compare to anything I heard before.
—DM: Same for me. I loved the harshness and complexity of Skinny Puppy, but also more danceable acts like Leatherstrip or Front Line Assembly. It was all pretty new to us. Only Björn was listening to this music longer than Dejan and myself. For us it was a new world of sounds and themes.
—Apart from the inclusion of guitars, in Freeze Frame Reality there is this IDM influenced that helped create the sound of the band. How did you start listening to IDM?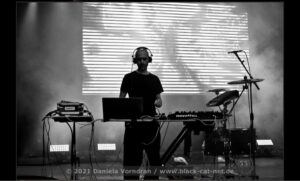 —DS: In the 90s there was a ton of stuff what some would call IDM. It was just everywhere. It was a trend. A lot of the music didn't age well, I think. Surprisingly, the 80s seem to be aging much better.
—DM: I disagree, because acts like Aphex Twin and Autechre are still pretty much fresh, to my ears at least. We started this album in 93 and the WARP hype just had its peak, I think, at least for us. Back then we were tired really quickly of one style of music. I think that is still valid to this day, I guess that's why all of our records sound different;) I was actually djing already and I came across a lot of new music every week, exploring the record shops in our town. We also opened our own Techno Club with friends in Bielefeld called Neuroserve around that time… all very new and exciting.
—In the Allmusic critic of Solutions for a Small Planet, the writer thinks that maybe some elements of the album are reminiscent of the remixing that you have been doing between this album and your second one. Do you agree with that or do you think that it was the logical step after Freeze Frame Reality?
—DS: Of course. While doing some remixes, we were working on the album at that time. Our work on the album influenced the remixes, not the other way around.
—DM: I have to add that we also changed almost all of our equipment from Freeze Frame to Solutions with the departure of Björn, who owned the ARS10 Sampler and the EmaxII, which were the basic sound sources for the first two records. So yes, the critic is pretty much on the point;) From solutions on, we used an Akai S3000XL for sound manipulation.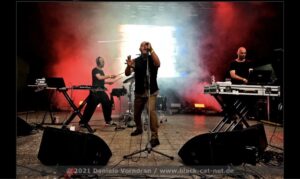 —In 1997, you released Matrix, an album with remixes from Solutions for a Small Planet with a second album of samples, loops, kick drums, snares. What was the aim of this record? To show the material used or just to help other producers?
—DS: I think it was both.
—DM: Yes, I agree.
—I was really surprised when you said in an interview: "We lost it with our fourth album ninetynine. We mixed Ambient, Trip-Hop, Jungle and we lost the fanbase at that point. Fan websites closed because of the album, they hated us." I always thought that fans of electronic music had an open mind. How was the creation of this polemic album? What inspired you? 
—DS: In hindsight the album was good for us. It took some time, but we gained a lot of respect for doing our "thing." Getting people out of their bubble. Waking them up. We now have a solid, high "quality" fanbase, thinking people, not just nightclub folks who just want to dance all night, no matter what music is playing. So, I would say, the album was important in the long run.
—With Polarity, there was a come back to the original sound. Did you want your fans back or do you get tired of drum n bass and ambient? What do you think of the drum n bass scene nowadays?
—DS: Polarity has more Drum & Bass than Ninetynine had. I think we just felt like doing something else again, as we always do. Making the same album over and over again isn't our thing really. Polarity is much more song oriented compared to the previous albums.
—DM: I am still doing a Drum & Bass track here and there. I like, somehow, that it's so limited with the tempo, but you can get really creative within that frame… I would love to do another Dots & Dashes album with Dejan. I love, what he did there;)
—As you have just said, the two of you have also recorded an album and some eps as Dots & Dashes in 1997-98. Are you still making some Drum And Bass?
—DM: It was our project and like I stated earlier, I would love to do more. I release under the Hexer moniker every once in while…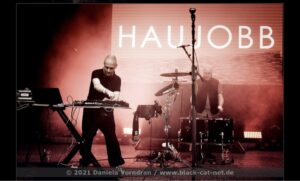 —Vertical Theory is almost a "dance floor record according to Haujobb." Daniel you have been djing for a really long time, even before the band was created, right? Did your experience spinning records influenced in the making of the album? 
—DM: I think, that album was a change, because, it was the first album I started on my own. Dejan was kind of tired of me and Haujobb, I think. But in the end, he liked what he heard of the first demos and we kind of have this bond over the years. It was our first Laptop album. Maybe that's why it is a little more "simple" and clubby than the ones before…
—How was working with other musicians in New World March? We can find Manuel Richter, Andreas Meyer and Achim Färber among others in some of the tracks.
—DS: It's always nice to work with talented, good people. The album felt like a "big project" because of this. I think this is my favourite so far.
—DM: For me it is more and more important to get outside views and input in the process. I love to show friends the stuff I am working on and get input. Or to work with certain people on certain projects.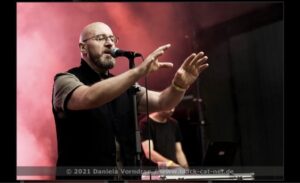 —In Blendwerk, there is a lot of anger, and you said, Daniel that it was caused by your former ex-wife. When you are composing, do you think of the mood of the track before, or is it developing bit by bit? And when do you add/do the vocals?
—DS: I like it when we can add vocals early in the process. It makes a lot of sense when you can build the song around them.
—DM: The anger was basically about the women in my life in that day. Everything happened so quickly and I changed my life completely within a year or so… life is a bitch, hahaha.
—Since Blendwerk, we don't have any new album with new material. What about the samples-based album you commented that was on the making?
—DS: It's getting there.
—DM: It is
—Daniel, you have done a soundtrack for a videogame, Tao Feng: Fist of the Lotus. How was working on this project? Different from making your own music?
—DM: It was a lot different. They hired me because of my music and in the end wanted something completely different. I didn't mind. It was paid very well.
—What can you please tell us about your festival Planet Myer Day? Are you going to do it again after the Pandemic?
—DM: Yes, next edition is on January 28th in 2022.
—I would like to continue with some questions about your side projects, Daniel: Can you please tell us a bit about Cleaner/Cleen. I bought these albums during the pandemic and I am quite curious about them.
—DM: It was basically Haujobb leftover material. I was the only one working on music full-time and I needed an outlet. I am not very happy with some of the releases, but some of the stuff is still pretty cool.
—Also we would like to talk about your work as Architect. With this moniker you have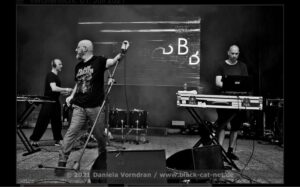 released a few albums. How do you choose the music to release under Architect? Did it start as outtakes for Haujobb?
—DM: Total freedom. I just do whatever I want.
—I saw you a couple of years ago with your Liebknecht project opening for Nitzer Ebb and I really loved the music. I guess it's one of your main interests now. Can you please tell us a bit about it? At the beginning you did not want to release albums under this name, didn't you?
—DM: Liebknecht is supposed to be my Dance Project. I wanted to do just a song here and there, but it ended up being lots of fun. I also enjoyed working with Rinaldo on this one. He was always sending me sounds and in the end, I just asked him to join me on stage. For the future there is a lot more planned and it seems to get a lot of attention not only in "our" scene.
—You are again part of Covenant, right? How do you feel being part of a band?
—DM: It is sometimes the best thing in the world, sometimes the worst. I am a control freak, especially on stage. And in the studio. I work endlessly on a track, before I think it's finished. With Covenant I just have to let go. Its kind of nice in a way, but sometimes it's also frustrating, because I would do a lot of things completely different;)
—How is your label Basic Unit Production going?
—DS: We are not very active any more. It felt like we weren't able to help the bands significantly, except Black Nail Cabaret—they are doing well and I'm proud of them.
—What can we expect of your concert at Sinner's Day? You said that you were going to stop playing live as Haujobb, is it going to be an exception? You played in the E-Only Festival recently.
—DM: We can't stop. And we say a lot of things in the heat of the moment. We will continue… it will be a very short but very intense set. I will dj a couple of nights before in Berlin for a super-hip crowd and I can't wait to get that energy level to the stage in Belgium…