Of all the meanings carried by the name Foreign Resort, our favourite is: incredible post-punk band who has a great future awaiting for them. They're about to issue a new record, Outnumbered, which, if there is a true justice in this world, will lead them towards celebrity. We spoke with Mikkel Borbjerg Jakobsen, singer and guitarist of the "hardest touring band in show business" about a lot of things, even about politics. They'll be playing on Sunday, 18th at the W Festival, on the Cave Stage.
—Why did you choose a name like The Foreign Resort? What's the story behind it?
—Our band name had different meanings over the years. Kinda like a song that means different things to you depending on your mood. When it first came up, it was "the place you want to go, that never lives up to your expectations." The meaning it had for the longest time was and is "escape." You know, like "The grass is always greener on the other side." And in the same vein, the current meaning would be "touring fever." Our touring schedule is pretty intense for a band playing niche music at 100-200 capacity venues.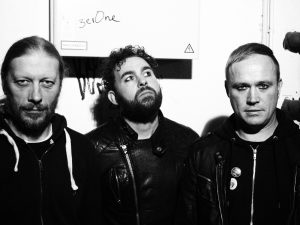 —The band started in 2006, how were these first years?
—The first years were just us fooling around, trying to find our sound. We really didn't know how to produce the sound we were looking for. We wanted to play noise rock, shoegaze, but had no idea how to create the sound. But we had ambition and kept rehearsing and rehearsing, which I am sure helps us today in sounding very tight as a live band. And then we started to add more and more effect pedals to our setup.
—Offshore is your first release from 2009. Is it weird to start your career with a full album? Did you release any EP or single before?
—Offshore is our first release. There was a demo before that, but that was only Mikkel recording all instruments and it was never officially released. We had enough songs for a full length, so we recorded everything and released it.
—How was the recording of this first album?
—It was a lot of fun and frustration. We had all recorded stuff before, but in this constellation we still didn't know what sound we wanted, so we relied heavily on the expertise of Bo Karlsson who engineered and mixed the album. Check out our latest release Outnumbered, which is engineered and mixed by the same guy, but with us knowing exactly what kind of sound we wanted. The outcome is very different.
—Do you consider that with the EP The Foreign Resort you found your sound?
—You noticed! That's exactly what it is: Wall of sound, backtracks and both bass and guitars were buried in effects like chorus, reverb, delay and fuzz. And we went for a simpler expression, still with a big sound.
—Scattered and Buried, from 2012, is a compilation with remixes, 4 new songs and a new version of a song from 2009. Why did you release this sort of compilation instead of publishing just the new songs as an EP?
—We had all the songs ready and wanted to release them all at once. So we did. As an LP it works well, new tracks (+ one remake) on side A and then remixes on side B.
—What can you tell us about your record New Frontiers, released in 2014? This time it was recorded in a good studio, right? Was your try at doing something big?
—Our bass player back then noticed that our friends Dead Leaf Echo had worked with John Fryer, who was known for creating good sound for bands that we identified with. So we contacted John and asked if he wanted to produce, engineer and mix our album. We figured recording with John, we needed something better than our basement rehearsal studio, so we booked 10 days in Black Tornado Studios in Copenhagen. So you could say it was more to accommodate than intentionally going for something big. We did know John Fryer was known in the shoegaze and post-punk scene and hoped having his name on our release would help us, which it did to a certain extent. We hope both the name and the sound that came out of it helped bring us out to more people.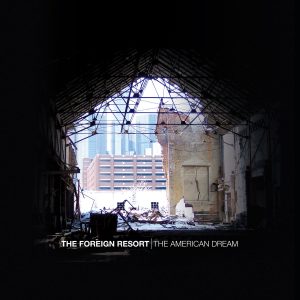 —American Dream, your EP from 2015 was recorded in a basement where you practiced and with almost nothing analogue. Why this change from the previous recording?
—Anytime we spend time recording a new release, we feel like doing the complete opposite next time. After spending a fortune on New Frontiers and going for a big sound, we wanted something simpler and cheaper. Simpler songs too. It was mostly an experiment and us trying to get away from big, expensive analogue effects and instead see how much we could get out of as little as possible.
—What is the Danish dream, instead?
—You could say we were dreaming of making it big in the United States. A country where we tour a lot. On a more real level, I don't think there's an equivalent to the American Dream in Denmark. Here we would call it by its real name: social mobility, the chance for everyone to climb up the social ladder, which still exists in Denmark as opposed to The United States.

—I read that you are quite interested in American politics. Do you think that things can go worse?
—Things can always get worse but we're definitely at an all-time low. But that goes for both the USA and Europe. I refer to it as the rise of the new national socialism, which applies to the racist, national socialist parties currently gaining power all over Europe, scared of immigration and blaming their ill fortune on foreigners "stealing their money," the same way Trump got into power in the States and the same way Hitler got into power. What people don't realize is that it is the corporate world, the 1% who own the world who are taking our money. And as long as the 1% can fool the ignorant, we're gonna stay at this all-time low or it will get worse.
—You have toured America 13 times (according to an interview from 2016, I guess you could have done if a couple of times more in these two years). Any funny history of your touring?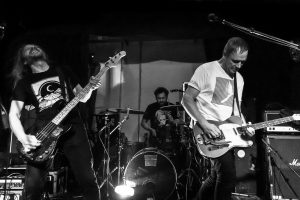 —There are lots of good stories from us touring the states. We like meeting good people and sometimes that happens sort of by coincidence. Last time we played at SXSW in Austin, Texas, we stayed at two super friendly biker guys' place in south Austin. They look like ZZ Top and treated us so nice. We were gonna spend a fortune on an overpriced hotel and they saved our financial situation by letting us stay at their place the entire festival. At night when we came back from the festival, we would hang out on their back porch, relaxing and talking. Things like that leave a lasting impression and make it all worth it.
—You said that you have more fans in Germany, in the USA and in Canada than in the rest of the world. Why do you think this happens? What is the thing that the rest of Europe is missing?
—Not sure Europe is missing anything. There's just more people coming out to shows in our genre in Germany and the US. There's a scene in other countries too, but you have to hit specific cities. Like here in Denmark, there are Copenhagen and Odense. In the rest of the country, we would play to five people if we showed up. Sometimes all it takes is a dedicated booker at a venue, like Stengade here in Copenhagen or Sanctuary in Prague, to revive the scene and make people start going to those kinds of shows again. We really appreciate the people who are dedicated and put an effort into creating good shows and events.
—We've just had talked with Empathy Test about crowdfunding tours. You have been doing it too, what can you tell about your experience?
—Back in 2015 we raised money to pay for work visas and other expenses to tour the US. So we set up different prices that you could buy and that way support us. Besides ordering our new album in different formats, you could also have us play an intimate low-key live show in your living room and have us make you a Danish dinner. The campaign was a success and we went on the most exhausting tour ever. Driving up to 10 hours per day, then shopping for groceries, cooking, playing a living room show and then going to the venue to play the club show was super fun, but also way too much work and way too little sleep. No regrets, but we won't do it again.
—Do you make any cover?
—Yes, we covered Stevie Nicks – "Stand Back" with Anna Bouchard from the band Drowner. Following the recording, we performed the song twice during SXSW 2012. We also covered "Under Your Nose" by Pale Saints for The Blog That Celebrates Itself.
—Do you think it's more difficult to get a contract with a label nowadays?
—It depends on whom you stumble into. We got introduced to the labels we have worked with, and are working with, by friends we made while touring. The friendlier you are to people you meet, the more opportunities will arise from those meetings.
—For "She is lost," the band asked for fan videos. How did it work?
—It took a while for anything to happen. We had a couple of people who said they would make a video, then didn't. And one video was actually fully made, and was great, but had copyrighted footage in it so it couldn't be used. Enter Chris Wallis who lives in Ontario, Canada. He said he would do it and also sounded like he had a good idea of what kind of video we were looking for. We kinda lowered our expectations since this was a fan project where Chris was doing us a favor without getting paid. But the result was beyond what we had imagined. We love the video and the way Chris has interpreted the song and the lyrics into pictures. The same goes for our latest video, which was also made by Chris Wallis.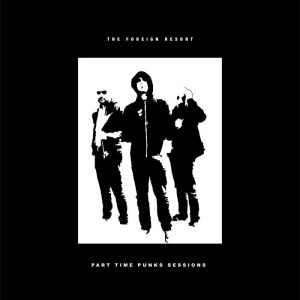 —What were Part time Punk Sessions, different versions of previous released tracks?
—You could say so. The concept of Part Time Punk is playing a show in Los Angeles and then recording 4-5 songs live in a studio in connection with the show. So the songs are not entirely different versions but they definitely have a wilder sound while at the same time being super tight, recorded 16 shows into the tour where we had been playing every day.
—You said that you are fed up with all the references to the bands from the eighties, so I would like to ask you which modern bands do you like at the moment.
—Sure! We're influenced by new bands all the time. Touring we get to play with a lot of great bands that we wouldn't have met or even heard of otherwise. Bands we currently listen to and also draw a bit of inspiration from are André Obin, Night Drive, Creux Lies, New Canyons, Film School, A Place To Bury Strangers, ACTORS, Melted Mirror and The Raveonettes to mention a few.
—How is your relation with the Goth scene, do you feel that the band is part of it?
—Yes, I do feel we're a part of it. Not sure it is entirely goth, but definitely "dark" musically speaking. The people in this scene are very supportive and engaged, so we feel privileged to get to play with the many great bands and to the great audiences that are out there.
—How is the public in Denmark? We have never seen a concert there.
—A year ago I would have called them boring. Now I would say: they are a little more reserved than the Germans. Danes don't dance as much as Americans and Germans. That said, the shows we have played and attended as the audience over the past year in Copenhagen have been well attended by dancing people. So, at the moment I would say the dark music audience is great here! Thank you!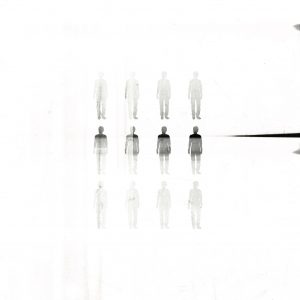 —How is the new record, Outnumbered, going to be? You have been working on it for a while, right?

—It took us longer than anticipated to finish the record. We're addicted to touring and keeping playing shows prevented us from writing and recording new songs. But we got there eventually and we are very happy with the result. Compared to The American Dream the songs are a little more complex rhythmically, with more syncopated bass lines and programming. We feel our song writing has improved, but that'll be up to the public to judge. Having worked with many different people, we feel that this album has the best sound of them all. The recording and mixing process with Bo Karlsson went super smooth and Bo understood how to translate our wishes into sound, which wasn't an easy job. So thank you very much for your patience and professionalism, Bo!
—Why don't we see bands like yours in festivals like Primavera Sound, or any Pitchfork Festivals when your music could fit so well?
—Thanks so much for saying that! The time might still come where we will play there. Let's get the Outnumbered album released and then take one step at the time.
—What can we expect of your concert at the W Festival?
—We're scheduled to play around noon Sunday and we'll be playing songs from our new album, while trying to go a bit easy on the folks who just woke up. Just kidding. We're gonna put in 120%. Our music requires energy when played, so we're gonna give it all we have to make sure the audience will have a good time.
Photo credit (in order) : Melanie Smith, Lars Lorenzen, live photo by Jules Roga, Outnumbered cover by Henrik Fischlein