I woke up without remembering where I was. I looked around and saw that I was sleeping in a tent in what looked like a camp. I had "W-Fest" tattooed on my right arm. On my left arm, instead, I had "After one hour, you forget everything". Well, it's not a big deal, the same used to happen to me after a long night of drinking. I started to get going, as I only had one hour for a shower, a coffee and getting to the W-Fest.
I was in front of the entrance of a festival, "W-Fest" I could read. There was a car on top of the entrance and a DJ playing "Always the Sun", although the weather was quite shitty. I had the first beer of the day and, after having a look around the rest of the festival grounds, I came in the main hall.
TRUE ZEBRA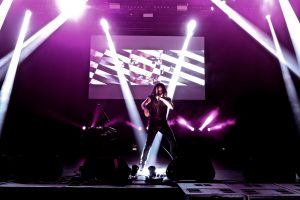 The concert of True Zebra had already started and I could see only the last two songs, "Shame" and "Push" but it was enough to make me a fan of the project. Kevin Strauwen gave a really good and powerful performance. After the concert had finished, I heard some Belgian people saying that it had been one of the best concerts of the festival.
ULTRANOIRE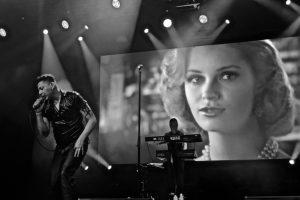 While I had my first beer, Ultranoire started playing in the second stage. They appeared almost in black (with only the singer wearing red shoes) and started with "Leaving Sensoria".  The set focused on their first album, Disclosure and we could hear "Bad Moon Rising", "Drowning Man" (with the video of Nuit Blanche by Arev Manoukian) "Perfect Time", "Lost" ( their best song in my humble opinion), and "Desperation". They finished with a song from their Individual EP: "Two Worlds Collide." A really good concert to start the day.
INERTIA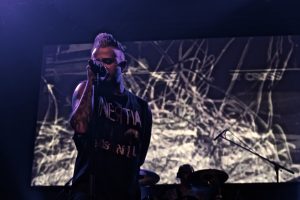 Wow, the band playing in front of me, had a really epic beginning. Inertia played their best cards: "Dark Valentine", "Stormfront" (my favorite, with some killer guitars) and "Anticulture", all of them can bring a dead man back to life. Reza Udhin sings with an incredible passion and his band is really good. Their set included a cover of Peter Gabriel's "Games Without Frontiers" and they managed to impregnate the song with their personality. After this, the guitar player asked us to shout "Fuck Brexit" before the band kicking off with some EBM rhythms that made us dance. After this, the guitar player came and played between the public. A great concert of a great band to see live. Although it was quite early, I felt like having my first beer.
TOYAH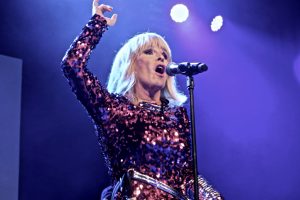 On the stage, a famous singer from the eighties started playing. Maybe seeing bands from the past would help my poor memory. She started with "Good Morning Universe", and continued with "Dance in the Hurricane" and "Thunder in the Mountains". She proved to have an incredible energy and still a good voice for someone who confessed to being 61 years old. She played her cover of Martha and the Muffins' "Echo Beach" (I love the original), and explained that it was a hit in 1985.  Her set included "Rebel Run," "Ieya", "Brave New World", and quite a decent new song called "Sensational" (maybe the one I enjoyed the most). While I was drinking my first beer, she finished with "I wanna Be Free". Enjoyable.
MLADA FRONTA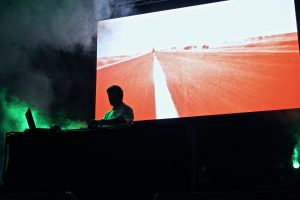 The French musician Rémy Pelleschi (or Mlada Fronta) started with "Melt into the Road" and some videos of motor racing. It was followed by his peculiar homage to the 80s arcades called "Arcade Rider" and curiously, at the end of the venue, there were some arcades where everybody could play games like Tetris. I saw the arcades while I was ordering my first beer. Now that bands like Perturbator and Carpenter Brut are getting famous, Mlada Fronta should be next. The music changed as Mlada Fronta moved into terror territory with "Deathdreams", and "From Hell". After a more futuristic track with a video of Terminator, he took us back to terror with "The Warriors", and some really frenetic synth lines. The concert finished with another track from Mlada Fronta's last album No Tresspasing. Really good.
ALLEZ ALLEZ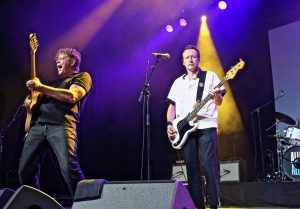 A band from the 80s! Opener "She's stirring up" was a perfect way to commence a concert. A blast of funk that continued with "Marathon Dance", "Life in Reserve" (Marine's cover), where the singer sang like Donna Summer in the classic "I feel love" during one of the choruses. The good thing about 80s music is that it's always fun, you can't get bored with tracks like "Turn up the Meter" or "Valley of the Kings". One of the best moments of the concert was the cover of "Play that Funky music", which was followed by "African Queen" and "Flesh and blood". They were really good musicians having a good time. It's a shame that they did not play "Sean Connery", a new track that I think it's really good. In one of the last songs, they included a snippet of "Rapper's Delight" that was merged with another one of "Good times". They finished their set with "Allez Allez" and a lot of people dancing.
THE BREATH OF LIFE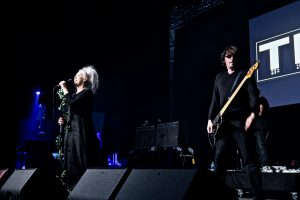 I could not believe it, one of my favorite bands was going to play on the stage: The Breath of Life. Not only Isabelle Dekeyser has an incredible voice but the rest of the bands are really good. People always talk about the magic of some concerts, but the best example of this magic can always be found in the concerts of The Breath of Life. Their set included "Crime Passionnel", "Noamina" (one of the songs where the keyboard player changed to violin), "Shining", "Until the day", "Blackout" (a really great song), "Nasty Clouds" (the best song they played), "Falling drops" and the final "Valley". A truly amazing concert.
KOSHEEN
A DJ appeared a played some drum n bass rhythms that, normally, I would have enjoyed, but there was a powerful reason to go to the Olivier Daout Stage. Although I stayed long enough to buy my first beer.
BLAINE L. REININGER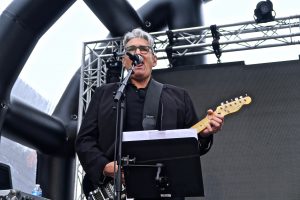 I don't remember how I ended up in this festival, but to see Blaine L, Reininger, from Tuxedomoon is always good. He played with all-time collaborator Georgio Valentino, a set with some of his songs like "Night Air", and "Café Au Lait", he said some words in Italian that I don't know why I managed to understand (the sky is grey like in my mind) and he had a great sense of humor during all the concert. He continued with "Mystery and Confusion" and dedicated "Blue Sleep" from his last album to Peter Principle that died a couple of years ago. A song about his cat and the way he eats followed ("Dry Food") before he started playing some songs of Tuxedomoon. The first one of the set was "Jinx", but we also heard "What use?" and the classic "No Tears". A solo Tuxedomoon set would have been very welcome but for a person who saw the band a few times live (one of the few things I would never forget), it was great to see some Reininger's songs. It's a shame that he did not play "Broken Fingers" but overall, it was a really good gig.
LEBANON HANOVER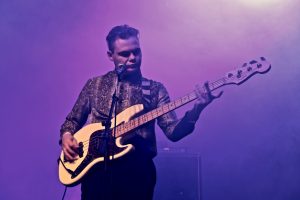 A lot of people were watching the concert of one of the best Goth bands of the moment: Lebanon Hanover. The band proved how to give a good concert in which we could hear some of their greatest songs. Sometimes danceable, sometimes creating a great atmosphere, they made us vibe with songs like the classics "Petals", "Northern Lights", "Gallowdance" or "Totally Rot" where Larissa lied down, playing dead. They sound way better than in record. It was nice to see them while drinking my first beer.
NIK KERSHAW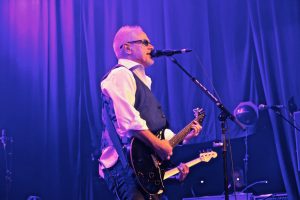 The famous singer from the 80s started with "These Tears", and he continued with "Wide Boy", "Dancing girls," "When a heart beats" and the famous "The Riddle". Next was the turn of David Bowie's "Ashes to Ashes", the Cervantine "Don Quixote" and his two bigger hits, his "Wouldn't it be good" and Chesney Hawkes' "The One and Only" (actually written by Nik) in the most 80s moment ever.  After introducing the band, he finished with "Don't let the sun go down on me". It was OK, but to be honest I am not a big fan of 80s pop, so I will try to avoid other concerts like this.
SIGLO XX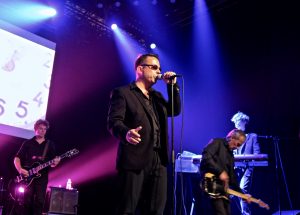 The Belgian band started with "Until a day" where the influence of Joy División was evident. They continued with "Endless corridor", both sisters songs "Sisters Suicide" and "Sister in the rain", "Everything is on fire", "Youth sentiment" (with some really good guitar playing), "La vie dans la nuit", "The art of War", "After the dream" (wow, this one was pretty intense), "No one is innocent", "Dreams of Pleasure", the powerful "The beginner" and "Factory". The concert had a very nice sound and it was incredible to see all these classics live.  "It's all over now" was, coherently, the last song. Great.
HOWARD JONES
Eighty pop? That can be pretty cool. Howard Jones, still with a lot of energy, started with "Equality", continued with "Beating Mr. Neg", "Everlasting Love" (with a snippet of "La bamba"), "Hero in your eyes", and a very danceable "Human Touch". He sat down at the piano for "Hide and seek" (song that he played at Live Aid), and finished with his hits: "What is love," "New song" (not really a new song) and "Things can only get better". It was OK, but to be honest I am not a big fan of 80s pop, so I will try to avoid other concerts like this.
TONY HADLEY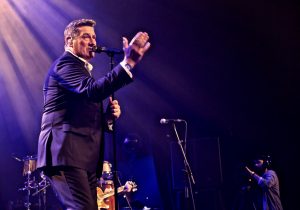 I never thought I had the change to see a star from the 80s. At the beginning there were not that many people, but they arrived after the first minutes of concert. Most of his set consisted of Spandau Ballet's classics like the beginner: "To cut a long story short", "Only when you leave", "True", "Through the Barricades", "Instinction", "Chant no 1", "Lifetime" and the final "Gold". It was amazing that he still looks OK for his age and that his voice is still pretty decent. And he is still a good showman. I wonder how other musicians from his generation look now. He played some of his songs, like "Everytime", "Killer Blow" and "Accident waiting to happen". Before leaving with "Gold", he played a cover of Queen's "Radio Gaga", a song that, to be honest, I have never liked. When I was 18, I liked Spandau Ballet so nostalgia had to fight against objectivity during this concert. My first beer also helped nostalgia winning the battle.
VNV NATION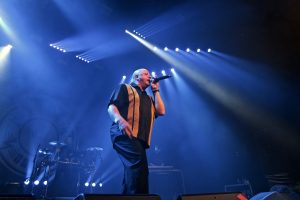 It was 01: 20 when VNV Nation appeared on stage. I went to the bar to have a drink, but after the first sips, I started feeling a bit dizzy. It was my first beer, c'mon! I left it and went to see the first concert of the night: VNV Nation. They started with "When the future", without a doubt, onw of their best songs. With "Chrome" the public (who looked a bit tired, I din't know why), started dancing, and they continued with "The great divide", "Genesis", "Illusion", (people went crazy when they recognize the first notes) and "Off Screen". Ronan Harris, the singer, looked really happy of being there, and he proved it while interpreting songs like the fantastic "The Farthest Star", "Legion", "God of all" ( with everybody dancing), "Resolution", "Nova" or the final "All our sins". It was a great concert.
I followed some people on their way to a camp. It was a bit cold and I had my jumper on. I heard these people talking about a W-Fest and they were saying only good things. Definitely it sounded like a place where I should have gone.