After the traffic jam that we found on our way to the W-Fest, this year we decided to go to Belgium on the day before the festival, so on Friday 29th we flew to Brussels where, as usual, we rented a car that took us to the festival campsite. This year, Sinner's Days took place in an old factory of an industrial park in the Heusden-Zolder area. The camping was quite close to the place, but there was nothing around, so that night we took the car to go to the closest village, have dinner and a drink and come back early because we needed to be rested for the following days.
Photos: Patrice Hoerner
La Lune Noire
We had to wait a few minutes at the entrance of the festival until everything was ready, so we arrived to the first act of the day with the second song started. La Lune Noire are a Dutch synthpop four-piece band with a singer that we saw a lot of times during the rest of the festival. They have released a few albums since their first Nitrogen from 2009 until the new Complot (Fictional Facts) from which they played tracks such as the catchy "One Small Step" or the danceable "Before I Change The World". They also looked back to their album Dictator, represented by tracks such like "This Empty Room" and "Hate", a song about being different. It was a good start for the festival.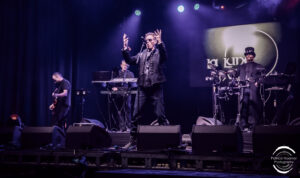 Minuit Machine
We were really looking forward to seeing Minuit Machine as they did not play in Madrid on their last Spanish tour and to be honest they left us with our mouth opened. The duo sounded more powerful and stronger than on the album as it can be heard in Sainte Rave, the new live record that they have just released. They played robust versions of "To Control", "Don't Run From The Fire", "Sisters", "Empty Shell" and "Lovers of the Night". Hélène gave a techno touch to the tracks and Amandine proved to be a great frontwoman.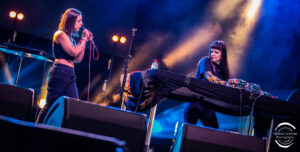 Apparaat
Apparaat were in charge of opening the Belgian stage with their powerful electro rock. They are a three-piece that have recorded an EP for the Wagonmaniac label (also home of O Veux and Dead High Wire that played on Monday). In their set they played very danceable and strong tracks but also some more atmospheric, with a lot of intensity. We enjoyed the concert.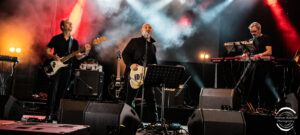 Foreign Resort
Last time we saw The Foreign Resort at W-Fest, they played one of the best concerts of the festival, so we had very high expectations. This time, as the singer commented, they came without drummer and maybe this made the concert less memorable than the first one. Anyway, it was a really good gig, where the now duo played with their characteristic passion and they already have a good number of great songs. The singer was wearing a t-shirt of Hapax, a detail that I liked. We heard "Obsessing", the beautiful "She is Lost", "Send your heart to the riot", "Flushed" (for me their best track) and a long and powerful "Dark White". As they were later selling some CDs, we bought their New Frontiers.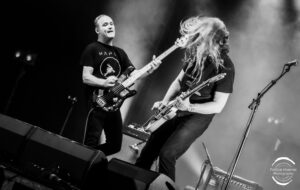 This Can Hurt
We went back to the Belgian stage to see This Can Hurt, a band of potent rock, with metal influences whose sounds got better during the concert. The track I enjoyed the most was "World Apart", which is also the title of their last work. For the ending, they left a new single, entitled "Mikaela" and, in general, the concert was enjoyable.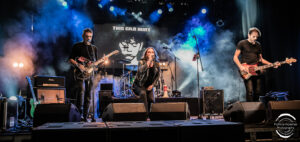 IAMTHESHADOW
Another of the concerts that we were looking forward to seeing was the one of Portuguese band IAMTHESHADOW, who was not so long ago interviewed by me. The three-piece appeared in front of a numerous audience and showed their best weapons in the moving voice of Pedro Code and the powerful bass. They played a good setlist with the best of the band: the great "Lifeless", "Always", the intense "Pitchblack", "On Winter Leaves Embrace" and "Everything in This Nothingness". The fun moment of the concert was the bass player came with a Portuguese flag and passed it to Pedro. We had darkness and intensity as we like.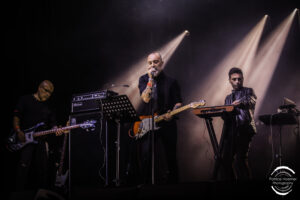 The Juggernauts
The Juggernauts are a very strong EBM three-piece that appeared dresses in a costume similar to the Marvel Comics character, where we can also find Kevin Strauwen from True Zebra at the electric percussion. Curiously, we met the singer of the band two days later, at first not knowing it was him and we talked about a possible interview in the future. With the help of some videos, they showed us their particular vision of EBM. From their set, we would like to point out "Purge","Fear", and a track that was played live for the first time. We enjoyed the concert and so did the audience that danced all along the show. The only bad thing was the duration: too short. We will see them again at DarkMad.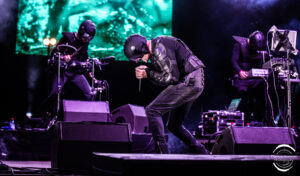 Glen Matlock
If anyone was expecting a punk concert, only to see Glen Matlock and his elegant band proved that he was wrong. Glen played a concert of pure rock 'n' roll. We could listen to some tracks from his Good to Go album such as "Keep on Pushing" or "Hook in you", played with a class unexpected in a Sex Pistols. From his recent single with Earl Slick, we could hear "Consequences Coming" and from his albums with The Philistines he played "Whose Side Are You On?" We could also hear "Magic Carpet Ride" a track that we think it has not been published yet and the concert ended with a powerful "Pretty Vacant" from the band he created with Johnny Rotten.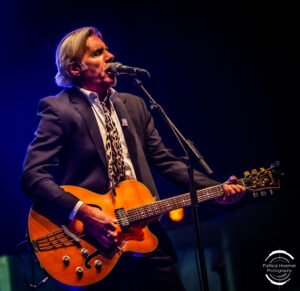 Struggler
Legendary Belgian act Struggler was next and even if I liked their previous concert at W-Fest, this was way better. It was a real show of intensity and power with really hard and menacing music. It's quite curious to see Rene Hulbosch and his son leading the band, as they look like the present and the past, or the future or the same person. Rene's voice manages to transmit this sense of paranoia of the time and the original sound of the keyboards help create a peculiar atmosphere. We could listen to some tracks from their last work Wilma Determined Protector but also come classics such as "Persecute". As a curiosity, the journalist Nel Mertens from the popular webzine Luminous Dash danced during a couple of tracks together with Alexandrina Alves. One of the best concerts of the festival.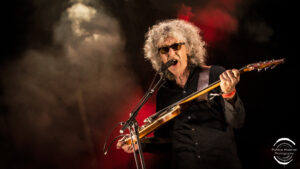 Siglo XX
The festival continued with a lot of intensity thanks to Belgian band Siglo XX. It was supposed to be their last concert and curiously they played after their neighbours with whom they toured in the 80s. Siglo XX opened with an intense "Until a Day", with the characteristic sound of the melodica. And they continued with classics such as "Sister in the Rain" with a great work of the guitar player, "Dream of Pleasure" and "Individuality". Paradoxically, they ended with "The Beginning". Another great concert.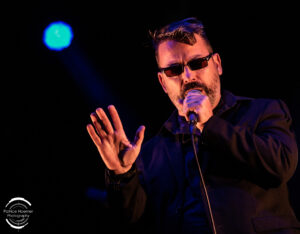 Star Industry
The bass player of Goth rock band Star Industry, Stijn Kuijpers has died just a few days ago, so instead of replacing the band, there was an homage to the late musician done by some Batcave DJs who played some of the best tracks of the band. Stijn was also remembered by some other bands that played at the festival. 
Red Zebra
It was the third time that we saw classic Belgian punk bands and honesty, it's never enough. They started with their amazing cover of "Agent Orange" and the public became crazy. A histrionic Peter Slabbynck made us laugh during "The Ultimate Stranger". They also played"Shadow of doubt" with a snippet of "This is not a love song" as they used to do live. Next was "I'm falling apart", "Innocent people" and classic "I can't live in a living room" with everybody singing the lyrics. They also played a cover of The Sound's "Winning" and their "The Art of conversation" with all the public bouncing and dancing. We hope they will also be in the 2022 line-up.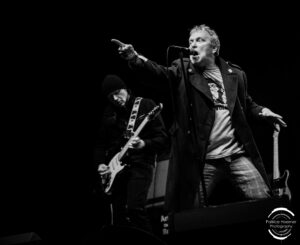 Absolute Body Control
The concert of Absolute Body Control was one of the most awaited for us. And we enjoyed it a lot, but we must confess that it was too short and one hour would have been a more adequate duration. The duo of Eric Van Wonterghem and Dirk Ivens started with "Invisible Touch", and continued with an amazing series of their great tracks such as "Waving Goodbye", "Earth Takes a Break" with its menacing synths, an incredible "Is there an exit?", "Figures", "Never Seen", or "Give me your hands" a track that could resume the minimal synth style. Another great concert.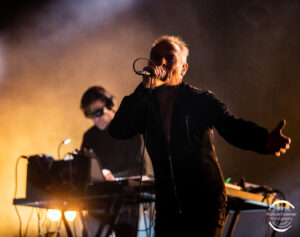 Blancmange
After missing their concert at W-Fest, I really wanted to see Blancmange and honestly they had a great sound, very powerful and modern. Neil Arthur plays now with his son too, who did a great work at the synths. From initial "Commercial Break", to "Game Above my head", "Can't Explain", "What's the time," potent "Last night I dreamt I had a job", 82's track "I've seen the world", and "Living in the ceiling", they literally kep us floating. The end of the concert was quite enjoyable with "Feel me" and "Blind Vision". Anoooother great concert, although I would have loved so listen to old tracks such as "Waves".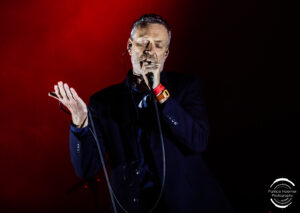 The Bollock Brothers
To be honest, I did not know anything about The Bollock Brothers before the concert, and only read some references to the band in previous interviews. So, their sense of humour found me a bit out and it took me some time to get it. Later, I discovered that they started around 1980 and that their first work was covering completely Nevermind the Bollocks. They played some of their songs such like "Faith Healer", "The Bunker", "Horror Movies", where the singer, Jock McDonald talked about their previous concerts at the festival. After "King Rat" the son of the singer and the original bass player came to the stage and played an old song. They continued with the funny "Harley David" and finished with "Beats of Love". Quite fun.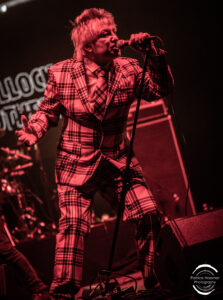 Praga Khan
The concert of Praga Khan was pure fun as we expected. With Maurice's wife dancing, they secure an impacting staging that was accompanied with a good selection of their tracks:  "We follow the sun," "Love", the funny "Freakazoidz" and "Luv U Still". We had some acid moments that we liked very much, a powerful "Lonely" that was followed without stopping by "Isolation". They finished with the classic "Breakfast in Vegas" and "The Power of the Flower". A great spectacle and a lot of fun, not everything was going to be drama.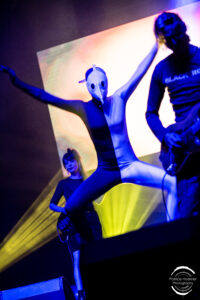 Suicide Commando
I could practically copy my chronicle of Suicide Commando at Sinner's Day Special as both gigs were quite similar: it was a great show where Johan Van Roy proved to be in great shape with, I would say, the same set list. They played classics such as "Gates of Oblivion", "God in the rain", "Euthanasia", "Cause of Death: Suicide", "Love Breeds Suicide", and the final "Die Motherfucker Die". As at Sinner's Day Special, we enjoyed it a lot.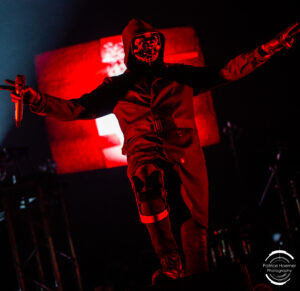 DAF
A touched Robert Görl presented his concert where he played DAF's last album in its entirely. Robert sang this time, instead of playing drums and a girl was in charge of the programming. They played all the 15 tracks of Nur Noch Einer, the album that he was working on with Gabi Delgado before this last one died. It wasn't a bad concert, but at that time of the day people wanted something a bit easier and to listen to 15 unleashed tracks was maybe too much for the last concert of the day. The new album sounds 100% DAF and it will please, undoubtedly, the fans, but we would love to listen to it live in a different situation. He played a final bis.