We are living convulsive times and everything seems to go to hell. In these pre-apocalyptic days we are living in, The Arrival is the perfect soundtrack, as the last EP from the American band Seven Federations seems to have been written specifically for these times.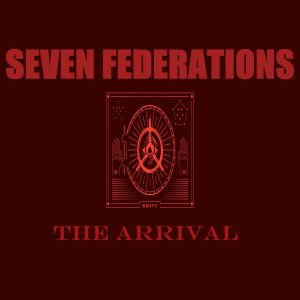 The band from Fargo, led by Todd C. Ruzicka, calls themselves "American Gnostic." In order to better understand this album, not only musical wise, I had to get some information about Gnosticism, a collection of philosophical and religious trends, originated in the first century AD among early Christian and Jewish sects that later was considered a heresy.
The first song "Demiurge," starts with a very heavy sound, distorted guitars, an industrial rhythm section and the voice of Todd, almost narrative and very aggro, announcing the demiurge.
What in Platonism was imperfection, in Gnosticism becomes evil. The Universe, for the Gnostic, was a gradation, from the subtlest thing (God) to the lowest (matter). This way, the demiurge, the creator of the material world becomes the incarnation of evil.
The second track, "The Arrival," is a mix between the more industrial sound of Gary Numan with some marilynmansian influences. It announces the arrival of the demiurge and how he is going to screw up everything.
"Slave Deity": the three minutes more guitar-driven of the EP, prelude of two instrumental tracks, "Amongst The Ruins" and "A Latenight Visit to the Pleroma Medical Facility".
"Third Eye" is the songs that I liked the most. It's not as heavy as the rest, using a more electronic rhythm and more natural voice sounds compared to the rest of the album. Again, we have references to god who is supposed to be saving us.
"Alter" is a semi-instrumental track, following the musical style of "Slave Deity."
The EP comes to an end with "Syzygy," the end of the Apocalipsis, where the main character of the story seems to be praying to Lord, this time in capital letters, having done his best and lost his faith. It's the slowest track, and it looks like a prayer.
This album has truly surprised me, although I am not a big fan of these sounds, I have been captivated by the lyrics as they work as a story.