The magic and feeling of most of our experiences are really difficult to capture, so the pictures of our trips are always a poor memento of everything that we have experienced. But for once, the cold wave/EBM/electro/etc. duo Parade Ground has succeeded in gathering all the power and energy of their shows in one single CD. Life is the first official release of their intense concerts, recorded in Frankfurt in 2018. The recording collects all their hits from the eighties plus five new songs that will be on the next album of the band.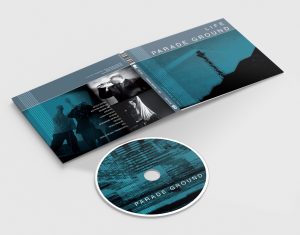 Some sirens warn us of what's coming: tonight, they are taking no prisoners! The first song is one of their classics: "Gold Rush", one of the most famous singles of the band, released in 1987. The first thing I notice it's how Jean-Marc Pauly's voice has changed: this song was first recorded 30 years ago and now, especially here, he sounds a bit more fragile, like a beautiful glass close to breaking. Curiously, the following song is the B-side of that single, "Action Replay" that keeps us dancing like crazy. We can breathe again during "Devine Me," a relatively new song that they have already been playing for some years and which fits perfectly in the set list. Although we can recognize the intro, Jean-Marc reminds us that we are back in the 80s with an intense version of "Moans," undoubtedly one of their classic songs. Another new song, with a lot of potential is "Lady's Head" which, together with "Stand," is a fine example of the eternal energy of the band. For a moment I can really see Pierre Pauly jumping on the stage meanwhile Jean-Marc sings with great aggressivity. We go back in time with the classic (sorry, I should not repeat that word so much, but, honestly, how can I say otherwise?) "Strange World" and the last look in the past is "Hollywood," the opening track of Cut Up, the first album of the band. Between these songs, the last two advances, "Tears" (another future classic) and "No." At the end, we have another version of "Gold Rush." Now it's time to go home. No, wait, we are home.
It's a great album, the only thing that I missed is some songs from their latest albums, from Sanctuary, A Room with a View or The 15th Floor. Maybe in a second volume? I hope the answer is affirmative.