Header photo: Roger Op Den Camp
Zwaremachine, our favorite Minimal Hypnotic Industrial Body Music band, will be appearing at the Autumn Moon Festival in Hameln, Germany this Sunday October 20th, as part of a contest to win a spot at next year's festival. The band would like to thank all the fans and supporters who voted to get them the festival spot and would like to encourage them to come to the concert (the band's last one of the year) and vote again.
We also want to premiere the new video of the band: "Remain Unseen (Planktoon Remix)" was filmed in Germany during the recent Electro Tanz tour and edited by Kitty Sommer. More info about his release and the band can be found in our new interview to the band.
Violeta traveled all the way from Spain to Brussels and then Maastricht on the 22nd of September to meet Mach Fox from Zwaremachine, Dein Offizier, who played with him during his European tour, and Kitty Sommer, who orchestrates all of this. Special thanks to Marcellin Petitfrère and Nathalie Santin for their support and their help to conduct the interview.
—So, first of all, I wanted to talk about your previous projects, because I know you've been releasing music under the monikers of Mach Fox and Satan Starship, right?
—Mach: Yeah. Both band's kind of led to Zwaremachine, but Mach Fox was a little more electro rock, with guitars, drum machines, synthesizers. And then, Satan Starship was kind of the precursor of Zwaremachine, because I kinda moved to electronics, purely electronics… I tried to get other people on stage with me and perform in a more collaborative way. It wasn't exactly songs or a set. And then I decided that I liked that, but I wanted to be in the middle of a band with songs and a proper set. That's what led to Zwaremachine. 
—OK, and why the name of Satan Starship? It kinds of fascinate me, haha. 
—Mach: Oh, yeah… I dunno, haha. I think I was just drawing weird logos and that came up like a sort of an evil space theme sign. I do like science fiction and horror, so I combined the two. And then, in an early Zwaremachine press release, I even said we were brought here on a ship with ghosts. You know, something like that. I made up weird stories. It just kind of led up from Satan Starship to Zwaremachine. 
—OK, let's come back to Zwaremachine. The name and the concept of the band comes from the Zwaremachine police EP?
—Mach: Somewhat, as Mach Fox I was releasing albums digitally on a lot of labels, some Italian and German labels… I was trying to think, "How can I kinda blend it." I love working with those peoples, with those labels, and it seems like there's interest for my music through the German labels. I thought Zware was German. Turns out it's Dutch. I just mashed up a German and an English word together. And now I think that the whole machine thing is a bit cliché, but I'm not gonna change it now.
—I think it's cool, haha.
—Mach: Oh, OK, hahaha.
—And I wanted to ask you: who are the Zwaremachine police, because we only know the Brain Police.
—Mach: I feel like it's just a dystopian future where they're shutting us down. There are robotic overlords, just keeping us in check. That music means a lot of sleep-deprived nights, where I stayed up all night, sequencing music, so it got kind of weird. That was more electro and industrial style. It's a lot about textures and machine sounds. Just kind of a weird concept, I always like to bring science fiction and horror, even in the stage performance, in the gear we have and stuff like that. It's a little bit about that.
—I am a big fan of science fiction too, haha. I like Star Trek, Stargate, Star Wars… well, pretty up everything with stars in it, hahaha. What about the music of your band, you label it Minimal Hypnotic Industrial Body Music. Can you tell us why?
—Mach: In the States, there are some younger people who are really interested in just finding out about the older bands, the industrial bands. Zwaremachine's kind in that world, but I didn't want people to say, "Oh here's another industrial band, industrial-EBM band." I want to expand on it, and kind of have our own thing and be original, so people can read that and think, "Oh yeah, maybe this is a little different." It's just a way to describe it that wasn't the typical general description, so I added a little more. I brought a lot of long sequences and then I cut them down really short, and looped them. And then even the lyrics are kind of minimal lyrics, over and over. So… I tried that with the visuals and everything we do is kind of minimal. Maybe, jumping around and moving on stage isn't minimal, but the concept behind the music is. I try to keep all the elements kind of hypnotic, and minimal and repeating them. I just want to give people something different.
—Your show must be very visual, right? I say that because of the hypnotic part. 
—Mach: Yeah, the video that plays behind us is… My own lighting is just a couple of lasers, some white light, fog. You know, just to set us apart from other bands. I do love visuals, but all the bands have a sync visual for each song. I kinda just use a loop that maybe hypnotize you after a while.
—OK, haha, I have to see you playing.
—Mach: I hope you can.
—I will, definitely.
—Mach: Thanks for the effort of coming here.
—Can you explain how the work of Paul Gerrard has been an influence for you and for your music?
—Mach: We met a long time ago, our bands were trading remixes. His artwork is very Gigeresque. I just fell in love with it. He was just happy to contribute to some stuff and we got a really cool logo. He's always done my artwork. He did some artwork for some Mach Fox releases. I just love his artwork, it's truly original and his influences are obvious when you see it. It's always kind of biomechanical and…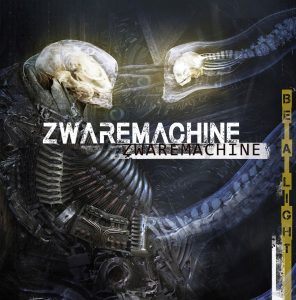 —Yeah, like we can see on Be A Light, right?
—Mach: Yeah, but that one is special. He's got some stuff like tree people and all this Nature and mechanical things mashed together. It seems like so cool and so where I was about lyrically, and it fits my music so… I'd like to say he's gonna do all our artwork and I mean I think he will. It's up to him, but… it's just been great working with him, cause we love to have this cool artwork. People see it, and they might get the sense of the music, and that's important. You can have a great graphic designer logo but it's just words. His brother Mark Gerrard, I have to mention him too. He does all the text, and he does a lot of work for us.
—I should contact him to do my logo for my webpage then.
—Mach: Oh, definitely, haha.
—Let's speak now about your touring in the United States. You've been touring with I Ya Toyah. Can you tell us your memories and impressions of the tour in the US?
—Mach: We are both kind of unknown young bands, in a sense that we both released our first records last year. When we met up, I initially contacted her about doing a collaboration. I wanted her to sing on some songs that I had produced. I wanted it to be a duet male/female. As we were talking about that, in the meantime, we thought that we could do some shows so we could perform live. That's just became a tour. We have the same ideas about the show you know. The show has to be visual, it has to be powerful. Our shows contrast with each other but putting the show together was easy, we're a lot alike in the fact that we are driven with a vision for a band. Like I said, we look different on stage, but it's just a commitment. Her passion matches mine, so… It was easy to set this tour together. We get along fine, she has a great crew with her, Joe does the videos, her husband Damian does the pictures, and they both helped up set up everything. We all just had a great crew and a great time on tour. You know, these are hard times too, but we made it through!
—And do you have a special anecdote of this tour? Something you would like to talk about?
— In La Crosse, Wisconsin, the Warehouse venue, a great venue historically known for touring bands, like a lot of punk and DIY bands and they had an industrial/electronic day too there. The stairs are notoriously long. Many stairs. Yeah, I dunno, just good times, you know. When you tour with a band that you're friends with, you have crazy fun time. Also, we're not like hardcore party where you get drunk and trash your hotel room. That's… Because we have to pay for it, hahaha. She stays professional, I really appreciate her work.
—I've listened to your album Be A Ligth a lot and it's just marvelous.
—Mach: Oh, thank you!
—That's true, I really love it. It's going to be reedited, right? Can you tell us when?
—Mach: We are still aiming at contracts. I think, there's gonna be a special edition with different tracks so we're gonna have some new remixes, and an additional track, "Remain Unseen," which has already been released but, there will be a special addition so people who might have it may want both. It's just a special addition for Europe. We don't know when it's gonna come out, we're waiting for the artwork to be reworked a little bit. It will get a released date. I'll keep you updated. 
—You have to, haha.
—Yes.
—Well, Kitty will do it!
—Mach: Yeah, she does so much, thank you, Kitty.
—I have a question for your, Dein Offizier. Who are you? You are a mysterious man who accompanies Mach for the European tour, so who are you?
—Dein Offizier: Well… I wanna keep it mysterious. I'm serious. I chose the name Dein Offizier cause I always wear a cap, with my other band, Volle Petaj. It's an underground percussion band. Because Mach thought that Zwaremachine was a German word so I chose a German name for a Dutch guy, haha. Well, I saw Zwaremachine this year, at Downhill Festival and I really loved it, it was great. So I sent him a friendship request on Facebook, and after a short while, he planned a second tour in Europe. I got a message: "Do you want to join Zwaremachine on this tour?" So, to keep it within the military words, he recruited me as a percussionist.
—And are you enjoying it?
—Dein Offizier: It's great. So much fun with Kitty and Mach, and it's great, yeah. I'm enjoying it a lot. We did two concerts now, and it's becoming greater and greater.
—Kitty: And also I wanted to give him some credit, because he's never really been in a band on stage, but he's a poser, he is very cool, and I mean he did it! We only did one rehearsal, like about three-four hours, and he got on stage the first time of his life. I mean he performs, I'll let him explain what he does with his other band. It was his real first performance on stage with a band, and he did very, very cool.
—Dein Offizier: Yeah, we perform on the streets, we're a small percussion band of 16 people. Our stage is the streets, we never play on a podium like the stage of a venue.
—Mach, what can you tell us about the highly expected new album?
—Mach: Well, for the demos we did, I tried to use a little less of the heavy vocal effects, just to see how things could sound but then we reworked it in the studio with the Swedish producer Planktoon. He's done tons of remixes, he's produced a Mach Fox's album, we've been friends for years. He's the remixer that every time he gives me something back I'm just like "Wow," you know. I have to keep working with this guy. I wanted to expand the band a little bit. A lot of times it's been me, going to the studio, recording everything and then finding the live band. And I just wanted to change things up, you know, approach it differently. I still think it'll be my voice coming through the final product but I have some great people that I can work with. Besides, him producing it, my bass player Dbot, who couldn't make the tour, he brought all the music for the demos. So essentially, I brought the lyrics to his music, sent it to Planktoon, and he's gonna remix and produce the tracks. We're gonna go in the studio, record the vocals, record the bass, and have some drums. We're gonna have someone record some additional drums I think. We will have some more drumming on the album. We need to keep him around so… Hahaha. Well, I just wanna say I met him three days ago and we have done two concerts together and I think we're pretty good friends. It's a pleasure.
—Dein Offizier: Yeah, it's really a pleasure. And he saw my videos on my Facebook profile.
—Mach: Oh, I knew he would work out with the band. Every video, I was just like "Who is this guy?" And I asked Kitty's opinion and she said, "Yeah he's cool!" 
—Kitty: Yeah, but I've known him longer, so…
—Mach: Oh yeah, it's interesting, I always have the concept of Zwaremachine being a three piece. And I built the whole Be A Light album like this. The tracks were designed to have live drums to emphasize it. Not only for this wicked movement, but the whole sound was built around the additional drummer and the synth player.
—Kitty: And you did some shows with a drummer.
—Mach: Well, my line-up just keeps changing, it's a little hard to juggle it, a few shows like this, a few shows like that. Luckily, I had Dbot the bass player for the whole tour with I Ya Toyah, and that was just incredible. He's a great musician, great guy to be in a band with, so having him along made the tour a 1:30 also. I really like that Dein Offfizier is using an acoustic drum.
—Yeah, I saw some photos, that looked amazing.
—Mach: Yeah, I thought it might be only a sample pad, I had a different sound in my head. When he said he's got this deep-boomy drum I thought, "Yeah, that can be really cool." Just him moving on stage, like I never knew he would be so incredibly fun to play with him on stage. We really had fun. I'm glad we get some bigger stages where we each have room to do our thing. 
—Let's come back to Planktoon, how did you meet him?
—Mach: You remember the web MySpace? That's where I met a lot of these guys I'm working with now, Paul Gerrard, JC from Vuduvox, that it's an incredible band that we are playing with now on this tour, and a good friend for many, many years. Just back then, musicians contacted each other, traded remixes. Some of these people I've known for ten or 12 years through exchanging music, and I'm just meeting them now in Europe.
—MySpace is very old, haha.
—Mach: Yes, haha. Well, I've been kicking around the music for a while.
—Now, there is SoundCloud, for example, I don't know, it's really different.
—Mach: Yeah. Now we all connect through Facebook. But that's a problem too, because I told people, here's my email, in case Facebook is dead or gone somewhere, I wanna stay in contact with those people. We try to email also. Well, all sites are great for musicians. So much collaboration happens. 
—Are you going to use a special theme for your album?
—That's interesting, because that stuff is important to me. I was struggling to write the demos, we were gonna produce demos over the summer, and I knew we were leaving in September for this tour, so I was gonna send it off to Planktoon, and then he can work a couple of months, for three months before he sends it back to us but, I was struggling with the lyrics. I don't know if I had the writer's block, but I didn't see far enough a theme, or any lyrics that I was liking. I was doing some demos that weren't that good, I didn't like the sounds, and then I was forcing too much on the arrangements and the stuff when I just should be kicking out demos. I asked Dbot "Throw me some tracks" cause he produces great music. He started sending to me tracks and I said, "I love these, keep sending them." And they had song titles that were all sorts of sci-fi themes, cause he appreciates that also. I would just take the song title, and say, "How can this fit in Zwaremachine's world?" And it just worked. We had a lot of demos before we knew it, and I say, "OK, stop, I don't need any more, let's go on with the next step and writing the lyrics and recording those demos was easy when I got the tracks from him. It's sort of set in the year 3000, which in itself is a fantasy, we'll never last that long. I figured it's a dystopian, dark, polluted, dead world that we live in. A lot of people only can live underground, there's like a burning sun, all those kinds of problems. I had the lyrics based on a lot of those kinds of themes. It's gonna be a dystopian science-fiction-based album.
—I really want to buy it now.
—Dein Offizier: You can preorder it.
—I can preorder it, then I will, hahaha.
—Mach: It'll be out in the year 3000, it's a bit of a wait. 
—Hahaha. Well, for the people like me who haven't had the chance to see you live, how would you describe your show?
—Mach: It's a shame that you missed the concert. I hope we are set apart from a lot of other bands of our genre. I think people get that we are industrial, and EBM and they hear our influences like Dive, The Klinik, Front 242, Skinny Puppy. Those are all evident. But I wanna bring some of my own personality. It's all a little softer and even pop at times underneath.
—Pop, really? What is pop to you?
—Mach: Maybe it's not pop for other people, but I hear it, I know where I stole very little thing from. I never wanted to be a band that was just like "Oh, they're doing Front 242 very well". We have a nod to them obviously. Our song "Pulse" is a direct nod to them. But then there's a direct nod to Skinny Puppy, and then elements from everything maybe even in one song. The pop thing is maybe the structures… I don't know, I hear it. I consider it pop-industrial at times.
—Well, I wouldn't say pop-industrial, I would say industrial. I would even say Minimal Hypnotic Industrial Body Music. 
—Mach: Perfect, it's perfect, haha.
—And what can we expect from you in the future? A new tour here, maybe?
—Mach: Yeah, I think the reception has been really well in Europe. I obviously want to come back, I wanna keep Dein Offizier playing with me, I wanna play more. Kitty and I talked about poking the band and focusing on playing live this year, rather than releasing another album. I was proud of Be A Light, and it got good reviews, but I figured some really limited audience knows about it. So maybe a tour for a year, get well known, then when we release the next album there would be excitement already for it. It's a hard work to promote a new album.
—Kitty: But you did bring something on. You did the Remain Unseen, all the remixes on August 1st, and we are trying to get the album Be A Light re-released in Europe, we are working on that. So we got some releases. 
—Mach: Yeah, Remain Unseen was just a way… It could have been in Be A Light… we were playing it in the live set, when the album was made. It just wasn't quite ready. I didn't have the vocal arrangements maybe, for some reason we didn't record it. We gave it as a free single to all the DJs, everyone basically. We thought it was a way to thank everyone for the support for this album, and yeah, we will gonna have that on the re-release.
—Kitty: For the remix of Planktoon, for the first time, when I heard the music, I had it on my computer, and I was like "Wow, this is cool! For God… This is cool, we have to do something with it this is so cool." It was so different. I really loved it.
—Dein Offizier: We are performing this version.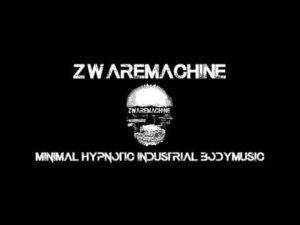 —Mach: Yeah, this song is just a perfect way to end a set, it has a high energy, and people get it, and it has a different sound too. You hear a Minimal Hypnotic sound and then this hits you as the last song. 
—Kitty: yeah, it's catchy. It's really catchy.
—Mach: Yeah. And then Dein Offizier just knacks his drum over, drags his toys home and we go.
—Kitty: Haha yeah, he did this yesterday, it was so funny; I was amazed, I was like "What is he doing". Because he walked out of the stage, and he stood and then he did a military salutation, and then he dragged his drums and I was like "What?" Hahaha. It was cool.
—Dein Offizier: Yeah, I drag it as if it was a corpse.
—Kitty: I didn't know what he was doing, haha.
—Dein Offizier: Yeah, and another fun fact is that we had the first rehearsal and the first concert the same day. During the rehearsal I was really performing and after it, I had an arm ache and I thought I would never be able to play after that for the concert, haha. Rehearsing three hours in a row and then have a concert the same day takes its toll. Perseverance got me through.
—Any plans of coming to Spain?
—Mach: Well, without Kitty, I would say yes to everything, but fortunately for me, she knows what she's doing and she's organizing the tour. If not for her, I would go there, then at the other side of Europe, etc. hahaha. So Spain will be later.
—Well, all this whets our appetite and it really seems that Zwaremachine's shows are not to be missed. Thank you guys for this really interesting interview. At El Garaje de Frank, we really wish you the best, and we will keep supporting you.