Today, we want to talk about the first album of Korinthians, released by Wool-E Discs at the end of last year. The Belgian post-wave (at least they label themselves this way) band had already published the EP Olympus in 2016 and the single AWWW a year later, where we can find a first version of "A Way With Words," song that we can also find here. Chaos Control, which name is based on the play Six degrees of Separation, is the first long play of the four-piece from Ghent and it can be heard and bought here.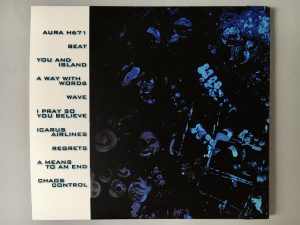 The album starts with the fast "Aura H671." Even if it looks impossible, the song continues accelerating during a frenetic bridge and is, according to us, a perfect beginning. It looks like the band is giving us some time to catch our breath during "The Beat," but the track bursts during the incredible chorus and take us for a ride that lasts six short minutes.  "You and Island" is a nice track sang in a very passionate way. "A Way With Words" has been published before in a single, as I said below. The beginning reminds me of my beloved Fad Gadget but it's still a very personal song with a great chorus. The album continues with "Wave," a song that begins with spoken word over a background of synths and finishes with a really epic ending. One of the best tracks of the record. In "I Pray So You Believe" we can hear something that sounds like a church organ and also grow to a powerful crescendo. With the funny name of "Icarus Airlines," Korinthians bring us a song with very deep lyrics that will make you think. In "Regret" the singing, sometimes, reminds me of Morrissey although the rest of the song has nothing in common with what the ex-singer of The Smiths normally does.
Almost at the end, we can find a cover of Joy Division's "A Means To An End" with a more darkwave touch. Korinthians are part of the Wave Invasion collective that has been organizing parties where songs from Unknown Pleasure where played and this is the origin of this track. Chaos Control finishes with the song that gives its name to the LP, one of the most original of the full album, with some samples of voices, an experimental development and a great control of the tension.
In this album, we can find ten very catchy songs, with really good chorus, an updated eighties vibe and a perfect combination of synths and guitars. Chaos Control, like the Icarus from the legend, flies to the sky and takes us along for 46 minutes. But, unlike Daedalus's son's trip, this one finishes successfully.