On Monday, we published an interview with Vuduvox, and today, we have Zwaremachine again in our virtual pages, the band that most times has been featured in El Garaje and we hope/think that we will talk a lot more about them in the future. In occasion of the release of the new EP of the North American EBM band, titled Ripping At the Fabric, we have talked again with Mach Fox. If you haven't listened to them yet, we don't know that you are waiting for, their music can, definitely, be a light in your lives.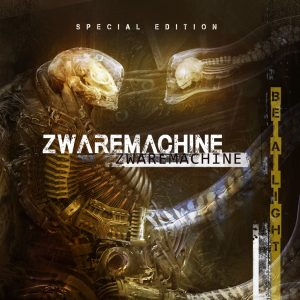 —First let's talk about a new reissue of Being a light, this time with a different track list where the order of the songs has been changed and Remain Unseen has been added. Also the remixes have been changed. Can you please tell us more about this?
—Be A Light was the first full length released on Phage Tapes and it had a good reception so I wanted to find a label with worldwide distribution and bring this release to a larger audience. After the initial release in May of 2018, I changed the lineup and we spent 2019 touring and promoting this album. Remain Unseen was in the live set at that time so we recorded it with newly added bassist D-bot (David Erickson-Robertshaw) and released that track at the end of 2018 as a digital bonus track and wanted to include on this reissue also. All of the remixes on this Be A Light—Special Edition were done by Planktoon (Swedish Producer Henrik Punsch Johansson) and D-bot's other projects. The choice was made to include these remixes as they reflected more of the sound and direction the band is heading with Planktoon helping to produce the next full length we are working on that is comprised by instrumental demos provided by D-bot. The remix track selection also focuses on a dark dancefloor vibe that we hope DJs and fans will appreciate.
—The new EP is going to be released by Brutal Resonance. It's really good that in this time a webzine cares and dares to release albums. And yours is going to be their first release. How was this collaboration born? Did they think about the band as a best act to start the label?
—Steve at Brutal Resonance has been really great in supporting us and many in our scene so when he announced that they were going to try starting a label as I was in the middle of recording this EP it only made sense to contact him and offer this release for consideration. After finding out that the physical product would be a limited edition cassette I was convinced this would be great partnership and am very honored to have Ripping At The Fabric as the first release on the Brutal resonance Records label. I think there was another release scheduled to come first but since we had all masters and artwork ready we got that honor.
I can't wait to see what else they have planned.
—What can you tell us about the recording of the EP? You have travelled to Europe to do the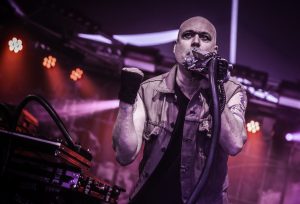 recording of some drums. That's real dedication.
—Yes … the bassist and myself are in the USA and our drummer lives in Europe so I did travel to the Netherlands to record Dein Offizier (Bas Mercx) in January 2020 but that is for the tracks that will be on the next full-length album and not this current EP.
The Ripping At The Fabric EP came together rather quickly as I had a friend—Darren Corri that expressed that he was looking for some vocals to add to his new EBM tracks. The production on our next full length was going rather slow so I had some down time and I wanted to see what Darren was up to and offered my collaboration. He sent a short bit of drums and synth and I replied that I would like to edit and arrange to suit a song style that I could track vocals to. The first track ended up being Resist and came together very quickly as I was inspired by the energy and sonics of his sequences. I immediately asked for more snippets and after we had a few I proposed that we make this into an EP. Working with him was great and he allowed me to warp and edit his tracks to fit the minimal and hypnotic style that I consider a large part of the Zwaremachine sound. I think he was looking for something different in the vocal style but I had to be true to myself and stay with the aggressive growl and effects as I could tell some of these tracks would make a great addition to our live set… I give him credit for trusting me in the process and his sequences and choices of sounds are the core of these tracks on the new EP.
—The Prodigy and the records of Wax Trax! have influenced this EP. Which are your favorite albums of the famous label from Chicago?
—I was referencing that label as more of an overall vibe. The period of 80s and 90s industrial and electronic rock that really blended genres and had an energy that was not only evoking aggression but also had hooks and heavy electronics is really where a lot of my inspiration is from. I came from a punk rock background and could see that in many of those artists when they performed live which is something that became lost in later versions of electronic rock. So many influential bands released on that label that I can't pick favorites. I do think that electronics blended with rock and performed with high energy is the spirit I want to achieve.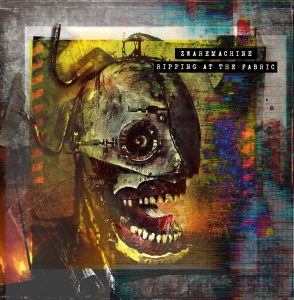 —In this EP you have collaborated with Darren Corri. What do you think that he has brought to the sound of Zwaremachine?
—As stated above we were both looking for a collaboration and the timing was just right. I am thankful he was open to my experiments with his tracks … and we are continuing to work together on a few more tracks! His contribution was large as he provided all the instrumental tracks and the synth and drum sound design. I added vocals and some hihats or snares to heighten some parts of the arrangement but I must credit him for inspiring me. I had such a great time producing these tracks and it all came very easily.
—There are two old demos that you have used in this album "New Design" and What We Are." How old were these songs? Why you did not use them before and did now?
—These were both songs written around 2012 and performed live back then but they did not have the quicker tempos and aggressive style that the new versions have. The old demos were noisey and slower with a much more experimental edge. I always liked the lyrics and message to New Design and when I put them to the new track Darren provided they just seemed to fit and take on a new life. What We Are has the lyrics from the original track combined with lyrics from another Zwaremachine track from the same era and becomes stronger because of that.
I feel both of these tracks really fit current world situations and I also think some of these tracks from this EP may be reimagined for the next full length which has a bit of a concept storyline so the themes and ideas would make sense in that context as well.
—You have said that the production took inspiration from the early years of the band. Can you explain to us how?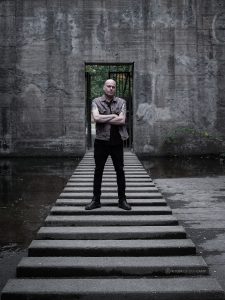 —When I started Zwaremachine as a solo project in 2011 I was really into a gritty dark electro-industrial sound. I was a fan of digital editing and working on a hard quantized grid. I would use sequenced loops with sound bites and vocals to create the minimal arrangements … adding to the hypnotic element that I would later revisit on Be A Light. I would write longer sequences and eventually chop them down into shorter bits and repeat many times and come up with this repetitive hypnotic base for the tracks.
On the new EP I found I was doing the same process and it just felt natural to continue to work this way. The tracks Darren provided had many twists and turns but I concentrated on a few of the spots I could loop for maximum dancefloor impact. It really feels like this is the bridge from the early Zwaremachine tracks to the Be A Light album even though these EP tracks came to years after Be A Light.
—Have you already played these new songs live?
—I only produced these tracks in late Feb. and early March so we have not been able to play or rehearse and unfortunately I was not able to get the rest of the band on the recordings either. We will be adding some of these to the live set and I already hear the addition of bass guitar and drums adding the power of live performance in my head.
I had DJs and dancefloors in mind while making this EP so get ready!
—How has Coronavirus changed the plans of Zwaremachine for 2020? Are you experiencing any problems due to the virus?
—We were planning some European dates this summer and Midwest U.S. dates for the fall to celebrate the re-release of Be A Light but that will be rescheduled ASAP.
Other than the postponing of our live shows and general life we have not been affected too much from the sickness and hope everyone stays safe and healthy so we can all share some great music again soon.
—Any news that you could tell us about Zwaremachine's next full album?
—We have all the demos done and are currently producing the album tracks. In the past I have produced and played most of the parts on the Zwaremachine recordings so it has been an easier process. For the new album, we have used the demos provided by D-bot and then Planktoon (Producer) is remaking/remixing the instrumental tracks for the album versions which I will then edit and do a bit of arranging and additional production before the mixing process begins.
The choice to involve others in the writing and production has meant that it will take a bit longer but I know that it will pay off with a new style that will still sound like Zwaremachine at its core while providing other elements also. This also gives us more time to secure a label to release this next album and hopefully it will be out next year.