The main reason why we will be at the W Festival on Wednesday is called Twisted Nerve, a cult Goth band from Edinburg.  We go over the story of the group together with the singer Craig Paterson, and we strongly suggest you listen to their new compilation Archive while reading us. Seven months yet to see them in concert and I am starting to feel nervous.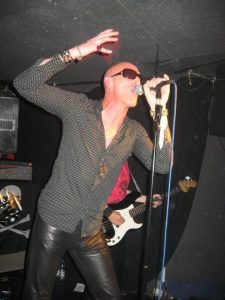 —Let's start with the name of the band, is it a reference to the Damned's song or to the movie from 1968?
—The band name does indeed come from the 1968 film Twisted Nerve.
—When did the band properly start? I know that there is a Peel Session from 1981, with a more post-punk sound and with a different singer and guitar players. Although you were not in the band at the moment, what can you tell us about these days?
—The band began its life as a punk band at the beginning of 1978, influenced by bands such as The Buzzcocks, The Clash, The Stranglers. I joined the band in 1981 just after the John Peel session, although they had been trying to get me to join since the beginning of 1980. I was in my own band, Aerosol Burns, and was quite happy, but I would go see TN live whenever they played in Edinburgh and became good friends with drummer Keith and bass player Norbert. We bonded over groups like Killing Joke, Bauhaus, The Cramps, UK Decay, etc. They were unhappy with their singer, so we started to rehearse in secret while he was still the singer. Then after one gig, Keith and the singer got in a fight and they sacked him, then the real story of TN began. Punk had ran its course and we were more interested in a kind of darker, more tribal, gothic sounding vibe, inspired by The Banshees, early Antz, Psychedelic Furs, Killing Joke etc.
—How was the scene in Scotland back in the early 80s? There were bands like Johnny and the Self-Abusers, Rezillos or Skids…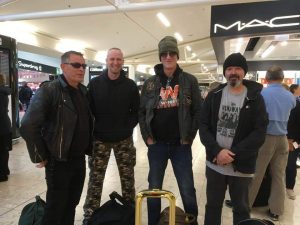 —Early 80s in Edinburgh was very vibrant musically. We played with everybody, a real mixed bunch, we played with The Rezillos, Skids, Exploited, Simple Minds, The Scars, The Fire Engines, The Freeze, The Valves, Josef K. We had a lot of cool venues as well and cool record shops to hang out in, a lot of rehearsal spaces as well. There was also a fierce rivalry between all the bands. Edinburgh gas always had an elitist clique musically speaking, we were never part of it, we were always the outsiders looking in, Twisted Nerve has always stood alone and have never been part of any scene or movement. 
—In the 80s, Scotland became "famous" for bands more pop-oriented like Orange Juice, Aztec Camera or Josef, did you like them?
—I know all the guys in Orange Juice, Aztec Camera etc. and they are all nice guys who write catchy dance pop music, not really my thing though, I preferred local bands like The Scars and The Belsen Horrors.
—Twisted Nerve first release Caught in session was published in 1982 and recorded in October 1981 (it's the session we spoke about before). Was anything before?
—The first TN release was actually the Mint Sauce for the Masses EP, appearing with 3 other local bands, contributing "Neutral Zone" and "Vertigo," very rare now.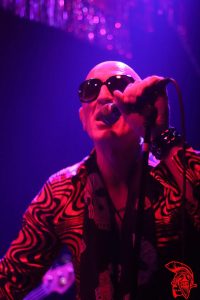 —What music were you listening to at the time?
—I've always listened to Bowie, Iggy, Velvets, Johnny Thunders, The Banshees, The Slits, early Antz, Psychedelic Furs etc., but around this time I started to become aware of what you now know as the gothic scene. Sex Gang Children, Southern Death Cult, Alien Sex Fiend, Virgin Prunes, Blood and Roses, etc. Then suddenly we somehow started playing with all these kinds of bands, more by accident than design. I loved Southern Death Cult and I loved another band round at the time called Brigandage.
—The Five Minutes of Fame 7″ is your first record in the band and a big change in the sound of the band. Were you responsible for this change?
—Yes guilty, it was all my doing, I took TN to the dark side and we've never looked back ha ha. You write about what you're interested in and that was what I was into, the occult, the spirit world, drugs and their effects, voodoo, sex, North American Indian culture, America, clothes, makeup, Cowley, etc. So songs like "Medusa," "Séance," "Gargoyle" all came out of that. Five Minutes stayed in the alternative charts for 3 months reaching number 8 and selling 7000 copies. It was single of the month in Punk Lives magazine and was recorded in The Rezillos studio. It opened a lot of doors for us and it was indeed the beginning of a new sound for us, although a perfectly natural one for us.
—The following reference is a 12″, Eyes You Can Drown In. It's a more "mature" record, for me it looks as if the band has finally found its sound. What do you think?
—Eyes You Can Drown In is my pride and joy, I wrote all 3 songs, I love everything about it. I love the songs, the production, the sleeve, the artwork, the naivety, we were doing our thing and didn't give a fuck what people thought about it. We knew we had recorded a masterpiece of a song in "Medusa," a huge crowd favorite to this day. It took us 3 days to record and mix it, we did a good job. Again hard to get now, as with all of our records, and all change hands now for a pretty penny.
—The band published Séance in 1984. Now this mini-album is sold up to 130 euros in Discogs. How was it received at the time?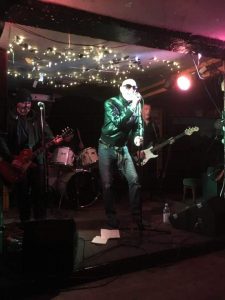 —Séance got a mixed bag of reviews, some looked it, some didn't, with hindsight we should have made it a proper album, 10 or 12 songs. We have a vast unrecorded catalogue which we are trying to do something about now. Again I'm very proud of it, all great songs, the gothic scene love it, "Séance" always gets them up dancing. I would have liked to have had a proper budget to record it, but we were under pressure, had no time and were gigging all the time, more time and money and we would have done a better job. We have never listened to the critics and treat both criticism and praise equally. It is what is and stands the test of time, although we did remix it in 2007 and it sounds even better, but I would still like to redo the vocals, never satisfied ha ha.
—How were the concerts of Twisted Nerve at the time? And the public?
—Twisted Nerve concerts have always been pretty wild affairs, blood, sweat, tears, joy, celebration. We played just about everywhere back in the day and with everybody. Of course we played at the original Batcave in London and people would follow us on the road and travel to see us.
—Do you consider Twisted Nerve a Goth, post-punk or deathrock band?
—As I said earlier, we've never considered us part of any scene, you can't label us. We were playing this music long before the word goth came about. The Banshees got a gothic sound but that was about it. Nowadays we get called everything, gothic rock, gothic punk, death rock, post punk, it doesn't mean anything to me, all tribes are welcome at TN gigs, we don't need to put a label on it, interpret it any way you want. Twisted Nerve belongs to no one and they belong to everyone.
—Why did the band split up?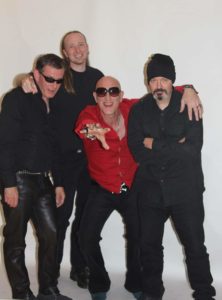 —The band split at the beginning of 1986. By this time we all hated each other and couldn't stand to be in the same room together, we had even stopped rehearsing, we were lazy and sloppy and addicted to everything. We played a show at the Teachers College in Edinburgh and it was so awful that after the last song I walked off the stage, straight out the door and never went back. I gave a recording of this show and it is truly awful, age hasn't improved it in any way and it shall remain in the vault.
—And how did the band regroup? It was for the Drop Dead Festival, right?
—We were invited to reform and perform at Drop Dead festival Prague in 2007. Complete surprise, I was still in touch with Norbert, but guitarist Colin had moved to Australia and drummer Keith was still in and out of various rehabs and couldn't be contacted. We got 2 friends of ours from local band Baby's Got a Gun to join us and started to rehearse. It was sounding really fresh and exciting and we were having so much fun playing the songs again that we decided to do it. It was only meant to be a one-off gig, but we went down really well and had an absolute blast and made a lot of new friends. It helped as well that we were sharing a bill with all our old friends, Sex Gang, Rubella Ballet, Ausgang, Lene Lovich. We had no idea that we had become a kind of mythic, gothic legend in this worldwide gothic culture music scene. When we got back to Edinburgh, we had lots of requests to do more shows and that's what we gave been doing ever since, including our first visit to the good old USA last year.
—Who are the current members of the band?
—At long last we have a settled line up and are very happy. It is, of course, myself on lead vocal, original bass player Norbert Bassbin, on guitars we now have Dunsy Dunsmore from the Joyriders and on drums from Ritual Spirit, Dave Grave.
—What happened to your project Twisted Sex? I was afraid of googling it.
—Ha ha, how do you know about that, I thought it was top secret, you have certainly done your homework. This is a collaboration between myself and Terry MacLeay from Sex Gang Children and 2 others whom I can't name at the moment, the first goth supergroup ha ha. We will be recording and touring when we have downtime from our day jobs with SGC and TN. That's all I can say at the moment, watch this space.
—Your band has two compilations, one self-released in 2015 and Archive (with an extra track) and another album with new remixes published in 2007. Which one is the definite Twisted Nerve compilation?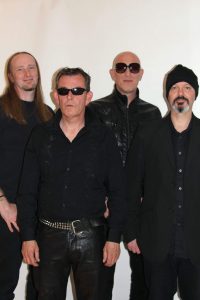 —There are always people reissuing TN music one way or another, it's a constant fight to keep up with it. I liked the 2007 remixes apart from the vocals. We have just put out the TN Archive CD to celebrate 40-year history, it is on the Bat-Cave Productions label, it spans the entire history of the band from our first recordings through to our last recording "Magick of Trance," kind of draws a line there and now we are in the middle of recording new material for the first time in 35 years. Archive is an official release and it's all you ever needed to know about TN
—What are we going to see in your concert at W Festival?
—At W Festival, you are going to see and hear the real deal, a living legend, a band that has lived it to the full and wear their battle scars with pride. You will hear all the classics, and you will be unable to resist the sheer joy, excitement and energy of a TN live experience, tell your friends.