There is something sad in every party: everyone has an inner emptiness, fed by certain insecurities that can reach its top during the last song of the night. The French band Trisomie 21 has succeeded in portraying this feeling and the nostalgic towards unique moments that are coming to an end or have never happened. Their 40th anniversary tour will stop at W-Fest, on the 22nd of May, where we will have the chance to check that elegance never dies.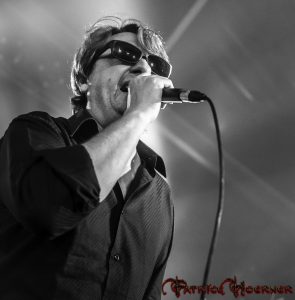 —Have you had problems with the name of the band? Nowadays, people tend to feel offended by everything. Why did you choose such a name?
—Trisomy 21 is the choice of abnormality, since the norm is this chaotic world in which humans no longer have a say. The world which was in front of our eyes at the end of the 70s, at the beginning of the 80s was collapsing.
Our place of birth (Denain, 59220) was plunged in an economic and social chaos, but also in a cultural one. The idea comes from the observation that people with Down's syndrome are very sensitive and intuitive people, contrary to many so-called "normal" people. This difference, combined with the fact that they could one day use it in the service of music and thus create a new genre seemed interesting to us; moreover, we wanted to shake up prejudices. We didn't have a lot of problems with the name, people understood our choice, the public is smarter than most people think.
—You say you don't listen to music, but that they were the influences of the band at the beginning? Were you listening to French music?
—We don't recognize any influence, we didn't want to assimilate ourselves to this, that or the other.
—Do you agree that there is a certain melancholy in your songs? Is it a frequent feeling in your life?
—No, we are not melancholic, on the contrary, we play with emotions, we are sometimes nostalgic, we are survivors of a war that never took place.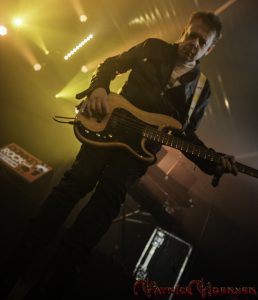 —How were the beginnings of the band? You say that the band already existed in 1978.
—At the beginning there were 2 brothers who decide to create music, not to play standards, but directly to express themselves through instruments: guitar and drums, we were joined by guys who were seduced by this crazy idea.
—The band's first work was the 12″ single Le Repos des enfants heureux. What can you tell us about its recording? I read that afterwards, you signed quite quickly with Stechak, is this true?
—We sent only one audio tape to the Stechak label and as soon as they received it, they offered us to record. The label booked us a studio in Paris. We knew then that this studio was our universe.
—Passions Divisées, the band's first album, features instrumental tracks (which have become classics, by the way): on the one hand, "La Fête Triste" that it's completely instrumental and on the other hand "Djakarta" and "Moving By You" (where only the title of the song is repeated). Have you ever thought about writing lyrics for these songs, or were they initially meant to be instrumental?
—No, that's the way they were written, we don't think vocals are necessary, it's an instrument like any other.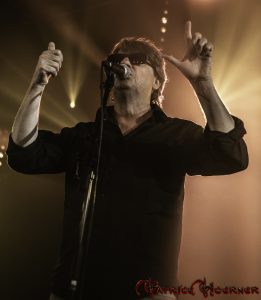 —The Chapter IV sleeve is a painting by Goya. Why did you choose Saturn devouring his son to represent the album? Also, why did you call it Chapter IV when it's your third release?
—All of us are devoured by our demons, aren't we? Chapter IV is the 4th opus after Le Repos des enfants heureux, Divided Passions and Wait & Dance.
—Million lights is considered your best album. What makes this LP so special?
—From a musical point of view, the insane challenge for this album was to remove the bass, when everyone swears by this instrument and as we were touched by the hand of God, it produced this result.
—Is there a unity between the album Works, the single Works in Progress and the EP Final Work?
—Work in Progress, Works and Final Work, were a creative progression, a desire not to repeat ourselves. We wanted to introduce saturated guitars into our universe.
—What can you tell us about the story of T21 Plays the Pictures, released in 1989? It was an almost instrumental album that a film studio asked you to record and which was also supposed to remain confidential.
—The record company proposed that we work on music for the film industry. We liked this project, but they didn't believe it themselves, they thought maybe a limited edition would be more suitable for the project, in fact, they were afraid of a flop, it was one of our best sellers right from the pre-orders.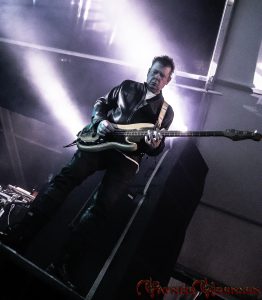 —For the album Distant Voices (1992), the band collaborated with Blaine L. Reininger. How did you get the idea for this collaboration?
—Our studio in Brussels was under Tuxedomoon's rehearsal room, it was an encounter, it was also an artistic risk, just the way we like them.
—Gohohako, the album from 1997, is slightly different. It's more ambient, electronic, let's say. Was the band more interested in electronic music at the time?
—No, but we like sound adventures, artistic wasteland, exploring, surprising, even surprising ourselves.
—Why did the group stop in 1997? On your site, the group talks about forced silence. Was it due to a contract with PIAS that forced you not to release anything?
—That's right, a contract and problems, let's say… interpersonal issues.
—In relation to the previous question, how did the band decide to make its comeback in 2004?
—Indochine asked us to do something for them, our audience then also let us know that they wanted us to come back, so we did.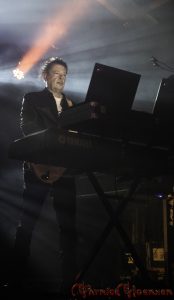 —Happy Mystery Child was the new 2004 album, after seven years without recording. What do you think of this album, fifteen years later?
—It's a recording in a state of grace, it's difficult to explain. Everything worked from the very first takes, the doors opened, it was a rare, exceptional moment.
—In 2004, there were two remix albums of Happy Mystery Child, first Remixes and then The Man is a Mix (containing the main album and many more remixes). How did you get the idea to release a second remix album?
—There was Happy Mystery Child, then Man is a Mix then Woman is a Mix, a kind of trilogy, and then more confidential projects. We always had to explore, we thought we were only interested in a few DJs and finally we were literally overwhelmed by requests. Probably because they were asked to take over the tracks, to be themselves.
—Two years later, you released a remix album made only by Lady B, and another remix album called The Woman is a Mix. How did you get the idea to be remixed only by women?
—Women in rock music have always been underrepresented despite a few icons. We wanted to break the codes a little, we're egalitarian.
—How did you choose the artists who remixed the songs? The list is impressive: David Carretta, Psyche, The Horrorist, The Hacker, Electric Indigo, HAL 9000. In general, what do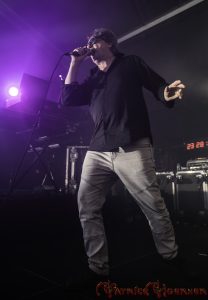 you expect from a remix?
—We contacted those who seemed the most likely to bring something to our universe, we were quite eclectic; we thank them for their work, it was great. From Jack de Marseille to The Hacker, David Caretta, Psyche, I can't mention them all. And not to forget Gregg Anthe (Morthem Vlade Art) who is our guitarist for the current tour.
—Black Label (2009) is a bit more rock (compared to the other albums). Was the band listening to more rock during this period or was it an accident?
—Sometimes we are angrier, and rock is always what we've done in the end. On our very first posters we put "Modern Rock," rock is insubordination.
—It took you seven years to record your last album, Elegance Never Dies. What happened to it?
—We had reached the end of something. After a tour, we went on standby. We consider this album as one of our best.
—How will be your concert at the W-Fest? Will it be part of the 40th anniversary tour? Will it be different from what you proposed last year?
—The 40th anniversary tour will be spread out over time. We're coming back to W-Fest with a new set including some not so often performed songs such as "Logical Animals".
Photos: Patrice Hoerner
Translation: Joanne Gagnon