Sadly, for us atheists, you only live once. Luckily, in the music "world" you can live a second life, and that's the case of the band we interviewed this time, the fantastic Eleven Pond. We talked with Jeff Galea, original member of the band and survivor of a decade, the 80s, that refuses to die. You can listen to Eleven Pond's last records on their Bancamp and wish for a day when you could play their records on your plates. 
—Where does your name come from?
—We grew up in the isolated woodlands of upstate New York. There was a large fishing pond near us that got very polluted from industrial chemicals spilling into the rivers. Everything died in the pond, all the fish, frogs, insects, even the grass. Kids got sick. The officials called it #11 Pond and refused to use its real name so people couldn't find it on a map. That stayed in my heart and mind. Eleven Pond.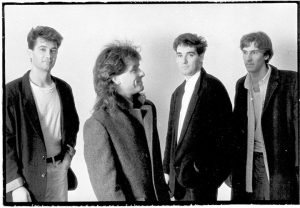 —You were more interested in English music than in American back at the time, why?
—In Rochester, NY, there were 2 great college radio stations and with a good FM antenna you could also pick up Toronto University radio stations. They mostly played English new wave bands. That's what excited me. I was never a blues fan and most US rock bands has blues roots. England has this great culture of fun melodic pub songs that could be heard in English New Wave melodies. Also the English record labels during the 80s were the best: Rough Trade, Factory, 4AD, etc.
—Did you tour a lot in the eighties?
—We tried but it was rough because our drummer was still in high school! Many of our live US shows were with a drum machine. If you played live shows on the US east coast without a drummer in 1987, you got beers thrown at you. Our best shows were opening for the big touring 80s bands. Our worst shows were headlining at small rock/punk clubs. All my synths were soaked with beer!
—Your first album, Bas-relief was published in 1986. Can you please tell us how was the recording and how was it received?
—Once we had enough songs to record an LP we looked for a cheap local recording studio that had great reverb. True analog reverb in the 80s was difficult to recreate, you had to have a reverb room. I found a tiny studio called The Hamster Cage set up in the bottom of an empty swimming pool with a wood roof covering it. The reverb was really amazing! But it was small like a cage and got hot in the pool from the amps, so we recorded most of that LP shirtless.
—You said that "Watching Trees" is about voyeurism. What inspired you to write this song?
—My new synth had a split keyboard feature, I had written a few dance beats and practiced many hours with split keys. I would write synth parts in my bedroom and look out the window at the snow and dark skies, but on special occasions a beautiful young girl who lived next door would appear in her window and dance half naked to my songs… her mother found out and the family moved. When I brought the song to the band, I had the parts written and James had a poem titled "Watching Trees" that fit the voyeurism/loneliness theme. We took parts from that poem and it came together well. At the halfway point, I got the idea for a lead bass line to help the song really take off. The song was so popular the band got a bit sick of it! I am very proud of that song. It's still a club banger 30 years later! That song paid my rent during some lean times.
—The band uses vocoder in some songs. What do you think of the actual overuse of vocoder and auto-tune?
—Auto-tune wasn't available to 80s bands but if it was, I'm sure most singers would have used it! Maybe not live, but at least on recordings. Vocoder is just pure cool. When I hear a vocoder, I always think of Kraftwerk! The original vocoder from Autobahn was for sale on eBay but I was outbid. You can never have too much vocoder! Haha. I don't use it much now because once I turn the vocoder on, I never turn it off. I'm a vocoder-a-holic.
—What happened with your album Assemblage? Why didn't you publish it in 1987?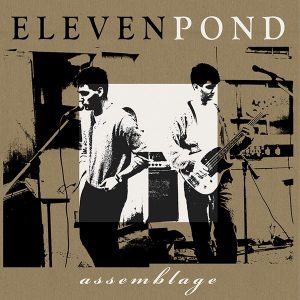 —We recorded the second LP shortly after the success of the first LP. I was hoping we could get the label signed from Bas Relief but it didn't happen. We only solicited US labels. That was a mistake. So the band had some disappointment going into the second album recordings. By the time we finished recording, it was obvious James and I couldn't work together. So we parted ways and the recordings sat in storage for 28 years. There are still some songs from those recordings that will never get released.
—All your records have a name of a sculpture genre, how did you get this idea?
—The original synth player Dan Brumley is a sculptor. We met in art school. The giant gear on Bas Relief is actually a giant sculpture he made that hung on his studio wall. We loved the idea of sculpture as a visual reference to how we made our songs. It doesn't apply as much now because I'm solo, but it fit well back then.
—Why did the band break-up?
—Eleven Pond members each came from different scenes… I was really into the British new wave dance scene and wanted the band to write new wave dance songs… James Tabbi was getting into Industrial music and acoustic guitar songs… Jack Schaeffer was a trained jazz guitarist… Dan Brumley loved synths but preferred jazz trumpet… Tim Masick was really into industrial-style percussion. We never agreed on direction! that can only last so long.
—What did you do after the break-up? Did you start painting then? How is your painting going?
—I opened a nightclub in Rochester after the break-up called Club Zero! Then another in Buffalo called The Icon. We played lots of British new wave dance songs, of course. I always painted and did graphic design work. That's what I went to art school for.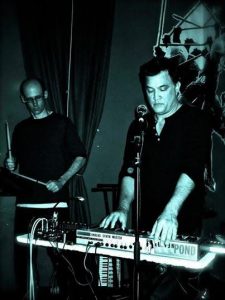 —You reunited after twenty-four years, how did it happen?
—Eleven Pond was rediscovered by a DJ who bought the original Bas Relief LP in a used record bin for $1! now it sells for up to $900 on eBay! He played "Watching Trees" non-stop at an underground club in Brooklyn… that made online playlists… someone posted the song on YouTube… then Dark Entries Records contacted me about a reissue. That reissue sold well and clubs sent email requests for shows. During the time I was playing in a Los Angeles synth duo called Femka. I made a few phone calls and we did the show at Glasslands in Brooklyn! (now defunct) That show led to the reunion of me and Tim Masick the original drummer! We have played many USA and Europe shows since the reunion.
—There is a certain melancholy in your music. How do you think this melancholy has changed with the years?
—When I look at the world today I write just as sad as before. The big difference is I don't get to write songs with James. I loved his voice and thoughtful lyrics. When I write music, I tap into emotional events. I cry quite often when I perform certain songs. My songs come from extremely difficult events in my life that other people seem to recognize and identify with. Mostly the goths!
—What can you tell us about Love & Madness? It's your first record after the reunion, right? Was it difficult to write songs again? Is it only released on Bandcamp? I could not find any material copy.
—Yes, it was hard to write Eleven Pond songs without James Tabbi but I have so many song ideas that pop onto my head it would have been a shame to let Eleven Pond die. I have been wanting to put Love & Madness on CD or vinyl but I don't get respectful offers from labels. The music industry is a sad joke now. Why would I want to give 11 songs to a record label for free? Modern record labels are horrible. So I just do self-releases. It's good enough for now.
—Do you think that thanks to Bandcamp it's easier to release albums now?
—They are the devil. I think BandCamp, SoundCloud, iTunes, Spotify, LastFM… they make it easy but they are all too fucking greedy. They take too high of a percentage! The bands should make 100% of the profits. Those sites could make enough profits just from ad revenues. They are all greedy mother fuckers.
—Songs like "Sitting on Chairs" reminds me of New Order, although I don't think they have released anything that good in this decade. Were they an influence?
—OMG yes, early New Order was a huge influence on me. "Sitting On Chairs" is a cover song of an Arvid Tuba song. I loved that song and wanted to redo it out of respect. New Order never should have scared Peter Hook away! He gave the band "street cred." Look at him now, his Joy Division live song performances are epic. Look at modern New Order, it's an oldie show for house wives. So sad how some bands decay. Early New Order was like heaven to me.
—Wireform was your following record after the reunion, published in 2016 with seven original songs and some remixes. Who remixed the songs?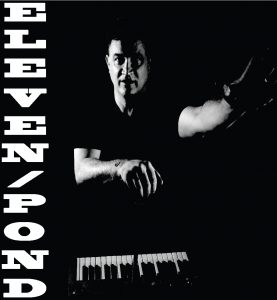 —DJ Dmitry and I remixed a few songs. I am surprised how important remixes are now? I guess it's because young people want to turn DJs into gods. Wireform is also a sculpture genre. That CD sells quite well. Some of the tracks were recorded in 1993 then finished in 2016! Art is a never-ending process.
—The sound of Wireform and Love & Madness is a continuation of the sound of 80s albums, did you ever think of doing something completely different?
—Yes. I'm working on a new LP titled PileDriver. The album themes are fighting, aggression, love, sperm, geometry, machines, racing. The sound is still analog but much scarier. The visuals will be female wrestling, street racing, military, forbidden sex, land rape and science fiction.
—Where do you record your albums?
—I record all my newest material on Logic Pro using an old iMac computer. I email WAV file mixes to musicians and DJs around the world, they record parts on their systems, then I mix it all together. Mixing can be in a studio or on my iPhone. Doesn't matter now, if you have trained ears, you can make a song sounds good on a cell phone app! I released 4 songs on past LPs from iPhone mix downs but I prefer not to say which ones.
—What can you tell us about the new members of the band?
—Tim Masick is the original drummer from 1987, we do East Coast and Europe shows together. Garey Spider is my West Coast drummer, but his mother recently passed away. God Rest Her Soul. So I'm looking for another drummer. Justin Lomery from The Chameleons plays guitar on a few songs. Jared Leto (the actor) plays electric bass on a few songs. I also recorded with a musician from Amsterdam whose name I forgot! How horrible of me. We recorded "Mirror In The Bathroom!" Wow, bad memory Jeff.
—How different do you find the public, after all these years? And the record industry?
—Fans of 80s synth bands are really great! Very loving and supportive… but people hanging out at bars that don't like 80s bands while we are on stage act like total cunts. Such rudeness now. No respect at all. They should just shut the fuck up and wait patiently for their band or DJ to play. Why harass a band you don't like? No point… and the record industry? As I said earlier, it's not good now.

Let me paint a picture of how it was for a new band climbing the charts: You would send a cassette in the mail to the labels… an A&R rep would contact you if they liked your sound… the rep would come and see you live, or you would be invited to perform a showcase for the label execs if you didn't play many live shows… if they liked you, they would pay for the entire band to travel to NYC and record a record with a producer… the record would be released and whatever song radio charted was the "hit"… then the label would pay for your MTV music video to be made… if you were a dance band the label would also pay for 12" DJ singles… then the label would send you on a tour to sell the records… on the road you would get more offers… the band made a decent percentage of record sales… and on, and on…
it's not like that now!
—Now there are a lot of bands that sound like yours, the 80s revival seems endless. Why do you think that new bands are looking at the eighties for inspiration?
—Maybe people look to the 80s for inspiration because that was when a true original new "sound" was created. To me the only new sounds created since 80s new wave are grunge, house, hip hop, R&B and pop diva. By the way I hate hip hop, R&B and house music. Too boring. Also the 80s looked sexy, it was a pre-AIDS world for most cities! That really affected how people got along. Much more social and innocent.
—How did your relation with Dark entries started? They have released/reedited your two records. 
—Eleven Pond was Dark Entries first release! DE 001! Josh Cheon heard "Watching Trees2 and researched the band, he found me in Los Angeles. We talked about a reissue and decided to do a silkscreened, hand numbered reissue. It came out quite well! I used the original photos I wanted on the 1986 LP. Josh did a wonderful job and runs a great label! I just wish they supported live tours.
—About Tonalism EP from 2017 with a cover of Bauhaus's 'Bela Lugosi's Dead.' Do you also like all these goths bands from the eighties?
—It's fun to do covers of classics! Everyone knows the words and sings along live! hehe. Yes, I always loved goth music. In the 1980s, the new wave clubs catered to everyone… disco kids, new wave kids, new romantics, gays, industrial guys, goths, even heavy metal kids. It was a total mixed bag. The goths had such a defined style. It was hard to ignore.
—In that EP, you gather songs that were started in the eighties with beats from DJs you have met. Past and present together, how did you choose or how did you find the DJs to work with?
—I will work with anyone, anywhere. I work with Beta Evers from Bavaria Germany, Justin from Chameleons on New York… I'll even work with you! Send me some WAV beats and let's write a song together!! You have my email! Why not?
—What can you tell us of your project Black Pond?
—Beta Evers is a special person, very talented synth musician, great voice! Cold yet emotional. She ran Kommando 6 Records in the 90s and put off some great electro records as Beta Evers. I contacted her after hearing her song "Only for My Satisfaction". We got along well in our Skype chats and decided to make an EP. Once it was we posted the songs on SoundCloud then labels came forward.
—Will we have a new record in the future?
—Eleven Pond – PileDriver will be released in 1 month. I would love to have you review it.