With a career spanning over a decade, Then Comes Silence has become one of the key post-punk/Goth rock bands of this century. It hasn't been an easy road, as their fifth record was released during the pandemic, and they have suffered some changes of line-up. But, now a three-piece, they are facing a 2023 that seems promising with a second EEUU tour and a new concert in Spain. We have talked again with Alex Svenson to know a bit more about how the Swedish band has been doing during these latest years. They will play at DarkMad on the 30th of April together with Boy Harsher, Cold Cave, Kite and Sigue Sigue Sputnik Electronic.
Cover photo: Jonas Fransson 
Rest of photos: Patrice Hoerner
—A lot of things have changed since the last interview, First, your two guitar players left, and they were replaced by Hugo Zombie and Mattias Ruejas. Now Mattias is gone. What can you please tell us about Hugo being in the band? You know that he is quite popular in Spain. Also, how is the band sounding now with only one guitar? Are you planning to get another one?
—It's a heavy duty with lots of responsibility being a guitarist in Then Comes Silence. It's not for everyone, but Hugo is made of the right stuff and got what it takes. He is the sole axman of the band, the king of guitarists now. Joking apart… We had to drastically change the appearance on stage when Mattias couldn't go with the band to the US with so short notice. We had no other option than work as a three piece in the US. Surprisingly, it went quite well. I had to add live backtracks from the synths that are on all the albums to fill in for the missing guitar. Hugo picked up important parts from Mattias and modified his style of playing.
So… when Mattias retired from the band last September, we decided to continue as a trio. It has proven to work quite well and we want to explore it even more. I don't think fans and followers will get disappointed.
—The drummer of the band, Jonas Fransson got married with Gözde of Aux Animaux, an artist that we have been following for some years now. The band collaborated with her in the cover of "All Tomorrow Parties" and she has also sung chorus in your last album. You have also recommended one of her last albums in a short interview. Did you like her last EP, Hauntology?
—Yes, Aux Animaux, A.K.A. Gözde Duzer is truly becoming very interesting and I believe she will grow a lot among the crowd this year. Her performances are exciting and well-thought-out. She is working solo and can carry a whole performance on her own. She is productive and keeps releasing new music frequently. Why isn't there a label signing her now as we speak? The EP Hauntology is just another proof of quality.
—In our first interview, you commented that you were going to record an album, but finally it got shelved. What can you tell us about this record? Do you think that the songs will have any chance of being recorded/released in the future?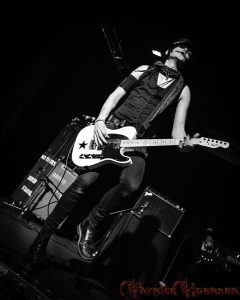 —It's the rejected album. And it's rejected for a reason. The songs didn't qualify for a new album. At the time it happened it was a hard thing to accept, but now I totally understand. It was weird and probably too experimental, but, of course, some elements will revive and be recycled for the next album.
You have to pass thru weird paths and places on the way to the next album. I don't want to repeat myself as a songwriter, but I don't want to release whatever comes out if it's rubbish. It's better to keep your eyes on the road and deliver a more thoroughly worked out piece in the end.
—Everybody was really excited with the release of Machine. I remember talking with Jorge Larreina about it and he was really enthusiastic. But then, Covid appeared. Do you think that the album should have been way more successful without the pandemic?
—Well, it's hard to tell. With hindsight it was a good timing to release it in the beginning of the lockdown. We got the time to focus on social media, but that was also the only platform that worked well for us and probably everyone else. Our labels gave us the opportunity to make more videos to keep it going. An album spreads and sells better with touring and festival shows. Both physically and digitally.
Machine will always be the album without the tour.
—Stefan Glaumann has done the mixing of the album, how was working with him? Also, you have been producing most of your own work. Would you be interested in working with a producer in the future?
—Working with Mr. Glaumann was a great experience. He did a wonderful job mixing the album. I produced Machine as well as the early records, but who knows about the next album? We'll see. It's good to invite others to the playground.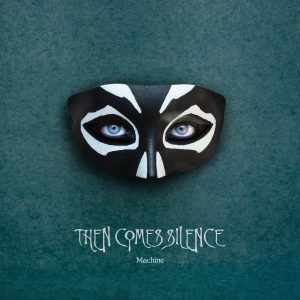 —In the song "Ritual" you collaborated with Karolina Engdahl from TRUE MOON. How did you meet her?
—Then Comes Silence have been fans of TRUE MOON for some time. Karolina's got that voice I can listen to over and over again. When we recorded the song, we didn't know each other yet. We met up for the first time in Hamburg in 2019 when we played two shows in a weekend together.
—"W.O.O.O.U." is the name of one of the songs of the album, but also the initials of your Facebook fans/followers page. Do you think that keeping in touch with your fans have been important during these strange times? The band seems to be very active in social media.
—Yes, it's been an essential lifeline. No doubt. It feels like we have come a bit closer to many of our followers/fans. We've grown together. In thick and thin.
—Last year you also had your first tour in the States. How was it?
—It became a memory for life. Taking the step and making the decision to go to the US to play and promote the music of Then Comes Silence will prove crucial for the future. It's an investment that definitely keeps you awake at night. Nothing is for free in America, but if things go well it can be quite fruitful and worthwhile. We'll see what happens. We're going back in March for the second round. The American crowd is wonderful. Last year we supported The Bellwether Syndicate on their tour from coast to coast. This time we have been invited to open for Vision Video who has become quite popular in the younger dark scene community.
—In 2022, the band released a new album. How have the pandemic influenced Hunger?
—I realized when we did an interview for an American radio station not so long ago, that when they asked me to explain a little more, song by song what it was about, it struck me it's pretty much about how it played tricks on our minds and how to carry on now when it's almost over. I thought I was over with it, but apparently, I haven't dropped it yet really. that was the lyrical part. The music is more energetic and positive though.
—How do you see the evolution of the band until this last album?
—It's constantly going a little bit better every year, but still hard to make a living of it. We recently discovered we've hit more than 65.000 monthly listeners on Spotify. That's quite good for the post punk scene. Hopefully a good sign and not just a coincidence.
—How was collaborating with Goth legendary singer William Faith in the new album?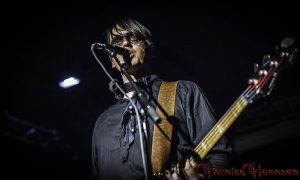 —We got to know each other a bit by the end of 2021. He then invited Then Comes Silence to come and play in America. It was a natural thing to do, asking him to sing some parts on the new album. We've always admired his work, so we got excited to have him on the album. He is a professional. I love working with professionals.
—In the box set of the album, there are two Spanish versions of the songs. Can you please tell us more about this as we did not have the chance to listen to them?
—They are versions in Spanish of "Days And Years" and "Worm" from the new album. "Days And Years" is very much influenced by Paralisis Permanente. I have always wanted to try writing in Spanish. The label was quite resolute the Bonus Box would only be available as a physical release and never hit the digital platforms. So, the only legal way to get to hear the versions is buying the box.
—I read in certain interviews that you lived a few years in Spain. What do you remember of these years?
—I have many childhood memories. I moved back to Sweden when I was six. I went to pre-school in Madrid. My first friends were Spanish kids. I remember that the climate at the playground school yard was pretty hard for a silent and shy little kid like me, but no harm done. The jargon was a bit different than I was used to. My family followed my father's assignments. He worked for a big Swedish company and since he spoke Spanish fluently, he was sent to Latin America and Spain.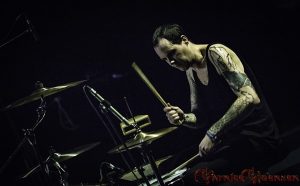 —How did you get the idea, during the pandemic, of making a cover with friends of "All Tomorrow's Parties"? It seems to be the perfect song for those days. You also covered Siouxsie and the Banshees's "Christine," right?
—Isn't it just natural? I am surprised we haven't seen others doing a cover of that song. The title says it all. It's an old song, a classic. Some might have missed its existence. One of the artists that we asked to be a part of this didn't know the song and kindly declined to contribute.
We felt very early that the parties will be missed. The lockdown with closed borders wouldn't just be a brief thing. It could take some time… We didn't expect it to take so long thou. It felt like a good thing to do at the time. It was also a kind of rehearsal for the online event "Gothicat Festival" that was going to be launched a week after our version of "All Tomorrow's Parties." That's where we premiered the quarantine live session of "Christine."
—After the stream of "All Tomorrow's Party", the band recorded four Eps, where we can find covers of some classic Goth bands as Siouxsie or Sisters of Mercy, of some modern bands as She Past Away and Buzz Kull but also of some artists far from Then Comes Silence's universe (at least according to me) as Grace Jones or Gene Vincent. How did you choose the songs? Have you thought of releasing these tracks on CD or Vinyl?
—It was mostly me who picked the songs. I was already the self-appointed producer for the project, so I wanted songs that could work well together in a wide range. Both lyrically and musically they had to feel they could have been our songs, too. Hugo picked a couple of songs and did a lot of the arrangements. One track we all, the band arranged together in the studio. And that track is one of my favorites, "Be-Bop-A-Lula".  The recording sessions were done in one of the tougher times during the pandemic. When we were still waiting on the vaccines. Back when you didn't know what new restrictions would turn up the next week. Uncertain times. We had a chance to record the drums in a short period of time, so Jonas did all the drum takes in one day! Eighteen songs in one day, imagine… eventually we had to skip one song by The Doors, so we ended up with seventeen tracks. Jonas was completely exhausted. I was impressed. He is a professional.
We won't do any physical releases of the cover project 'Horsemen' EP. The flip side of a project like that is taking care of the approvals and the legal matters regarding copyrights and similar. We had to take out the Jimi Hendrix song last minute for the North American market. The ones taking care of his legacy threatened to sue our American label. The rest of the world works fine with the rights apparently.
—You have a new project called Neonpocalypse. What can you please tell us about this?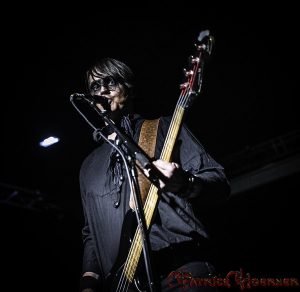 —It's about the beauty of the downfall, the end and ruin. Mankind is a very interesting character. Sometimes a monster and sometimes a genius. I choose to see the beauty of the effects of human destruction. It helps when the world frightens you.
—What are the plans of the band for the future?
—Apart from returning to the US this Spring, we will pick up where we left and follow out most of the postponed shows that have been haunting us. We want to play Germany and the rest of Europe again like we did before the pandemic. Onwards and forwards. Let's go down the Autobahn again.
—In the first interview, we asked you about South America, have you managed to go there to play yet?
—We have been invited and there have been requests, but it's unfortunately a matter about the budget. We have so much going on at the moment, so there's no possibility to make a trip over there paying from our own pockets. But… of course we'd love to go there one day.
—In one of your streamings, you collaborated with Nicklas Stenemo, from Kite. He is playing at DarkMad too on the same day. Will we see you together?
—Me and Nicklas know each other from long before Kite and Then Comes Silence. A true professional. No, we don't have any plans of playing together on stage, but you might see us socializing holding a beer in a bar instead.
—What can we expect of the band's concert at DarkMad?
—You can expect that we will be a part of something special. It's finally taking place with a great line up. A great crowd on top of that, we can all go very far together.