The first time I heard the music of The Young Gods was thanks to the eclectic soundtrack of the movie Sliver, where they appeared together with UB40, Enigma, Shaggy and Lords of Acid. Evidently, I was more interested in the music of the Swiss industrial rock band, that in that useless attempt at doing a new Basic Instint. Since then, I became a fan of the band, so it was great to be able to interview Franz Treichler, who will be playing with The Young Gods at Sinner's Day Special on the 25th of August. 
—Franz, you started in a couple of punk/post-punk bands before forming The Young Gods, right? I found that you sang in Jof and the Ram and Schizoids. Can you please tell us more about this?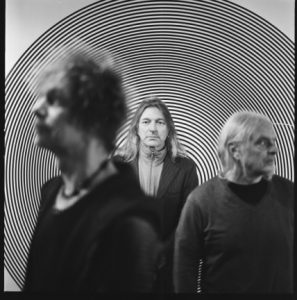 —I was 16 in 1977 and punk rock impressed me a lot. In 1979 I was in a band called Johnny Furgler and the Raclette Machine with Cesare Pizzi. It was quite punk and very critical about the hypocritical political Swiss system. When Heleen took the bass after Cesare's departure, we renamed the band Jof and the Ram and our sound became more post punk, bringing more abstract music elements into our rock.
I produced and played guitar on Schizoid but it was our friend Jumpee's project and he is the one singing on the record. We were his backing band. Very political as well.
—The name of the band comes from Swans' EP Young God from 1984. How was listening to Michael Gira's band in the '80s? Are you interested in the albums that the band has been releasing in the last decade (The Seer, To Be Kind, The Glowing Man)?
—In the 80's the Swans were different than any other band. At that time everybody wanted to be the fastest band on earth and the Swans were the opposite: the slowest and deepest sound ever. I met Roli Mosimann as he was drumming for the Swans. I was part of the organisation of their concert in my hometown Fribourg (Switzerland). I was impressed by Roli's drum style: he was holding the house together, the music was really slow and creeping; each hit of the drum was sounding as if it was the end of the world. Time and space were getting connected through sound and volume.
I like what the Swans did in the last decade. And I still go to see them live and love it.
—Why did you choose a version of Gary Glitter as first single? I can't imagine anything further from the sound and ethics of the band than the glam of Glitter. What do you think of the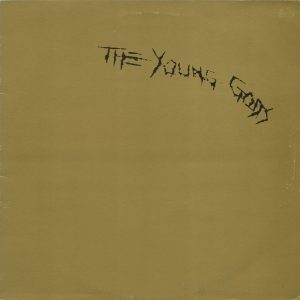 polemic because there was one of his songs in Joker (now that he has been considered a pedophile?)
—Our first single was Envoyé. Did you miss me? was the second one. We loved to surprise people and to avoid going where people expected us. This was long before the affair of pedophilia. I kinda liked his glitter beats and the drum sounds. I did not know about the polemic in the Joker.
—You said that the band made some wild concerts at the beginning. How would you describe them? I read about a fire in a concert with Test Dept, what can you tell us about it?
—In the beginning, we played quite a few places illegally: squats, occupied factories and occupied public squares because there was no place for this culture and we wanted to say that loud.
We once opened for Test Dept in an occupied hangar and smoke came from the basement of the factory because someone started a fire throwing a cigarette on a pile of cardboard. The firemen came and the place was evacuated quite fast. I have never seen a PA sound system packed so fast in my life again!
—The band has been considered as pioneers of industrial rock. Someone said that industrial rock was rock with noises, how would you describe the industrial rock sound of The Young Gods?
—Noises with rock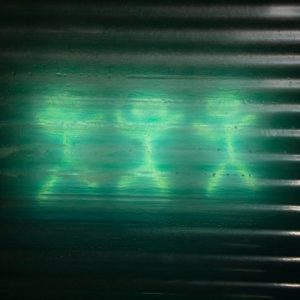 —In one interview with Red Bull Academy, you spoke of the importance of technology in the first days of the band, and how the new machines were key in the sound of the band. Can you please tell us a bit more about this?
—Our sound identity was born because of the new technology of the time: the sampler. When the first affordable samplers came on the market, I put my guitar on the side and left it there for a long time. Writing music with a sampler is completely different than doing it with a guitar or a piano. You don't care about chord progressions, tonalities, keys and notes: you just dive into sound and it is the sound and its manipulations who is going to give you the inspiration.
—L'eau Rouge is the band's second album and was produced by Roli Mosimann (as the first five ones) who you mentioned before. How did he help create the sound of what is considered your masterpiece?
—He was my main collaborator regarding writing and arranging songs and he was a master at putting those sounds together at the right place. A magic producer. We were not talking much we were just acting.
—The third album is full of covers of Kurt Weill, done at the request of a festival. Was he an influence (there are some influences of cabaret in your music) or did you discover him through The Doors? Did you like the covers by The Doors or David Bowie?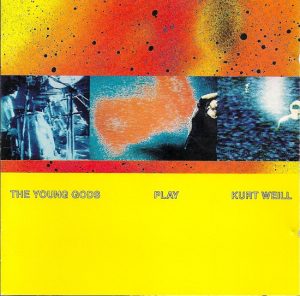 —Kurt Weill was definitely an influence, not only because of the cabaret vibe but also because of the quality of the songwriting. For me Kurt Weill was a pioneer of pop music (popular music). When he and Bertold Brecht wrote "The Three Penny Opera," their songs were talking about an imaginary downtown London Soho, full of bandits, priests, prostitutes and ordinary people. Not heroes. It was so human, beyond good and evil. The music was a bit out of tune, dissonant, really far away from what you would expect from an opera: the singers were not at all into "Bel Canto." And above all this, there was a hidden socio-political criticism. To me, this is what good pop music is about. No wonder they became official Nazi "public enemies."
The first Kurt Weill song I heard was "Alabama Song" covered by the Doors. I soon after that had to study "The Three Penny Opera" at school, thanks to our German teacher.
—According to Allmusic, the band turned their eyes on America with TV Sky. After playing with bands like Ministry and Nine Inch Nails, were The Young Gods influenced by them or just wanted to get some of their public? The band also had some problems touring in America due to the visas being quite expensive, right?
—I think that our first American tour was in 1990. At that time we were touring the same clubs as NIN but we never played together. When we hit Chicago, Al Jourgensen from Ministry invited us to his house and he wanted to invite us on tour. This only happened 6 years later, in 1996. I think that in the early eighties everybody influenced everybody else.
The expensive visa problem is something which is happening now, not at that time.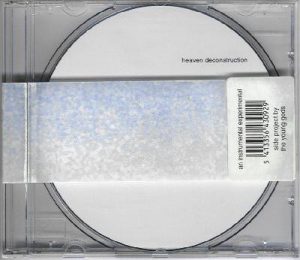 —Heaven Deconstruction was a strange release, an experimental instrumental album made with pieces of Only Heaven. Did you think that the formula that created the four previous albums (without counting the Kurt Weill one) needed a change?
—Heaven Deconstruction was an attempt to show our audience what was behind Only Heaven: a deep love for ambient music. We wanted to put Heaven Deconstruction together with Only Heaven, as a second CD but this was too experimental for our record companies in 1995.
But you are right: when something becomes a formula, we try new things. After L'Eau rouge and Play Kurt Weill, the cabaret and the classical music samples became a formula that we wanted to break. The next album TV SKY, was more minimal and mainly concentrated on rock sounds.
—Second Nature instead is a bit more techno/electronic, was it a result of the previous album or were you more interested in electronic music back in the day?
—We were definitely interested in the techno/electronic scene and needed to break the "rock" formula of the 2 previous albums (TV SKY and Only Heaven).
—The concept behind Music for Artificial Clouds is really interesting. The music was made mainly with sounds from the Amazon forest. Can you please tell us more about this? Are you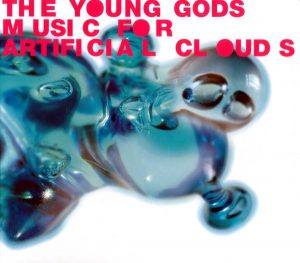 interested in the field music of musicians like Francisco López? Also with the album came the Amazonia Ambient Project and Aquanaut, can you please tell us more about this?
—To say that this record was mainly done with sounds from the Amazon forest is exaggerated. Yes, there are a lot of field recordings sounds from Amazonia in it, but a lot of sounds coming from synthesizers and other sources as well. I'm the one in the band who had the chance to travel to Amazonia a couple of times and I was blown away by the sounds coming from the forest. After each trip I came back with a bag of sounds that I loved to treat digitally or to let pure in the record. I like Francisco López very much, he opened my mind and my way to listen to my direct environment.
"Aquanaut" was a command work by the Geneva Museum of Science: we did a live performance with sound material mainly coming from water and worked with a duo (Loopmatic) of film-makers working with 16 millimeters films in loop.
—The band collaborated with Mike Patton during the Montreux Jazz Festival in 2005. Why did you choose him to sing two songs with you? He has recognized the influenced of your band in his music.
—Mike Patton has been close to us since the nineties. In the years 2000, he signed us on his label Ipecac in the US. In 2005, we were curating a two days Young Gods anniversary show offered by the Montreux Jazz Festival. That night we invited Fantomas to perform and naturally asked Mike to sing two songs of his choice with us.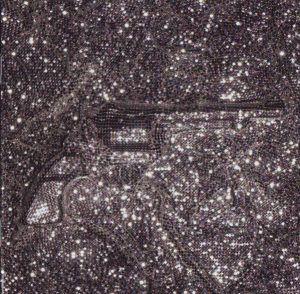 —After these albums the band came back to rock riffs with Super Ready/Fragmenté. Were you missing the sound of guitars? "In Stay with Us", you use what I think is autotune (or vocoder). What do you think of the overuse of this autoprocessor in modern music?
—Exactly, after our electronic and ambient period we wanted to hear heavy guitars again. This is all cyclic. In 2007 when Super Ready came out, the world was a mess after the 7 years of presidency of George W. Bush. It was again time to say things louder.
I'm very tired of the autotune sound.
—And how did you decide to do an acoustic album like Knock on Wood? It's again, something really different from what everybody expects from The Young Gods.
—Now and then we have tried to do acoustic versions of our music. Our manager Patrick David liked it a lot, he encouraged us to do more than just a few songs. It made us realize the "songwriting" dimension of some of our material. They are acoustic but keep their intensity.
—Another interesting project was the live album with Rap group Dälek, Griots and Gods. How was born the idea for this? Was it easy to work with Dälek?
—This is an idea that came from Kem Lalot who is the main booker of the Eurockéennes Festival (East of France). He is an old fan of industrial music and his idea was to make us join our sounds.
It was very easy to work with Dälek, we had the whole thing done in 2–3 days.
—The Young Gods played under the name of The Treichler Trontin Pizzi Experience at the Cully Jazz Festival. How did this experience change the band?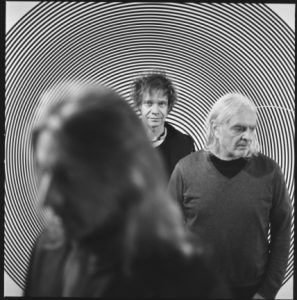 —Basically, it was the Young Gods first attempt to make new music since Cesare came back in the band (2012). From 2012 to 2014 Cesare, Bernard and me only played the old repertoire. In 2015 we decided to go on as a band and wanted to write new music. We did not want to call this project "Young Gods" because we were improvising live and wanted to be very clear about it: only new unfinished music was going to be heard, no Young Gods repertoire; plus the place was very small. So only the most curious people of our audience came.
This experience brought us confidence and made us ready for another round, that is: writing a new album, going into a studio to record it and on tour to play it.
—One of the curious works of the band has been to make the music for the short movie Kali the Little Vampire. How was the experience? Any other plans of doing soundtracks?
—Regina Pessoa who wrote Kali was using a lot of existing Young Gods music but wanted original material. We had to dive into her world and juggle with our sounds to make them fit to the picture. It is a tricky exercise as, at the time, we were four in the band and every one of us had his own vision of how the film could sound.
—As the band uses the sampler as one of the main instruments, what do you think of albums made basically with samplers, like Since I Left you by the Avalanches, Endtroducing by DJ Shadow or the work of pioneers like Negativland, Art of Noise or KLF?
—I think sampling is a fantastic tool to write music. It was a revolution in the '80s and I like all those bands that you mention, they dared going where not many people did. At the time you could be very criticized for not playing a real guitar on stage.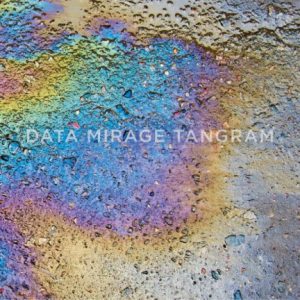 —As you said before, in Data Mirage Tangram, Cesare Pizzi is again in the band, how did the sound changed having him back?
—I think you can see the result on the album, Cesare helped the process of improvisation. When we started writing Data Mirage Tangram we were all into doing something a bit more down tempo and repetitive.
—In 2000 you made a solo album called Braindance with music done for dance companies. Can you please tell us more about it? 
—I've been working with different dance companies and mainly with the Gilles Jobin Company. Gilles approached me many times but I never had the time to do something original. In 1997 he used some of our ambient record Heaven Deconstruction. That's how we started a long-term collaboration. With dance companies I learned a lot regarding the relation between sound, movement and time.
—Do you remember your first concert in Spain, when was it?
—I'm not sure but I think it was in Barcelona in the late '80s. I just remember meeting some very friendly people and going party after the show!
—How is going to be your concert at Sinner's Day Special ?
—I know it is an 80s orientated festival, right? We haven't decide the set list yet. We will probably play The Young Gods "classics" mixed with more recent material. Surprise!