Brian Eno is the author of the famous quote: "The Velvet Underground didn't sell many records, but everyone who bought one went out and started a band." It's very possible that Dirk Da Davo and TB Frank, because of their age, only got a reedition of the album, but their band, The Neon Judgement became one of those legendary bands, like the Velvet, that after listening to their music, you have to start a band. We have talked with Dirk Da Davo, who will play together with TB Frank all the classics of TNJ at Sinner's Day Special on the 25th of August.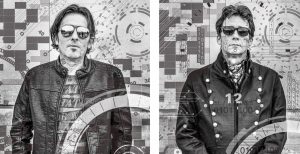 —In an interview, you said that both you and TB Frank were big fans of The Velvet Underground. What did you like of Lou Reed and John Cale's band? 
—We loved the band's attitude and their music for sure. I think VU was the first punk band on the planet. Velvet Underground was the band that showed us that technically you didn't have to be that good. You needed the right intention and the right words. And with that you could make a controlled noise. We started to try to get this kind of vibe in our rehearse space, but just with different instruments. Unconsciously, we also started to dress like them when we hit the stages during the 80s. The black leather clothes and dark shades. We found our identity through VU, I think.
—In your first release, Suffering from 1981, we can hear the influence of Suicide in songs like "The Machine" or "Sweet Revenge". Would you say that this was the band closer to your aesthetics/philosophy, with TB Frank being your own Alan Vega (as he is a fan of rock 'n' roll)?
—That is said yes but it's not correct. Only after we've recorded Concrete (1984), a friend of ours listened to the recording and he mentioned the existence of the band Suicide. He said: -You sound like Suicide! We gave it a listen, and we were really surprised to hear them doing what we did. So we had no clue until the release of Concrete. And Concrete came even after the recordings of "Machine Life" and "Sweet Revenge"! But yes, maybe as a writing team we were a bit similar: one R&R guy and one electronic guy 😉
— Even in your first cassettes, the guitar had an important part in your sound. Did you try to find an equilibrium between rock sounds and electronic? Or was it a natural fight between your tastes and TB's?
—Speaking for myself, I always had the ambition to combine electronics and guitar. I started off musically when I was 15/16 years old by playing and studying guitar. Then, I bought the Yamaha CS 10 synthesizer and I started experimenting with both. Always looking for the right combinations. Frank was the ideal writing partner for this. We matched with this idea and we matched as songwriters. So it was just natural, and for sure, not a fight!
—I guess that the beginning of the eighties was an incredible time for Belgian music, with you, Front 242, Absolute Body Control, Signal Aout 42, Parade Ground, etc., but was the public ready? How did the public react to your music in the first years of your career?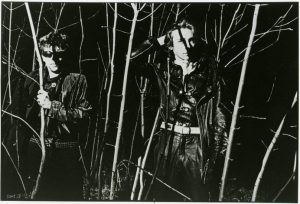 —Oh boy, yes. People were often amazed after they first saw a TNJ live show. Live it was "kicking ass music", some hard electro punk-like music, the stage filled with smoke and stroboscope lights, lots of bass in the sound and two guys in black leather and dark shades. Ludo Camberlin (who was our first engineer for studio recordings) also did the LIVE mix for the gigs at the time. He putted the kick drum and bass so deep in the sound, that the audience had the feeling they were pressed against the back wall of the venue by the sound! It was a very physical experience for the audience… but also for us! It was never really done before at the time… I have no idea if the audience was ready, but they were pleasantly surprised for sure!
—There was a change towards a more electro sound with the single Cockerill-Sombre (1983) and in MBIH! (1985). Being two persons writing the songs, how did you approach every album? Did you have any previous idea of where the sound of the album should go?
—No, really not. Everything just happened as it was and we just let it happen. With MBIH! I also started to play the guitar. The track "I Wish I Could" on MBIH! was written by Frank and me, each one of us working/composing on guitar… Basically, it's a guitar song and the electro sound was added in later.
—I have always seen "See that!" as your particular "Magnificent Seven", although the dub part is stronger in yours. But in reference to the Clash's classic, was the band interested in the hip hop culture that was evolving fast at the time?
—Oh do you? Thank you 🙂 Well, yes we were aware of hip hop culture and all that. But mainly we wanted to do something reggae-wise as a "spielerei" and for the fun. We were always announced as a dark band, but we also had fun in music and we had a lot of laughs! At the time you had also Blondie with "Rapture" introducing hip hop and rap to a bigger audience. But we weren't wearing gold chains or anything! 😉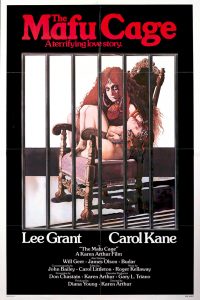 —Is the name of your following album Mafu Cage (1986), inspired by the 1978 movie about two incestuous sisters? Sex and provocation have always been attached to the band, do you think that society has a hypocrite view on sex?
—Yes, indeed the title was inspired by that movie. A hypocrite view on sex? Sex is everywhere on the internet now. Some time ago this was a topic in the Belgian press and one politician said: -What is this? It is like a butcher's shop! This is a scandalous! He was saying that he didn't know about it, but I don't believe that. So yes, society has a hypocrite view on sex, denying it, but it is everywhere at the same time.
—Horny As Hell (1987) was one of your most experimental albums with even a hint of what you would do in your next album ("The Sea" already has some Tex-mex influences) and there are oriental sounds in the title track. Did you try to add more elements to the music of Neon Judgement? How do you remember the recording of this album?
—Horny As Hell was composed in an old factory building where we were rehearsing at the time. I think you can hear the surroundings listening to the album. The Tex-mex influence in "The Sea" for sure came from Frank. The album was made rather quick I remember. At the time we had heavy tour schedules and the record company required a new album to be able to continue our promo touring. … And yes we were always looking to add other cultures into our music to make it like opposites: yin and yang.
—How have the improvements in technology helped the evolution of the band? When did you start using samples?
—Technology wasn't that much of a help for us. On the album The Neon Judgement 1981–1984 (1985), for instance, all keyboards were played live, no adjusting tools were used in the recordings. This gave some "movement" in the music, sitting not real tight but it gave it an own character. The first time we used sampling was on Mafu Cage. We didn't have a sampler ourselves, so Patrick Codenys (Front 242) was so kind to help us out. We had the idea of giving Mafu Cage an African vibe, so I went to a place where they rented out vinyl records with elephant sounds, monkey sounds, etc… With these records I went to Patrick's house, where I made the samples, I put them on a disc and I took the disc with me to the studio where they had the same sampling machine that Front 242 had… And I used all these samples on Mafu Cage.
—The style of The Neon Judgement's music has changed in almost every record. How were these changes took by your fans?
—The changes of styles were not really commercial. But we preferred to take our music song by song. I think our fans appreciated this and saw it as creativity. You have 242 lovers and Neon lovers. Front 242 stayed more in their concept, we didn't. That is precisely the reason why our fans stayed with us I think.
—As you said before, in Blood & Thunder (1989), the band added some Tex-mex influences to the sound of the album. What inspired you back in the day? Did you like Wall of Voodoo?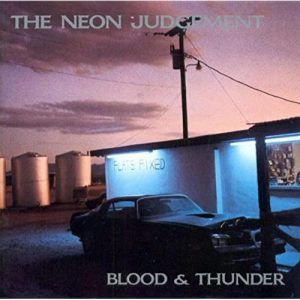 Their album Call of the West has a cover whose colors make it similar to the one of your album.
—It was a period that we were often listening to old blues music, the traditional recordings. The song "Facing Pictures" was a result of mixing a blues vibe (the harp in the intro) with jazz samples and even Eastern samples. But no, we didn't know the band Wall of Voodoo at the time…
—"Damned I love you" has a Happy Mondays' sound (I think) and the album Are You Real (1991) is supposed to have been influenced by the music of Manchester. Were you really interested in that scene and acid house?
—Well, Are you Real was a very very difficult album to make. Our record company wanted us to grow into a "charts band", sounding more commercial. We did a lot of demos and forwarded them to the recorded company where they got rejected time after time. It really sucked. At the end, we didn't know it anymore for ourselves and we gave the production totally in the hands of Ludo Camberlin, who was more into this Manchester music stuff.
We were not so involved in that scene. I am afraid the memories on Are you Real are not that good for Frank and me. Are You Real was made to please the record company, the album didn't work that well, and then they dropped us after it. A shame but shit happens.
—In this album the anger of the beginning is less evident and instead, the general vibe is more joyful. Were you also happier during these days or just changed your way of seeing life?
—No, not really, we always looked at the dark side of the future so I do now… Probably it had to do with the constant pressure of the record company to try and make us a more commercial band. That changed our text writing attitude also probably…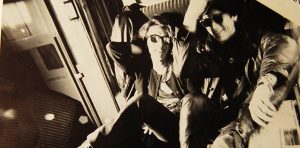 —In the documentary about The Neon Judgement you and TB talk about the lyrics of the band and the references to Orwell. Do you think that due to the coronavirus and other problems we are getting closer to that dystopian future?
—I read Orwell when I was 16 or 17 years old… I was shocked after it and it marked me/us for ever. With the coming of Covid-19 we are there, I am afraid. I did not expect this to come so soon and fast. I would have wished not being on the planet anymore while these things are happening. If you combine "1984" of Orwell with Aldous Huxley's "Brave New World", we are in it today. The elite sells us freedom under the condition that we become slaves. And there is no way back. The fear rules and the news media stimulates the fear all the time. Fear is an oppressor in every dictatorship. So this said…
—According to Wikipedia, At Devil's Fork (1995) was recorded in a wooden area where the band "created their own sanctuary. Can you please tell us more about this?
—For the recording of At Devil's Fork we rented a wooden house in the middle of the Belgian Ardennes. That is a very wooded area in the South part of the country. We were joined there by percussion player Ben Forceville and engineer Kenny Blomme (and Frank's dog!). We moved our recording studio into the place and we started recording and creating. I think the recordings sound pretty brutal for being recorded in the middle of the woods!! Maybe the house were we stayed was a previous witch house! 😉
—Some artists that became really big during the nineties, like The Hacker, Terence Fixmer, Tiga or Dave Clarke confessed that they were influenced by your band. In which way do you think that the Neon Judgement has been an inspiration for these musicians? Some of them appeared in your remix album (Remixes, 2005), right? How did you get the idea of making this album?
—That is hard to tell. Maybe they got the same impression from us like we had before from The Velvet Underground? And we combined it with electro. I remember that Tiga once told me that while we were making our world tour in 1989, we gave a double concert in Montreal. That's where Tiga's parents live. His father went to the two shows in Montreal, at the time. Later on, Tiga discovered TNJ thanks to the records of his father. At that time, we were looking for a remixer for 'Tv Treated' and Tiga's father insisted that he'd make a rework of 'Tv Treated', so he did! After Dave Clarke came up with a splendid rework of the same track (2015). The idea for the remix CD was with the intention to introduce TNJ to a younger club audience. It worked.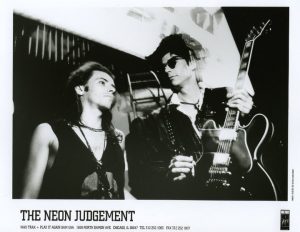 —What happened with the covers album that was planned around 2014?
—The cover tracks became part of our farewell concert tour release Time Capsule from 2015. Time Capsule is a vinyl box containing a 'the best of' original recordings, '7 inches' and more interesting stuff and gadgets. It is a limited edition box, but the cover tracks are also made available in digital.
—According to your web, 'TB Frank and Dirk Da Davo decided to take a sabbatical in 1999″. After this, the band returned mainly to play live (with the exception of 2009 album Smack). What happened that you did not want to release more albums? Were you not happy with the sales of Dazsoo?
—We had the previous Are You Real record company story that I've explained here before. In 1994 we did At Devil's Fork and in 1998 Dazsoo. Our experiences with these 3 albums made us decide to stop producing records. The labels we got involved with for the last 2 releases were not of a kind that they made us happy with what they (not) did promotion-wise. You know, you put a lot of energy in creating an album and the most boring part is to go and look for a label. And then when they disappoint you, you are nowhere. It damaged the band in a way. Better to release nothing, then to get a shitty promoted release. That's why. We just had it with labels and the blah blah blah…
—The band's more club-oriented album is Dazsoo. In an interview, you said that the music of Neon Judgemente was dance music, would you say that this is the album closer to that definition? 
—Did I? I think it's rather danceable music than just dance music… We add to many sounds to be described as dance music. Then we should simplify the music a lot.
—How do you imagine a Neon judgement album made today?
—We should make one to be able to tell 😉 Dark and hard maybe, with cool lyrics?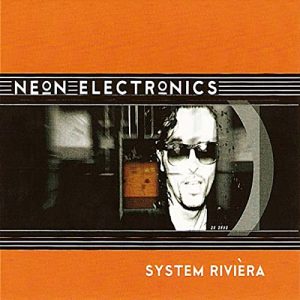 —You started Neon Electronics in 99. Keeping the Neon part in the name, did you want this project to be a continuation of the first band?
—No, I did not have that intention. I wanted to grow away from TNJ with the project, and after I've often regretted that I chose to keep the Neon in the name. It creates sometimes expectations for the audience that will not get redeemed. In 2001 with the NE release System Riviéra (2001), a CD that sold pretty well, I was still thinking about the change of name. But then it became too difficult. System Riviéra was already released. So I started to learn to live with it until now.
—For the Neon Judgement fan, which Neon Electronics album would you recommend and why?
—The last one: Apollo (2019) and the album NE (2015) maybe also. But I think Apollo is the closest. I play mainly guitar on the album. And Glenn Keteleer (Radical G) is responsible for the electronic part. We also have a bass player Pieter: Jan Theunis.
—What can we expect in the future of Neon Electronics?
—In Covid-19 times this is a question that is very hard to answer. The musical future is very unsure due to this. We had several shows canceled this year… Sad… So I don't try to think about that too much… I do various music projects so I never get bored or stuck.
—How is your label, DanceDelic-D going? Did you start it to release your albums? Is it more difficult today to run a label?
—I started Dancedelic-d in 1999 to mainly release my own material indeed. Later on, I also made TNJ releases via the label, a.o Smack (2009). I experience it as more satisfying to work like this. I can control everything myself and that was good for TNJ and the other projects. After I started Dancedlic-D, all was improving. 🙂 I didn't want to waste my time anymore on external labels. But it's hard. I also make exclusive digital releases because it is necessary.
What I do is in a different style for every project release. So looking every time for a label, I would end up spending more time in this than in the creative part of my work. But it's a shame that music got reduced to mainly digital. Streaming and stuff is not the kind of thing where you make a budget. It's a world of 'likes' 'follows' and 'plays'. I prefer CDs and vinyl, but the risk to invest money also became too much nowadays because there is not a lot of profit… I have only a few external bands on the label: Radical G (Belgium) and Formshift (Holland). But it is thanks to Dancedelic-d that I am still around.
—On your own, you have edited a first single in 1987, an EP in 2017 and a couple of compilations. How do you decide when you want to release a track on your own and not with Neon Judgement or Neon Electronic? Anything you would like to tell us about these releases?
—From 1987 was the vinyl EP Where Even Angels Fall. In 2017 I did the Protest EP. The decisions I make are taken by the music itself. With EP's I think in terms of concepts. The 1987 release was spontaneous, with the Protest EP I had a clear perspective: PROTEST. The title speaks for itself. I am a critical thinker and I think for myself. That's why I also release under my own name.
—What can you please tell us about your DDDJMX EP? You recorded these songs with Jean-Marie Aerts from legendary Belgian band TC Matic (although to be honest they are not that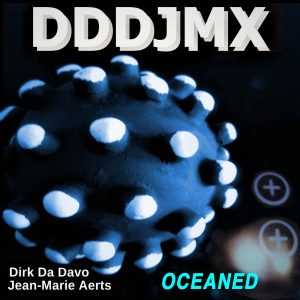 well known in Spain). How was this collaboration born? Were you influenced by TC Matic?
—In the meantime, we have an album out under the flag DDDJMX titled Oceaned, digitally released last April. Well, it was a pure coincident that we made this album. I live in Spain on Fuerteventura. One day in 2017 Jean-Marie decided to come over for a holiday visit. I have a small recording studio, and it took exactly 2 days after he arrived to start recording music in my home studio. We did mainly jam sessions, purely for the fun. And JMX kept coming over here 3 years in a row, he likes this place, and we recorded again. 3 visits got us 10 songs. After the jams, JMX left me alone with the recordings and I started to work on them, editing, writing lyrics, putting vocals on the tracks and I made all the further arrangements resulting in the Oceaned album. I've known JMX for a long time now, he was the producer for a part of TNJ's Blood & Thunder album (1989). He produced 'a.o. 13.13' and 'Facing Pictures' for that album. And for sure guitar-wise he is an influence, he made such good riffs with his band TC Matic, pity that they never got introduced in Spain at the time, fantastic LIVE band it was!
—What can you please tell us of your future concert at Sinner's Day Special? How is going to be the set?
—The set will contain mainly the TNJ classic recordings. 2 people on stage, Frank and me with a fat sound as usual, and probably we will wear our sunglasses!! 😉