Oscar Wilde used to say that to define is to limit, so we can deduce that the first form of limiting something is naming it. Only a band called The Names would escape from limitations, as it would include every definition. Created in 1979, the Belgian band had a first run till 1982 and didn't come back till 2007, although in that time, we never forgot their name. We have talked with Michel Sordinia and Marc Deprez who will be playing with their band on the 25th of August at Sinner's Day Special that will take place in Belgium. No limits.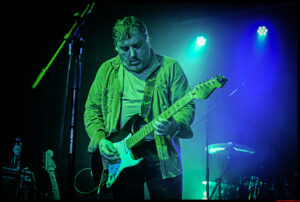 —What can you please tell us of your first days as The Passengers? 
—We started The Passengers in the winter of 1977/1978, with Marc Deprez on guitar, Christophe Den Tandt on drums, Isabelle Hanrez on vocals and myself on bass and vocals. We played a series of gigs that attracted much attention from the press and punk crowd. Soon we wanted to expand musically, with Christophe taking on keyboards (Luc Capelle becoming our drummer) and myself as lead singer.
—Why did you change the name of the band from The Passengers to The Names? The Names is indeed a curious name for a band.
—A band called The Passengers got important press coverage in the UK and we decided to change our name to avoid any confusion. Facing a long list of potential names, a close friend simply suggested The Names. We shouldn't have made the change, since that British band disappeared after a short while…
—Your first EP was released by a major, WEA label, but you preferred to continue with an independent label. Do you think it was the right choice? You also had the chance to work with Fiction later, right?
—Spectators of Life, our first E.P., was self-produced, and we got a distribution deal with WEA that soon proved unsatisfactory for both parties. Our aim was to work with either Factory Records or Fiction Records. With a preference for Factory, so when we got a positive reaction from both labels, we opted for them. Rob Gretton (Joy Division's manager) called us before Chris Parry's letter got into our mailbox. Also Factory's artistic approach and politics were most attractive to us.
—How was the band's relation with Factory Records? Is it true that instead of a contract there was only a handshake?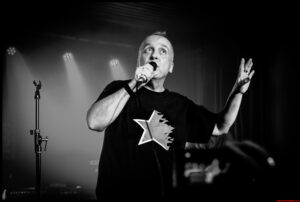 —Yes, a handshake with Tony Wilson! They did that sort of things, at Factory's. One of the reason they started suing each other after a while… Our relation with Factory was great from a human and artistic point of view. The money question was something else. But we were not motivated by financial priorities, three of us being students and one having a job.
—Martin Hannett was definitely one of my favorite producers. How was your experience of working with him? He went to Belgium to work on some of your tracks, right?
—Martin was very enthusiastic after listening to our first E.P. Spectators of Life. "Martin loves you guys!", Rob Gretton told me on the phone when contacting us. As a matter of fact, Martin remained our producer not only for Factory Records but also for Factory Benelux and Les Disques du Crépuscule. Even coming to Brussels for the recording of The Astronaut E.P. In Manchester where he produced our first album Swimming and our singles Nightshift and Calcutta (plus a few songs for collective albums), he worked at the Strawberry Studio, a great place created by the guys of 10cc. Working there with Martin was a fantastic experience. He heard things that nobody would hear, and knew how to produce very specific sounds while exploring all the studio's potential. Always experimenting, always open to new ideas. It was both exciting and challenging to us. I will never forget the recording of the guitar part for "Light" (on Swimming) when Martin used several different amps in line, then knelt and shook Marc's guitar while he was playing, in order to produce more crazy feedback sounds!
—Where did you look for inspiration for your lyrics? Michel, you had cited French Surrealist poet René Char. Do you see other writers as influences?
—I love the surrealist painters (Max Ernst) and poets (Robert Desnos). René Char wrote "Développez votre étrangeté légitime," inviting us to "develop our legitimate strangeness," which I certainly did. For the lyrics, first I must have a title for the song. Then with the help of the music (always coming first in our first run as a band) words sort of came to my mind automatically, only rejected when not sounding good. These last years my way with writing songs has changed. The lyrics come first and then I work on the music. My favourite writers of lyrics are Lou Reed and Richard Hell. Bob Dylan's early words for songs are great too.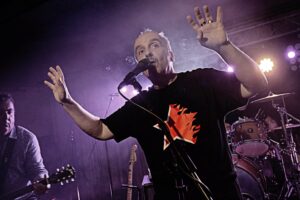 —Michel, you are also a film critic. Do you think that cinema has influenced in any way your music?
—Inevitably! There are a lot of direct references ("Shanghai Gesture" and "Leave Her to Heaven" are film titles), and other more subtle echoes are to be heard here and there. On the album Stranger than You, a song like "Die Mauer Is No More" is clearly cinematic, like a short movie.
—The atmospheres are very important in the music of The Names. Is it something that you work a lot?
—I would say it is the atmospheres that are working on me! Marc and I are good at pushing the songs to their atmospheric best. I love that process, it's very organic and sensual. On stage, other dimensions are added. I love those intense moments when a song gains in atmosphere up to the point of surprising us, even though it's us playing it.
—What was Names in Mutation? There are some live songs released with this name in a compilation.
—Those recordings were made (at Beursschouwburg, Brussels) during an international tour (called Dialogue North-South) involving different artists of or close to Les Disques du Crépuscule (Paul Haig, Richard Jobson, Tuxedomoon, a.o.). We were supposed to play in a somewhat different mood, like cabaret. Hence the idea (not ours) of Names in Mutation. But audiences wanted us to "rock" more, so on certain nights we did…
—Was money the only reason why The Names disbanded?
—We finished our studies and music couldn't provide enough to live on. We had to find a honest job and so did we. Keeping the band alive became difficult, also perhaps because we had basically explored our potential at the time.
—In 1994, four of the original members reformed as Jazz. Why didn't you take again the name The Names? What went wrong with the album?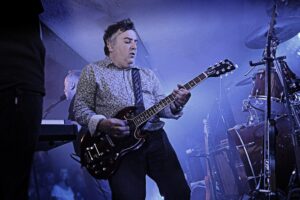 —I had this stupid idea NOT to use "The Names," just because at that time I didn't like old bands making their comeback… I was wrong! Then I had my first child and I was so busy with him that concerts and promotion became very difficult to deal with. Maybe also our motivation wasn't as big as when we made… our comeback in the years 2000.
—How were your lives during these years until the reunion of the band again?
—We went our way through professional and family lives, keeping in touch with each other but not making plans involving making music together. Personally, I didn't realize for a long time how much I was missing it.
—The band reunited for the Factory Night in December of 2007, what can you please tell us of this experience? How did you feel together again?
—Marc, Christophe and I had actually started playing together from 2005 on. Just for fun. When Frédéric Cotton asked us to play at his Factory Night, we immediately committed. It was absolutely great to be The Names again, and even greater to realize, once on stage in a fully packed Plan K, that there were many people (including younger ones) actually expecting us, knowing our songs, eager to share emotions with us. We were a little surprised, immensely grateful, and moved to a point I can't describe with words.
—The first album that the band released after the comeback was Monsters Next Door. But you were never really happy with it, weren't you? What went wrong according to you in this album?
—The songs were good, even sometimes very good, and the recording went ok. But the mixing stage was a little conflictual. To my taste, the album isn't as radical as it should have been. We were too shy, I think. Something that would not happen to us again.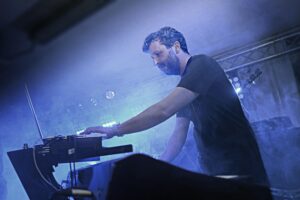 —And the second album was Stranger than You, created in a difficult moment of your life, Michel. Did it help you get over your problems?
—This double album was a fantastic experience, with the crucial help of our sound wizard Thomas Neidhardt and the discovery of Noise Factory Studio, where we now feel at home (our next album will be recorded there in October and November this year). Every idea, every song, was pushed to the limit of what it had to say, of how it could sound. Stranger than You was also, for me, a sort of therapy. Bob Dylan once said that if you felt like sinking, you shouldn't fight and instead let yourself reach the bottom, after which you would automatically go up. "And on the way, he said, you might bring back a few good songs". He did that with Blood on the Tracks, a great depressive album. I followed his advice and wrote a lot of songs while living difficult times. Most of them while staying in Berlin for two weeks.
—Michel, you said that one of your favorite albums is Rock Bottom and that it was an inspiration for that album. We also like it a lot, what do you find inspiring in it?
—I was always touched by Wyatt's music. From an early age on. Rock Bottom is one of my favourite albums of all time. It was already speaking to me before I found myself living a depression like he did when writing and recording these songs. When I did myself, I found some comfort in listening to them again and again. Wyatt in Rock Bottom is the artist at his most naked and vulnerable, swimming in a sea of sounds that is both haunting, fragile and overwhelming (Mongezi Feza's trumpet and saxophone!). And the voice! The voice! I'm getting shivers down my spine just hearing it again in my head while writing this…
—In that album we can find a song called "The Passengers", like your first band. Is it difficult to write about a past that some of the other members of the band have also shared?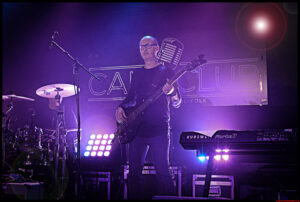 —Not difficult at all! This song was kind of a joke and a journey through our past as a band. We had fun with it.
—Marc, you released a very limited cassette in 1981 with only three tracks (reissued together with the Names In Mutation tracks). What can you please tell us about the creation of these songs?
—In those days I had been was very impressed by Vini Reilly, with whom we did share the stage several times. A simple (electric) guitar and a rhythm box. I also wanted to compose "romantic" music that didn't really find its place in The Names' repertoire, hence the idea of this home-made audio-cassette
—Marc, you had another band called No Tears that has released four albums. What can you please tell us about this project? Is this where you meet Laurent Loddewyckx, your new drummer?
—No Tears wasn't my band: it was a French band based in Paris and was formed by Kris Dernon and Paul Fiction. Those two also created their own label, Str8line Records, on which The Names' album Monsters Next Door was released in 2009. The following year, No Tears had a new album just out and prepared to go on tour. They did not have a guitarist any more. So I played with them for a few concerts in France, the UK and Belgium. Afterwards, Laurent (who already was The Names' drummer since our reunion in 2007) joined us for another few concerts. I knew Laurent for a very long time already because we played together in different bands before he joined The Names.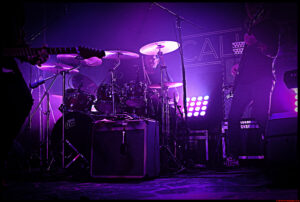 —And to finish with side projects, Michel sang in By Chance, a band with Marc Hollander that released only one single. What can you please tell us about this short-live formation?
—By Chance was the idea of Daniel François, guitarist of Jo Lemaire's band Flouze and a good friend. Marc Hollander joined in for this short time adventure. We gave a few concerts, including a great one supporting Joseph Bowie's band Defunkt at Plan K's. And we recorded this single that is now sort of a collector (specially the 12" Japanese edition). Sadly, Daniel died at a very young age. I miss him.
—What are the future plans of the band now that Covid seems almost over? A new album as you said before?
—We're having a new collector album to be released this summer. It is called "Hidden Tracks" and contains never released before material from the period 2009-2020. It's a limited edition of 200 numbered copies on vinyl. In the Autumn, we will be recording a new studio album.
—What can we expect of your concert at Sinner's Day Special?
—It will be our first gig since the pandemics started, so expect us to be hungry. Music has so much to do with pleasure and desire, with giving and sharing. We will make the most of these 50 minutes! Hoping everybody in the audience does, too.
Photos: Peter Staessens