Legendary Belgian punk band The Kids recorded in 1978 their particular antimonarchical hymn, entitled "No Monarchy". This song, together with "Jesus Christ Didn't Exist" and "We Are The Prisoners" (with lyrics such as "We're living in a catholic land, an open concentration camp) appeared in the second album of the band. It's difficult to imagine something like this happening in the Spain of the time, where both the Catholic church and the monarchy were almost untouchable institutions. But the Belgian band cared to fight the power at the same time they became one of the most popular punk acts of Europe. We have talked with Luc Van De Poel, guitar player of The Kids, who will be playing at W-Fest. The festival will take place on the 24th of August at the Belgian city of Ostend.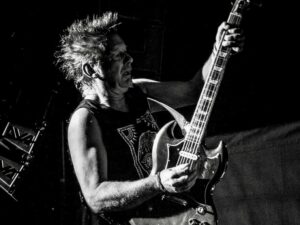 —Luc, did you ever see Crash, the previous band of Ludo Mariman, live? He joined the Haes brothers in 1976, first as rhythm guitar and later as singer and they were described like a kind of Velvet Underground. I was also surprised when I read that both brothers were quite young when they started.
—No, I never saw Crash. I heard about the band but never saw it. I knew Ludo from work (at the Antwerp Docks)
And yes, the drummer was 15 or 16 and the bass player was only 12 when I met him!
—When and how did you get interested in punk? Ludo said that it was a concert of Eddie and the Hot Rods what got him into punk rock.
—I must say I was more interested in garage rock/rock 'n' roll. I didn't know much about punk… but I was blown away the first time I saw The Kids play!!
—As you don't appear in the credits of the The Kids' first album, released in 1978, I wanted to ask you if you were involved in any way in the recording. It included one of the band's most famous song, "Fascist Cops". Did you like it? 
—I was actually there at the studio when they recorded it (mostly 'Live').
I knew the songs because I already played them for about a year (recordings were in 1978).
—Then Luc, you joined in 1977, right? How were your first days with the band?
—Yes, I joined in 1977. The first days were very, very, very impressive. We were rehearsing above a known café: it was loud and direct. And we played live about 10/15 times a month!!
—You played in the second album, also released in 1978, and entitled Naughty Boys, right? How was the experience?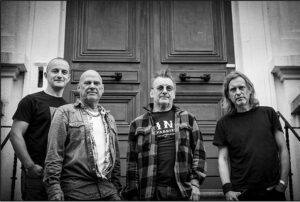 —They asked me to join them (before that I played in 4 other bands also), so we rehearsed and recorded that second album together as a four-piece band.
—The style of the band changed with the third album Living in the 20th Century, published in 1979, towards a more new wave sound. Was it something intentional or just a normal development of the sound?
—It was intentional because we felt that the Punk movement was becoming commercial. It felt as it was over. And Ludo wanted to write and play more pop/rock songs at that time.
—That same year, the band recorded a split with Jo Lemaire, a Belgian band that is also going to play at W-Fest (at least the singer) that we honestly don't really know. How was this project born?
—It was an idea from the two record companies. After the release we did a tour together.
It was something quite unique.
—And in the album from 1981, Black Out we can find your most famous song, at least in Belgium, "There will be no next time". Why do you think this track is more popular than the rest?
—That track was also the first track on a compilation Get Sprouts, which had a distribution of around 80.000 copies (I've heard something like that, but I am not sure) by a bank.
So the song was already known by lots of people, and was played daily on the Belgian radio stations even before it became a single.
—The band recorded a live album using the Rolling Stones mobile studio, entitled If The Kids… Live. Can you please tell us more about this?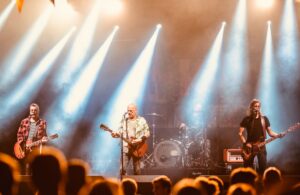 —They recorded two gigs, one in Antwerp and the second in Mechelen. We thought it was a great idea though the technicians looked a bit down to us. Although, I think it's nicely recorded!
—Were you in the recording of the only EP by The Bastards? Do you know anything about the story of this record? The songs included there are basically "Do You Love The Nazis" and "I Wanna Get a Job In the City" with different names. It was released only in Italy, wasn't it?
—I have it in my collection, but to be honest we never knew who or what was behind it. It's just another bootleg, and we never act against this kind of records.
And yes, it was released in Italy and has become a sort of collector's item.
—Why did he band split in 1985/86? In an interview, Ludo said that he was writing songs that did not fit the band.
—Yes, that's right. We were also a bit tired and wanted to do other things.
—What did you do in that gap of a decade? You also played with Ludo in two albums (Ludo Mariman and the Exception: Back To Back from 1992 and Shake the Jinx from 1993), right?
—Yes, I did. I also played live sometimes on his concerts. I also played for 6 years (or more) with Ben Crabbé's band The Floorshow (good reminder) and also with Roland and Kathleen Vandenhoudt (I still do) and other projects.
—And why did the band reform in 1996?
—Some fans from Paris asked us to. Also, we played some songs live for the movie 'DIEF' and thought it was ok to pick it up!!!
—Now that you mention it, how was the recording of the soundtrack of the movie DIEF? How different was it from recording a normal album?
—We did those songs live in the studio. And after two or three hours the recording was done and we were very happy about it.
—Do you think that with the current situation in Europe, the punk mentality is more necessary than ever?
—The Punk mentality is, of course, needed. Please guys, play rock 'n roll, be DIY and do it now!! And tell the people what's up, make them aware!!!
—After the reunion, the band has played with some of punk greatest legends, how was the experience?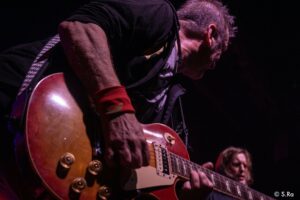 —Well, most of those bands have quite the same experience as us. We are needed, we are asked, and we love it!!!
—Lost And Found, released only digitally in 2019, is an album of rare demos from the fourth album and some never released songs. Can you tell us a bit more about them?
—They are just a lot of old demos that the record company found and gave us. We didn't really plan doing anything with them. We had almost forgotten some of those recordings.
—Freedom Liberty Democracy was an EP released in 2015. The three songs, were new material? Can you please tell us more about this release? 
—Yes we did record those three songs (very basically..) 17 years ago.  All three were new songs (at that time😉)
 And we still play the main song… sometimes. I think it's a very good song, with still very appropriate lyrics for today's time.
—Are you planning to record new material although I think that Ludo already said that no?
—No, we are no planning any recording of new material. Sometimes we play new songs (Ludo still composes them ;.) but we don't think there's much need for it.
—In the past we also interviewed Red Zebra and Definitivos and on both occasions asked them about the influence of The Kids. The three of you have been touring together in the past. right What do you think of these bands?
—I know Definitivos but we really never toured together, but I like those guys a lot!!! Red Zebra are very, very good as a band. I like them a lot.
—What can we expect of your concert at W-Fest? It will be your second time at the festival after playing in 2017.
—I hope that we will get a lot of sun. And a lot of public coming so early. 😊.
We do our regular set of songs coming from the first and second album, adding some hits as 'There will be no next time" and a cover or two.
Good old ROCK  'n' ROLL 😉