The Exaltics arrived on Earth in 2006, surprising the population with their deep melodies from outer space. People from all over the world were abducted when they were dancing by these aliens who only wanted to save us from ourselves. In this close encounter of the third kind, Robert Witschakowski, the man behind the mask and creator of these amazing alien sounds, invites us to believe.
Cover photo: Carsten Resch
—How was growing up musically in the RDA before the fall of the Berlin Wall? I know you were quite young at the time, but what do you remember of those days? There was only one label controlled by the Government, Amiga Records, right?
—Yes, it was called Amiga Records. They only released bands that were not political and not dangerous for the political system. A milestone for me was that they released Depeche Mode! This was my favorite band when I was a child, and also my older brother's. At school, teenagers used to sell posters of them for 100 East Mark! That was a lot of money in the DDR, believe me. You can see how special it was to have something from the "west" in those days. I remember my brother recorded a lot of music from the radio. There was not much what we could buy. So recorded cassettes were the holy grails in East Germany. During those days, we did not have much, so it was something special when you got any music from the outside of the DDR. You know, a thing that's completely lost these days when you can have everything. Not that I miss those days but I think people should really think, from time to time, that not everything should be taken for granted.
—You got a lot of new music with the fall of the Wall. Aphex Twin and Underground Resistance were some of the first artists you listened to, some of them thanks to your brother, right? How did they influence in your making electronic music?
—My brother was a big influence. After the fall of the Wall, he came home with all that new music! He bought a lot of CDs at that time. He had started to work so he had money to spend in music. Kraftwerk, LL Cool J, Depeche Mode and the early Detroit Techno. We played with the old Commodore C64 and listened to Kraftwerk. This is a very strong memory of those days. When I became a teenager, I started to work in a local underground record store here in Jena. I learned to Dj there. I was every free minute of my time in this shop. All those records… this new music was so exciting to me! Early Jeff Mills or UR… I thought: "-Wow, one day you will also make records". No joke, that was always my thought and it became reality which I'm really thankful of! All those 90s early Techno Electro records were a big influence for my music. These were the days of innovation in the electronic music. It was so fresh and special… I miss those days.
—Years later, you were booker for the club Kassablanca, how do you remember these days? When did this happen?
—Yes, The Kassablanca, the one and only club in Jena. It was around 99 or early 2000 as I had to do my civilian national service. You could choose around that time if you did this or forces/army. It was 1 year! I didn't want to go to the army so I tried to get that job at the Kassablanca. This club is a culture club so its state-subsidized and that gave me the possibility to make my civilian national service there. So, long story short, I was responsible for working on the program paper which was released once a month (including all parties, info, etc.). I did flyers and so on, worked on the bar… everything that you have to do in a music club. Later, I could select the Djs together with the main booker Thomas Sperling for the Techno parties there. I was always a Detroit fan, so my dreams came true. I programmed from Jeff Mills to Claude Young and Robert Hood to Dj Godfather. It was amazing! I was always Djing on those parties. You can imagine I was the happiest dude around those days. Later, with a good friend and DJ partner, Dj Mikk, I did some parties there with artists from the Electronica sector like Phoenecia, Richard Devine or Skanfrom. Great days and great memories!
—Can you please tell us more about your Djs days? For how long have you been spinning records?
—Yes, I started Djing with the age of 16 in the local Techno scene from Jena to Leipzig. Later, I was resident Dj at the Kassablanca. I stopped Djing after I started The Exaltics. I felt that my main focus was to produce music. Today, I enjoy playing my live gigs again but making records is my main field.
—Why did you decide to start the Exaltics back in 2006?
—In the Kassablanca days, with some friends of mine and Robag Wruhme, we had a studio there. We put all the equipment together, you know, but I never recorded anything at that time. I was only learning. Later, we sold everything and everybody went their own paths. Then Ableton came to the market. It was a dream in handling. I bought it and thousands of plug-ins and started immediately. In 2006, I created that name The Exaltics and was sending demos to all those infamous labels like Bunker Den Haag, Transient Force, etc. I got no responses and my best friend Nico said: -"Let's do it alone".  So we started SolarOneMusic and released the first release, a USB key with a flash animation (that was programmed by a friend) and 4 tracks by me. Haha this is how it started!
—Now that you are talking about Nico Jagiella, how did you meet him?
—I met him at first grade in school. It's a life friend. We've known each other for more than 36 years now! It's a very special friendship! We have completely different characters. But maybe that's the secret.
—You collaborated with him in Crotaphytus. Was it easy to work with him? Any possibilities of new music?
—Yes, we did Crotaphytus. It was in the early beginnings of SolarOneMusic. Crotaphytus is the Latin name of a type of iguana. With my former wife had two iguanas back in the day. I loved them. Nico said: – "let's do an act with that name and use sounds of reptiles". I was: -"yeees!" So we started Crotaphytus. He came over to our flat and we created the music. It was a fun project and I don't think that we will continue. It's always a time problem, with everyday work, the label and also the private life.
—How did you develop the idea of The Exaltics? I mean all the story about the aliens and all that stuff. Was Drexciya and its sub-aquatic world an influence for the concept?
—Drexciya influenced everybody in the electro world. And also me! But I must say that I have always loved those stories around music. It makes everything more interesting, in my opinion. You can dive into another world. I was always, from my childhood on, a science fiction fan. And I always loved everything that had to do with aliens. So it was normal that I had to create something with this. I always wanted a project which creates a new world while listening. I never wanted my face to be connected to this act. It should stay for sci-fi and imagination.
—That's why you started playing wearing a mask? When did you start using it? How different is your stage persona from Robert Heise?
—I started the act with the mask. We have always been together and will be forever! I never wanted a connection to a normal human face. It kills the story. This act is a fictional extraterrestrial person who represents The Exaltics. When I put that mask on, I completely dive into this world. I really enjoy to interacting with the crowd… I'm full of energy while I'm playing.
—In an interview you talked about the "deep melodies" in your music. For you, is it easy to come up with a melody that is good enough? Or do you spend a lot of time working on that?
—This is a thing I can't describe. It comes only while I am playing the keys. Sometimes I have a good melody in some minutes… sometimes I need hours. Then, there is a click in my head and I know, OK, that it is!
—We Are Not Your Friends… was the name of the 12″ from 2010. You said that it should be taken as social criticism. In the story of the Exaltics, do you see the invaders as the savers of the planet or the universe? Do you know the game Destroy All Humans?
—I don't know that game. The story behind The Exaltics is that they are the savers of the universe. Wherever there is unbalance, they take care of it. I mean, look at our Earth… maybe we have the only planet where "intelligent" life is possible and look at how we treat it, how we treat each other! Of course it's not in general, there are a lot of friendly people out there, but also a lot of them on this planet don't do the right thing, you know what I mean. "We are not your friends" is the slogan meant to them… the corrupt people, the liars. All those bad ones in general. Everybody knows them.
It's terrible to watch the news every day. From war to power to money and back. We could have a great time here on Earth if we lived friendly with each other. I hope the day will come!
—"Not only for the Dancefloor but something for your Mind." These words are written in the Bandcamp info of your second album "The Arrival." How do you try to keep the balance?
—I'm a deep person, so it comes from myself. I always need an emotional component, in a melody or whatever. I always try to make music that can be heard even after some years. You should take the listener to their soul so the music gets a much higher value for them. I also have an eye on danceable stuff but it must contain a melody or whatever that generates a feel. It's a difficult thing to describe. It's a feeling that I have when I produce a track.
—What happened with the album The Girl And The Chameleon? Did you want to try a different approach with the music or did you think the music did not fit the alien concept?
—I also really like Techno music and I ever wanted to do an Acid Techno Album. With Ferdi from Shipwrec I developed this LP and another one. He liked the music and proposed me this great artist Jaco Putker, who did that weird and wonderful artwork. I agreed on working with him and we forgot about the alien concept for this LP. When I look back, I think that was the right decision. I see those 2 records as concept works which stand a bit away from my regular concept and more electro-focused works.
—For Das Experiment 2, Godspill wrote a comic book. How was the process? Did you give him the idea first, then came the comic book and after this, the music? Or in a different order? Nico was implied too, right?
—This was the hardest project we ever did. I guess it was for all of us, but mostly for Mehdi (Godspill). First, I must say he is one of my favorite designers ever! His style is so unique and cool! So he was the only choice for us! Nico developed the story of the comic mostly. We often spoked about it years ago. Also the music for this album was made a long time ago. We always wanted to do a comic because we are both comic freaks. After we had the story, I chatted nearly every day with Mehdi and tried to describe our idea. That was not so easy because he lives in Holland and we live in Jena and everything went through mail and chats. Later, I sat down to Photoshop and built up a raw story board with scans from other comics. It was a nerving fussy job. Then, I talked again with Mehdi, so each side was done. Mehdi also put all ot of ideas in it. It was a marathon, believe me, and we often thought that there was no way that the project would work out. But in the end it was growing to a nice comic which was connected to the music. I still love it today and personally think this is my best release.
—You said you crossed every boundary in that album, do you consider it your best work also musical-wise?
—Yes, I think this album brings everything together that I ever wanted to do. Musically, visually and in term of the complete atmosphere.
—At the end of the comic book that came with Das Experiment 2, we have a "To be continued." Is it going to have a third part?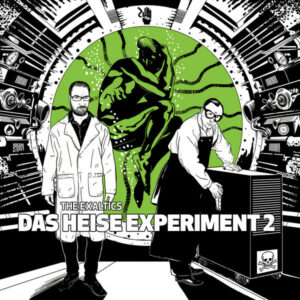 —Let's see. For the music I never thought on a third album. If there will be a comic again, I can't say. I should call Mehdi but I'm sure he would run away when I tell him that idea, hahaha.
—At the beginning of the 10s you made a few splits with different artists. Did you try to get a mutual idea or a homogenous release or just want to share a vinyl with the artist?
—We did a series which was called The Exaltics meets.
I wanted to do those splits with artists I liked around that time. Yes, I also thought about the sound which I included after we got the tracks from those artists. It was not only to share a vinyl together. It followed a little concept, to get the 2 worlds together, if you know what I mean.
—How was working with a legend such as Heinrich Mueller/Gerald Donald in Dimensional Shifting? You also worked with him in Project STS-31 and other releases, like the Das Experiment 2: The prequel.
—We now have been working for around 7-8 years together. It started with a Dopplereffekt remix in 2015. It's a big honor to work with him and discuss about new musically research. I hope we can continue our collaboration in future projects at some point.
—How was working with Egyptian lover in the track "I want You"? I guess you were a fan of his music, weren't you?
—Yes, he is a legend too and this was also an unreal collaboration! Nico came up with the idea. We asked him and he agreed! I thought: -"wow!" I sent him the track and he went and did it at the studio. The result is amazing, in my opinion. Also the fusion with my eerie electro techno track and his cool vocals is amazing! A very special project. And again with killer artwork by Godspill! Those were the days!
—Your last EP is a new collaboration with Paris The Black Fu. The second after We Exist (Chapter One). What do you like of working with him? Are you more interested in vocals now?
—I like vocals! They give music sometimes more value and more power! Paris is amazing! His messages, his flow, totally my taste! In the meantime, he became a good friend. We talk from time to time about life and all. This will not be the last project I do with him, I'm sure.
—What can we expect in the future of Solar One Music and Between Places? Are you noticing an increase in sale of vinyls?
—We are working on a very special release for my 15-year anniversary this year. I'm so excited about this! It was a large amount of work but I think it was worth it. The problem these days is the pressing plants, they are completely full from all those big major labels. This is really annoying! We small ones are now the ones that have to wait. 6 months pressing time at the moment is the standard. So it's not easy to make more than 2 or 3 releases a year. Some years ago we could do more. Also the sales went down a bit the last 2 years caused by the corona crisis I think. Without parties, DJs couldn't work and everybody was waiting to see how it went on. But it's always up and downs. Only some artists have always the same sales. Let's see how things go.
—As you have just said, this year is the 15th anniversary of The Exaltics, how would you describe these years?
—Full of madness, hard work, unforgettable memories, ideas, disappointments but overall gratitude for the possibility of letting my dream come true.
—On your label, you released a couple of EPs of Das Muster, who sadly passed away recently. Did you know him well? What do you remember?
—That was a shock! Marcus was such a lovely guy! We had some phone calls and chats, it was always nice! It's so hard to see such a young and friendly person pass away. Really sad!!!
—You are a sci-fi fan and you said that you've seen a lot of movies of this genre. Is cinema an influence in your work? Or soundtracks? What are your sci-fi favorite movies? For which movie would you have liked to compose the soundtrack?
—Yes definitely! I love movies. Not only sci-fi I'm into a lot of genres. But for a sci-fi favorite, for example, I really like the movie "Event Horizon".
It's a great sci-fi movie mixed with horror elements. This film plays with the fear you can't see. This is definitely a film for which I would love to make the soundtrack. This is still a high goal in my head to make a dark ambient soundtrack for an independent film. Who knows, maybe someday it will happen.
—The Exaltics have been releasing some picture discs lately. Do you think that the vinyl market is going in a collector's direction?
—The collectors are always there and always will be there, in my opinion. At the moment, the vinyl market is hip again which is good for the pressing plants but not good for us small independent labels because we have to wait while the new Adele album is pressed. We did those picture discs because we like them in general. The problem is always the sound so I think we will stop this in the future and come back to the regular vinyl. We always wanted to create different things, special things, this is always our first intention.
—And what can we expect of the future of the Exaltics?
—I hope I can do this some more years and the creativity will be still on my side a bit. Sometimes I think you should stop while you are still relevant. But then, I think you can't. It's your life. The future will answer this question.