Although her name will always be associated with Come, one of the essentials American indie rock band, Thalia Zedek has a long and interesting discography, either on her own or leading other bands like E, one of her latest projects. I can think of only a few careers where coherence and honesty have worked together as much in our guest's. Raw music, intense feelings, truth.
—You first band was called White Women, don't you think that a name like this would be too politically incorrect nowadays? How was the sound of this your first band?
—It actually was kind of a shocking name back then too, but not really politically incorrect as we WERE all White Women. The name was chosen by my bandmate Dolores Paradise, and it was the name of a pornographic photobook from the 70s that she thought was cool. We did a lot of vocal harmonies and 60s garage pop and psychedelic cover like Lou Christie's "Optic Jungle" as well as originals. I started out in that band as the drummer but ended up being the guitar player/singer. I'd say the sound was very rough garage punk/pop with some psychedelic thrown in.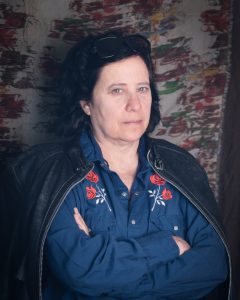 —A few years later you formed Dangerous Birds. "Catholic Boy" although it's from 1981 sounds a bit like mid-eighties Sonic Youth, don't you agree? Were you interested in No Wave at the time? Lydia Lunch maybe?
—I got really into No Wave in the late 70s, when I found a copy of the No New York compilation while I was still in high school in Silver Spring, MD. I don't think that I had seen either Lydia Lunch or Sonic Youth perform by'81 but by '82 and '83 I was seeing them quite a bit in Boston, where I had moved to after high school in '79.
—For my generation, and maybe specially for me, the 80s seem a very special era, with bands like Sonic Youth, Big Black, Gun Club, Hüsker Dü. How did you live this period?
—Definitely for me as well. I remember one day going to the record store with enough money in my pocket to buy 2 records. I bought 2 records by bands that I'd never heard of just based on the covers and titles. It was Gun Club's Fire of Love and Birthday Party's Prayers on Fire. I don't think that I left my room for 2 days! I was already playing in my second band, Dangerous Birds by that point and we were performing in Boston and New York quite frequently. I started getting more and more into the Birthday Party and Circle X and less into 60s garage and left the Dangerous Birds soon after to form Uzi, which was much more experimental.
—After supporting the Birthday Party, you decided to make more "violent" music. What did you mean with violent? Was it easier to express the anger of your age with this kind of music?
—I was already a big Birthday Party fan by that time. It's hard to describe what I meant by violent, I think that I meant it in terms of an aural assault on the ears, not harmonious or easy in either sound or lyrics. But I definitely didn't mean it in the sense of hurting anybody.
—Then you played with Uzi for three years, publishing an EP, and were considered part of the Boston Scene. Did you listen to other bands like Throwing Muses or Mission of Burma? How was your experience in this band?
—I was a huge Mission of Burma fan and Dangerous Birds played with them a lot as Lori Green was going out with Martin Swope, the tape manipulator. Roger Miller was a huge influence on my guitar playing and Martin's tapes were a big inspiration for Uzi. They were the first band that I ever saw perform live with tape loops and manipulations. I also played with Throwing Muses a lot when I was in Uzi. I was at one of their first Boston shows and they blew my mind immediately. They were one of the first bands in Boston that got signed to a big non-local label, 4AD, and I wasn't at all surprised.
—Then you joined Live Skull, and recorded three records with them? Was it difficult to join an already established band? Positraction is considered the band's masterpiece, how did your personal problems contributed to creating the album?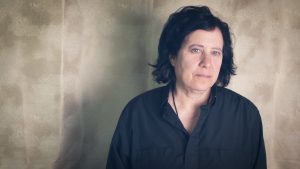 —It was definitely challenging to join Live Skull, but I was a huge fan of their work from the start. They kind of created a lead singer position for me and it was the first time that I ever was in a group where I wasn't also playing an instrument which was challenging as well. By the time of Positraction both the members and the sound of the band had changed from the when I joined with the new rythmn section of Rich Hutchins and Sonda Anderson. I'm not sure how much my personal problems contributed to the making of that record but they certainly contributed to the band breaking up the following year.
—Reading about you, I came across two similar descriptions between your way of playing guitar with Chris and the way Mark C. and Tom Paine used to have. Were they an influence in your posterior sound?
—I was definitely in awe of how Mark C. and Tom Paines guitars wove together in such complicated but complementary ways and it was definitely something that I strove for when I was playing with Chris in Come. The music was very different but the guitar interplay was probably inspired by my years playing with Mark and Tom.
—Your first album as Come came in 1992, Eleven: Eleven, and like many debut albums, it is considered your best one. Do you think that first album kind of put some limits to the bands?
—Eleven:Eleven was definitely the most popular record, but as one of the band members I don't know if I would say it was necessarily the best? But the songs on it certainly connected with people very strongly and very quickly. Again we were too close to the songs as band members to understand why. I don't think that it put a limit on the band and we certainly never tried to copy Eleven Eleven on our next record. I feel like each record changed significantly from the one before it, especially after Arthur and Sean left the band.
—How do you remember your days with Come? Is not difficult to play such intense music? Which is your favorite album?
—I remember it as a very exciting and enjoyable period. I had a lot of confidence in the band as musicians and a lot of fun performing the songs live, even though a lot of them were quite intense lyrically.
—For your third album, Near Life Experience, you had to find a new rhythm section. Is it difficult to adapt to new people when you have been playing for a few years together?
—Well, we recorded that album with two different rythmn sections, Tara Jane O'Neil and Kevin Coultas from Rodan on half, and Bundy Brown (Tortoise) and Mac McNeilly (Jesus Lizard) on the other half, all of whom were amazing musicians so that made it a lot easier. Probably the biggest change was that Chris and I wrote and arranged all the songs by ourselves on guitar, rather than as a band.
—Gently, Down the Stream, your album from 1998 was the first Come record I ever heard and I was struck by how it sounded. Can you tell us something from the creation of the album?
—We had just found a new permanent drummer, Daniel Coughlin and had started writing music with him and a bass-playing friend Sascha Steinfurth who was visiting from Germany for a few months. We wrote some songs that we really liked and did a performance and after Sascha went home we finished writing the record with Winston Braman (from Fuzzy) on the bass. It was recorded at Fort Apache with Paul Kolderie. By the way, Daniel and I continued playing together for another 10 years in the TZ Band and Winston has been a member of the TZ Band since 2008.
—Regarding the blues connection. Were you interested in blues music? Or was the influence just through the Stones?
—I became interested in the blues early on when I took guitar lessons from a friend of my older brother who was really into Eric Clapton and the 60s British Blues players. He taught me the blues scales and how to jam and it was fun. I listened to a lot of John Mayall, Johnny Winters and Janis Joplin as well. So it was blues, but as interpreted by white rock musicians, which I'm not sure really counts as being interested in blues music?
—Been Here and Gone is your first proper solo album, released in 2001. It's less rock, compared with everything you did before. Did you feel that you needed a change?
—Yes, my ears were really fried after 10 years of playing with Come and I really wanted to play in a band where I could hear myself sing and not have to wear earplugs. I started doing shows with just myself and my friend Beth Heinberg on the piano. Later on Dave Curry joined us on the viola. After that Daniel Coughlin joined on drums so by the time I recorded Been Here and Gone it was a full band again but quite different from Come.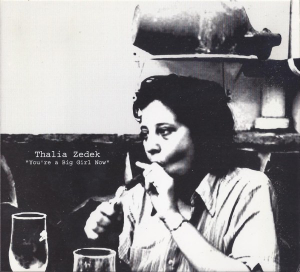 —You released an EP with Acuarela Records (maybe they only published it in Spain), You're a big Girl now. Can you tell us something of your relation with this label? You also sang in an Emak Bakia song, did you like the band?
—I was introduced to Jesus Llorente through my friend Tara Jane O'Neil. I was touring and looking for a show in Spain and she suggested the I contact Jesus about playing his Tanned Tin festival. I ended up contributing a song to the first Acuarela compilation and our relationship built from there. After Matador Records released Been Here and Gone in 2001, they were bought out by Beggars Banquet and I was dropped. I released an EP in 2003 on a local label Kimchee Records and asked Jesus if Acuarela would release it in Europe and he said yes. They also licensed my first Thrill Jockey release in Spain in 2004, Trust Not Those in Whom without Some Touch of Madness. After I joined Thrill Jockey, I no longer released records on the Acuarela record label but continued my relationship with them through their booking agency, which is how I connected with Emak Bakia. They had heard some vocals that I had done for Manta Ray previously, and asked if I would sing on their record while I was in Madrid. Jesus helped arrange the session.
—Hell is in Hello, from 2004 is a kind of compilation of lost songs, right?
—I wouldn't describe it as "lost songs". Almost all of the songs were either originals that were released on different albums or cover songs, but these are all new recordings and arrangements. It was a tour CD that was made and released by a German label called Return to Sender. They made a limited number of CDs and they were only available through mail order or at shows.
—Liars and Players is your more political album until right. Why did you move from more sentimental songs to political ones?
—I started being increasingly disturbed by the role of the USA in various wars and entanglements throughout the world. At the time of Liars and Prayers it was the second US war with Iraq and Afgahnistan.
—With the Thalia Zedek Band you have released three more records, the last one, Fighting Season is going to be released this year. What can you tell us about this forthcoming record?
—It's a much more varied album than the last few. I brought in some musicians from outside the band on various songs, Chris Brokaw (guitar), J. Mascis (guitar), and Jonah Sacks (cello). It is also quite political as the situation in the US has deteriorated with the Trump presidency.
—You played "Dance me to the end of love" with Damon and Naomi, how did you get the idea of touring together?
—I had been a fan of their music for a long time and we both live in Boston and found ourselves at a lot of the same concerts and events. Naomi makes videos and she offered to make a video for my last TZ Band record Eve. We met a few times and I got along really well with both her and Damon. We ultimately never made the video but we started talking about touring and I had the idea of doing a solo tour with them in Europe. I had already been over with my band on the Eve record but we hadn't done any shows in Spain, France or the UK so I suggested that we combine our contacts and try for a tour of Spain/France and the UK and they agreed. It turned out to be a successful combination and a lot of fun!
—With E (or a band called E) you have released two albums, the last one this year, Negative Work. Why the name E? Do you want to make it more difficult to be found in the internet? In your concert in Milan, most of the people were over 30. Do you think that the new generations are not that interested in rock? Will we have more albums from E in the future?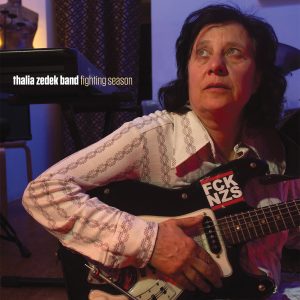 —We decided to call the band E because initially all of our songs were in E and the shape of the letter itself had meaning for us. It was a sideways trident and there were 3 of us and it also referenced Jason's old band Neptune. I think the crowd in Milan was a bit older because although I, Gavin and Jason have all been playing music for a long time, E is still a relatively new band. I think probably a lot of people were there because of their interest in our previous bands (Karate for Gavin and Neptune for Jason) which would obviously mean that they were a bit older than 20s. I think that hip-hop and other forms of music are probably the most popular with young people right now, but that there still is and will always be an audience for rock music. You will definitely hear more from E in the future so stay tuned!
—One of the best concerts I ever saw was one of Come at Primavera a few years ago. Are you going to play together again?
—We are actually going to reunite for a festival in Georgia (USA) in late November/early December of this year. We'll be playing in Athens and Atlanta along with a bunch of other bands, all to celebrate the birthday of Henry Owings the creator and publisher of Chunklet magazine!
—I read about your Living Room Tour. Do you think that artists have to find new ways of playing live? Where did you get the idea? A few years ago, I saw Chris Brokaw playing in a living room in Milan, any relation with this?
—House shows have been pretty common in the States for a while now, both for punk bands and for quieter music that might not work as well in a loud rock club. It will be the first time for me but Chris has done it a number of times and really enjoys it. I think that it's a good way to perform solo, as it is a quieter environment and also it works out well financially. We're also going to be playing some venues, record stores, galleries on the tour as well as houses.
Photos: Naomi Yang.