Terence Fixmer, besides being half of the Fixmer/McCarthy duo, is one of the pioneers of Techno Body Music, undoubtedly one of the styles of music that we like to dance to the most at El Garaje. The French producer has created some of the biggest anthems of a genre that, nowadays is more fashionable than ever, without renouncing to compose records in which he explored other territories. His performance at the Ombra festival in Barcelona will be one of the "must see" of the Sunday.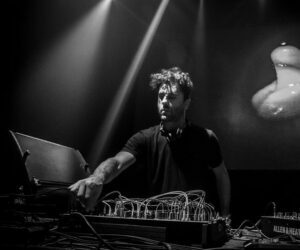 —How did you get interested in electronic music? You have repeatedly spoken of the influence of living close to the Belgian frontier that helped you get into EBM.
—When I was a teenager, I was always attracted by music with synthesizer. I really liked music from Depeche Mode, Human League, etc… I was into New Wave and I was not interested in other music. I was living in Tourcoing, a small city at the Belgium border. From there, a lot of bands started to come, the music was new and defined as Electronic Body Music (EBM).
When I heard Front 242, I realized that was the music and the style I really liked. Then, from them, I discovered many new bands such as A Split-Second, Klinik, Absolute Body Control, The Neon Judgement, etc… Those bands were really my thing, I loved the sound, the atmosphere, the mood.
Then, I started to buy the tapes and some vinyls from them. Thats was the starting point.
—You said that you saw the beginning of techno. What was the first scene that you liked? European techno or American? What were the first artists that interested you?
—Then, from EBM slowly there was a kind of change in the music coming from Belgium. It was a bit more repetitive, slow, with a bit less of vocals or song oriented, with a more 4/4 rhythm… This new movement was called New Beat. I followed this new movement straight away, with its dress code and its special dance. I was a teenager, and it was something really special at that time. It was a real movement. New Beat became huge in Belgium. To me it was just a modernization of EBM, with more focus on electronic music and a dancefloor direction.
And again, there was another evolution, more powerful kick drums, more synthesizer, less vocals, and we called it techno. 😉 . The energy, the sound was so new, unique, I totally fell in love of this new sound, this new musical movement. I find out that I had a new passion! As I was living close to the Belgium border, I was really into European techno, through some labels such as R&S, Diki Records, Music Man Dance Opera, Antler, etc…
R&S was The label! Every release was amazing, but it doesn't make any sense to separate European techno from American techno, it was just an unity of people who loved this music. On R&S, which was a really important Belgium label, there were many American artists. I was a huge fan of Joey Beltram. Every release from him was something unique on the dancefloor, "Dominator" was extremely special when it came out, the sound was new. I'd never heard a sound like this before. At that time, those sounds were like from another planet. 🙂
Nowadays, I don't discover a sound or a new sound I've never really heard.
So I was just into techno from R&, to + 8, from Industrial Strength, to Music Man.
—You organized some parties like Cosmos and Space in the Pyramide club. What kind of music was played there? Were you djing at the time?
—I was a student, and near my high school, there was a special club, which was known because it was built with the form of a pyramid.
I did some Cosmos and Space parties, and invited dj friends to play there. I was not djing myself, but more organizing. At that time, it was not about having a big name on the flyer, it was about promoting a new sound, the techno sound. So, on the flyers, we just wrote "Techno Music".
Djs were not superstars yet, we pushed more the style of the music because it was new, special. A funny thing is that many people thought that techno would not last, because it is repetitive music, boring etc.. 🙂 and I thought that it was impossible because there are, for sure, many people like me who have been and will be loving techno for all their lives. 🙂
—You participated in Cyborg's Another World, right? Can you please tell us more about this? It was released in 1993 and it's credited to Bruno Quartier. With him you also released material as Human Rebirth and Alpha Process. Were you a kind of ghost producer or was it just a collaboration?
—It was more a collaboration. I am credited on the vinyl, but on that release I was more assisting Bruno Quartier. He was the composer. At the time, Bruno Quartier was more like a mentor, we went all the time to techno clubs at the Belgium border (At the Villa, Boccacio). I was a student, he was older than me and already had some synthesizer, so I started to learn to use them through him. He was really melodic, but I was more into the atmospheres, looking for the right sound. We did some collaboration, but at some point, I had the need to express myself artistically alone.
Then, Bruno went more into trance music as he was really melodic, and I was more into raw techno, looking for a special sound, sequence, energy. Bruno is behind the huge trance hit from 95 BBE: "Seven Days and one Week" . On my side I went solo to do my own techno sound :-), to express myself 100%.
—That year you moved to Rotterdam to study, Economics if I am not wrong. I read that you also produced some tracks under different names there, but I haven't found any info about that, anything else that you can share with us?
—I was in Rotterdam for my studies in Economics. I was living near a club called Parkzicht in Rotterdam, the music there was mainly hardcore and gabber. I was impressed by this gabber movement. It was huge in Netherlands. I wanted to release in Midtown Records, and I met Paul Elstak the owner. After listening to my music, he told me I was not hard enough. :-). Gabber wasn't really my sound.  🙂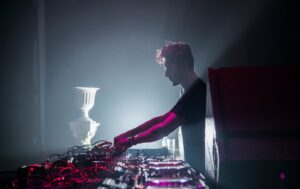 —You met Emmanuel Top in school. Were you part of Attack Records, his label? I read that you were also one of the founders. How did you influence each other?
—About Emmanuel Top: we know each other since we were 11 years old, he was in the same school and classroom with me. We know each other quite well 🙂
Living in the same city, we both have the same electronic education from Belgium with the EBM and New Beat, and we both lived the start of the techno in Belgium and went to the same clubs at the border (Skyline, At the Villa). We share the same passion.
While he was already becoming a big artist in the techno scene, releasing with Bruno Sanchioni on Diki Records music as Plexus, Bazz, etc I was still a beginner, I had to finish my studies first 🙂
After my studies and the army, Emmanuel asked me to work for his label Attack Records. I accepted and I was taking care of the pressing, distribution etc for 1 year, and of the band B.B.E (Bruno Quartier, Bruno Sanchioni and Emmanuel Top), as their track was a huge worldwide hit .
At the same time I was doing techno, and exploring to look for my own sound and in 98 I've decided to create my label, just as an hobby.
Emmanuel had obviously a huge influence, I went many times to his studio to listen his music before it got released, to give my opinions etc, and I always loved his sound design, and the tension, the story he built in his music.
And this is something I try to have, a good sound design and a unique atmosphere, to have my own signature.
—Some webs consider Scanner and Back to Hell as your first release, is it may be the first one you did on your own? The single could be labelled as hardcore. Were you also interested in this genre at the time?
—Well, I continue my story of my Rotterdam period. 🙂 I was not hard enough to release on Midtown Records, then I went into a club called Cherry Moon in Belgium, and I met Yves de Ruyter, the resident DJ. At this time everything was simpler. I told him I had a tape with a cool track I did on it, and asked if he had time to have a listen; and then we went into his car to listen to my tape on his radio cassette! The car had a big sound system. 🙂 That was cool at the time, to listen to techno really loud in the car so everyone could hear the bass and to show that you were a techno guy 🙂
Yves loved the track, then straight away he took my tape and played it in the Cherry Moon club from the tape player. Afterwards, he told me if I'd like to release it on Bonzai records, and he introduced me to The Fly.
I was so excited because Bonzai was big in Belgium, and Yves de Ruyter was already a star with his release there.
And then I called my release Scanner: Back to Hell. It was not hardcore, but it was defined at this time as "Trance core." But the b-side was kind of hardcore. 🙂 After the release, I received a call from a label in UK, because there was another Scanner which already existed. I didn't know it. ( There was no internet ;))
So it was my first and last release as Scanner 🙂
—Gemini 9 was your first "techno" release. Why did you use a different name and not yours, were you not feeling confident, or did you think that you hadn't found your style yet?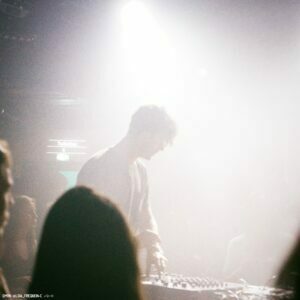 —Actually, I was not confident. I was really insecure to put my name, so I created a pseudonym. It was a kind of release test, a first release on Planete Rouge.
Then the feedback was pretty good, especially on the track "Alarm", and it gave me confidence to go on with my label.
—With Electrostatic you captured the vibe of the moment. Why did you think it became so popular? Do you think that you were just in the right place at the right moment?
—The first techno music I heard was like a story, so you had to put a soul in it, something to captivate the people on the dancefloor.
Then, I loved the atmosphere of EBM, I loved as well the special energy we could find in some EBM tracks of 242, DAF, Nitzer EBB, so I wanted to create techno tracks with the dark atmosphere and energy of EBM but into a more club direction. Then, Electrostatic was born.
At that time, nobody was speaking of techno EBM. After my release, the term TBM appeared in Groove Magazine for Techno Body Music in a review to describe my EP. So it was a kind of a new start of a style in techno.
Then, some months after releasing Electrostatic on my label, Dj Hell contacted me to rerelease it some months later on Gigolo, and my music felt right in this revival of 80's sounds of the electroclash etc…
But for me I was just doing techno.
—As you just said, you are considered the pioneer of the Techno Body Music genre. What does it mean to you?
—Of course, after Electrostatic, I did Electric Vision EP, Body Pressure EP and then my album Muscle Machine in 2001, which is the first album of the genre Techno Body Music. It really opened a sound direction.
Afterwards when I created the project with Douglas McCarthy (Nitzer Ebb's singer) called Fixmer/McCarthy, we were officially the first band of TBM. 🙂 We were playing on festival such as Wave Gothic Treffen or I Love Techno, with totally opposite crowd and style, but both worlds liked us. So, we were a kind of bridge between these worlds of EBM, Gothic, Techno and electro.
—How important was it for you meeting DJ Hell and remixing him? Do you think it helped you reach more people?
—For me, it was really important because, I was just a French guy, living in a small city in the north of France, and I sent a vinyl copy of Electrostatic, which I was just released on Planete Rouge to Dj Hell, Sven Vath and Westbam. Sven Vath sent me a fax with a feedback that he loved the EP! And Hell called me! (my number was on the records sleeve). I was really impressed, as for me Hell was a big German techno DJ, and he wanted to rerelease my EP on his new label International Deejay Gigolo.
And then Electrostatic was a huge hit via Gigolo records in the techno scene. Then I released more EPs which were successful (Electric Vision, Body Pressure) on Gigolo. So, yes Hell really changed things for me.
At some point, Hell asked me to remix his track "This is for You" on Disko B.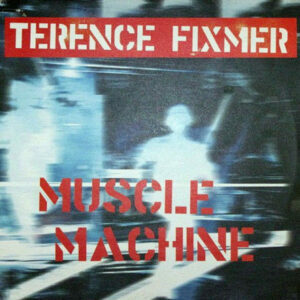 This was my first ever remix I did 🙂
—Muscle Machine was recorded in Berlin, where you were living at the time, right? And released under DJ Hell's International Deejay Gigolos imprint. How living there influenced the album? Did the techno scene of the city influence you?
—Yes, I moved to Berlin around 98/99.
Actually Berlin had no influence on my music, I could have been in Ibiza or in Antarctica, I would have done the same album, the same music. It is just my own expression. It's just in my music DNA.:-)
—When you were doing the albums with McCarthy, were you afraid of getting too close to the sound of Nitzer Ebb? I mean, they are one of your influences and McCarthy's voice is quite peculiar. The result was evidently quite different to the music of the EBM pioneers. 
—No, I was not afraid to get close, I was fan of the first 2 Lp of Nitzer Ebb, especially That Total Age. I loved the voice of Douglas when he is shouting.
Nitzer Ebb at this time released their last album in 95, and the band was not together anymore.
After having remixed Nitzer Ebb for Mute around 2002, I had the contact of Douglas. So I just wanted to hear that voice again, with a more dancefloor direction: more techno with some raw sounds and the same energy and atmosphere we had in EBM.
When I released my album Muscle Machine, there was a review in an English magazine comparing it with the energy of Nitzer Ebb. Douglas heard my music, understood it, we had a good match together and that was the starting point. 😉
—Is it difficult to record an album with one of your idols?
—At the beginning it was strange to meet him, especially when I had all his album, and had spent hours and hours listening to Nitzer Ebb. But after some hours Douglas became just a normal person, and maybe because I was already touring a lot solo at this time, I was more used to meet artists.
The strangest thing was when I produced the tracks "Destroy", and "Freefall" was to hear his voice singing again on music I had created, and having the result I wanted… the energy and the shouted vocals as I loved in Nitzer Ebb. The first Fixmer/McCarthy concert was in Razzmatazz in Barcelona, that was really special and strange for me as well , to be on stage with him, doing our music project and seeing him singing, shouting on it. 🙂
—At the beginning of the tens you focused on a more hypnotic techno, being the album Comedy of Menace an example. Did you leave your more EBM material for your duo with McCarthy? What was your inspiration for this kind of techno?
—I always defined me as techno, but with Fixmer/McCarthy, this was really EBM Techno .
Then I was a bit tired of EBM techno, and I wanted to define myself broader than this. I always loved techno where we could feel an atmosphere, and of course I like it when it is also dark. Then I did Comedy Of Menace on Electric Deluxe, leaving the more EBM sound for Fixmer/McCarthy, I wanted to go in a more dark and hypnotizing sound, but keeping a dancefloor orientation still.
—Instead, your following album Depth Charged was darker and more introspective, although still really hypnotic. You also said that you wanted to do an album not oriented to the dancefloor. Do you find it harder to compose an album for the dancefloor or for listening at home?
—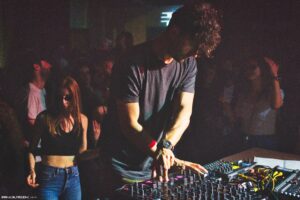 Yes, Depth Charged was really the more hypnotic and mental album.
It was music made more for the brain than the muscle. 😉
For me I don t find it harder to do an album to listen at home. I think that a dancefloor track is more difficult especially if you want your music to be special and danceable as well.
—Once you said that when you compose you have absolutely no concrete ideas. You just played with your synthesizers like you would with toys, trying different things without a concrete direction. Is the same with your albums or you have an idea of what you want to express beforehand?
—Well, I know the direction, if I want to go hypnotic, dancefloor, a track with energy or darker, but I have no idea where it will go… I have a direction in mind, but I realize with the sound I just created if I should go to another direction. So, the accident often leads me to a direction I hear in my head. Of course, I know which vibes I want to have when I do an album.
—Through the Cortex was more industrial techno and you said that you were thinking in a soundtrack for a sci-fi movie. Did this approach change your way of composing? Would you like to compose a soundtrack for a movie?
—On Through the Cortex, I wanted to create more like a soundtrack LP but always keeping a club context; because I just like to create an atmosphere in club, I don't want just «an» efficient DJ club track. There are too many tracks like that. I like that when you hear a track, it brings something, some image to your imaginary, it gives a personality, an identity.
Of course, I'd love to create soundtrack for a movie, I had some music that has been used in movies. But I could imagine my music more for a Sci Fi movie than a romantic one. 😉
—You said that you loved doing dancefloor music with an edge of craziness. What element in your music adds this craziness according to you?
—With craziness, I mean something unexpected, not logical, or something disturbing, unique. The track must have a soul.
—You created your own label, Planete Rouge, a few decades ago. Is there any release that you consider the best one? Or one that doesn't catch the deserved attention?
—Difficult question, as I always release tracks I love; of course I would say probably the B-sides, not the obvious or instant tracks that are played by DJs. Usually the B-sides are more special, deeper, there is something different in them, you allow yourself something distint, another kind of work and emotion.
The tracks are less known, but doesn't mean less good .
—Shifting Signals, released last year, was another bold move with songs like "Synthetic Mind" really different from what you did at the beginning of your career. You said that you were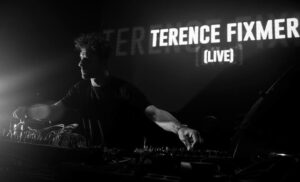 inspired in Alien and the time you watched it. Did you image music for each scene? Could you please tell us more about how the album was composed?
—In Shifting Signals I just freed myself. As it was released on Mute, I knew I could go outside my normal music range.
I didn't think on creating only dancefloor tracks. For some songs I went deeper, some other rawer, and I went into more melodic and more beautiful (to me) music in some others.
A part of the album was composed during the Covid lockdown. When I say I was inspired by the Alien Movie, it was actually more about the space, the darkness, the infinite, the unknown (not about the horror part and the creature).
—In 2003, you selected the compilation Aktion Mekanik. There we could find Crash Course in Science, a band that played last year at Ombra. How did you discover it? Was it famous at the time? 
—Actually, Crash Course In Science's "Flying Turns" and "Carboard Lamb" were quite popular tracks in Belgium during the New Beat time. Then when I did my Action Mekanik for Music Man which was a compilation to show all my influence, it was obvious that they should be on it. I realized at my surprise, after the release of Aktion Mekanik, that many DJs had never heard of them before! After, I got in touch with CCIS.
Then I rereleased them on Planete Rouge, with remixes of Vitalic and David Caretta, and I created a little label called From Jupiter Records (existed only for 2 releases) and rereleased there "Flying Turns" and I did a remix of it as well with Danton Eeprom.
—You have done a few remixes, from artists as different as Indochine to Depeche Mode, Yann Tiersen, The Neon Judgement or DJ Hello. What´s your approach to remixing?
—When I do a remix, I usually try to get a sound, something which I find interesting, and then I base my remix probably around this sound. Of course, I like that a remix sounds like a remix, that we can recognize the original but we can hear the difference and the work on it. I am not fan of remixes that just sound like a new track. Usually I like when there are vocals as well.
—In 2020, you produced music for Thomas Cohen with his new band SYLPH. Can you please tell us more about this?
—Daniel Miller from Mute, talked to me about Thomas Cohen, and suggested that it could be interesting that I produce some tracks for Thomas' new project Sylph. Daniel put me in contact with Thomas, and I started to send him some drafts, some ideas, and then we did "Braid" and "Chain of Love". Thomas has a really nice voice. I really enjoy collaborating with him.
—After a live with Phase Fatale, you have started collaborating with him as Vague Mécanique. I guess it was logical to work with Phase Fatale as you have been praising his work. Are we going to have any news of this project?
—Actually, we did a track together called "Cigarette Glow", which appeared on the Ostgut Birthday Compilation. Then at some point we had this Arte stream where we did a live together.
We had a lot of fun, and then we did many live together under the name Vague Mécanique.
I think at some point we'll do an EP as Vague Mécanique, and sometimes play together under this name.
It's always fun.
—You are planning a new album on Mute; can you please tell us more about it?
—Yes, now the album is ready and planned for June 2024. The album is definitely more club oriented, but really raw in sound design. 3 ep will be extracted from the album and will be released in January, March and April 2024 through Novamute (for the techno ones).
—What can we expect of your live at Ombra Festival?
—Just my universe of sound: dark, techno, hypnotic and EBM .